Welcome to the website of the Rotary Club of Havering East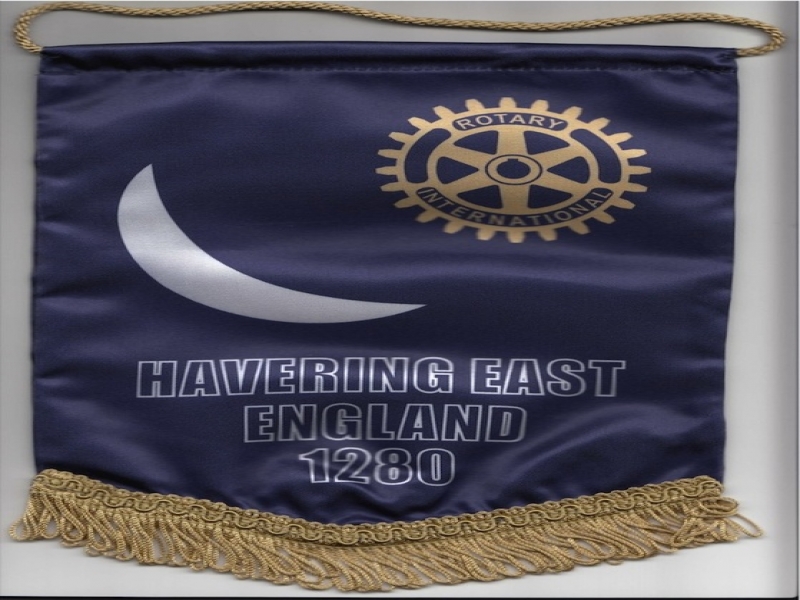 ....Founded in 1976 in District 1240 and situated in Upminster in Havering, the easternmost London Borough from which we take our name. We are a friendly club of some 33 members meeting every Tuesday evening at 7.30pm.
If you are interested in Rotary or would just like to visit the club, please contact our Secretary Robin Howell on 01708 226941 or e-mail robin1943@virginmedia.com
Alternatively, you can use the Contact Us option at the top of the page.
Please see ABOUT US for more details...
Norman Barnett - Club President 2012-13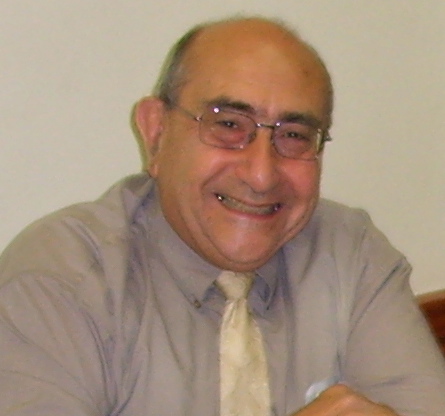 As the incoming President of Havering East Rotary Club, I would like to welcome you all to our webpage. We hope you will read the content and get a flavour of our work and activities.
We are a very friendly club and concentrate our efforts in helping local charities. We would love it if you will attend one of our meetings and decide for yourself if Rotary is for you.
We meet every Tuesday at 7.30pm at the Upminster Golf Club.
We all look forward to seeing you.
Welcome to Alan Jee - New Member Induction - Tue 14th May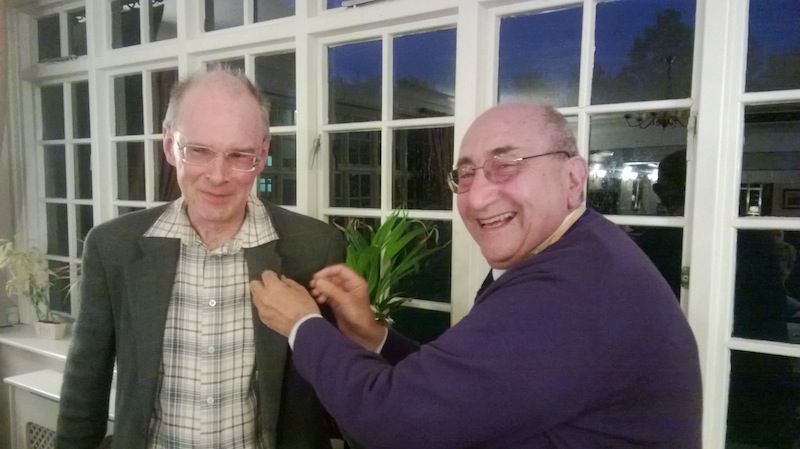 We extend a warm welcome to our newest recruit Alan Jee.
Alan, a former Rotaract member and BT Manager, has been visiting the club for some time now, joined in with some of our activities, and so we decided to invite him to be a full member.
President Norman Barnett is pictured with Alan at his Induction on Tuesday night.
All best wishes for the future to Alan and wife Christine.
Thurso 50th Charter Celebrations - 10/11th May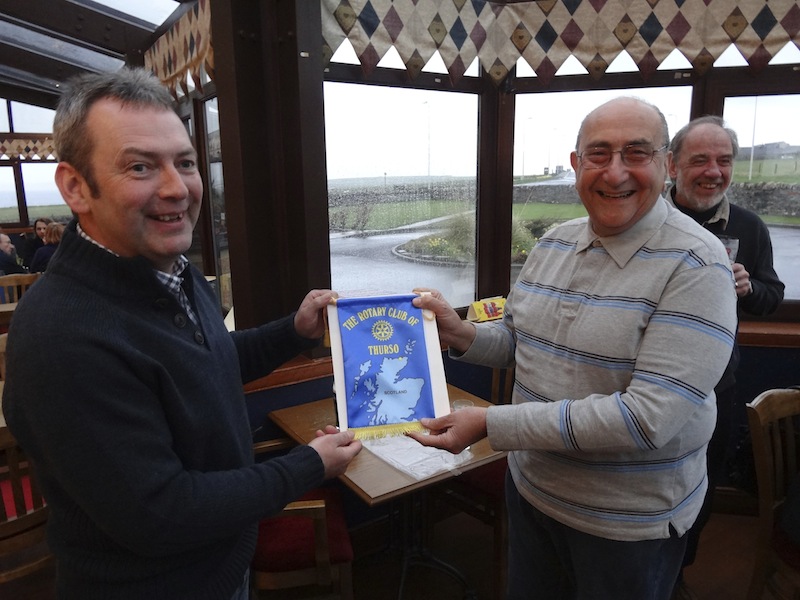 Nine club members travelled some 700 miles to join the Thurso club for their 50th Charter celebrations last weekend.
President Frank Bremner invited us after meeting Colin Coe last year at an exhibition. A fabulous weekend of entertainment saw us on Fiday night at the Caithness Horizons Bar. We were piped in by the Thurso Pipe Band who are also celebrating, 100 years this year. Followed by a Buffet, free bar and Dance to the Ian Sinclair Big Band.
Saturday we toured the area by coach, visiting the late Queen Mother's Castle of Mey on the way. Superbly hosted by Past President and resident comedian Alan Sparling.
Saturday night the formal dinner at the Weigh Inn Hotel was attended by Lord Thurso, Cath Chorley the District Governor and around 18 other clubs from District 1010.
We spent a couple more days touring the area including a trip to Orkney, Kirkwall and of course Scapa Flow.
An amazing weekend which we hope will be the start of a special relationship with the Thurso club. Congratulations to them on achieving 50 years not out. Pics
Annual Quiz Night - St Michael's Hall, Gidea Park - Fri 21st June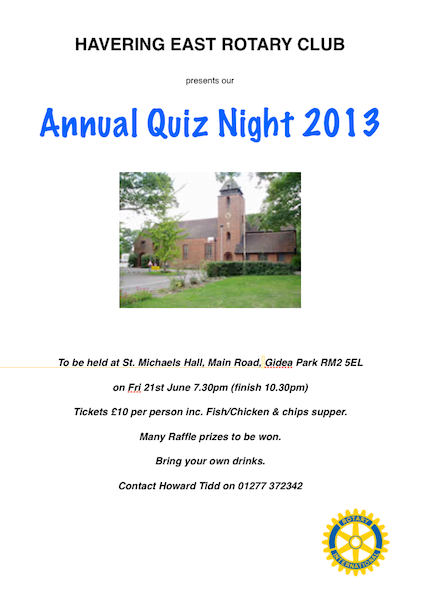 All are welcome to our Annual Quiz Night being held this year at St Michael's Hall, Main Road, Gidea Park RM2 5EL
Starts at 7.30, finish around 10.30pm.
£10 ticket includes Fish/Chicken & Chips supper.
6 people per table, bring your own drinks.
Many Raffle prizes to be won.
Please come along, it's a great quiz.
For more info and tickets contact Howard Tidd on 01277 372342
Race Night - Sat 20th April - Albany School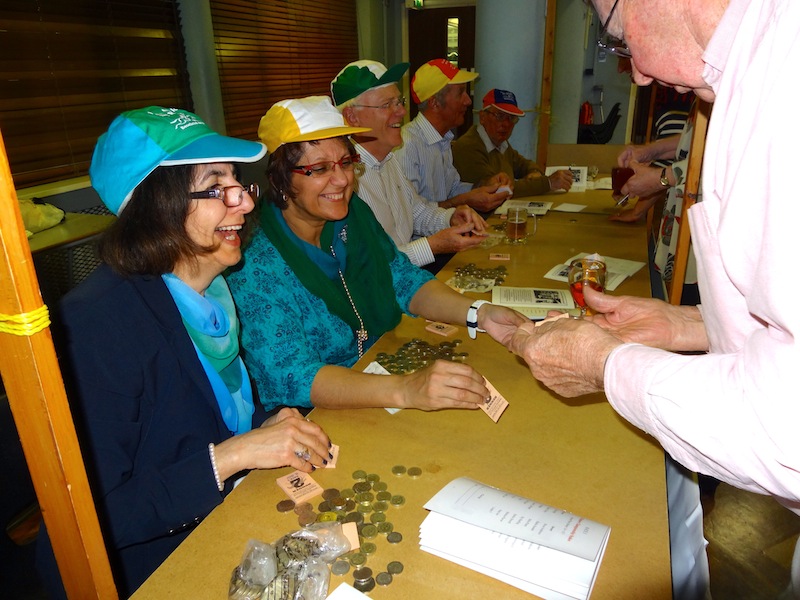 Our annual Race Night was held at Albany School in Hornchurch for the 3rd year running. A great night, everyone really enjoyed themselves. Thanks to all who came and supported us and created such a good atmosphere.
We raised just over £2,000 for our local causes.
The venue was perfect, the help and support was 1st class and the meal was excellent. A big thankyou to all at the school. Pics.
Partners Evening - Tue 26th Mar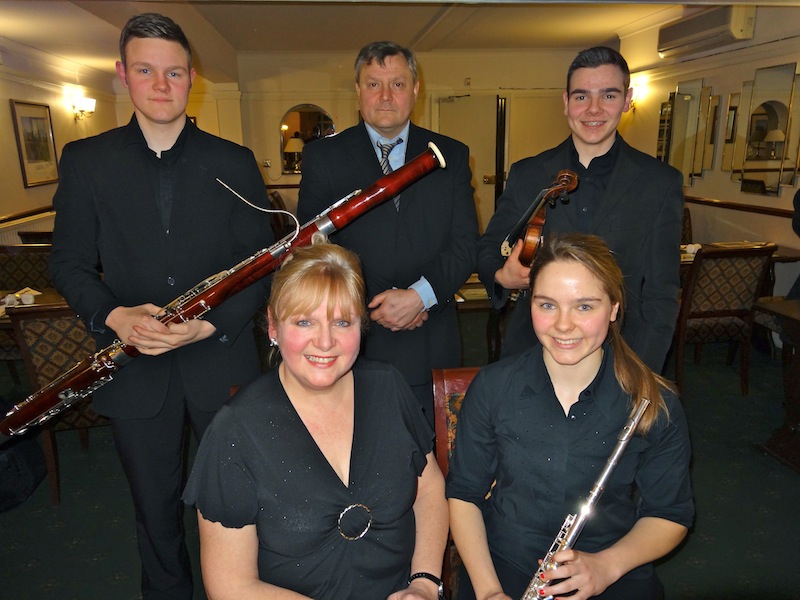 Great Partners Evening last night...good to see so many familiar faces...many thanks to the Golf Club for our lovely fish supper...the entertainment though was fabulous ! The Karwacinski family, Katrina (Keyboards), Kate (Flute), Stephen (Bassoon and Trumpet) and Christopher (Violin), played some light classical and show tunes for us...a delighted audience was spellbound...and we had an encore too!
We will definitely be hoping for a repeat performance in the near future. Pics.
Walkabout to Clerkenwell - Thu 21st Mar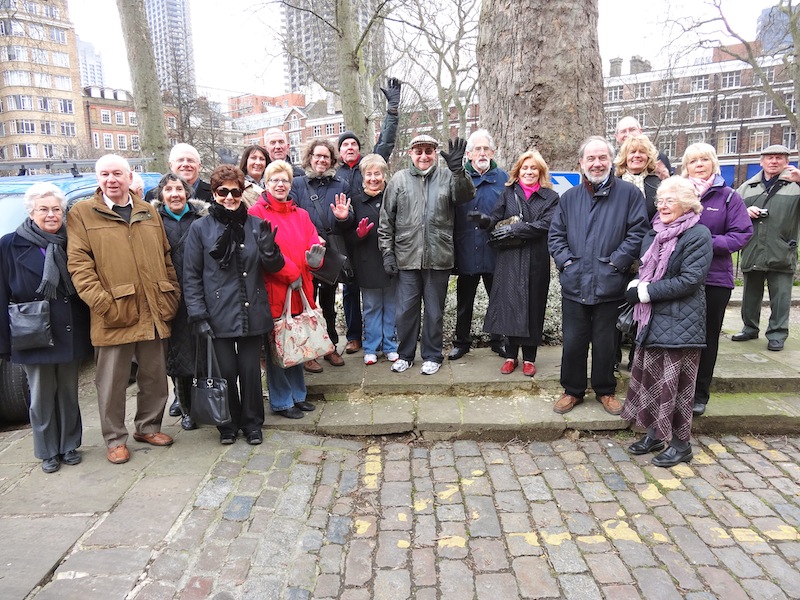 A chilly day saw us meandering around St. Pauls, Paternoster, Greyfriars, St. Bartholomews, Charterhouse, St Johns and Clerkenwell...Steve was a great guide and host...shame some of us were shivering most of the time !!...lovely day out together though...roll on the Spring !
Inter-Club Bowling - Romford Brewery - Wed 20th Feb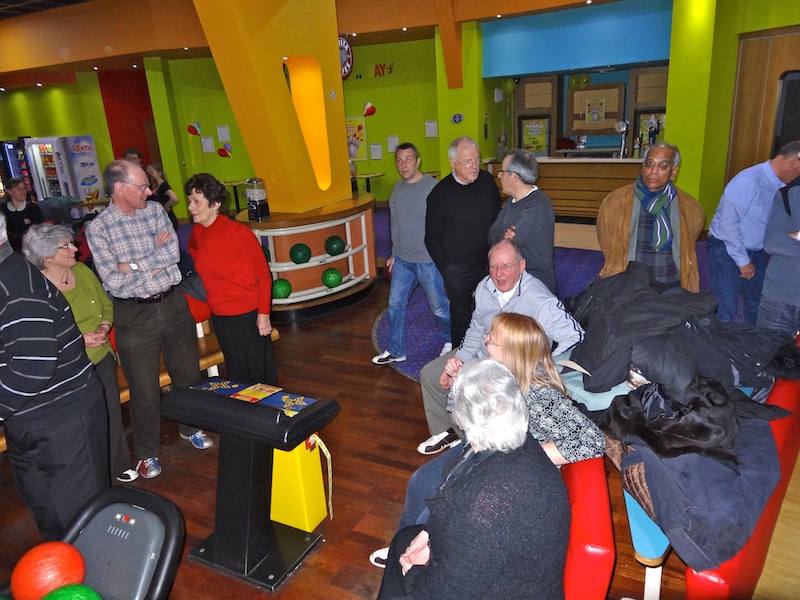 Romford, Hornchurch & Upminster, Dagenham and ourselves gathered together at Romford Brewery Bowl last night for some fun and in some cases, serious competition. The scores varied quite a bit, but we had one upcoming star in Robert Elsdon...he's good !
Syd Peters weighed in with a creditable 106 in the second game though.
Trevor's experience as a builder came in handy as he tended to use the 'guttering' quite a lot !!
Good to see so many people there, 30 in all, and a very nice time had by all. Pics
Thankyou for visiting our website

total visits.