Hi!
We're a medium-sized club with a diverse,active and friendly membership of men and women from the Chichester District Community. Meeting on Wednesday at the Chichester Park Hotel early evenings at 6.30 for fellowship, business and special events we enjoy working with and supporting our Community.
Please look round the site to find out more about what we do, including up-to-date information about our weekly meetings. We are a part of Rotary International, which is the world's largest service organisation for business and professional people.
If you are a Rotarian visiting the area, you will be made welcome at one of our meetings - check the Club Diary (Below) for further details. Click the 'meeting information' map (right), to get detailed directions on how to find our meeting place.
If you're interested in joining Chichester Priory Rotary Club, please make contact (see "contact us" link above) and we will arrange for you to visit.
If you are interested in working with us, or would like to ask for our support, use the "contact us" link and we will get in touch!
There are two other Rotary clubs in Chichester: Chichester (City), who meet at lunchtime and Chichester Harbour who meet at breakfast time. There are also manyother neighbouring clubs within West Sussex . Each club tends to support projects within their own local area, so if you live in a different area, you may want to contact one of the other clubs for support, in which case look at the District Website.
Upcoming Event!
Thursday 20th November "BoJolly"
Beaujolais Nouveau Lunchtime Extravaganza!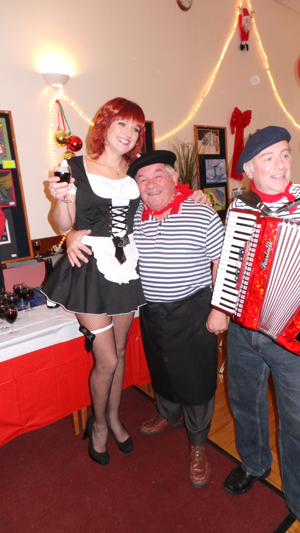 Upcoming event:
The Chichester Priory 10k Road Race is now in its 24th year and takes place over roads through Chichester and the neighbouring countryside. It is run under a UK Athletics (runbritain) licence. The 2015 Race will take place on Sunday 8 February starting at 10am from the Northgate Car Park. Please see our website or Facebook page for further details.

www.chichester10krace.org.uk
www.facebook.com/chichester10krace
Last Event:
Chichester Rotary Dragonboat Challenge 2014: Sunday 15th June;