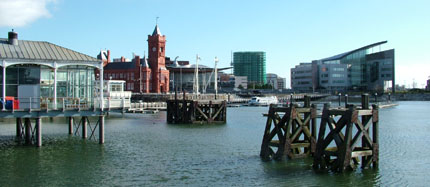 Cardiff Bay Rotary is one of eight Rotary Clubs in the city of Cardiff, the capital of Wales. We are a young club, not just because we were founded in 1988, but in our attitude also.
Meetings are arranged in the heart of Cardiff Bay each Tuesday evening, usually with a meal and often with a speaker, to enjoy good company and to discuss and plan our charitable work. Most weeks about two-thirds of the membership are able to attend.
What do we do?
We donate over £35,000 each year to our charitable causes, money which we raise ourselves with great enjoyment and team spirit. One of our main fundraising ventures at the moment is charity car parks in the city centre and you may have seen us on North Road as you travel into Cardiff on a big match day or at Christmas time.
Where do we spend it?
Our annual big event is Kids Out when we take hundreds of disabled and disadvantaged children for a day out. We try to support local needs and, where possible, get involved hands on. At the George Thomas Hospice, and Riverbank School for example, we constructed quiet gardens.
For young people we actively promote the Rotary Foundation's worldwide educational programmes - Ambassadorial Scholarships and Group Study Exchanges. Locally we sponsor the South Glamorgan Festival of Young Musicians, the Cardiff and Vale Schools Chess Championships, youth clubs, Young Carers, Arpa Viva Cymru, Rotary Youth Speaks and Rotary Young Musicians and we send several youngsters each year on the Rotary Youth Leadership Award outward bound course.
In the past twelve months we have been able to support both financially and physically more than fifty projects, including Message in a Bottle, Cancer Research Wales, Macmillan Nurses, MENFA, and Heartstart. We are the major sponsor of the annual Wheelchair Spectacular.
Internationally we support many projects in Africa and India with matching grants, sending cows, adopting minefields and in particular the Rotary Doctor Bank scheme which has enabled a hospital in Uganda to benefit from the skills of a local Cardiff doctor for a month. For many years we have supported aid convoys to Eastern Europe and the Rotary Shelter Box Trust which flies in immediate shelter and equipment wherever disaster strikes within days.
Visit our Blog and Facebook pages to find out more
http://www.cbrotary.blogspot.co.uk
http://www.facebook.com/pages/Cardiff-Bay-Rotary/359047220808375
Why not join us?
If you enjoy helping both your local community and would like to be part of an organisation that has 1.3 million members in over 200 countries worldwide, and have fun as well, why not come along and see how we work. New members are always welcome
Contact our Secretary for more information.
The Rotary Club of Cardiff Bay Trust Fund is a registered charity No 1038796.
Meeting Information...
We meet on Tuesdays at 1900 (No meeting following a Bank Holiday although we do meet after the first BH in May.) Novotel,
Schooner Way,
Cardiff CF10 4RT tel: 029 2047 5000