Welcome to the Rotary Club of Verwood
Featured pages:
News updated on 4th June 2017Read more


About The Club

Welcome to the rotary club of Verwood Web site.
We are a dual gender, active and friendly club of local business and professional people that has many links with local community groups and we have a great record of providing charitable support within our community and overseas, we have a wide ranging programme of Club meetings, social events and exchange visits with Clubs in this country and abroad.
You can learn more about our involvement in our local community, our support of overseas projects and how we enjoy ourselves in Rotary by clicking on the "What we do" tab at the top of this page.
Please feel free to have a look around our site to see some of the charities we support and some of the activities that we get up to.
You can also check out the latest activities clicking on 'latest news' from the 'What we do" tab above

Interested in learning more about Rotary club of Verwood
Verwood Rotary, which is part of the wider regional rotary group, currently has 29 members. We meet on the first and third Tuesday evening each month at a working/ social meeting at Crane Valley Golf Club. We also get together for a social occasion with our partners if there is a 5th Tuesday in the month.
We are always looking for new members and our secretary, Dave Allen, would be glad to hear from you if you are interested in joining. If you do have an interest in joining or just want to know more about Rotary then click here for further details.
---
Meeting Details
Interested in joining Rotary
In the next 30 days...
Social Media...
Verwood Rotary
Meeting Information...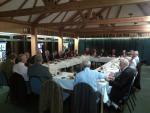 We meet on Tuesdays at 1930 (We meet on the 1st and 3rd Tuesday of every month and on the 5th Tuesday with partners.) Crane Valley Golf Club, Verwood, BH31 7LE tel: 01202 824905