Welcome to the website of the Rotary Club of Kings Lynn Trinity

THE ROTARY CLUB OF KING'S LYNN TRINITY
Thank you for visiting our Web Site - We hope that it proves of interest to you and encourages you to come and have a look at us
The Club was founded in 1989.It currently has 37 members ,both Male and Female, and we meet most Thursdays at The Stuart House Hotel, Goodwins Road, King's Lynn.
We welcome visiting Rotarians and prospective new members to our meetings.
We have enjoyed an excellent and productive year under President Graham Hill and our aim is to continue our progress under our new President John Greyson
We have a full programme of Local and International projects for this year
Youth - our Future
We are the Lead Club for Schools Make Music,
for up to date details please visit http://www.schoolsmakemusic.co.uk/
We also are the lead Club for Kids Out and Crucial Crew and participate in the Rotary Youth Leadership Awards.
The Club holds a Rotary Young Chef Competition at College of West Anglia,the winner going forward to the District and hopefully the National Competition as our candidate did in 2010/11.
The Club also sponsors and supports the Interact Club at King Edward VII School
All are projects that help young people.
Community and Vocational Committee:
We are always pleased to support local charities during the Rotary Year and are always alive to opportunities to serve the local community dependent upon identified needs
The Club have been involved in Community Projects such as Tree Planting and Garden construction in Kings Lynn
International
The Club is active in buying and filling Aquaboxes and Emergency boxes for use in Disaster Areas of the world.We have also supported Sight-savers
We are also continuing to support 1080Aid in providing surplus hospital and medical equipment to areas of the world that can use it to benefit those in need.
Membership:
We welcome prospective new members to attend our meetings where you can be sure of a welcome and a lively and entertaining evening of Fellowship
For more information please use " contact us " at the top of the page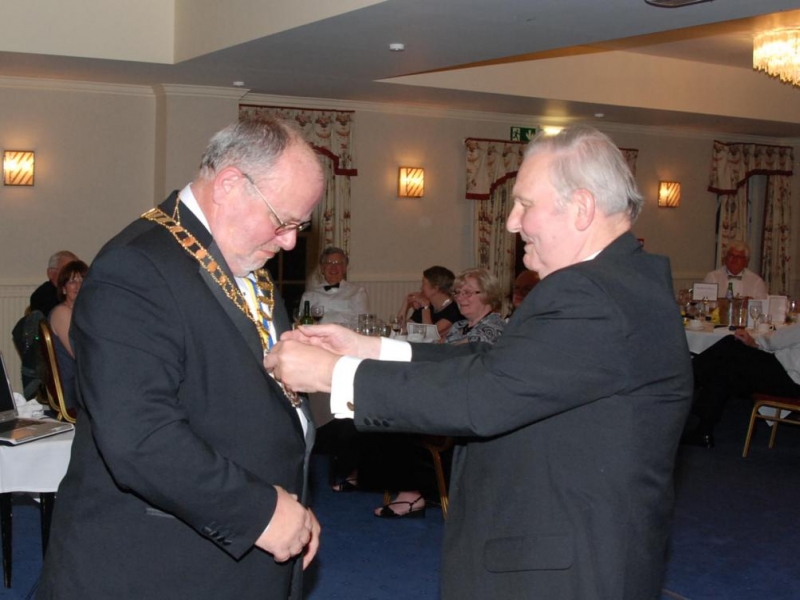 IPP Graham Hill handing over to President John Greyson at our Charter Evening on Thursday June 28th 2012
Last updated:26/10/2011