Welcome to the Rotary Club of Aireborough
Featured pages:
PLENTY CAUSE FOR CELEBRATION
In toasting another year of achievement at their 61st Charter, President Barry Mills and the members of the Rotary Club of Aireborough applauded three particular items in the evening's programme.
The first was to welcome and hear from guest speaker Major Stan Hardy (Rtd.) Deputy Lord Lieutenant of West Yorkshire on how these historical roles came about and just what his current job entailed, including the varying reactions his uniform sometimes caused!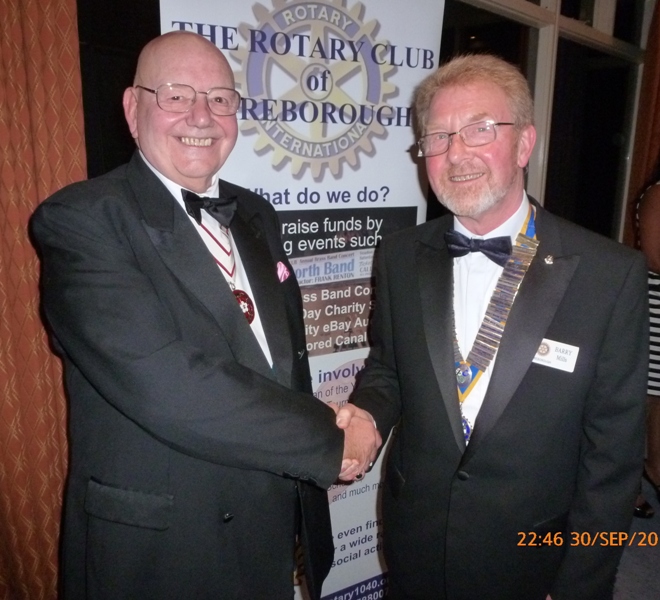 Having in the last couple of years established an evening satellite Club to develop membership, President Barry was delighted to post another step forward in inducting the Bartlett Group as the Club's first Corporate member represented by Judy Picker.
Finally in a tongue in cheek moment he introduced to the assembled company the Club's recently acquired mascot Montague Bear named after the Chicago engraver who designed the original Rotary wagon wheel logo in 1905. This was Montague's second public appearance as he had already received a noisy welcome when joining in the presentation of 60 dictionaries to pupils at Newlaithes Junior School, Horsforth.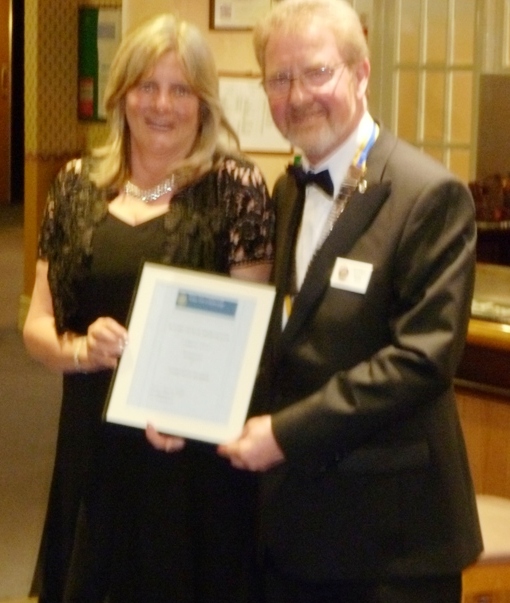 There was praise for the Club in having helped 39 different organisations and 50 individuals over the past year from Past District Governor Keith Davison. Highlights included taking a party of 44 to Lightwater Valley for 'Kids Out', supplying 24 Aquaboxes for use in disaster areas and donating 450 dictionaries to 8 local primary schools.
Top table guests on the evening also included Anne Parker, President of Aireborough Inner Wheel and Jillian Deakin of Soroptimist International – Aireborough. The Club also welcomed 17 visiting Rotarians from District Clubs near and far.
CHILDLINE AND AQUABOXES BENEFIT FROM BARBECUE
The second 'Back to School Barbecue' hosted immaculately by Bill and Janet Kerr ran as smooth as clockwork. As well as representing the fun side of Rotary, the guests brought an impressive array of items for the Club's Aquaboxes and raised £180 for Childline.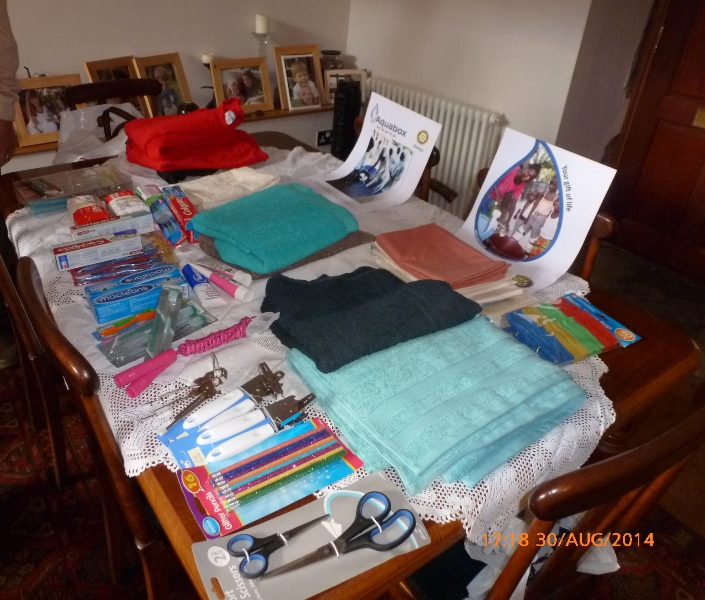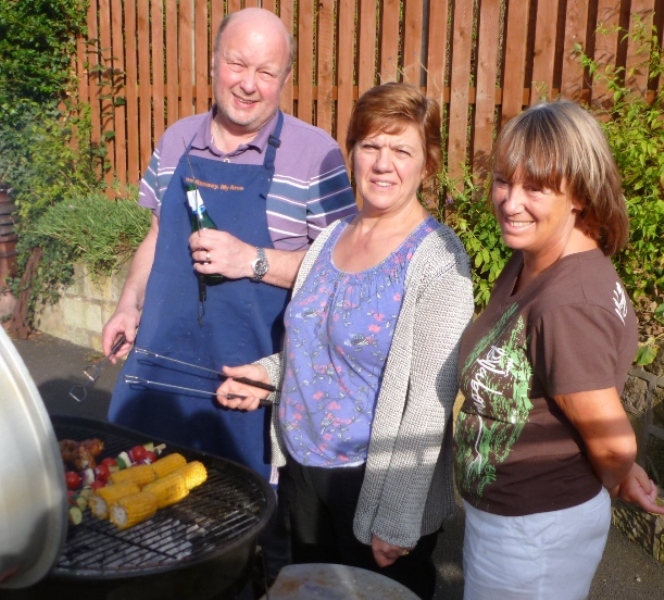 Graham and Morag Davies, slaving over a hot barbecue, kept three tablefuls of hungry Rotarians and guests happy as the empty plates in the pictures testify. As usual the workload of preparing and baking for the event was shared all round but Janet's trifle, Maggie's chocolate cake and Heather's meringues have to be mentioned without forgetting other delicious contributions to a substantial spread. A great time was had by all!
JUST AIM FOR THE HYDRANGEAS
August 9th dawned as the day when the dedicated members of the Rufford Park Bowls Club entrusted the pristine turf of their beloved crown green to the keen but well meaning efforts of Aireborough Rotarians and their variegated guests. Not for these competitors carefully attempting to follow the scarcely visible trail left by the jack.Instead, once they had determined on which side the dimple lay, they had to pit their wits against four challenges watched by a critical, expectant and on rare occasions knowledgeable crowd.
Probably for the first time in the history of these yearly events the evening ended in a tie with two teams scoring 150 points. The Old Gimmers comprising Brian and Mitzi Whitham and Mike and Caroline Pullan eventually triumphed over the Odd Bods made up of Cathryn, Zak and Ellie Brightwell and Amaya Johal in a tense bowl-off finale.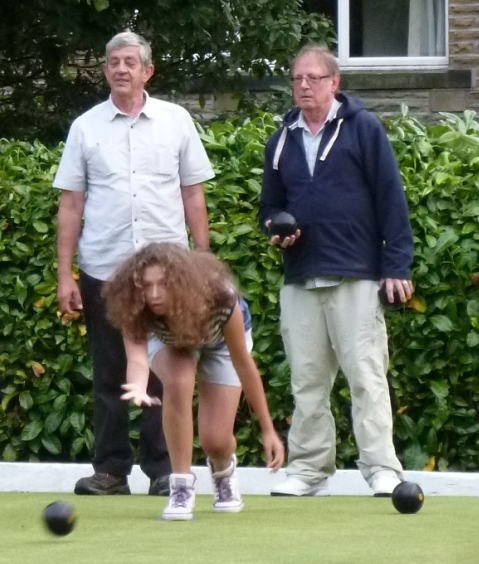 As the lady in the bungalow balcony, ever ready with helpful advice said ' I don't bother watching the professionals playing, give me enthusiastic amateurs any time'.
Thanks go to Brian Hall for booking the venue, Janet Mills and her Inner Wheel helpers for arranging the supper and to the Rufford Park members for doing their best to keep us on track ('pretend you're 30 feet further back, nearer Morrisons!)'.
The evening earned a splendid £178 towards Inner Wheel President Anne Parker's Charity of the Year – Whizzybugs.
IT'S ONLY WORDS
Members of the Rotary Club of Aireborough are well on their way to completing another very successful donation of 450 dictionaries and thesauri to eight local primary schools with mission accomplished at Rufford Park, Yeadon, St. Margaret's, Horsforth, Broadgate Lane, Horsforth, St. Oswald's, Guiseley, Rawdon St Peter's, and Queensway, Yeadon and only Yeadon Westfield and Horsforth Newlaithes outstanding.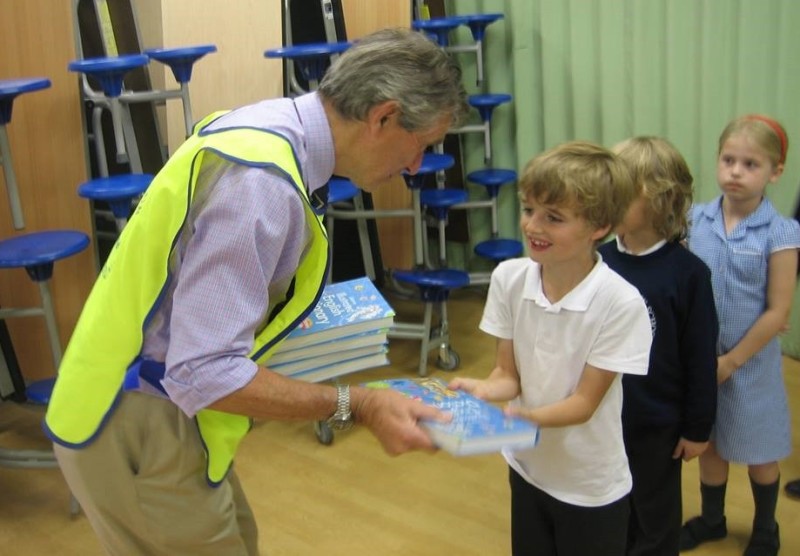 As usual all the Rotarians involved, led by leader of the pack John Moorhouse, found the reception at all schools welcoming and enthusiastic with many pupils expressing their personal thanks for the dictionary signalling their imminent move to secondary school. The team changed at different venues including Barry Bootland, Peter Long, John Knaggs, Brian Whitham, President Barry Mills, Heather Read and Robert Mirfield. Special thanks also go to St. Clair Logan for cheerfully supervising the delivery of 55 boxes of dictionaries and charging no fee for their storage in his garage.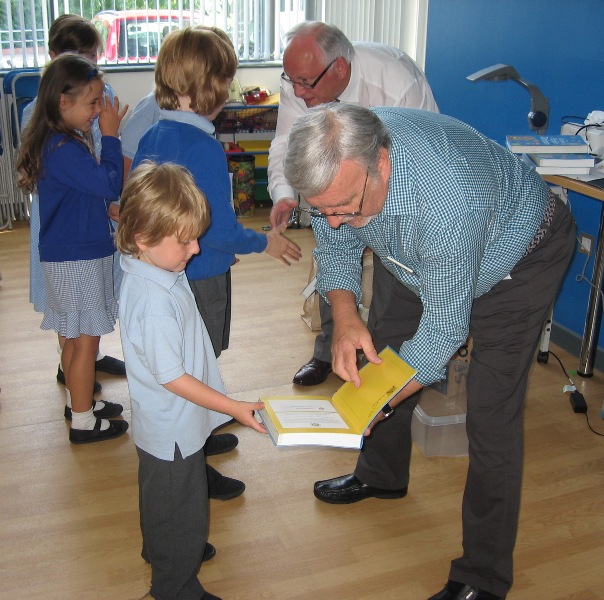 In one turn up for the book, tables were turned and Rotarians left speechless at Rawdon St. Peter's where Deputy Head Mrs Janice Hepworth hijacked proceedings with a surprise presentation on Rotary's history and the community work of the local Aireborough Club.
GOING OUT ON A HIGH
Friday's splendid dinner at Bradford Golf Club marked the end of Bill Braker's eventful term. During the evening he presented a cheque to Alyson Wort representing one of his charities for the year, Martin House Hospice. His second, Children's Air Ambulance will receive their donation at a later date.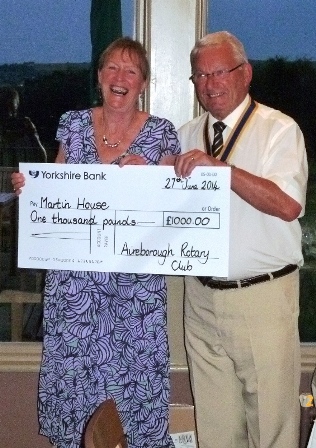 Bill thanked first of all Maggie for her support throughout the year and the Club for giving him the opportunity to serve as President as a relative new boy. He chose as highlights of his year Kids Out at Lightwater Valley, his Tour de France themed Charter Dinner, the annual Brass Band Concert and the continuing development of the Club's satellite group – the Nomads. First time events for them this year had been the Great Easter Egg Hunt at Rodley Nature Reserve and the Great Interactive Quiz. He had also enjoyed the invitation to join in Yeadon Charities' immaculately run Bridlington trip last weekend
Bill will be followed as President by another relatively new member Barry Mills who spoke lightheartedly of the encouraging, 'hand on shoulder' preparation for the role given to him by his predecessor.
As a finale to the evening and for the second time in his year, Bill took great pleasure in making another Aireborough member a Paul Harris Fellow, this time the unsuspecting Philip Livesey.
Joining the Club in August 1993, introduced by Graeme Parker, Philip moved on to Council in 2002 becoming Club Secretary a year later. Coupled with undoubted efficiency he was the first to bring to that position a dry humour and wit which meant that when he rose to his feet silence fell and full attention was paid just in case a pearl of wisdom was missed. Since that time he has also occasionally stood in stylishly for the Sergeant-at-Arms ensuring the correct gravitas was naturally accorded to that important position.
He became President in July 2009. If Brian Waite was ever absent during that year attendance was regularly calculated at 112%.
Highlights of his year included encouraging all Club members to let their hair down, dress up and dance at his Hillbilly Spring Fling. His outgoing President's evening was at Timble where we saw the plans and heard all about a new and exciting project called the Washburn Heritage Centre. Organist and professional bellringer he has supported all things musical within the Club, being a firm fan of Tory Clarke and the Cassia String Quartet, following Young Musicians to York as well as taking on the onerous role for a tall man of Yvette in the unforgettable 'Allo! Allo!'.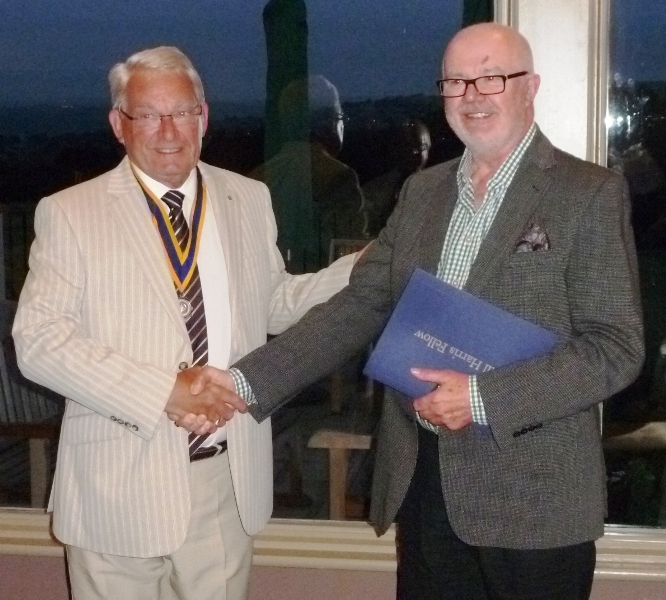 Latterly he has led the Club's Membership Committee with distinction, being one of the prime reasons why Assistant Governor Mike Bamford recently spoke of Aireborough as being 'one of the most talked about Clubs in the District'. Philip played a leading role in ensuring the Aireborough Nomads were one of the first satellite Clubs to be formed. Because of that he and Club members have been called upon to spread the enjoyable but sometimes stressful message to other District Clubs seeing satellites as one possible answer to falling membership but….'Do they pay the full subs???'. Leading a session at the Scarborough Conference was a subsequent accolade. Never one for standing still, his most recent achievement has been to bring Aireborough its first potential Corporate Member in local company Bartletts, insurance brokers to Rotary in Great Britain and Ireland.
In thanking the Club warmly for the honour Philip thoughtfully recorded he was accepting the Fellowship not only for himself but also on behalf of his stalwart Membership Committee members Brian Hall and Bill Braker.
LIGHTWATER VALLEY DELIVERS A BEAUTIFUL DAY FOR KIDS OUT
This year's contingent was the biggest Meadows Park has entrusted to the Aireborough Club since Kids Out began and they were rewarded with a perfect day. Our team formed part of an overall group variously estimated at 850-880 hosted by 20 different Clubs having the run of the park. 25 young people, 13 carers and 6 Rotarians made the trip with superb organisation all round.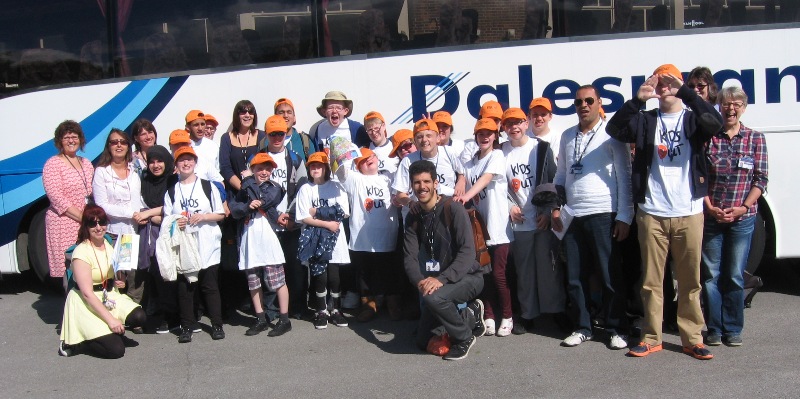 Rides had been selected in advance suited to the individual ensuring that everyone gained maximum enjoyment and had plenty to talk about and remember in the days to come. There was plenty reminiscing about previous years and visits although there seemed to be less daredevil activity this time round. But as the picture gallery will show Rotarians took the opportunity to re-visit past youth.
For the old hands it was a chance to meet up with pupils they had met before and to find out what was on their programmes for next year, including in some cases moves to residential colleges.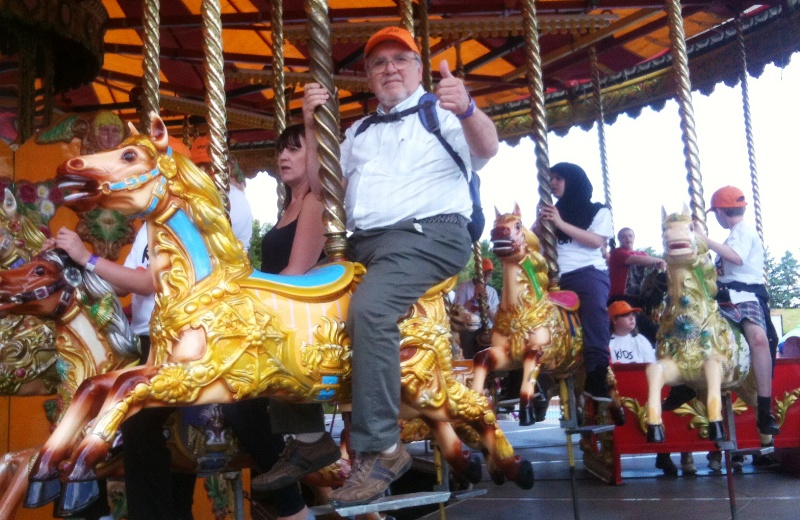 Rotarian Maggie (and President Bill) had put an awful lot of work in beforehand to make sure that lunch when it came along provided a sumptuous repast enjoyed by all.
The Club is particularly grateful to Yeadon Charities who donated £500 to help these young people enjoy their day in the sun and return home tired but happy.
Well done and grateful thanks to John Moorhouse, Bill and Maggie Braker, Barry Bootland, Barry Mills and Peter Long!!
MIXED BLESSINGS
After last year's problems with the weather, Fewston and Swinsty reservoir circumnavigators took a wide range of options in selecting when to brave the notorious merry May elements. Robert first footed and reconnoitred on Friday and Barry and Lynne encouraged their troop to make it a Bank Holiday Monday excursion. John Moorhouse, John and Bev Knaggs and Andrew took the early Saturday morning option followed later in the morning by Barry Mills, Graham, Doreen, Bill Hudson, Tony and Ann Scaife and Patrick. Four dogs also carried an amount of sponsorship.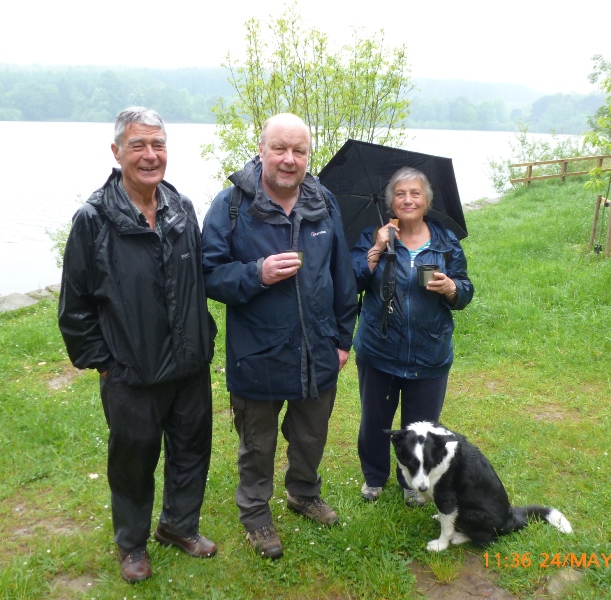 The indefatigable Brian Hall did his best to marshal the troops from his Blubberhouses pulpit, but following Rotarians' propensity for setting off in whichever direction they thought best at the time, it proved a somewhat thankless task. Robert, filling in for Brian Waite, did manage to provide drinks and energy bars to tiring wanderers passing the Swinsty car park.
Overall no one managed to emulate the soakings of last year but several caught the back end of Paul Hudson's promised and forecast showers.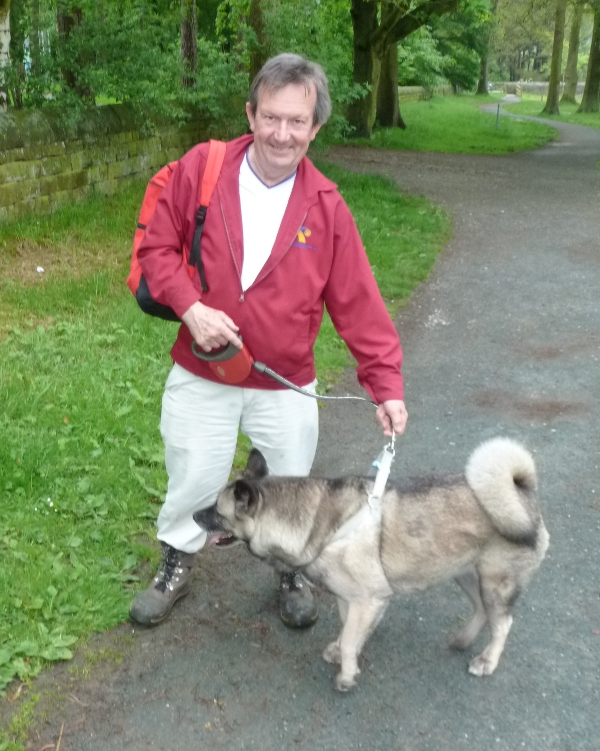 The Mills, Scaifes and Mirfields ended the day paying full justice to the Washburn Centre's renowned bacon sandwiches.
Thanks must also go to the rest of the Club's membership, there in spirit, for their valued sponsorship. A total will be announced as soon as it is available.
.
CRACKING RESULT FOR EASTER EGG HUNT
There was just reward for the Nomads team embarking on their first ever Easter Egg Hunt, marshalled by the irrepressible Janet Kerr and the quietly confident Barry Mills, , when around 150 children came, searched and conquered the wide open spaces of Rodley Nature Reserve.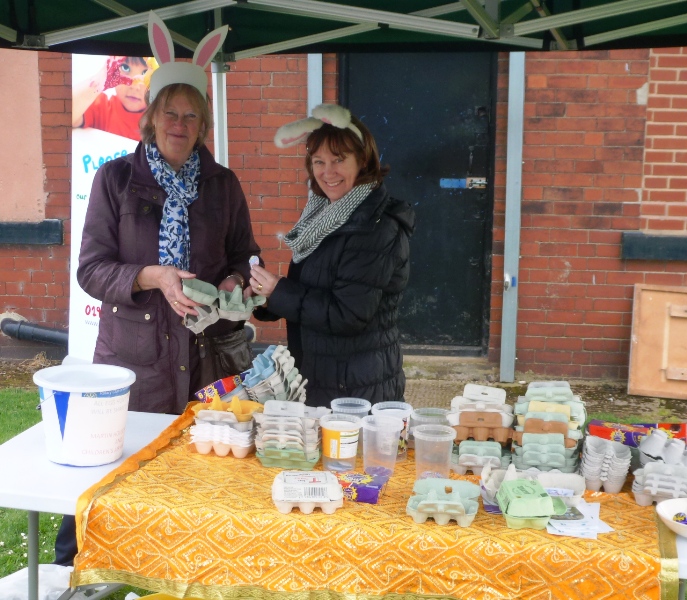 With Bill and Maggie Braker setting the example, Rotarians had cajoled a whole string of local shops into donating Tombola prizes supplemented by generous gifts from a host of Club members.
The 'make and bake' afternoon at the Kerrs involved yet more people in dexterously ,preparing six trays of gifts for those bold enough to attempt to 'Hook-a-duck'.
On a day when bad light might have stopped play several times, cars began rolling in well before the 11 o'clock start time and the Secretary's well planned and oiled rota sprang into action. Sadly, since Rotary is undeniably strong on chiefs, most volunteers had found their niche by 11.30 and thereafter did not venture far from it. Despite or perhaps even because of this, the afternoon was a resounding success all round.
Children, having collected their six prize-winning tokens, eagerly received their egg or rabbit and departed to hook by now reclining ducks. Parents rejoiced in their newly found map-reading skills and the fact that their children had walked voluntarily 'a long way'. They dreamed of future orienteering and made do with eventually finding and carrying home edible riches from the Tombola stall. And all without fail dropped generous donations into the waiting buckets.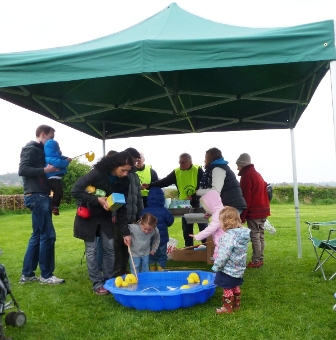 The Club is indebted to the Rodley Nature Reserve volunteers for allowing the whole event to happen on their patch and for teaching us how to erect gazebos with the minimum of fuss and injury. We, for our part, hope the Egg Hunt helped to swell their deserving coffers and to attract new clientèle.
The main beneficiaries from all this hard work and undoubted enjoyment will be the Martin House Hospice and the Children's Air Ambulance.
The reward for us Rotarians? Well 'We're for Communities'!
CULTURAL FESTIVAL AIREBOROUGH STYLE
The advance publicity promised 'Maggi Stratford and Daniel Bowater (Encore!) conjure up the atmosphere of the French café-cabaret of these familiar songs'. Billed as a very early unheralded entry by the Rotary Club of Aireborough to the 100 day Cultural Festival preceding 'Le grand départ' this event exceeded expectations. Maggi introduced each song with details of the interwoven lives of the singers and songwriters, bringing the audience closer to Edith Piaf, Jacques Brel, Charles Trenet and Charles Aznavour. With each song she managed to take on a different personality for each 'chanson populaire' exploring the age old themes of love, loss and sorrow aided by the accomplished and versatile Daniel Bowater on accordion, keyboard and guitar.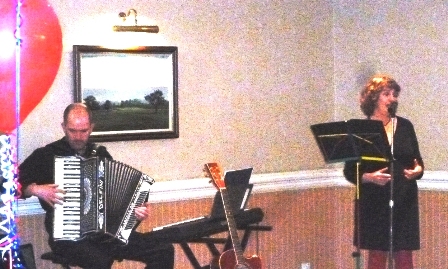 Humour, however, was never far away – was it really true or a 1940's urban myth that on the train hugging the Narbonne coast where he composed 'La Mer' the only paper available to Charles Trenet was Izal? Mastermind also interposed briefly with a question about an Armenian Ambassador to the United Nations, who also wrote and sang 'Tous les visages de l'amour' an English hit as 'She'.
An attentive and appreciative audience described by Maggi as 'a serious bunch' were simply scrambling in the back catalogue for their long forgotten school learned French.
Adding to the entertainment were those flamboyantly dressed in keeping with the tenor of the evening complementing the French styled menu and the red, white and blue table decorations.
Marie Curie Cancer Care, official charity of 'Le grand départ 2014', is encouraging fundraisers to 'Go French! Go Yellow! Go Cycle!' With stage 1 completed, where next for the Rotary Club of Aireborough?
POMPEY CHIMES FAREWELL FOR PETER CARLILE
A capacity congregation at St. John the Evangelist, Yeadon amply illustrated the different strands and facets of Peter's crowded life with the service itself containing poetry, classical music, rousing hymns and the final tribute to his favourite football team Portsmouth, from which city his family originally came.
A fact-filled eulogy, reflecting his sense of humour, described the major events and interests in his life and showed how he took care to maintain contact with various circles of friends as his life progressed.
His love of sport was fostered at Alleyns School, Dulwich including playing (Rugby) fives, later graduating to real tennis, and also entailed his cycling across London to watch cricket at the Oval and football at Stamford Bridge.
Once in Yorkshire Peter became a member at Headingley for his cricket but travelled worldwide to watch rugby sevens in Hong Kong, football in Tenerife where he relaxed regularly and the Ashes in Australia. His final achievement in the sporting sphere occurred only last year when he made the journey south to accept the invitation to become a Lords Taverner,
Peter was the youngest of six children and the loss of both his parents by the time he was ready to leave school influenced his changed decision to study for his dentistry degree in Leeds, rather than in London. He stayed initially with a brother in Huddersfield but soon recognised that his fellow students could stay in bed till five minutes to nine and still get to lectures on time. As a student, moving to Leeds meant a greater social life.
Once qualified, Peter stayed in Leeds practising dentistry throughout his career in Rawdon.
A holiday romance in Lindos initially brought Peter and his wife-to-be Gillian together and soon led to her also moving from London to Leeds.
Peter joined the Rotary Club of Aireborough in July 1984 with the committee of his choice being the Rotary Foundation (TRF). Peter and Gillian were always ready to host visitors through Rotary on projects like Group Study Exchange and maintained contacts made this way over many years. Visiting Rene in Chicago gave Peter the unusual opportunity to seek out a sixteen storey block, Unity Building, 127 North Dearborn Street and to find the office on the seventh floor where Paul Harris hosted the very first Rotary meeting and to sit in his chair behind his desk.
Peter was also a staunch supporter of the Stroke Awareness days at Morrisons (as the 2011 picture shows) and always played in the Clubs annual Presidents Putter competition.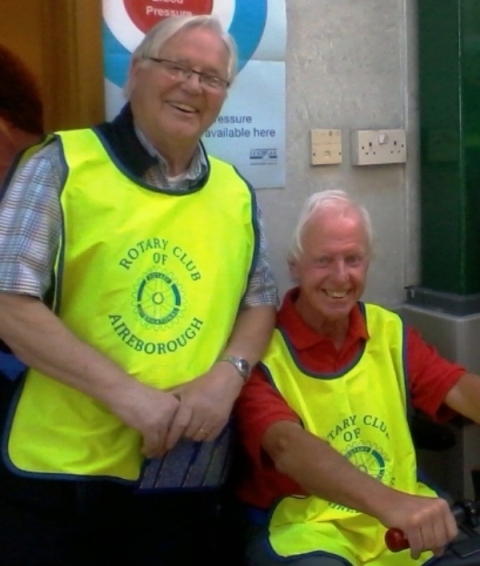 He also joined the other golf enthusiasts Barrie King, Dick Gillgrass and David Farnell in making the pilgrimage to St Andrews to take part in the annual International Golf meeting.
Peter was Club President in 1994/5 enlivening his Charter Dinner speech by forgetting his glasses, dispensing with his notes and making up for it by spiritedly speaking off-the-cuff.
HALL AND SUNDRY
When you know it's one of our very own members fronting the show then an uplifting and unexpected lunchtime is guaranteed. There was not much of a clue in Brian Hall's title – Double vision and a brick-built toilet at the end of the garden – but once the first splendid cartoon appeared, crafted by the other Hall – Carol, Brian was able to take off on a zany flight of fancy, aided and abetted by three relative volunteers – Philip Livesey, Barry Mills and John Knaggs.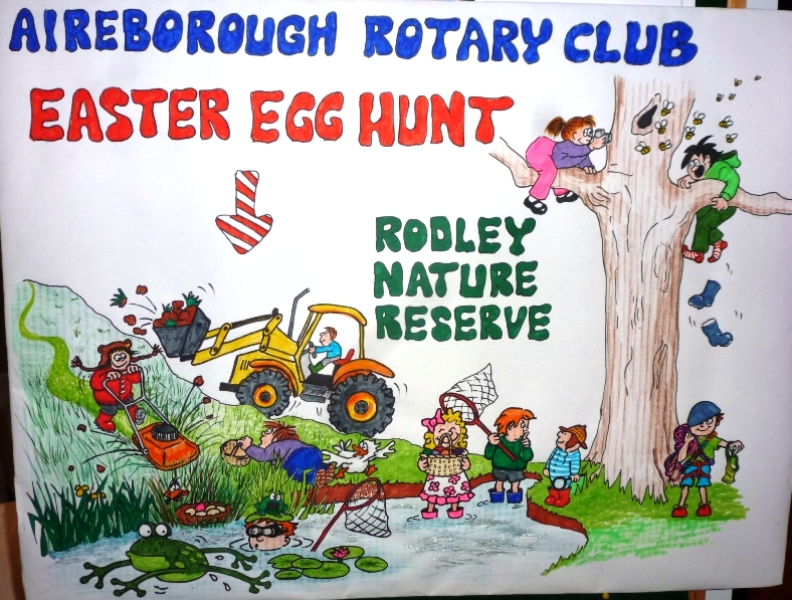 Unfortunately Bill Kerr, recuperating from his knee operation and resultantly far from being 'fit as a butcher's dog' was unable to bring his Lancastrian humour to the Kerr's Butcher's Shop image but Philip now adept at extolling the Nomads cause accepted the 'Final Toast' as a fitting commentary on the 'Are we into social yet?' plaintive plea rounding off the evening meeting's hard work and thinking.
Next up was the multi-lingual Barry Mills selling and explaining with massive enthusiasm the Great Easter Egg Hunt, Nomads' April project in German, French and thankfully for most, English, with verve and fluency.
John Knaggs revealed his hidden choral talents and something of his early years in musing on the 'Practising Carol Singing…' tableau. Full credit to this redoubtable trio, for courageously taking centre stage when, thanks to Brian, they did not have a clue as to what their actual task might be.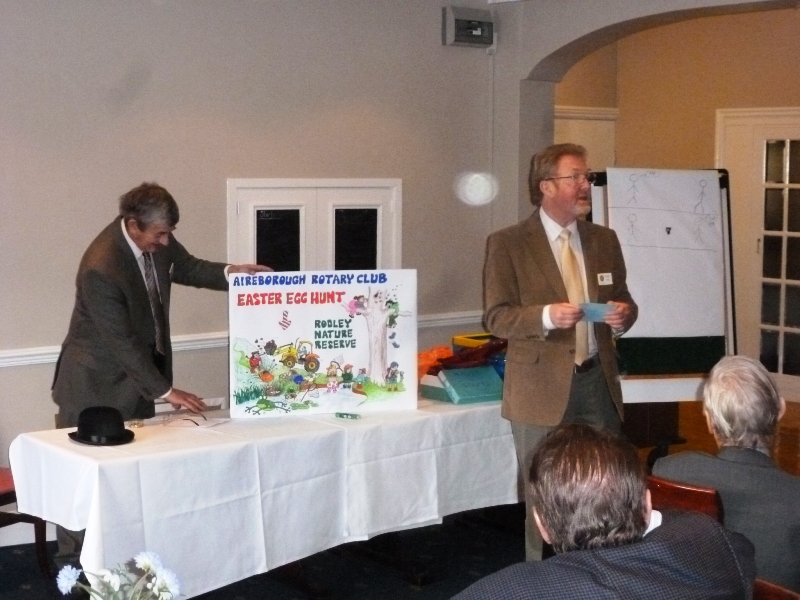 Parkinson this was not, but Norman in attempting to make the vote of thanks, joined Brian in an exchange of repartee, more reminiscent of Morecambe and Morecambe, rather than Mr. Pastry.
But pride of place in the meeting went to the absent, talented Carol Hall and her creative, comical and colourful cartoons.
YOUTHFUL TALENT SHINES THROUGH
For the third year running four local secondary schools – Horsforth, Benton Park, Guiseley and St Mary's, Menston provided an impressive array of talent for the Aireborough heat of Rotary's National Young Musician competition which leads ultimately to a May final. Its aim is to give young performers the opportunity and experience of playing before a receptive audience and of receiving constructive comment from a panel of judges.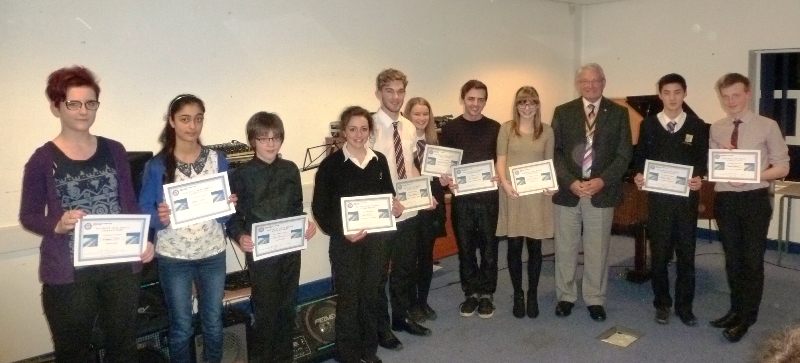 An appreciative 50 strong audience heard music from a wide range of composers including Schumann, Beethoven, Handel, Shostakovich, Debussy, Einaudi and Bartok. Ten young people took part in three age groups: key stage 3:11-14, key stage 4: 15-16 and key stage 5: 17-18. The difficult task of selecting group winners rested with judges Mitzi Whitham, St. Clair Logan and Elizabeth Kenwood-Herriott.
The whole group picture shows from the left: Elizabeth Lister, Keerat Thiara, Tom Salmon, Seren Waite, Callum Hawkins, Kathryn Bradley, Alex Chantrell, Emma Illingworth, our very own Bill Braker (Club President), Mingzhe Feng and Matthew Spalding.
All ten competitors received certificates from Bill Braker, President of the Rotary Club of Aireborough and winners' cheques after careful deliberation went at key stage 3 to Tom Salmon of Horsforth School (clarinet), at key stage 4 to Emma Illingworth from Guiseley School (alto sax) and at key stage 5 to Elizabeth Lister also from Horsforth School (violin).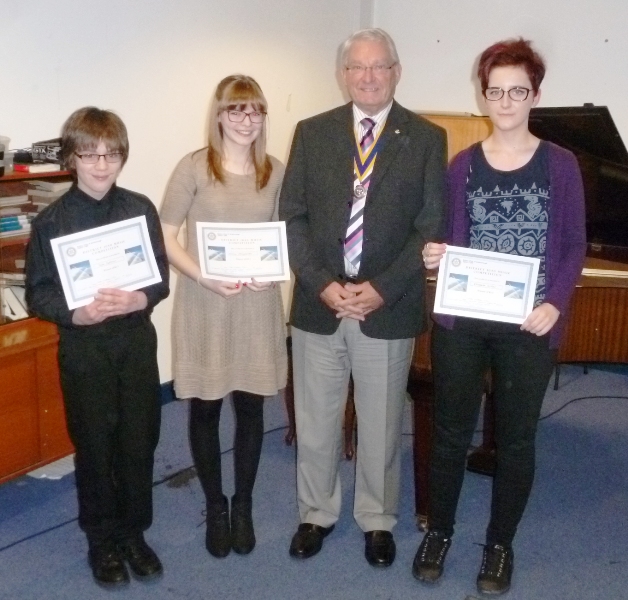 The winners' picture has from the left Tom Salmon, Emma Illingworth, Club President Bill Braker and Elizabeth Lister.
With enthusiastic support they will now move on to the District 1040 Final on Saturday 8 March at the National Centre for Early Music in York
FESTIVE SPIRIT TO THE FORE AT CHRISTMAS EVENT
Hats and ties were consigned to the back of the wardrobe as the celebrating assembled multitude answered the festive call for imaginative displays. Elvish outfits abounded, snazzy spectacles twinkled, angels winged in, natty headgear prevailed and jazzy jumpers jingled and assailed the eye.
Chef Becky met the challenge with a meal to fit the occasion. Guest Paralympian David Stone gave everyone the unique opportunity to handle a gold medal from the London Olympics.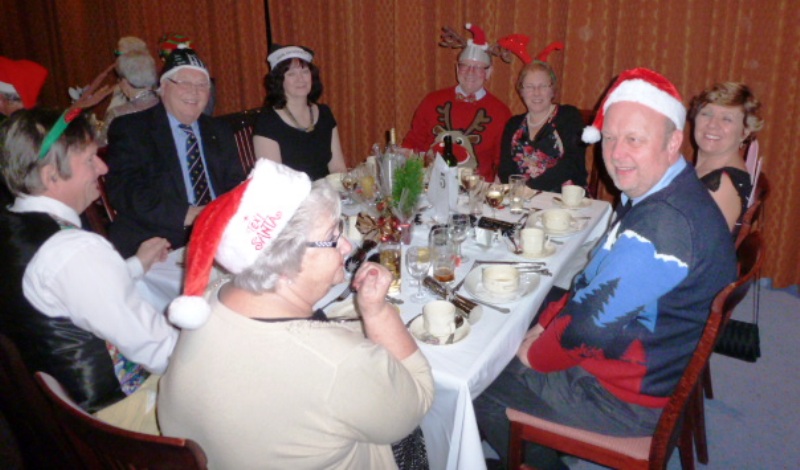 The Three Fivers provided the evening's entertainment blending magic and illusion with the rendition of both carols and popular Christmas songs. There was even an opportunity for Santa's Little Helper (chosen for his counting ability) to accompany with his inimitably syncopated drumming.
A noteworthy core of regular choristers led the encouraged singing along. Brave efforts were made by the many who would have preferred a song-sheet especially from the third verse onwards.
The photo gallery will attempt to record the colourful efforts made by all. Apologies for the murkiness of many of the pictures, Primark just edging Duracell in the sponsorship stakes!!
BOISTEROUS FUN AT NOMADS' QUIRKY QUIZ
The choice of off-the-wall topics (including Sweden, Nuns and the Glories of Yorkshire) for this first Nomads Interactive Quiz meant that the result went down to the wire and the very last round - Superheroes. Pre-match favourites All the President's etc. comprising the Whithams, Davies's and the Hipkins, took the crown, despite failing to register a measurable height for their edifice in the Team Challenge. Full points in the final category saw them home by half a point!
Runners-up were the Red Roses, marshalled by Heather Read who had gained 10 points for their towering free-standing construction measuring well over six feet. Booby prize went to the Lads who shall remain unidentified
Philip Livesey controlled the evening immaculately at the microphone encouraging the 8 teams in their frenzied racking of brains for those elusive answers. Janet Kerr, main architect of the evening presided over the event with steadily increasing effervescence. With Bill she was also responsible for the imaginative raffle prizes including Questions the Eggheads couldn't answer and 50 Sheds of Grey.
The scorers Doreen, Pat and Robert had a particularly hilarious evening listening to the widely divergent solutions offered by the harried team runners with Where would you wear a codpiece and what is it?proving the most entertaining question.
President Elect Barry, emerging from the Eureka Stockade, brought the evening to a close with thanks to all concerned: supporters, participants and organisers with the promise that funds raised (which later proved to be very close to £200) would be donated to deserving charities.
The only thing missing, due to a mental aberration on the part of the camera wielder, were any pictures of the event. Are there any out there?
NEVER A DULL MOMENT
Give Frank Renton, host of BBC Radio 2's Listen to the band a stage, allow him a rehearsal with a group of enthusiastic and accomplished players and you know you are in for an amusing, educational and above all entertaining evening.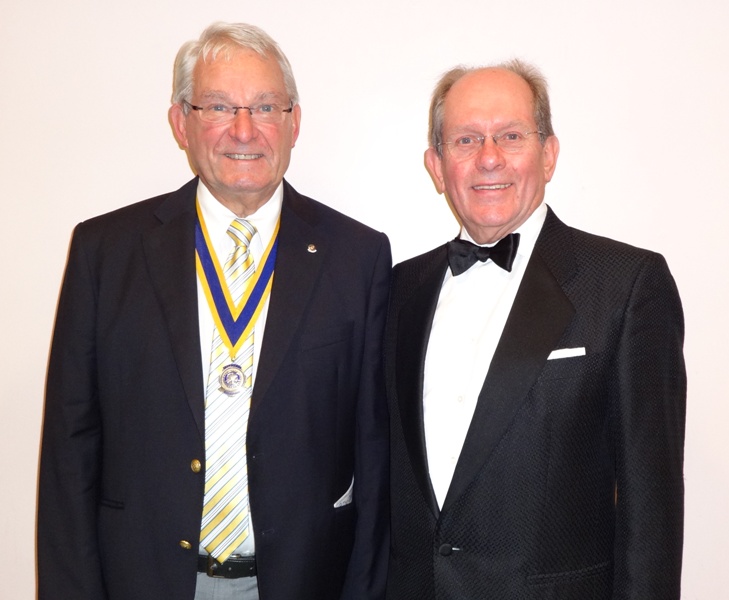 And so it proved at the Rotary Club of Aireborough's 16th Annual Brass Band Concert at Yeadon Town Hall where the Hepworth Band performed to an appreciative audience for the fourth consecutive year.
Once again the programme was varied and demanding ranging from the modern, Lucy Pankhurst's 'Wired' to the overture from Glinka's opera 'Ruslan and Ludmila', from film music Elfman's 'Batman the movie' to Dvorak's 'Slavonic Dance No. 8'. There were also opportunities for talented soloists to perform including Daniel Powell - (tenor horn), Katherine Bentham – (flugel horn) and Mike Kilroy – (euphonium) and there was also a first in this long series of concerts when Iben Maersk, band member and sister of the Band's resident conductor Stig, sang 'Maybe this time' from 'Cabaret' to a noisily receptive audience.
As always it was noticeable how all band members applauded the expertise of their fellow players.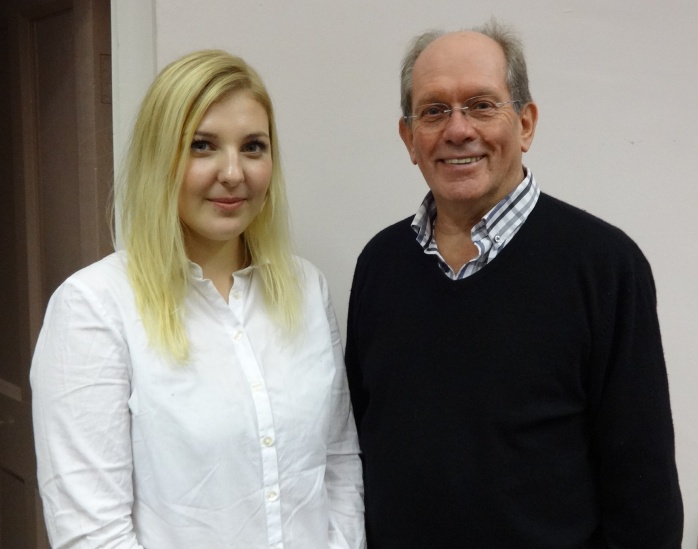 Rotarians played their roles to perfection beginning with President Bill on stage and others ushering, programme distributing, raffle ticket selling (and how!!), ice cream selling and of course technically in the box office and i/c lighting! They also applauded and laughed at all the right times.
The Club is extremely grateful to both those who attended the concert and our supportive programme advertisers ensuring close to £2800 can be used effectively in charitable funding. President Bill has selected as his charities for the year the Elizabeth Foundation, helping deaf children, the Children's Air Ambulance and Martin House Children's Hospice.
Next year's already booked concert will be later next year on 24 October 2014. The billposters are already in training!!
Pictures show a formal President Bill and the irrepressible Frank Renton, followed by surprise vocal soloist Iben Maersk whom Frank will definitely recognise next year.
GREY SKIES ARE GONNA CLEAR UP!
Aireborough enthusiastically put on its happy face for another Scarborough weekend. How we never win the best attendance trophy remains a mystery since this year 18 Rotarians, 11 Inner Wheel members and 3 wives descended on the welcoming Red Lea for another boisterous stay.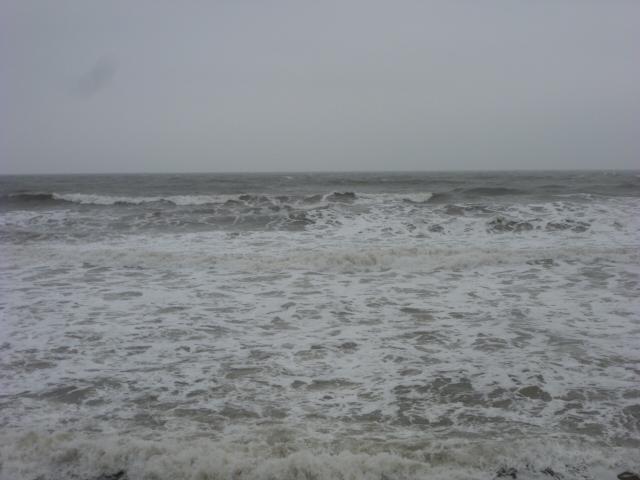 Aireborough once again went its one way to some extent replacing the black tie dinner with its own in house reception, private dinner followed by 'Aireborough's got talent – the sequel'. Once again as the picture gallery reveals the cast achieved a high rate of imaginative participation and costume. Poetry, song, comedy and readings all played a part. The list included, in no particular order – Tony Hatch and
Jackie Trent, Il Divo, Pam Ayres, Tommy Cooper, Lewis Carroll and Gervase Phinn followed by the whole company of Mamma Mia. Even the Beverley Sisters made a late entry. The Holloways were sadly missed
Oh and not forgetting the Conference itself – the Trussell Trust was supported and plenary sessions were well attended with the Catterick Recovery Unit/ABS – the Soldiers' Charity and the caustic yet hilarious Geoff Mackey outstanding. His mousetrap version of the need in Rotary to sometimes take a chance and go out on a limb will remain long in the memory.
Ian Legge's take on 'Engage Rotary, change lives' struck a chord when transposed to 'Engage change, Rotary lives' for this correspondent.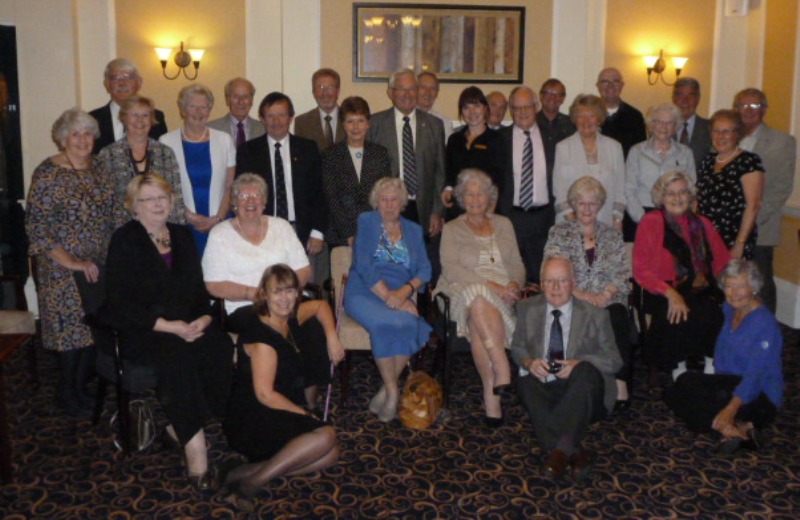 Though not being featured in the 'Yes, we can!' video nor receiving a cheque in a well disorganised presentation, Aireborough was given the opportunity in the break-out sessions to explain to an interested and questioning audience how it had taken on the challenge of establishing a satellite group. Eight members backed a confident Philip at this presentation, photographed by the surprisingly reticent Allan Jagger.
To round off the evening in a more hectic manner some members even made it to the dance floor much later reliving the sixties from a range of distances.
For Aireborough there will be some tinkering around the edges before next year but the show will definitely go on!
CELEBRATING A SIGNIFICANT YEAR
President Bill Braker welcomed more than 90 guests, including Rotarians from 9 visiting Clubs, to the Club's 60th Charter Birthday Celebration. Both he and District Governor Mark-Stewart-Clarke congratulated Club members on the past year's raising of funds for and then supporting 44 organisations and 10 individuals, both locally and worldwide, with a particular focus on young people.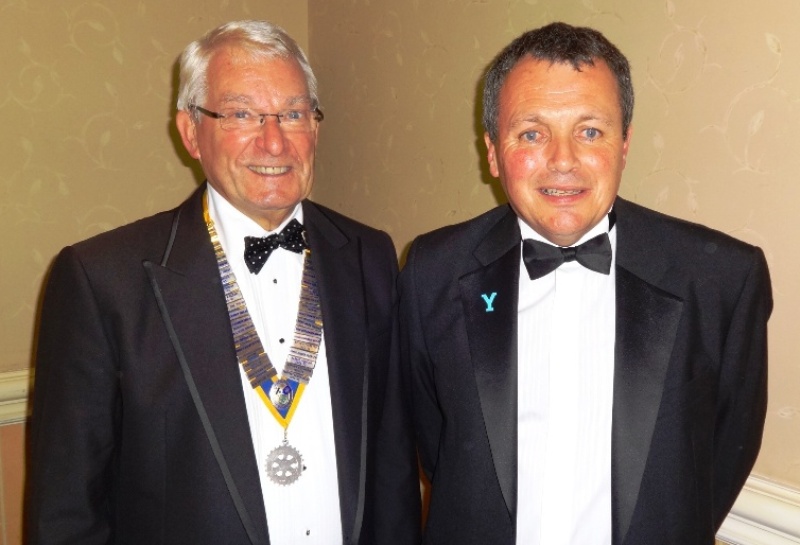 Guest speaker David Shields, Northern Director of 'Welcome to Yorkshire' supplied an interesting behind-the-scenes insight into how Yorkshire overcame a rival bid for the Tour de France's 'grand départ' by imaginative use of a helicopter's eye view of the proposed stage routes and a Mark Cavendish presentation on the Leeds Millennium Square big screen.
In his view the Tour's most unusual role was that of stage scriptwriter, pointing out Yorkshire sights and landmarks for the television viewers in the 188 countries ardently following Tour coverage.
The evening's toasts were imaginatively shared between longest serving member Brian Waite, newest member Liz Kenwood-Herriott and Bill Hudson and Graham Davies, son and grandson respectively of the Club's second and third Presidents.
Top table guests included Anne Waite, President of the Inner Wheel Club of Aireborough and Katharine Jex, President of Soroptimist International of Aireborough.
The evening proved particularly memorable and surprising for one Aireborough Rotarian, Robert Mirfield, who received one of Rotary's highest awards, a Paul Harris Fellowship - 'whenever there's anything going on in the Club then he's likely to be involved'.
NOMADS ORGANISE WAY TO HELP MARY'S MEALS
Following their successful Sheepstakes Night, the Aireborough Nomads latest fund-raiser featured a barbecue, (in the enthusiastically capable hands of Graham Davies), hosted by Rotary members Bill and Janet Kerr aiming to fill eight backpacks for Mary's Meals. This charity provides a daily meal in a place of education first attracting then providing an escape route from poverty for half a million chronically poor children worldwide.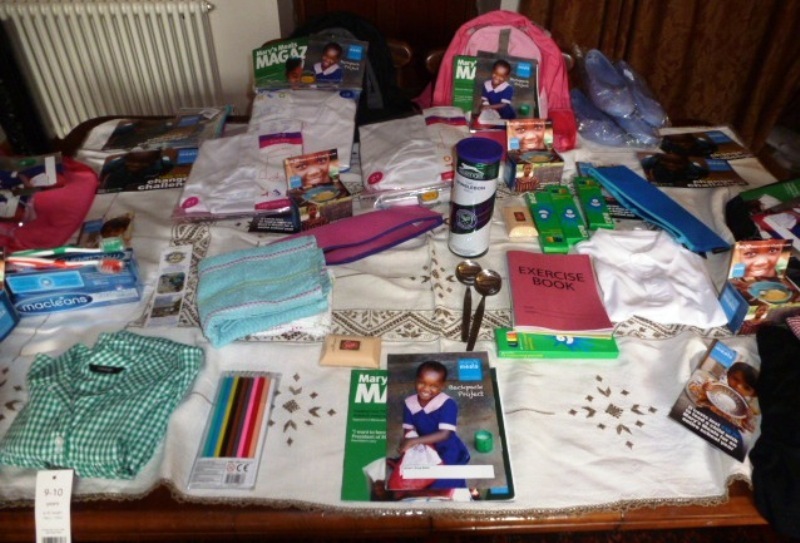 To fill the backpacks members from both Rotary and Inner Wheel brought to the event the basic items needed when starting school – pens, pencils, rulers, exercise books, pencil case, flip-flops, t-shirt or a dress and shorts plus most importantly a spoon as the picture shows. A cheque for £200, collected at the barbecue also accompanied the packs.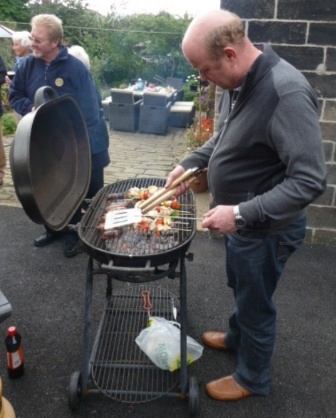 Pictures show a tableful of the gear brought on the day as well as our chief barbecuer Graham Davies.
The same week Rotary members visited the last of eight local schools, Horsforth Newlaithes Primary, with 45 dictionaries, bringing to 350 the total number distributed this summer.
MEETING THE CHALLENGE
For several years the Rotary Club of Aireborough has given sixth form pupils from four local secondary schools the chance to attend a Youth Leadership Award programme held at Hebden Hey in the Hardcastle Crags Valley.
Last weekend Hannah Childs and Conner Hulme, both from Horsforth School, completed the course made up of four very different outdoor team exercises, including raft building, with the added enjoyment of 6.30 a.m. starts and late finishes. Normality was resumed with a course ending participatory concert. Driving them home Brian Waite commented 'They spent most of the trip home reporting back enthusiastically on their adventures and discoveries…the rest of the journey they fell asleep'.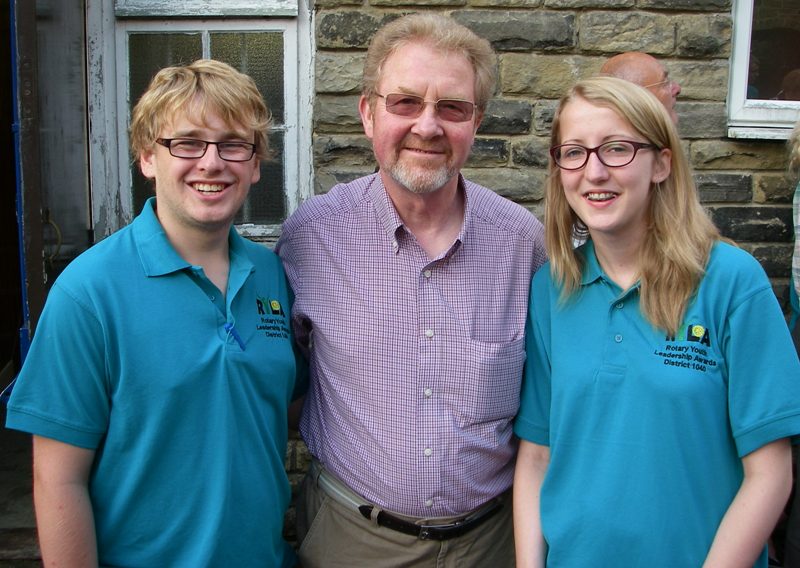 This year for the first time the Club also decided to send two students on an Ocean Youth Trust (North) voyage based on North Shields. Tom Corina from Benton Park and Chris Penny from St Mary's, Menston were the first to take on this new challenge aboard Ocean Scout. They described as 'fantastic' a week which included sailing up the Tyne to the Millennium Bridge as well as to Amble, the Farne Islands, Hartlepool and Blyth, even being given the chance to 'Captain' the crew on the final day. Coping with cramped conditions was the order of the day.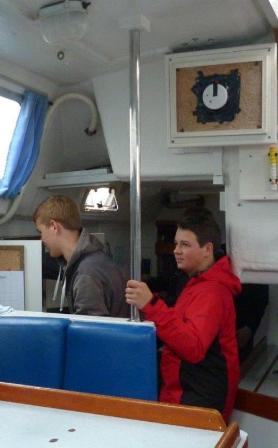 All four young people would thoroughly recommend their experiences to next year's prospective participants.
Barry Mills of the Club's Education Committee reported 'All four proved to be superb ambassadors for their schools and their generation. They met the testing challenges of character-building, outdoor activities and practising leadership. Tom and Chris also gained nautical skills as crew on a sailing craft on the River Tyne and North Sea venturing as far as the Farne Islands….and all four emerged tired but triumphant!'
One final challenge remains: - to recount their stories to Club members and to underline the benefits they felt they gained from their experience.
EVERYONE'S A WINNER
For the old stagers this was the fifth time dictionaries had been presented to eight local primary schools and as on all previous occasions the initial reception was muted and polite. That lasted until the lining up for the mandatory picture taking when the natural exuberance of the young pupils came to the fore. This spontaneous image from Broadgate Lane perhaps epitomises that best!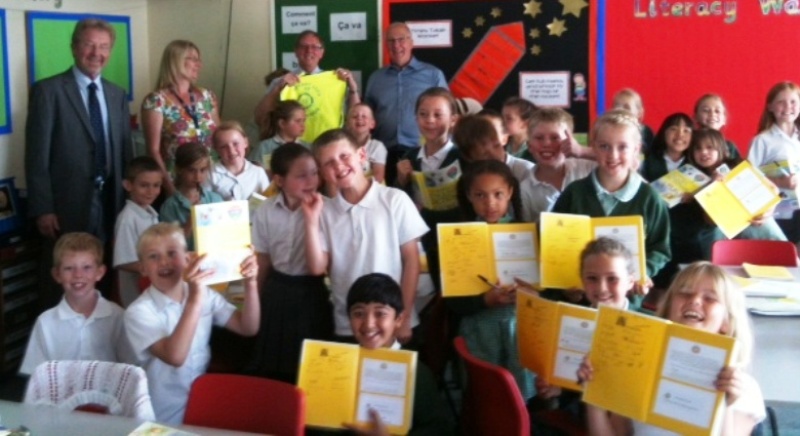 Schools involved this year comprised St Oswald's C of E Junior, Guiseley; Yeadon Westfield Junior; Queensway Primary; Rufford Park Primary; Rawdon St Peter's C of E Primary; St Margaret's C of E Primary; Broadgate Primary and Horsforth Newlaithes Junior.
Slight changes this year saw Rawdon St. Peter's asking for a donation to buy a different kind of book – a thesaurus and Horsforth Newlaithes Junior will present their allocation to the new pupils moving across from Featherbank Junior in September as a welcoming present.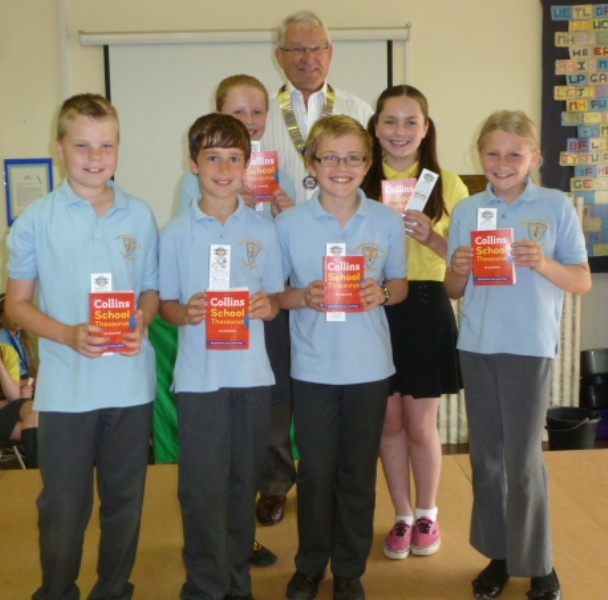 Janice Hepworth, Deputy Headteacher at Rawdon St Peter's welcomed the Club's donations as 'an important and engaging way of developing pupils' vocabularies'.
As usual a varied selection of members answered the call to arms including President Bill Braker, organiser John Moorhouse, keeper of the dictionaries St. Clair Logan plus in no particular order Barry Mills, Barry Bootland, Brian Whitham, John Knaggs, Tony Scaife and Robert Mirfield.
The visits also enabled club members to publicise to school staff the success of their new satellite group Aireborough Nomads, an evening club aimed at prospective working members.
Pupils were also encouraged to come up with ideas on how the Club could help organisations with which they were involved.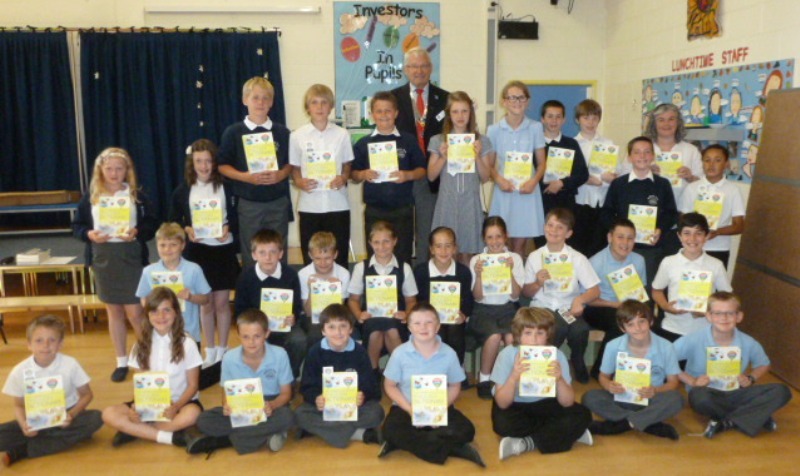 AND THEN THERE WERE FIVE
The Nomads continue to do their bit, and how, for the membership of the Rotary Club of Aireborough. Heather Read and Elizabeth (Liz) Kenwood-Herriott were the latest to be inducted into the Club by President Brian Whitham as one of the final acts of his Presidential year. This brings to five the number joining Rotary via the satellite Club and all are female.
Pictured are the smiling trio of Liz, Brian and Heather.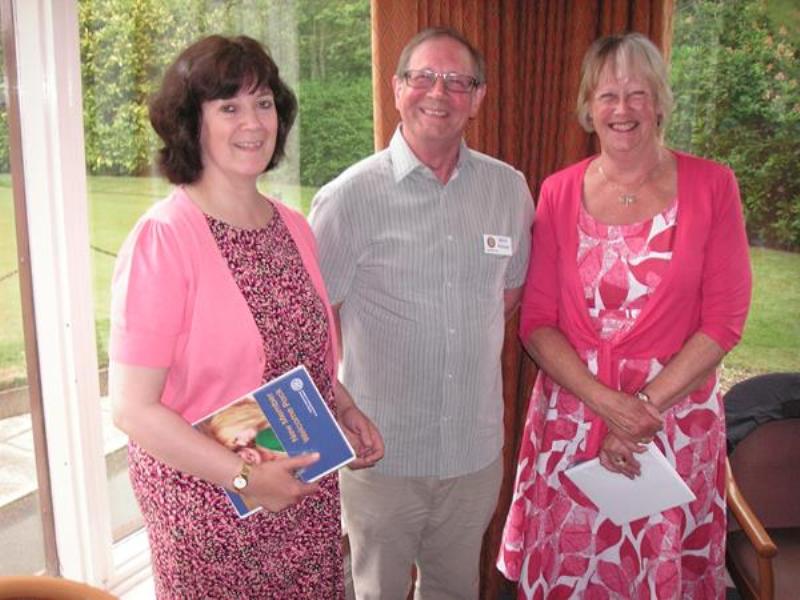 Heather Read of Rawdon, a retired College Lecturer came to Bill Kerr's notice through her work at the Martin House Hospice charity shop in Yeadon. Liz Kenwood-Herriott was introduced by Brian Whitham through their connections at the Grove Methodist Church. An accomplished oboeist and professional teacher of woodwind instruments, Liz, who lives in Horsforth last year acted as a judge at the Aireborough heat of the Rotary Young Musician competition.
NEW YEAR, NEW FACES
With the start of a new Rotary year, annual handover day for Club President was Tuesday 2 July at Aireborough with Brian Whitham vacating the chair in favour of 'Bill' Braker. They are both relative newcomers to Rotary, accepting the presidential chain only three years after joining the Club and the sequence will continue next year when Barry Mills follows them as President.
Brian Whitham's year ended with events epitomising Rotary's style. First he joined the fund-raising Bag Pack at Morrison's, Yeadon which raised the magnificent sum of £574.01 for dictionaries for local primary schools, for Yeadon Charities and for Leeds Food banks. Then his outgoing evening was a boisterous Ceilidh, bringing out the best in the energetic at St Margaret's Hall, Horsforth.
For 'Bill' September's 60th Charter Dinner is his first major event with Gary Verity from 'Welcome to Yorkshire' as his guest speaker. His charities for the year are Martin House and the Elizabeth Foundation, helping pre-school deaf children with Children's Air Ambulance being included through the annual Sponsored Walk.
BUSY FINAL FORTNIGHT SHOWS SPIRIT OF ROTARY
Aireborough's ninth consecutive 'Kids Out' excursion was enjoyed to the full by all those committed enough to take part on 12 June in this Community Service event. Eighteen Meadows Park pupils joined in the five hours of Lightwater Valley fun with nine members of school staff and five Rotarians – John Moorhouse, Barry Bootland, Bill and Maggie Braker and Barry Mills. All rides were explored with Maggie slotting into the daredevil role even taking on the Black Pearl's 360 degree vertical ride.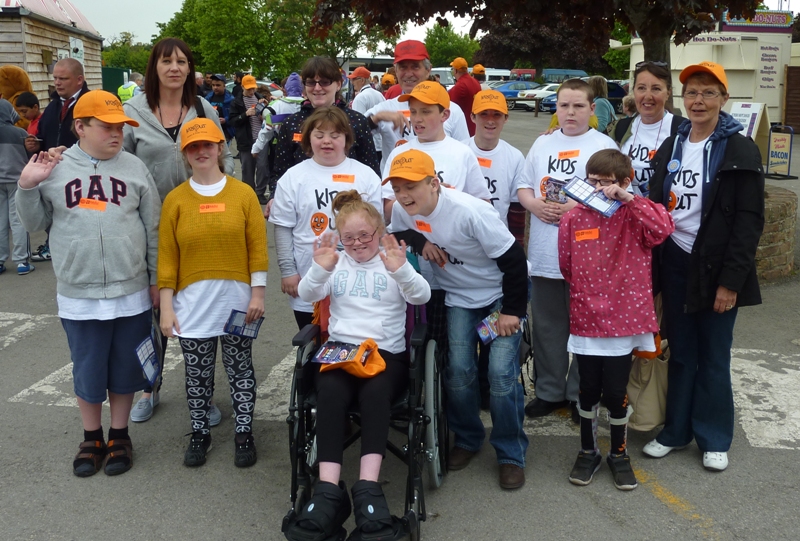 Maggie and Bill also volunteered to provide lunches for the whole party, praised by John as 'an extremely gracious task' and judging from the pictures enjoyed by all.
Main picture shows some of the group resplendent in their Kids Out t-shirts and hats itching to take on the day's challenges.
On the Membership front just a week later at the Nomads regular meeting President Brian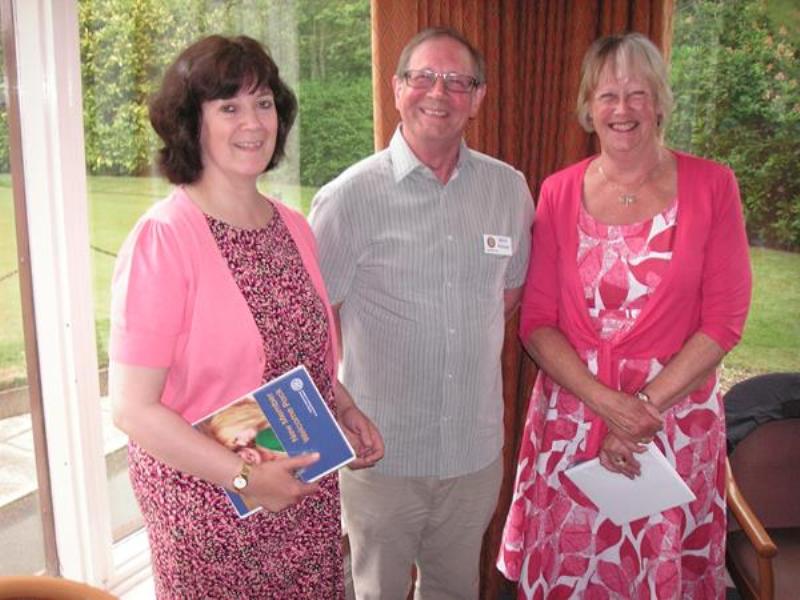 inducted a further two members into the Aireborough fold in the persons of Heather Read and Liz Kenwood-Herriott, bringing to five the number of new entrants this year.
The following day Fund-raising was the order of the day with our first venture into the wonderful world of Bag-packing at Morrison's, Yeadon. This time an inspiring thirteen Rotarians and two Inner Wheel members answered the call. Repartee was tested to the full, several principles of packing were learned but opportunities were also grasped to sell Rotary and its membership whilst also explaining just where the money we raise goes! A terrific response from the Yeadon public produced the unexpected total of £574.01.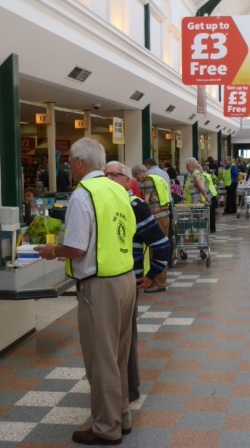 Wearing yet another hat three of those involved, Brian Whitham, Peter Long and Norman Gledhill then excelled on the next day by joining more than 300 exuberant trippers on the annual excursion with Yeadon charities –this year to Bridlington – Service Above Self personified!
Socially a good contingent of members attended Sunday's Inner Wheel 'Strawberry tea' hosted by Geoffrey and Heather Barton with some first demonstrating their tent erecting skills. As usual Carol and Brian Hall encouraged active participation with their range of brain and skill exercises and plant sales helped ensure a goodly sum was raised for the I.W. Club's charities.
Every President chooses his own year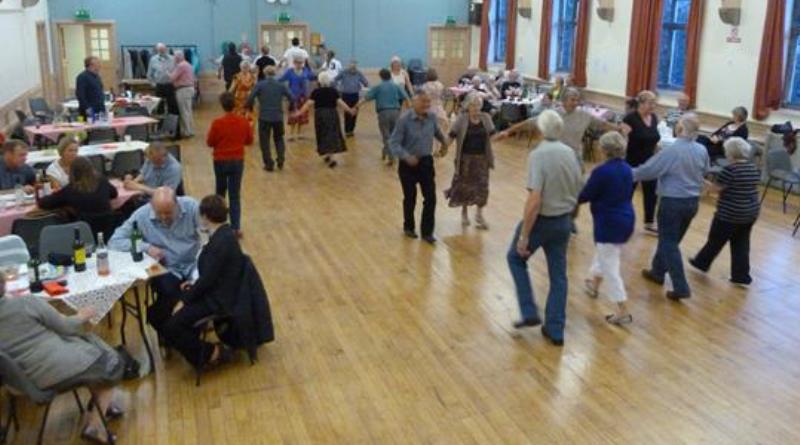 ending event and for Brian Whitham it was a 'Ceilidh'. It was consequently an energetic band of Rotarians, Inner Wheel members and guests who helped him see out his year. Led by the band with no name, members were slowly talked through a series of seemingly unfathomable manoeuvres before being launched on the floor – chrysalis to dazzling butterfly (in some cases) in the space of a few minutes! Good food, good company and a few laughs along the way made it a boisterous end to Rotary year 2012/3.
NEWLY NOMADIC
Two new members were inducted into the Rotary Club of Aireborough at the last Nomad satellite group meeting. Both need no introduction to Club members, Maggie Braker joining under the classification of Social work and Janet Kerr under Early years education. More members are already in the pipeline.
As the picture shows they also became the first in the Club to receive the new 'We're for Communities' badges as well as the traditional emblem.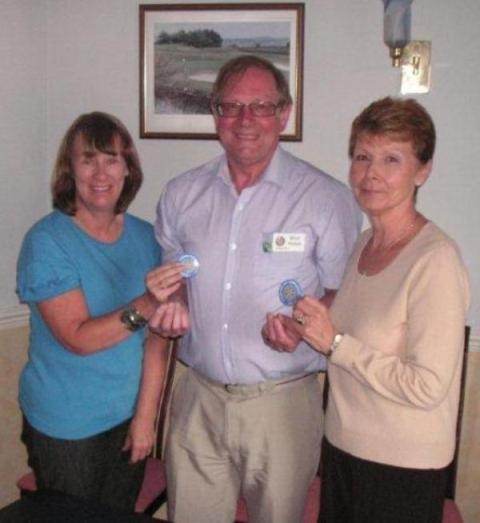 The Nomads have already taken a leading role in organising the successful Sheepstakes event earlier in the year and for 2013/14 will be contributing to the overall Club programme through a Barbecue on Saturday 31 August and a Grand Charity Quiz on Friday 8 November.
Membership Chair Philip Livesey and President Elect Bill Braker have also accepted an invitation to speak at the Membership break-out session at District Conference on their experiences in setting up a satellite group.
GREAT WEATHER FOR DUCKS
The move from the Bingley-Rodley towpath to the circuits of Fewston and Swinsty reservoirs for this year's Charity Walk tested the mettle of 30 intrepid adventurers and Barney the dog but only because of the inclement weather. Worthy of particular mention is the fact that almost half of the party was comprised of Inner Wheel members, wives and friends of Rotary.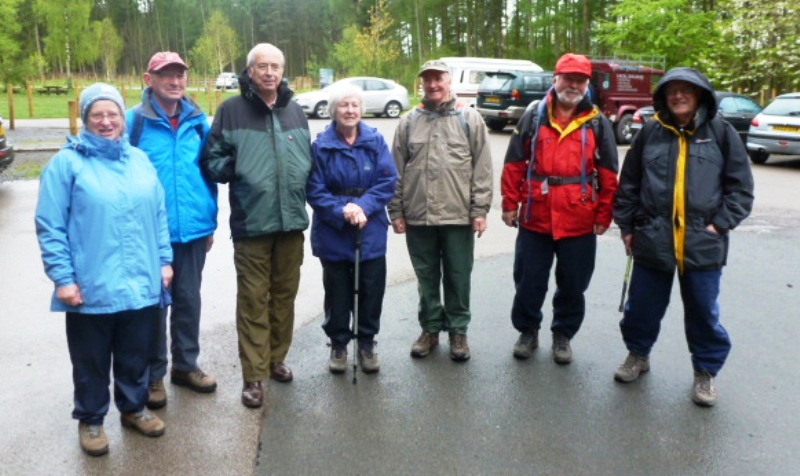 Suitable dress for the occasion had led to frenzied rummaging through walkers' wardrobes and the photo gallery will reveal the varied array of clothing competing for the crown of best dressed walker 2013.
Congratulations and thanks go to all concerned, to those who walked, marshalled, raised or donated sponsorship cash and served refreshments to the weary but ebulliently certificated finishers at the Washburn Heritage Centre.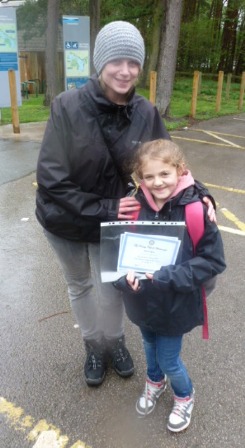 The marshals had a particularly difficult job keeping track of just who had turned up, who were circumnavigating which reservoirs and from which direction bedraggled walkers were likely to appear and disappear.
Next year when all walkers will be tagged things can only get better!
A MONTH'S A LONG TIME IN ROTARY
(memory permitting)
The month began with all Aireborough Club members present putting their own individual slant on the tagline 'we're this close to ending polio' following in the footsteps of Desmond Tutu, Bill Gates and Jackie Chan. Cases are down by 99% and only 3 polio endemic countries remain – Pakistan, Afghanistan and Nigeria.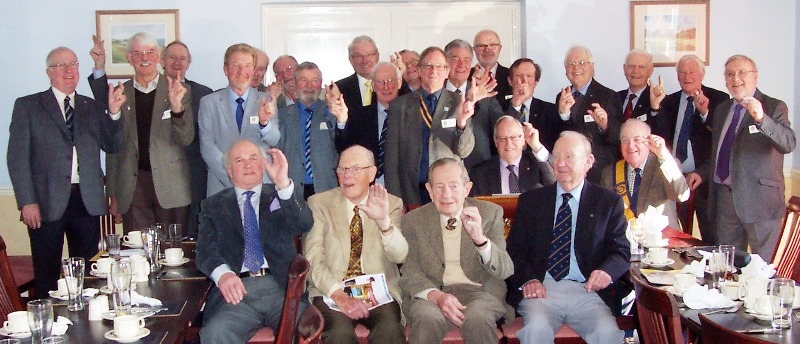 Close behind came the Club's significant contribution to the best ever Leeds running, of the annual Technology Tournament at the John Charles centre. Stewards Barry Mills, John Knaggs, Brian Waite and Robert Mirfield and judges Barry Wilkinson, John Armstrong, Brian Whitham and Patrick Glenn oversaw what appeared beforehand the most difficult of challenges. 42 teams or 168 pupils from 16 schools and colleges had to design, build and test a vehicle powered solely by a 200g. weight over a rising track within 4 hours.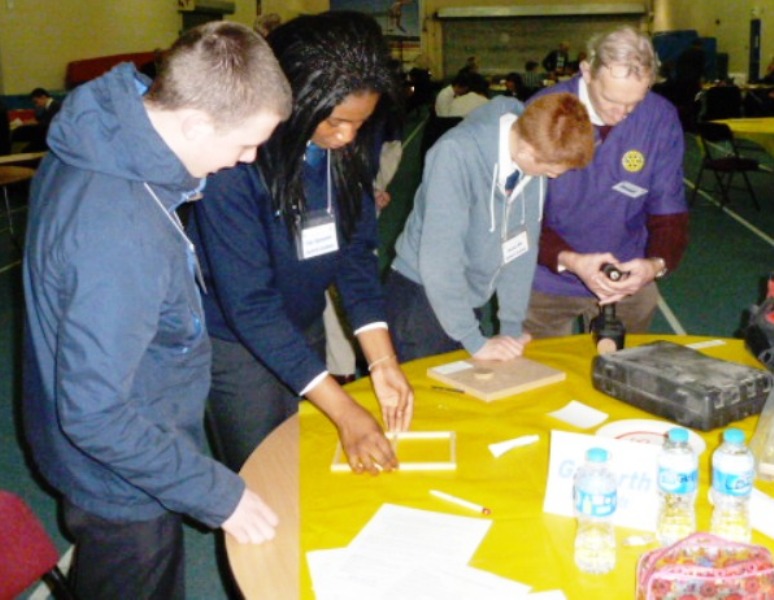 Winners were: Basic – Farnley Park, Intermediate – South Leeds Academy and Advanced – Silcoates School, Wakefield. Flying the flag competitively for Aireborough Horsforth School's Basic 2 team won the overall trophy for Innovation because of an outstandingly produced portfolio.
www.Rotary-Technology-Leeds.org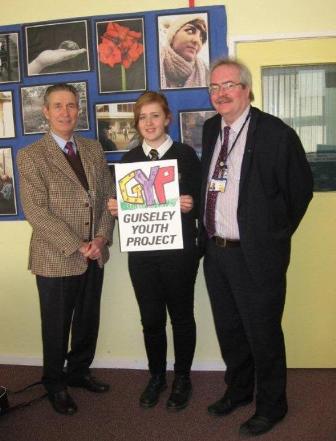 Next port of call was Guiseley School where Barry Bootland and John Moorhouse presented a made up logo and a gift voucher for £20 to Millie for her winning design of a new logo for the Guiseley Youth Project, where the Rotary Club of Aireborough and Aireborough Soroptimists are long-term partners. Housed in the community room at Aireborough Leisure Centre GYP helps provide facilities for the District's young people. Headteacher Paul Morrisey joined Millie and John Moorhouse in the celebratory picture.
The month ended with the Club's members welcoming paralympic cyclist and London gold medallist David Stone to a meeting to round off the Sheepstakes event organised by the Club's satellite group the Aireborough Nomads. David was delighted to present cheques, each for £350 to Sarah Tarpey of Martin House Hospice and to Doreen Hodgson for the charity she founded Chameleon.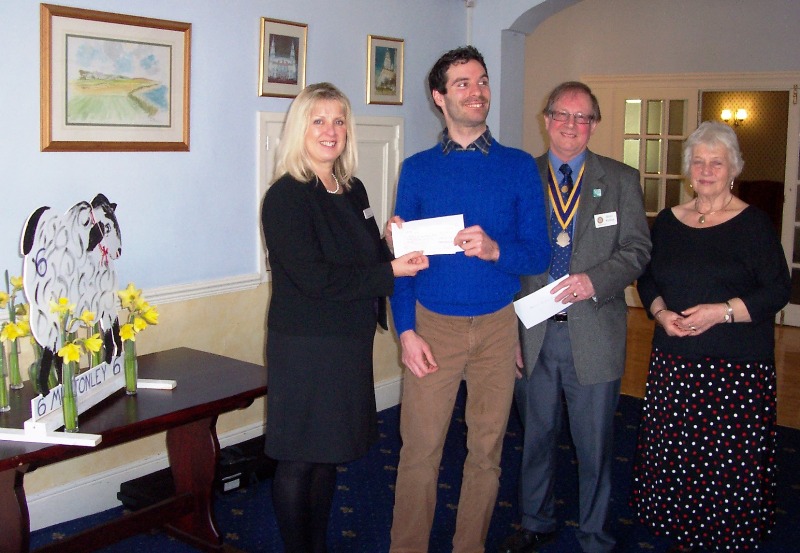 To help him in his quest for the perfect sticky toffee pudding Golf Club chef Becky provided David with two portions – his verdict 'yummy'!
How better to show that the Rotary Club of Aireborough epitomises in all respects Rotary's newest slogan 'We're for Communities.'
NO LOST SHEEP
Aireborough Nomads, the satellite group of the Rotary Club of Aireborough, attracted a full house to its first charity fund-raising event, a race night featuring competing sheep.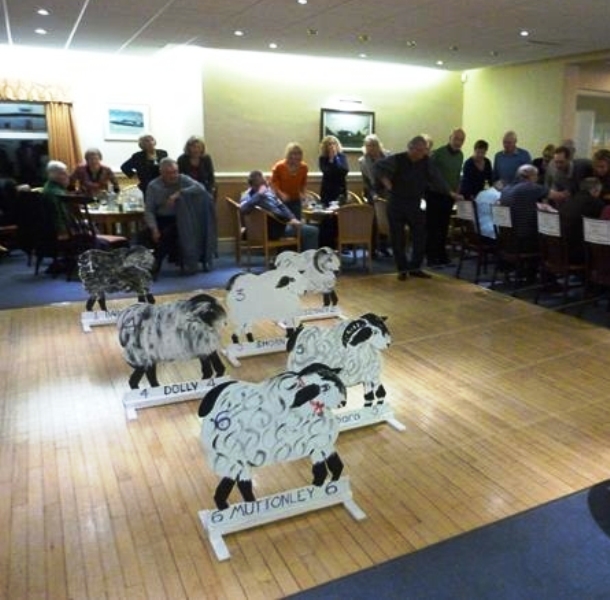 The fact that the sheep herders for each of the six races were drawn from the audience by ballot added to the tension leading, as the evening wore on, to an increasing number of 'knowledgeable' coaches advising the contestants on the best technique to bring their charges first to the finishing line.
The Nomads are indebted to the Rotary Club of Bradford Bronte for coming up with the format and loaning the sheep for one night only. All will be returning safely to the wool city
The evening ended with the six individual race winners (who were all rewarded with a jar of mint sauce) fighting it out for the accolade of Champion of Champions. Robert Outhwaite took the shepherd's crown, dextrously reeling in 'Rosemary' in a noisy, closely fought finale.
Gratefully received contributions were made to the charity total by main sponsor Standard Wool of Bradford and a variety of heat sponsors Horsforth Golf Club, Rodley Nature Reserve, Barry Bootland, Marshall Wooldridge, Walker Computer Services and Matt Hawker Dentist.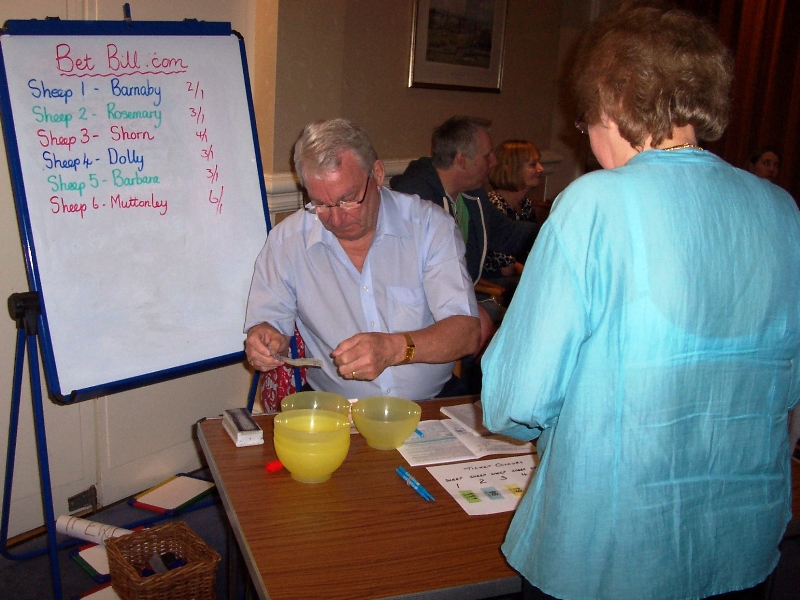 A raffle with imaginative sheep related prizes and very busy betting queues all helped bring the total profit to at least £700 to be shared equally between Martin House Hospice and Chameleon, supporting education in Africa.
MODESTLY UNASSUMING ACHIEVERS
1 At the Club's last evening meeting Di Oldam brought us up-to-date for the third time on the hands-on Rotary Ukerewe, Tanzania project which, under the leadership of John Philip, has achieved so much but still has 'exciting opportunities' to get the best of.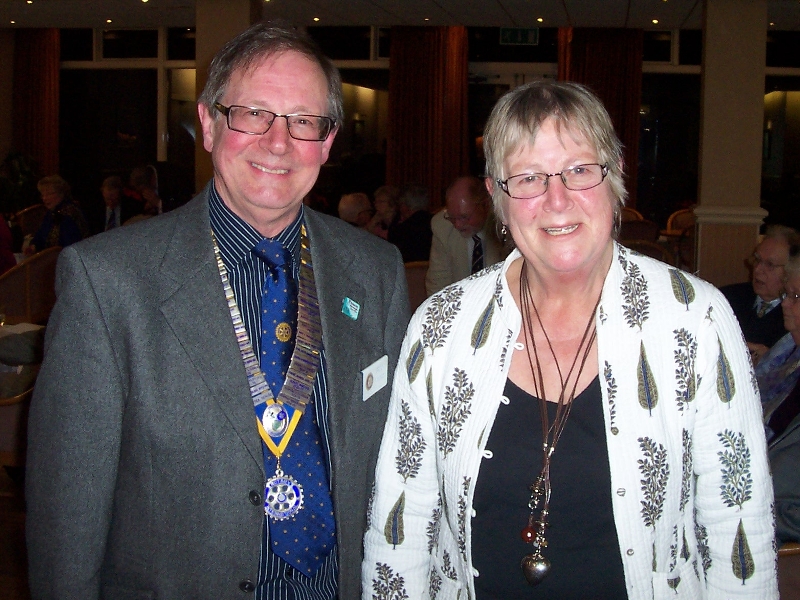 The team this time round comprised 11 Rotarians, 3 Inner Wheel members, a Ugandan Rotaractor and 6 Rotary friends (Di's connotation) from Yorkshire, Cheshire, Essex and Helsenborg in Sweden.
Once again the team's achievements continued to amaze: constructing two blocks of toilets, building a playground, taking water to seven schools, substantially improving the town's water supply and helping both a group of orphan children and a community of people with albinism. They installed a brand new autoclave, started a bread making group and a fruit juice bar. Innovatively they demonstrated to and trained a group of women in converting rubbish into briquettes for cooking fuel. They also met up again with women who had benefited from previous microcredit projects, congratulating them on their achievements and adding more capital to help the Trustees expand the programme.
It is no surprise that this was considered the best international project in RIBI and recipient of the Connecticut Trophy.
Since returning Di has concentrated upon raising funds for Selestine, a 17 year old boy with cerebral palsy living on the island of Ukerewe, who needs further education to have any chance of gaining employment because of his physical disabilities. The target is £3600 to enable Selestine to go to the mainland for 2 years to take the equivalent of his 'A' levels. Di's recent abseil down the Cow and Calf Rocks, Ilkley on 9 February contributed more than £2000 towards a current team total of £2500.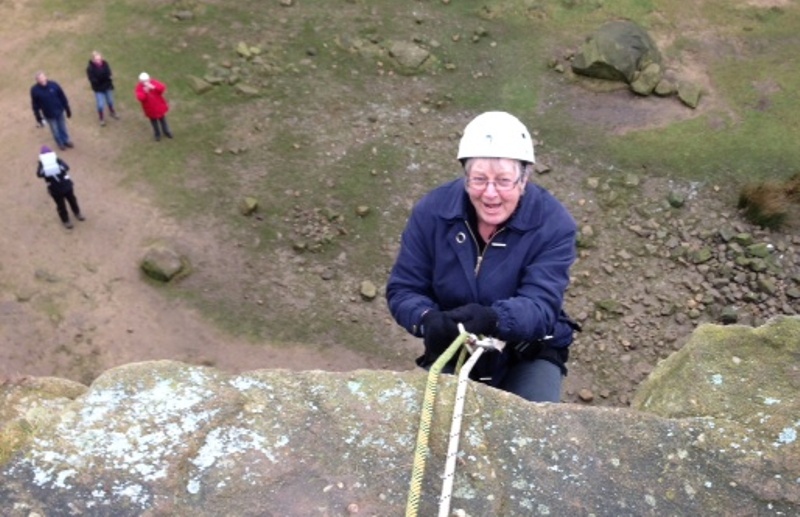 Giving family support Dr Alison Oldam will be completing a monster triple challenge of the Great North Swim (2 miles), Run (half marathon) and Bike 60 miles to help the fund raising between June and August: contributions welcome at https://mydonate.bt.com/fundraisers/alisgreatnorthchallenge
2 The Aireborough contingent at the last District Council in York were initially disappointed as certificates for Club contributions to Rotary Foundation (Rotary's very own charity) were handed out. Frowns turned to smiles and discontent to joy, however, when Aireborough made it to the podium with President Brian receiving a pennant for 3rd best District total averaging over $50 per member.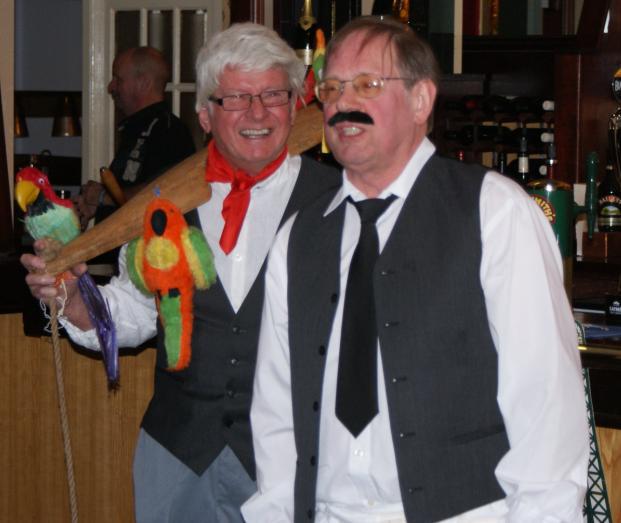 Although all members have contributed to some degree pride of place must go to the shy and retiring Bill Kerr, our long-standing Foundation Chairman. He has found countless ways of painlessly extracting financial contributions. His weekly wine raffles have brought happiness particularly to the Barries/Barrys and Brians in the Club and his Bags2School efforts have led to a welcome culling of the contents of household wardrobes. He was the driving force behind 'Allo! 'Allo' and is now moving (hopefully) to pastures new with 'Sheepstakes.' He has scoured the county delivering talks on 'House clearances' (donations to Rotary Foundation, please) and still keeps finding his way home! His District Whisky/whiskey raffle was another winner – long may his Lancastrian enterprise prosper!