***Last Update 4 December 2013***
---
All our Club Weekly Bulletins 'The Birdy' can be downloaded from http://thephoenixbulletin.weebly.com
---
Zone 5 Run for Polio - Sunday 23 February 2014
This event is being jointly organised by the Rotary Clubs of Royal Wootton Bassett & District, Swindon Phoenix and Royal Wootton Bassett Town. The event is being held at the picturesque Lydiard Country Park, Swindon. Its a 5km route, fun for all the family. You can walk, jog or run the 5km.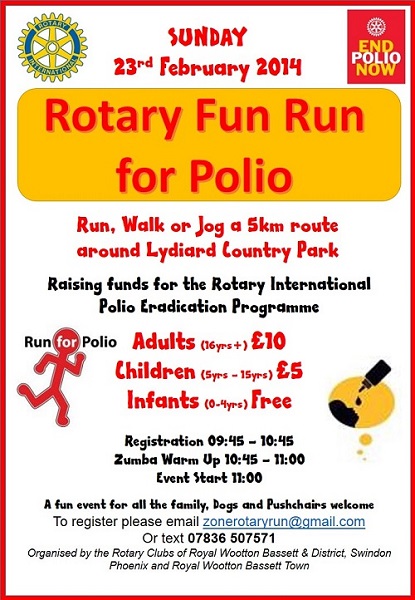 ---
The 'Dragons' will be back in 2014.....!!!!
More details to follow but for now please register your inrterest in entering a team for our second Dragon Boat Race event to be held at Coate Water, Swindon on Sunday 29th June 2014.......register your interest by email to
info@dragonboatswindon.org.uk
Visit http://martymoffatt.zenfolio.com/rotary2013dragonboatrace to order your proffessional photos from the Dragon Boat Race 2013..............