Welcome to the website of the Rotary Club of Knaresborough
President's Putter - 2013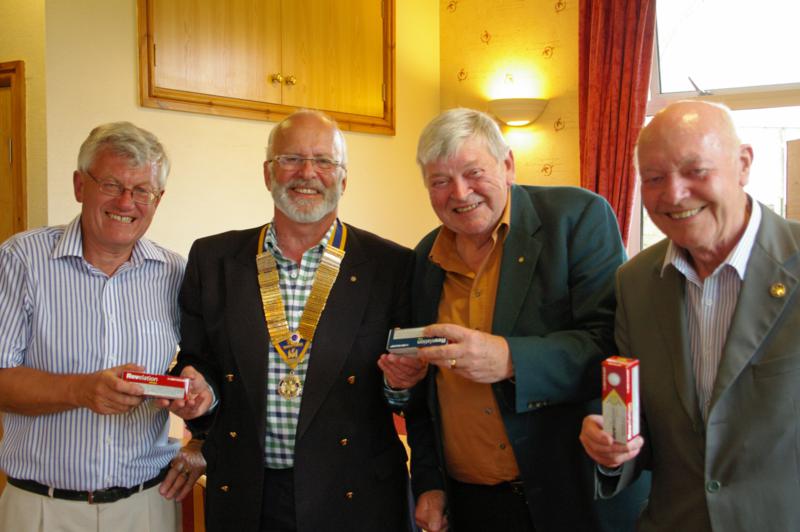 Members of Knaresborough Rotary Club enjoyed their annual golf tournament recently at Knaresborough Golf Course. This was the first tournament since the passing of Rotarian John Beadle who had initiated the event in 1992. This year's winner of the President's putter was John Smith with Bob Weddall winning the prize for the longest drive.
Photograph shows:- Knaresborough Rotary Club golfers with (left to right) winner of the President's putter John Smith, Club President John Tapscott, Michael Blackburn and Michael Padgett.
Local Club Joint Meeting
Rotarians from Harrogate, Harrogate Brigantes and Knaresborough Rotary Clubs attended a joint meeting recently at the Crown Hotel. They were there to hear a presentation from the members of a Group Study Exchange who spent a month visiting Brazil in 2012. More......
Photograph shows (left to right):- Team Leader and Bingley Rotarian Michael Heaton, Peter Wood, Secretary of Harrogate Brigantes Rotary Club, team member Rebecca Taylor, President of Harrogate Rotary Club Peter Ellis, team member Catherine Boyd and President of Knaresborough Rotary Club John Tapscott.
Swimarathon Update!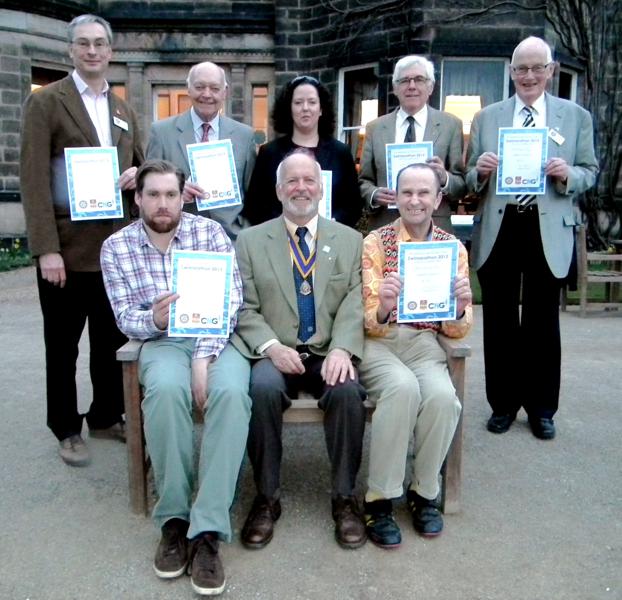 Knaresborough Rotary Club's Swimarathon held in February at Knaresborough swimming pool has raised over £2,500 for Rotary projects including the End Polio Now campaign.
At a recent club meeting at Nidd Hall certificates were presented to some of the swimmers who took part including John Michael Parker, who raised a total of £558 for the event and 79 year old Knaresborough Rotarian Mike Padgett who swam a mile.
Knaresborough Rotary Club President John Tapscott (centre) with (back row left to right) David Druett, Mike Padgett, Sarah Bosomworth, Ian Ibbotson, Derek Facey and seated Peter Tapscott(left) and (right) John Michael Parker.
This was the second Swimarathon organised by Knaresborough Rotary Club and sponsored by CNG which was part of a globally linked swimming event involving over 200 locations around the world.
EM's '70 for 70' Event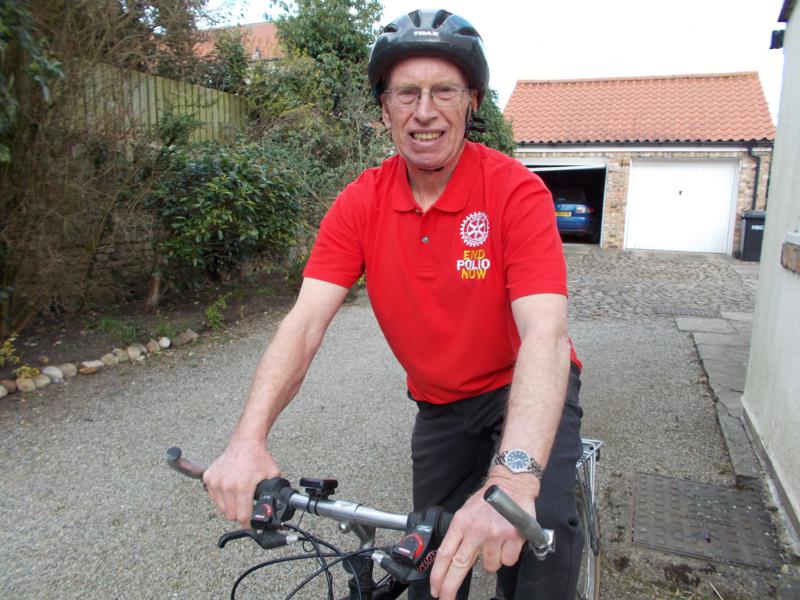 Rotarian Em Lloyd-Davies is taking up cycling and on 18th June will start a 200kms charity ride from Liverpool to Leeds canal to celebrate his 70th Birthday. He is looking for 70 sponsors to raise £700 All funds to be donated to Rotary's Thanks for Life - End Polio Now to immunise over 7,000 children.
Help Em to achieve his target by donating here
Barrie's Specs!
For the last ten years Knaresborough Rotarian Barrie Yates has been collecting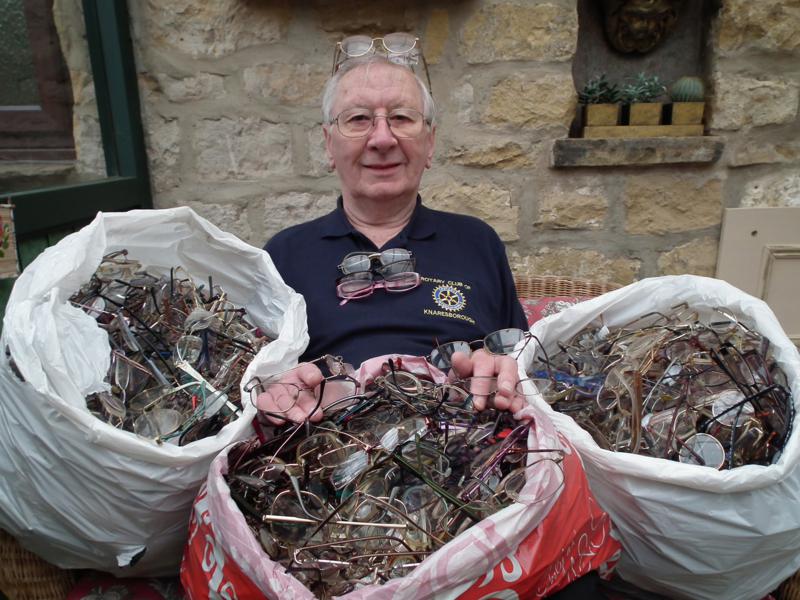 spectacles via Knaresborough Library as part of the Vision Aid programme.
Once a month spectacles are sorted, washed and measured at the home of York Ainsty Rotarian Colin Perrott before being sent to Malawi, Ethiopia and other African countries. This project was all started by Colin's wife Ruth. Barrie estimates that up to 15,000 pairs of spectacles have been collected at Knaresborough Library in the last ten years.
Above: Knaresborough Rotarian Barrie Yates with some of the Spectacles collected from Knaresborough Library.
Below: Rotarians washing spectacles at the home of Colin & Ruth Perrott in York. Colin Perrott in red.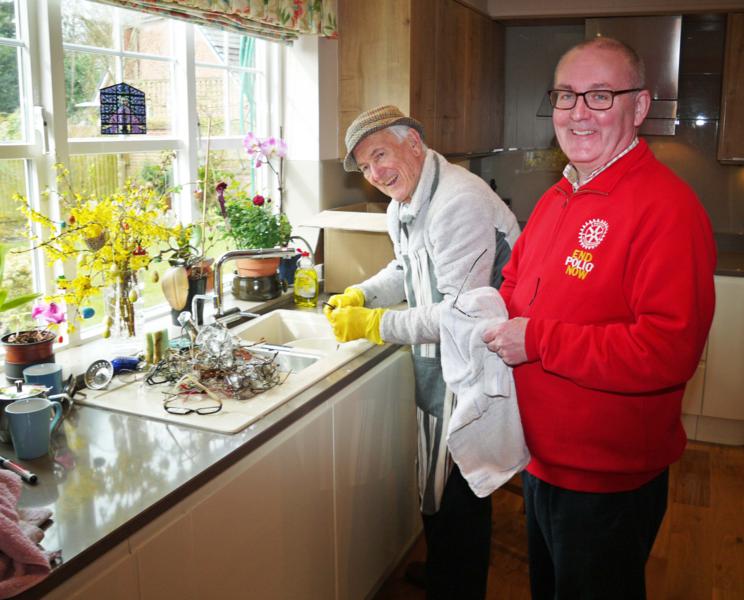 Lynn Rhodes-Holme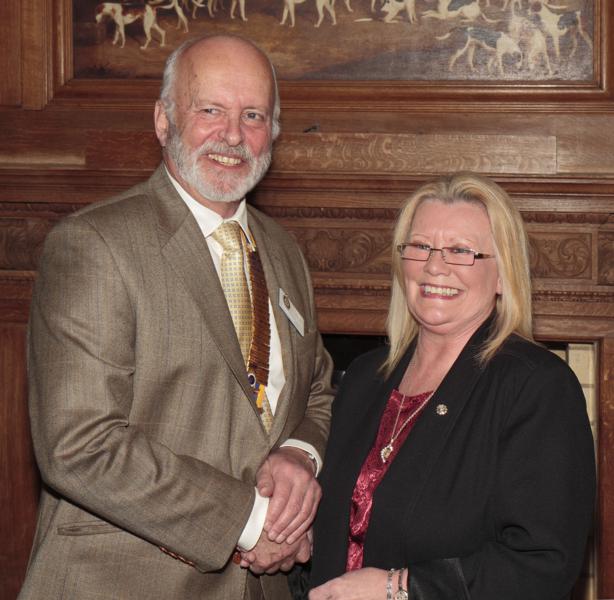 President John Tapscott recently welcomed new member Lynn Rhodes-Holme to the Rotary Club of Knaresborough. Lynn is a Professor in medical education; we look forward to sharing her infectious (no pun intended!) enthusiasm already demonstrated in recent weeks.
Photograph shows :- Knaresborough Rotary Club President John Tapscott welcomes new member Lynn Rhodes-Holme
Jubilee Oak
A 12ft oak tree, donated by the Rotary Club of Knaresborough, was planted in

the grounds of Knaresborough House.
Pictured: President Elect Leslie Couldwell, District Governor Keith Davison, President of Knaresborough Rotary Club John Tapscott, Mayor of Knaresborough Councillor John Batt, Rotarian Jenny Hunter and Assistant Governor Hazel Haas with other members of Knaresborough Rotary Club.
Rotary Scholars
Knaresborough Rotarians recently enjoyed a fascinating presentation from two Rotary Ambassadorial Scholars.
Aya Miyazaki from Japan and Rebecca Mendoza from Califo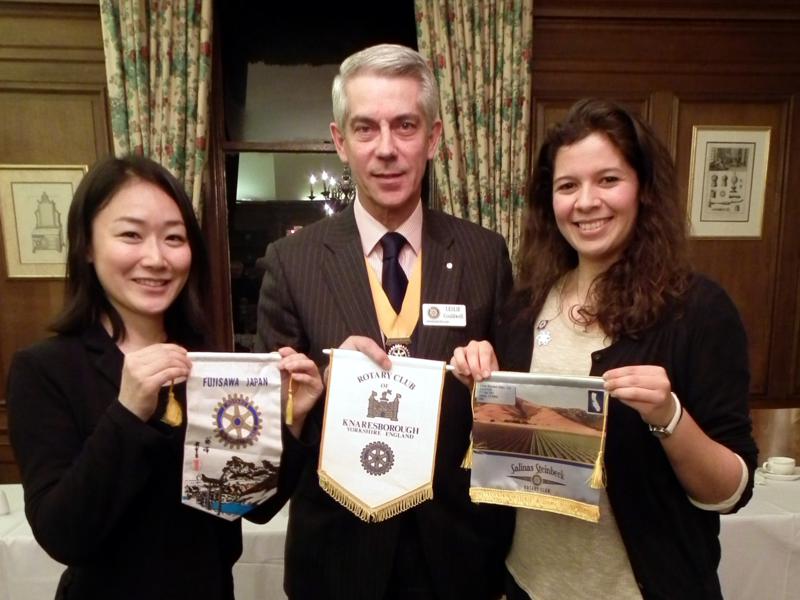 rnia are both scholars studying at York University. They are part of Rotary International's educational programme intended to promote international understanding and friendly relations among people of different parts of the world.
Photograph shows left to right:- Aya Miyazaki. Knaresborough Rotary Club President Elect Leslie Couldwell, Rebecca Mendoza. Exchanging club pennants.
Waterside Car Park
Why does Rotary run the Waterside car park on Sundays and Bank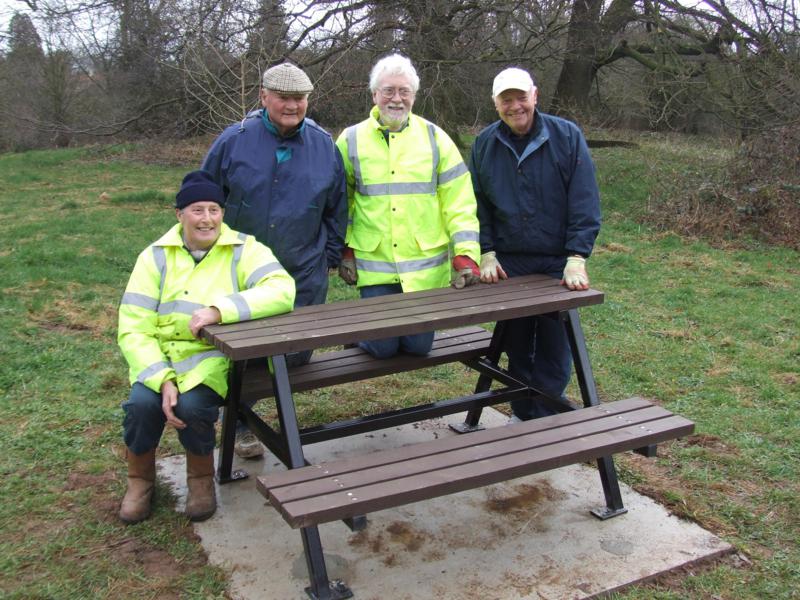 Holiday in the summer months?
Photo shows:- Knaresborough Rotarians with one of the picnic tables at Conyngham Hall paid for with funds from car parking at Waterside.
End Polio Now
Read the latest, including Bill Gates' commments, about the fight against Polio
Harrogate Book Fair
Nautical book sale will benefit RNLI thanks to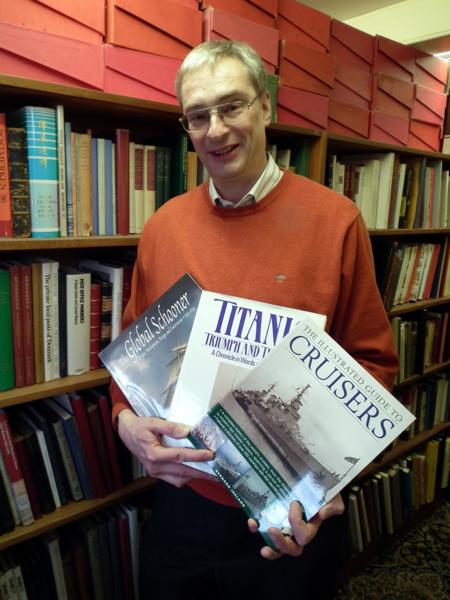 Rotarian David!
Knaresborough Rotarian David Druett (right), who is a specialist book and stamp dealer, has organised a sale of nautical books at the Harrogate Book Fair. The stall was manned by Knaresborough Rotarians and proceeds will be donated to the RNLI.
Rotarian John Dawson on the stall
John Beadle
We are sad to report that club member John Beadle passed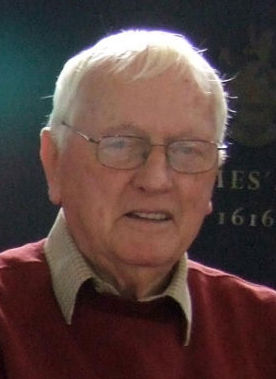 away on February 17th. John was a long standing member who's single-minded persistence over the years, especially during last 18 months, made the Jubilee Wishing Well a reality in Knaresborough.
We shall miss him.
Swimarathon 2013
Very Many Thanks to everybody who supported
our Swimarathon this year!!
See the Pictures Here
Rotary at its Best
Members of the Rotary Club of Knaresborough recently assisted the loading of
a container of wheelchairs, crutches and other special needs equipment being shipped to South Africa by local charity Physionet.
This shipment demonstrated Rotary at it's best - regional & international co-operation delivering a truly memorable result.
Waterside Wishing Well marks the Diamond Jubilee and Rotary Club's 50th Anniversary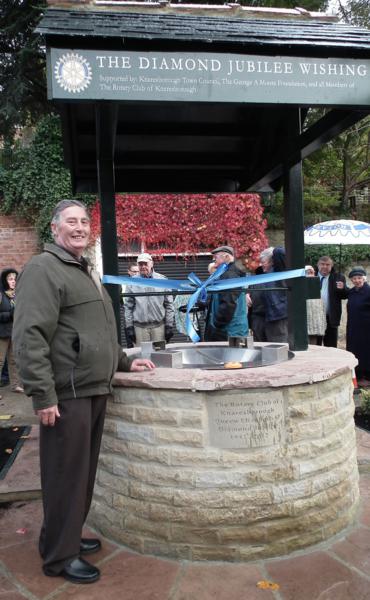 Members of the Rotary Club of Knaresborough recently celebrated the 50th Anniversary of the club receiving its Charter and the Queen's Diamond Jubilee with the unveiling of a Wishing Well on Knaresborough's waterside.
Pictured: Rotarian Dennis Houseman, who designed and built the well with assistance from other members - stands next to the completed well before the grand opening.
Volunteer your time towards good causes?
What about joining Rotary?
see
Members
&
_______________________________________________________________________________
Knaresborough is a market town on the River Nidd in North Yorkshire and adjacent to Harrogate, it is handily placed to give access to the Yorkshire Dales and Wolds and has useful 'bus or rail links to York, Leeds and Ripon.
The Rotary Club of Knaresborough received its' Charter on 30th October, 1962, and is based at the splendid Nidd Hall Hotel, formerly the historic home of the Mountgarret family.
The Knaresborough Bed Race takes place in June each year encompassing the whole town and, together with the Edwardian Weekend in December, form major attractions both of which are supported by the Rotary Club.