Welcome to the Rotary Club of Knaresborough
Featured pages:

Welcome President Jim!
Knaresborough Rotary Club's new President is Jim Moorhouse. At a handover ceremony at Nidd Hall Jim Moorhouse thanked outgoing President Richard Booth for all the hard work he had put in over the past year and hoped that the year ahead would be equally as successful.
Born in Sheffield, Jim Moorhouse grew up in a mining village near Barnsley and attended Ecclesfield Grammar School before undertaking an engineering apprenticeship with a Sheffield based company. In 1968 Jim joined the Hepworth Ceramic Group as a sales engineer progressing through management, directorships, marketing, commercial, and managing directorships with three market-leading companies in the building material supply industry. In recognition of his work with the Builders Merchants Federation Jim was invited to join their Livery Company and become a Freeman of the City of London in 2012. He latterly worked as a sales consultant before retiring in 2013.
Jim joined the Knaresborough Rotary Club in January 2011 and has worked with several of the club's service committees. His interests, outside Rotary, include caravanning, reading, walking his dog, clay pigeon shooting and travel. Jim's Presidential Charity for the year will be PhysioNet which was started by Knaresborough Rotarian Peter Thompson in 2005 with the aim of providing physiotherapy and mobility equipment for the disabled in developing countries.
Photograph shows:- Past President Richard Booth (left) hands over the Knaresborough Rotary Club to incoming President Jim Moorhouse (right).


Three members honoured with
Paul Harris Awards
Len Clarkson and Maurice Beer are two of the longest serving and oldest members of Knaresborough Rotary Club. Len Clarkson joined the club 37 years ago and was President in 1989-90 whilst Maurice Beer has completed 36 years as a Rotarian and was club President in 1993-4. The presentations were made on behalf of the club by Past District Governor and former club President Em Lloyd-Davies who was in for a surprise himself. A pre-recorded video from the current District Governor Hazel Haas, a member and Past President of Knaresborough Rotary Club, explained that Em was being awarded a Sapphire to add to his existing Paul Harris Fellowship. Em is moving away and will be leaving the club after Easter, as a memento he was also presented with a limited edition print by a local artist Chris Sheldrake, of Knaresborough Christmas Markets in the snow.
52nd Charter Night and a New Paul Harris Fellow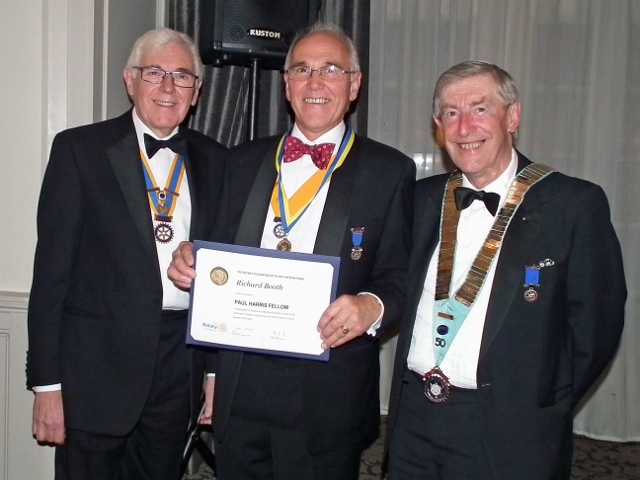 See photos and read all about it HERE
Latest Physionet Container Ships Out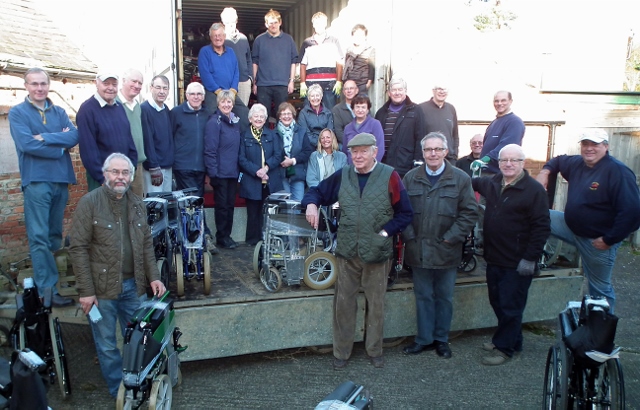 Read more HERE
Latest round of Rotary Young Chef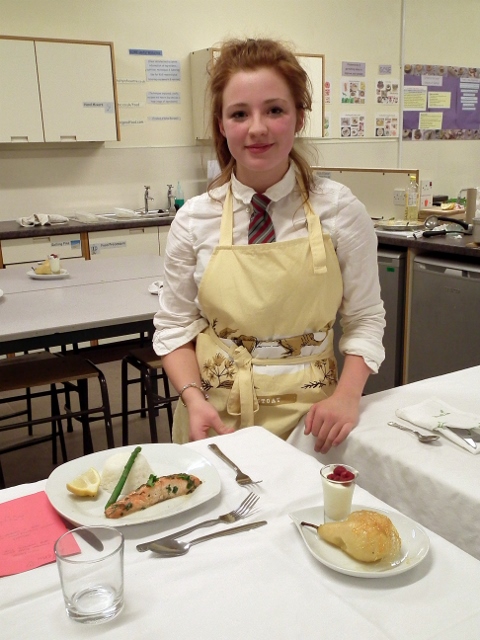 Anna cooks up a winning menu
Read more HERE
Environmental Clean Up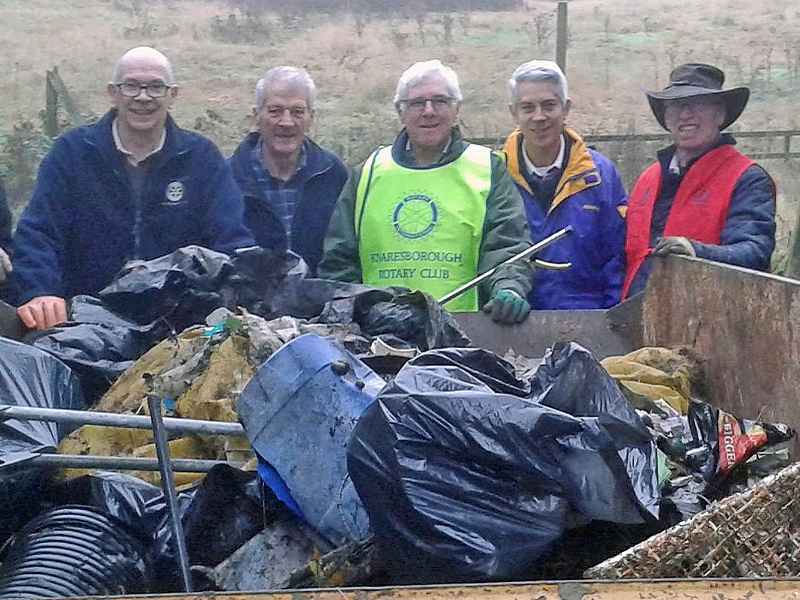 Supporting Scotton Parish Council with a clean up at
Percy Fields
Read more HERE
Beech tree replaced at Knaresborough House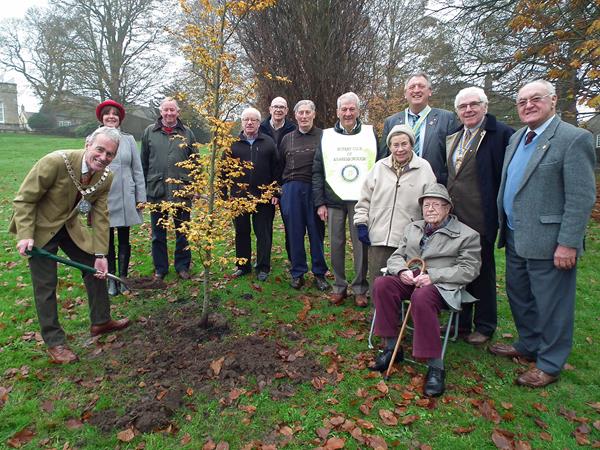 Read more HERE
World Polio Day 24th October 2014
Since 1985 Rotary has been working together with our partners to
END POLIO
We have helped vaccinate 2.5 BILLION children against an entirely preventable disease and are on the brink of making polio only the second disease in history to be completely eradicated.
Join the livestream event
HERE
On Twitter you can follow the day's events by searching
#WorldPolioDay

ROTARY NIDD GORGE WALK
FOR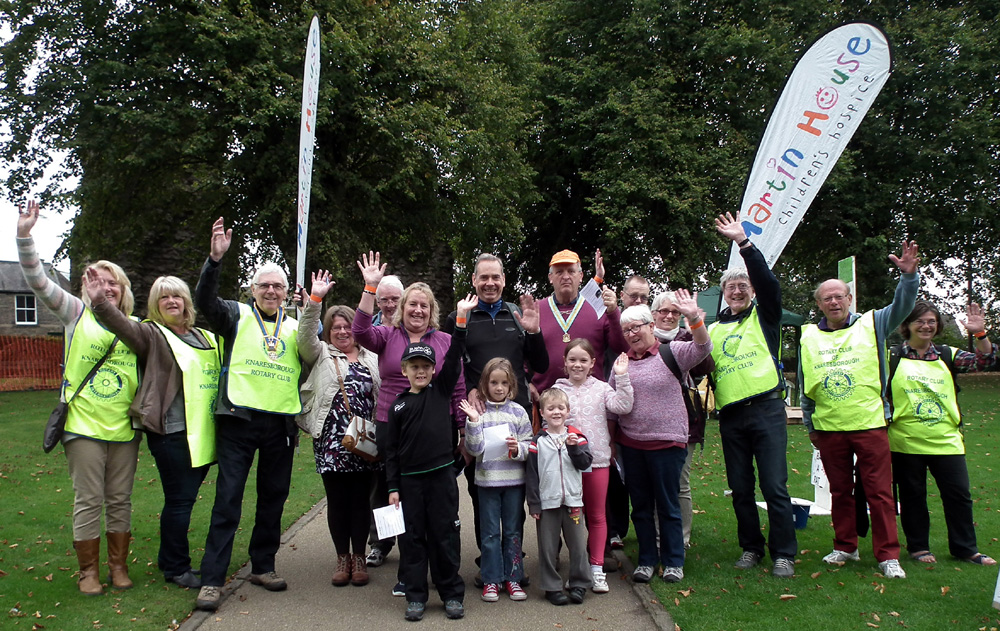 140 Walkers take part in our first
for

Read more

HERE
See more pictures on our Facebook page

HERE
Swim for Polio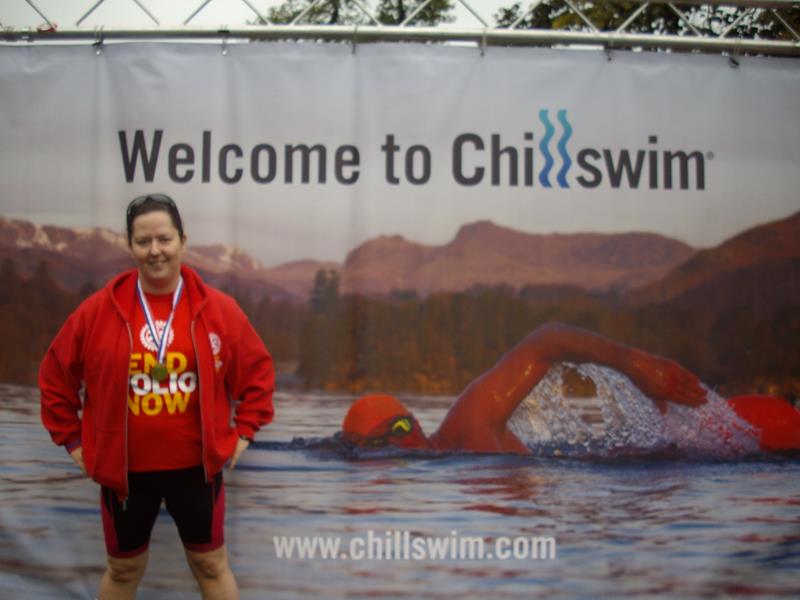 Our Club continues it's commitment to

Rotary's

End

Polio

Now

campaign as Rtn Sarah Bosomworth completes another outdoor swim challenge!
New President for 14/15
All change at the top as Ian Ibbotson (pictured left below) is installed as Knaresborough Rotary Club�s new President.
Ian is seen here with President Elect Richard Booth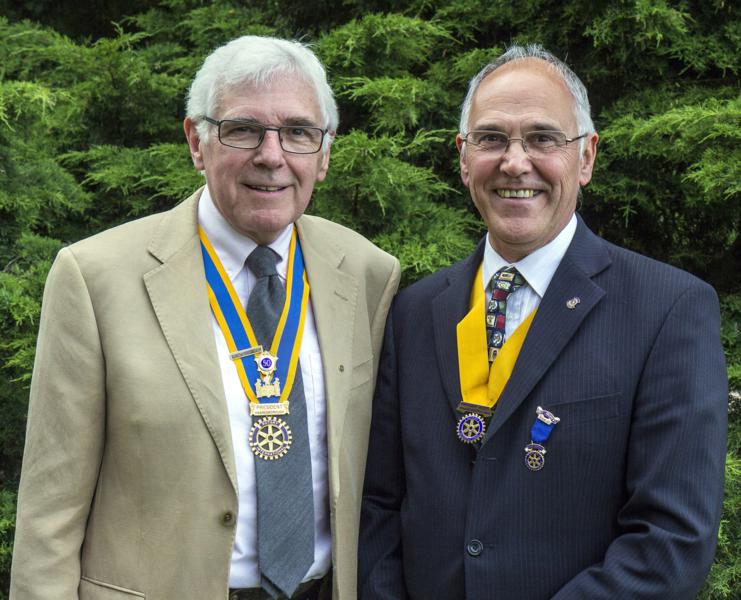 At the start of a new Rotary year it has been all change at Knaresborough Rotary Club as a new President takes over running the club. Having completed his year of office Rotarian Leslie Couldwell has handed over Presidential duties to Rotarian Ian Ibbotson.
meeting details

In the next 30 days...
Social Media...
The Rotary Club of Knaresborough
Promote your Page too
Follow @Kn_Rotary
Meeting Information...
We meet on Mondays at 6.00pm for 6.30pm. (No meetings on Bank Holidays. The hotel is close to the village of Nidd on the B6165 between Knaresborough and Ripley,) Nidd Hall Hotel,
Nidd,
North Yorkshire HG3 3BN tel: 01423 771598