Crocus planting for Polio

Knaresborough Rotarians have been out planting crocuses as part of their work in eradicating Polio. How does that work you ask? Well the purple crocuses are a reminder of the purple dye used to mark the left little finger, the 'purple pinkie', of children given the Polio vaccine by immunisation teams in countries such as Nigeria, Afghanistan and Pakistan where Polio is still endemic.

Since Rotary and its partners launched the Global Polio Eradication Initiative 31 years ago, in 1985, the incidence of polio has plummeted worldwide by more than 99.9 percent, from about 350,000 cases a year to just 27 so far this year as of 19th October. Some senior citizens will probably remember the 'iron lungs' used to help those suffering from Polio before 1952 when the first vaccine was developed by Jonas Salk and Albert Sabin. Today the End Polio campaign is backed by the Bill and Melinda Gates Foundation so that every pound raised by Rotary is matched by two pounds from the Foundation. £1 donated will provide vaccines for 5 children.

Marking World Polio day on 24th October, Knaresborough Rotarians were assisted by pupils at Hookstone Chase School and Scotton-Lingerfield School to plant over 2,000 purple crocuses whilst another 2,000 are being planted at Martin House Children's Hospice.

Haiti Collection

Knaresborough Rotary Club recently held a collection in aid of Haiti and the Bahamas following hurricane Matthew and raised £316. The money will go to Disaster Aid UK (DART) a Rotary initiated charity which already has teams in Haiti and provides family survival kits, tents and water purification equipment. DART also works with Rotary Clubs in the affected area to provide locally sourced building materials to rebuild damaged homes.
Welcome President Jim!
Knaresborough Rotary Club's new President is Jim Moorhouse. At a handover ceremony at Nidd Hall Jim Moorhouse thanked outgoing President Richard Booth for all the hard work he had put in over the past year and hoped that the year ahead would be equally as successful.
Born in Sheffield, Jim Moorhouse grew up in a mining village near Barnsley and attended Ecclesfield Grammar School before undertaking an engineering apprenticeship with a Sheffield based company. In 1968 Jim joined the Hepworth Ceramic Group as a sales engineer progressing through management, directorships, marketing, commercial, and managing directorships with three market-leading companies in the building material supply industry. In recognition of his work with the Builders Merchants Federation Jim was invited to join their Livery Company and become a Freeman of the City of London in 2012. He latterly worked as a sales consultant before retiring in 2013.
Jim joined the Knaresborough Rotary Club in January 2011 and has worked with several of the club's service committees. His interests, outside Rotary, include caravanning, reading, walking his dog, clay pigeon shooting and travel. Jim's Presidential Charity for the year will be PhysioNet which was started by Knaresborough Rotarian Peter Thompson in 2005 with the aim of providing physiotherapy and mobility equipment for the disabled in developing countries.
Photograph shows:- Past President Richard Booth (left) hands over the Knaresborough Rotary Club to incoming President Jim Moorhouse (right).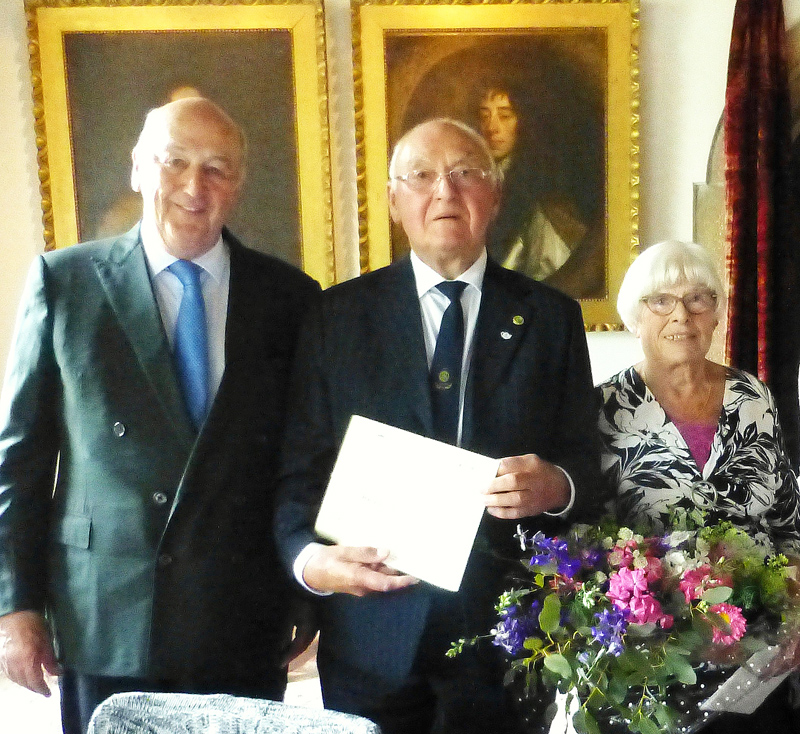 Award for Harry & Pauline Murray
Pauline and Harry Murray have been presented with the Marsh Christian Trust Award for Volunteering in Support of Older People in the North of England. Presented to them at Bolton Abbey by the Duke of Devonshire, the award recognised their efforts for Contact the Elderly over the last sixteen years.
'Contact the Elderly' tackles loneliness and social isolation among older people. Once a month, on a Sunday afternoon, a group of single people living on their own, are collected and taken out to tea at a volunteer's home. Harry and Pauline have helped organize this for the last sixteen years and there are now two such groups in Knaresborough supported by Rotarians.
Photograph shows: Left to right, The Duke of Devonshire with Harry and Pauline Murray

Yorkshire Vet helps club celebrate
Knaresborough Rotary Club has celebrated its 54th Charter Anniversary with a black-tie dinner at the Bridge Inn, Walshford. Guests included the Mayor and Mayoress of Knaresborough, Councillor Bill Rigby and
Councillor Shan Oakes, Rotary District Governor Philip Poole and Mrs Judith Poole.
Club President James Moorhouse welcomed guests and introduced Julian Norton from Skeldale Veterinary Centre, Thirsk, who gave an interesting and amusing talk about working with Channel 5 on the popular Yorkshire Vet television series.
Photograph shows:- Back row left to right 'Yorkshire Vet' Julian Norton, Rotary District Governor Philip Poole, Knaresborough Rotary Club President James Moorhouse, President Elect John Sonley, Vice President Mike Dixon, Mayor of Knaresborough Councillor Bill Rigby. In front left to right, Mrs Judith Poole, Mrs Gill Moorhouse and Mayoress of Knaresborough Councillor Shan Oakes.

Three members honoured with
Paul Harris Awards
Len Clarkson and Maurice Beer are two of the longest serving and oldest members of Knaresborough Rotary Club. Len Clarkson joined the club 37 years ago and was President in 1989-90 whilst Maurice Beer has completed 36 years as a Rotarian and was club President in 1993-4. The presentations were made on behalf of the club by Past District Governor and former club President Em Lloyd-Davies who was in for a surprise himself. A pre-recorded video from the current District Governor Hazel Haas, a member and Past President of Knaresborough Rotary Club, explained that Em was being awarded a Sapphire to add to his existing Paul Harris Fellowship. Em is moving away and will be leaving the club after Easter, as a memento he was also presented with a limited edition print by a local artist Chris Sheldrake, of Knaresborough Christmas Markets in the snow.
Latest Physionet Container Ships Out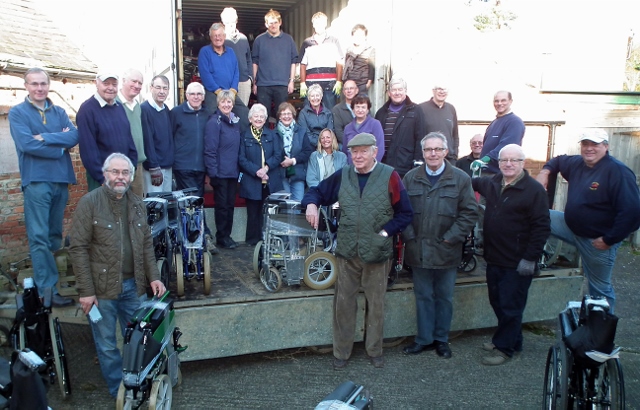 Read more HERE
Environmental Clean Up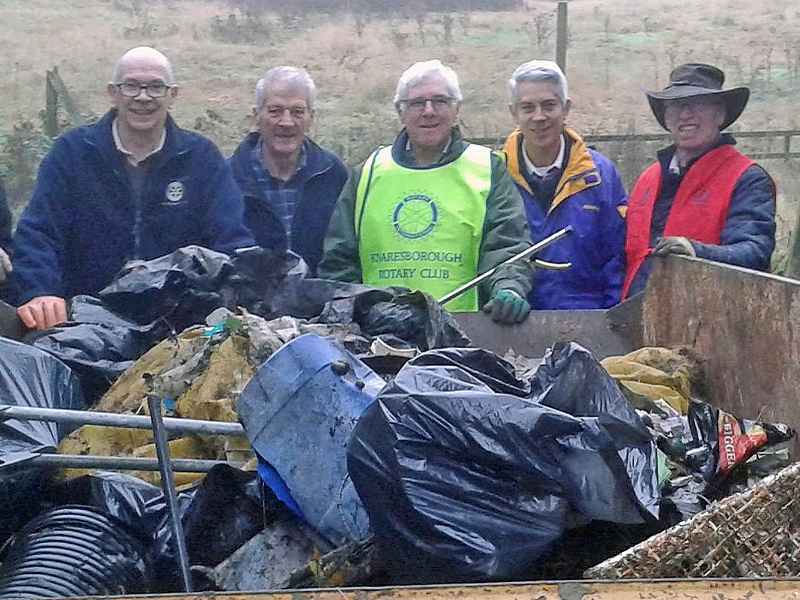 Supporting Scotton Parish Council with a clean up at
Percy Fields
Read more HERE
Meeting Information...
We meet on Mondays at 6.00pm for 6.30pm. (No meetings on Bank Holidays. The hotel is close to the village of Nidd on the B6165 between Knaresborough and Ripley,) Nidd Hall Hotel,
Nidd,
North Yorkshire HG3 3BN tel: 01423 771598
meeting details