Hello and welcome, you've found SETTLE ROTARY on the web.
We're a friendly bunch of around 20 people who volunteer in the Settle community, working on projects and raising money, as well as enjoying informal social activities throughout the year. If that sounds like something you'd enjoy, we'd like to meet you.
We're also part of a much bigger organisation, with a warm welcome in every city and the capacity to make change on a global scale - such as eliminating Polio.
If you think you might be interested, please browse our website to get a better feel for what we are about, view the video at the bottom of this page and maybe use some of these links.
For more general information about Rotary membership, click "Join Rotary".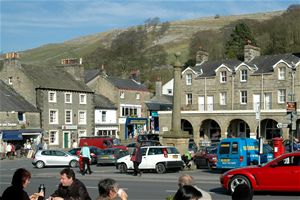 SETTLE ROTARY CLUB is based in and around the picturesque market town of Settle, in the Craven area of the Yorkshire Dales, an area noted for its glorious scenery. More about Settle.

Merry-go-Round 2017
The 2017 Merry-go-Round was another enjoyable success.

The format, as usual was a three course meal, with each course served at a different hostelry/restaurant in the Settle area. There were 231 guests in nearly 50 groups touring round on this most enjoyable and select "pub crawl".
Charities benefitting in 2017 will be 1st Castleberg Scout Group, towards the refurbishment of their Drill Hall and KASIN (Kids at school in Nepal) towards the rebuilding of a school in Nepal, destroyed in the recent earthquakes there.

The evening started as usual in Giggleswick School Dining Hall by kind permission of the School. A free drink and a raffle for some excellent prizes set the tone for a great night out. The raffle raised £820 and with the £5 donation included in the very reasonable ticket price, nearly £2000 was raised in total. If you missed out this year, or if you were one of the lucky ones and want to be sure of your place in 2017, look out for our publicity when tickets go on sale next January.
Settle Saunter 2017
The 2017 Settle Saunter will held on Sunday 11th June. Following on from last year's successful event, we have made some exciting changes to the routes and the distances for 2017.
This year we will be offering 3 great routes, all can be either run or walked.
10k / 6.2 mls
21k / 13 mls - a half marathon!

and 37k / 23 mls
All the routes will start and finish at the Settle Victoria Hall.
< more details here > < online booking here >


Last year's saunter results: In 2016 we had four routes to choose from: 9, 12 and 16 mile routes which had been in operation for a number of years, and a new 22 mile route round by Victoria Cave and Attermire Scar.Results and timings are available here: Results 2016


Santa Claus collection

If your group is seeking funding for a special project or event and you think you might qualify for support, use the "contact us" tab at the top of the page to get in touch.We particularly like to support groups based in the areas that Santa's sleigh visits.

Volunteering
We are always happy to welcome volunteers to help with events and activities. For instance we are always grateful for help with the following:
The Settle Saunter (11th June 2017) volunteers to help with checkpoints and at the Victoria Hall
Manning the bookstall we run on fine summer Saturdays in Settle Market Place
Collecting with Santa during the month of December
Occasionally collecting for disaster relief when needed
It's a great way to find out what we are all about. Please use the "Contact Us" link above to get in touch.

.
Supporting the local community and the wider world
Settle Rotary Club supports many local causes through its fundraising activities and we are very grateful to the residents of Settle and the surrounding neighbourhoods for their generosity. To request support for a local "good cause" please send requests to our Secretary, 3, Tems Side, Giggleswick, N.Yorks. BD24 0BS or use the "Contact Form" tab above.
We also support international humanitarian appeals and projects in areas such as disease control, education, sanitation and clean drinking water.
Thinking of booking a cottage holiday?
Use the link below, save yourself some money and help Rotary to help others.

Meeting Details
Interested in joining Rotary
In the next 30 days...
Social Media...
Settle Rotary
Promote your Page too
Meeting Information...
We meet on Thursdays at 1830 Meet at 18.30 every Thursday at The Boars Head Hotel Long Preston.If you intend to visit please phone either President John Diggles 01729 825285 or Secretary David Blackburne 01729 822445 BD24 9ED