SETTLE ROTARY CLUB is based in and around the picturesque market town of Settle, in the Craven area of the Yorkshire Dales, an area noted for its glorious scenery. More about Settle.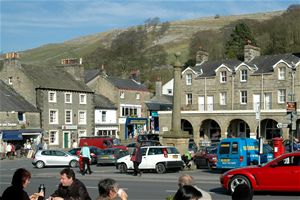 WE ARE ALWAYS READY TO WELCOME NEW MEMBERS. If you think you might be interested, please browse our website to get a better feel for what we are about and maybe use some of these links.
View the video at the bottom of this page
For more general information about Rotary membership, click "Join Rotary".

Santa's on his way!
Starting Thursday 1st December,
Father Christmas and his elves will be making their way round Settle and the villages
.


Click here for the full itinerary.
President very nearly gobsmacked!!
The guest speaker at our meeting on Thursday 29th September was Harriet Akeroyd, a local girl with great ambitions and talent to match. Harriet is one of the leading British exponents of the sport of Taekwando, and is hoping to be selected for the Team GB squad at the next Olympics in 2020. Harriet began her Taekwando journey at the age of 9, in the after school club at Settle Primary School and has since been very successful, winning medals at National level despite an injury which kept her out of competitions for much of last year.
Settle Rotary invited Harriet along to talk about her "TaekwanDo Journey" and when President John Diggles presented her with a cheque from the club to help with her training and the travel expenses, Harriet couldn't resist the opportunty to demonstrate a few moves . . . . . or maybe the other club members put her up to it?!

Settle Saunter 2016
This year's Saunter was held on Saturday 11 June 2016, starting at 8.30am from the Victoria Hall, Kirkgate, Settle. Runners and walkers with varying abilities joined us on the day.
Profits made from entry fees this year will be donated to Yorkshire Air Ambulance, Settle Swimming Pool and Clapham Cave Rescue Organisation.
There were four routes to choose from. We retained the 9, 12 and 16 mile routes which have been in operation for a number of years, but the former 27 mile route over Ingleborough was replaced, this year, by a new 22 mile route via Victoria Cave and Attermire Scar.
Results and timings are now available here: Results 2016

To see how folk fared last year click: Results 2015.
Yorkshire Tour Weekend - our Pop-up bookshop!


Over the Tour de Yorkshire Weekend, from Friday 29th April to Monday 2nd May, our celebrated Settle Rotary Bookstall moved inside for our first Pop-up shop venture!!

Maybe you came to see us in the former shoe shop in Duke Street, opposite the Skipton Building Society - with the Rotary bike over the shop window. The venture was a success and helped us to raise funds for our many local "Good Causes" as well as raising the profile of Settle Rotary.

The regular bookstalls continued on fine weather Saturdays throughout the summer on our usual site outside the Nat-West Bank. They have now finished for this year but will resume again around Easter time - weather permitting.
Merry-go-Round 2017
The 2017 Merry-go-Round will be on Friday 24th February -put the date in your diary!
The 2016 Merry-go-Round, held on Friday 19th February was very well supported. The format, as usual was a three course meal, with each course served at a different hostelry/restaurant in the Settle area. There were several new venues this year and 239 guests in 50 groups toured round on this most enjoyable and select "pub crawl".
Charities benefitting this year will be Yorkshire Air Ambulance, Clapham Cave Rescue Organisation and Settle Swimming Pool. First indications are that the evening raised between £1500 and £2000 to divide between them.

This highly popular event has become a firm favourite in our calendar and tickets sell very quickly. The evening offers all the attractions of good locations, good company and fine wining and dining. If you missed out this year, or if you were one of the lucky ones and want to be sure of your place next year, look out for our publicity when tickets go on sale in January.
Santa Claus collection

Yes, Santa Claus will be back around the town . . . and villages from the end of November. Last year he and his elves received very nearly £5000! in donations for local community groups and charities. If your group is seeking funding for a special project or event and you think you might qualify for support, use the "contact us" tab at the top of the page to get in touch.We particularly like to support groups based in the areas that Santa's sleigh visits.

Volunteering
Settle Rotary is always happy to welcome volunteers to help with events and activities. For instance we are always grateful for help with the following:
The Settle Saunter (11th June 2016) volunteers to help with checkpoints and at the Victoria Hall
Manning the bookstall we run on fine summer Saturdays in Settle Market Place
Collecting with Santa during the month of December
Occasionally collecting for disaster relief when needed
Use the "Contact Us" link above to get in touch.

.
Supporting the local community and the wider world
Settle Rotary Club supports many local causes through its fundraising activities and we are very grateful to the residents of Settle and the surrounding neighbourhoods for their generosity. To request support for a local "good cause" please send requests to our Secretary, 3, Tems Side, Giggleswick, N.Yorks. BD24 0BS or use the "Contact Form" tab above.
We also support international humanitarian appeals and projects in areas such as disease control, education, sanitation and clean drinking water.
Thinking of booking a cottage holiday?
Use the link below, save yourself some money and help Rotary to help others.

meeting details

In the next 30 days...
Social Media...
Settle Rotary
Promote your Page too
Meeting Information...
We meet on Thursdays at 1830 Meet at 18.30 every Thursday at The Boars Head Hotel Long Preston.If you intend to visit please phone either President John Diggles 01729 825285 or Secretary David Blackburne 01729 822445 BD24 9ED