Welcome to the Rotary Club of Leigh - Lancashire
Our club was formed in 1931 and has a modern and progressive membership of pro-active individuals who work together for the good of others through numerous initiatives and fund raising projects. This takes the Rotary motto of "Service Beyond Self" to a level that really makes a difference.
We support a wide range of projects within our local community, as well as International Projects and Disaster Relief.
We have a lunchtime meeting every Monday to enjoy each other's company, listen to inspiring speakers, and keep up-to-date with our community and projects. We also meet for vaious other Social, Fund Raising and Community Service events.
If you would like to attend one of our meetings to find out more about what we do, please use the "Contact" facility at the bottom of this page, or use the links to find more general information about the world-wide Rotary organisation.
Our Monday meetings are held at 12.45 at the Leigh Masonic Hall,:
61 Ellesmere St. Leigh Lancs WN7 4LQ
FATHER CHRISTMAS IS COMING TO A STREET NEAR YOU. LOOK OUT FOR HIM!! HE WOULD BE DELIGHTED TO GET A LETTER FROM YOU OR TO HAVE HIS PICTURE TAKEN WITH YOU.
Listed below are the areas that he will be visiting and the dates he will be there. More details of the actual routes can be obtained by clicking on the route.
Additionally Father Christmas will be waiting to meet you at the following venues:-
ASDA Saturday 26th November, Friday 2nd December and Saturday 10th December.
BRADSHAWGATE (Leigh Centre) Friday 9th December
MORRISONS Friday 16th December and Sunday 18th December
TESCO 17th December
LOOK OUT FOR HIM HE WILL BE LOOKING OUT FOR YOU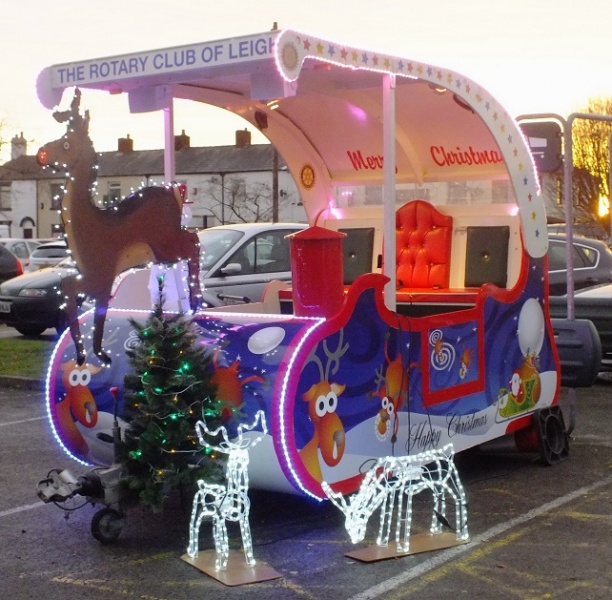 SANTA'S BACK IN TOWN!
Santa Claus was back in Leigh on Sunday when he managed to get away from his busy day of present wrapping, to call in at a children's party to personally hand out some gifts.
Children from various areas around Leigh were treated to a Christmas party by the Leigh Rotary Club and were enjoying fun and games when Santa arrived. The 50 youngsters had spent the afternoon dancing, eating and playing games and were delighted to receive presents from a very jolly Father Christmas. Later they had a feast of chicken nuggets, chips and ice cream then received some presents to take home.
One lady wrote to the Leigh Rotary Club saying, "My Granddaughter said she had a fabulous time and did not stop talking about it all night or this morning when she went to school." whilst others said, "it was the best party ever." Those comments made it well worthwhile!
The Rotary Club are grateful to the directors of the Masonic Hall for their kindness in allowing use of their facilities and to caterer "Marks with Splendour" for providing the food.
The Amazing Adventure of the Young Guns Hockey Trip to Indiana, USA
Following a plea from MP Andy Burnham,The Rotary Club of Leigh recently contributed to the sponsorship of Ollie Stephenson, to attend a hockey tournament for U10/U12's in the USA, which turned out to be quite an adventure!
Unfortunately, Ollie fell over a case while relieving his boredom by skating at Heathrow airport on the way out and broke his arm!!! With his arm in a cast everyone was devastated, but BA put him on a flight the following day and Ollie being Ollie was not going to let something trivial like a broken arm hold him back. With arm pads covering his cast and an over-sized glove, he competed with the rest of the team and thanks to his contribution, his team have come away with a bronze medal!!
They have made inline hockey history by being the first team from outside America to win a medal at the prestigious "State Wars" hockey tournament. None of the other age groups that competed from the UK managed to achieve this level of success.
The whole family wore t-shirts with the Rotary Club logo throughout and displayed the banner during every game. Everyone was inspired by Ollie and are looking forward to doing even better next year.
Leigh Rotary Support Mixed Ability Rugby
Leigh Rugby Union Club offered their most inclusive day of rugby ever on 28th August, as Leigh Tofts and Leigh ladies hosted their friends, the Bumble Bees Barbarians, an inclusive, mixed-ability rugby team based at the Bradford and Bingley Rugby Club. The Bumbles are pioneers of mixed ability sport, offering full contact rugby to players of all abilities and needs. With rugby having been such a hit at the Olympics and the Paralympics beginning next week, there could not have been a better time to welcome the Bumbles back to Leigh.
When the Bumbles players made their speeches after the game, there was not a dry eye in the house, or even the marquee. The confidence and life skills which these young people are gaining from mixed ability rugby is truly heart-warming. The day was a complete success, thanks to all the lads who dug deep to sponsor the Bumbles day and also the Rotary Club of Leigh and the Caring Kitchen who supported this wonderful event.
More information about Mixed Ability Rugby can be found at: www.bumblesrugby.com
Let the Children Speak
Speaking in public can be a frightful experience for most people, but when you are under 12 years old, speaking to an audience of sixty people, including adults, school friends and teachers becomes a massive challenge! That is what youngsters had to face at Leigh Rotary Club's "Let the Children Speak" event.
Seven local schools took part with 20 pupils speaking for 5 minutes on a very wide variety of topics of their own choice, ranging from "Diabetes" and "Life at School," through various Sporting subjects, to "Beauty Pageants" and "Visits to London."
Rugby League personality and Rotary member John Stringer acted as MC and Vice President David Jones presented each child with a trophy, and said, "The children who entered this event should be particularly proud, because they not only spoke loud and clearly, but were also interesting and informative. Being able to speak in public is an important asset, and this first step will help them in later life during interviews and meetings. They were a real credit."
The Rotary Club would like to thank the Directors of Leigh Masonic Hall for allowing use of their facilities and Walter Brown for providing the sound equipment. Thanks also to the teachers and assistants at the schools who entered, which were Newton West Park, Westleigh Methodists, Leigh St. Gabriel's, Bickershaw, Sacred Heart, Bedford Hall Methodist and XII Apostles.
"Young speakers show their trophies"
Leigh Rotary's New President 2016/17
David Jones has become the new President of Leigh Rotary Club, taking over from Rob Dyson, with Brian Mills becoming Vice-President.
In handing the chain of office, the retiring President said, "We have completed a most satisfying year during which we helped the funding of many organisations, clubs and charitable groups, and we set up our first 'Rotakids' Club, at Leigh Central Primary School. We were also very pleased to have helped Leigh Caring Kitchen to move to new premises and to install new catering facilities.
We owe a great debt to the people of Leigh and Lowton for their support and contributions – everyone has been so generous, especially at Christmas time with Santa's Sleigh. I am sure that the incoming President will receive the same level of support and we wish him every success."
After accepting his new responsibilities, Rotary President David Jones commented, "I would like to express my congratulations to our retiring President for such a successful year and I would also like to add my own thanks to the people of Leigh & Lowton for their overwhelming support of the Rotary Club of Leigh. This coming year I particularly want to helping local charities and organisations involving the youth and schools of Leigh and district.
We are always happy to hear from any groups in the area who have a project that the Rotary Club of Leigh may be able to support. We would also like to hear from anyone interested in joining Rotary or in helping with any of our events."
Left to Right - Vice President Brian Mills; Immediate Past President Rob Dyson; New President, David Jones
Leigh Caring Kitchen Grand Opening
From small beginnings in a spare room of a Church to a "Grand Opening" with MP Andy Burnham, Leigh Caring Kitchen has come a long way in a short time.
Anne Crumpton and Gill Rasburn had a vision to feed the 50 or so homeless people in Leigh and started their Caring Kitchen in the premises of the Pentecostal Church in Union Street. That was in 2014, but they were so successful that they soon needed larger premises and better catering equipment. The Rotary Club of Leigh saw the potential of this organisation and stepped in with funding over a 3 year period, assistance in setting them up as a registered charity, helping them to find other sources of funding and locating new premises.
Last Saturday saw the culmination all their hard work, when their new kitchen was formally opened in the former King St Methodist School next to Leigh Bridge. On behalf of the Rotary Club, Barrie Coates gave a speech outlining how it all started and giving details of the many people who had been involved, followed by Andy Burnham saying how proud he is of the achievement of the kind hearted people of Leigh, cutting a red ribbon to formally open the kitchen facility. Paul Bibby completed the speeches by thanking the members of the Pentecostal Church for their help in the early days, Lisa Darlington from One Stop Car Shop for providing a van, the supermarkets who donate food and Leigh Rotary for the main sponsorship. Thanks were also given to Lady Smith and Councillor Myra Whiteside for attending the opening and helping with finance.
Leigh Caring Kitchen is run entirely by volunteers and opens up to 6 days each week from 7 am to 9 pm. It is not only for the homeless, as anyone can pop in for a drink or food. There aren't many fixed prices so visitors just pay whatever they can afford. Everyone is welcome and they hope that they will be able to feed the homeless and vulnerable for a long time to come.
Lady Smith, High Sheriff of Greater Manchester.

Andy Burnam M.P. for Leigh

Barrie Coates, The Rotary Club of Leigh
Inside the kitchen

Youngsters are Bowled Over by Rotary's Gesture
OWZAT ! – The Rotary Club of Leigh, along with Golborne Lightshaw Rotary Club have stumped up £250 to support the boys and girls sections of Golborne Cricket Club during the forthcoming season in the Wigan & District Junior Cricket League.
President of Golborne Lightshaw Rotary Club, Christine Moorhouse, stepped up to the crease after presenting the donation on behalf of both Rotary Clubs. Leigh Rotary's President, Rob Dyson said, "Organisations like this help to keep youngsters off the streets and away from their computer screens and gives them an extra interest in life. The youngsters were bowled over by the gesture - we all wish them well for the summer season."


Miracle at Bimma
Ten years ago, Bimma village in the Ashanti Region of Ghana consisted of 2,500 subsistence farmers who scratched a living by inappropriate farming methods in an area hit by climate change. Children suffered most. Polluted water and lack of sanitation meant three in ten babies died aged under two years, while the youngest family members always had the least to eat.
Babies rarely die in Bimma nowadays. There have been no infant deaths since 2011 – a key indicator of the health of the community. Today, Bimma is one of the most sought-after places to live in the Ashanti Region.
Bimma's fortunes changed in 2008 when Barrie Coates, from the Rotary Club of Leigh, visited the area with his wife Joan and decided to try to turn it round. "Our aim was to make everyone's life tolerable, if possible even comfortable" explains Barrie. "We wanted to put them in a position where they could work themselves out of poverty," he says.
Ashanti Development found that the changes wrought by the Rotary Club's generosity succeeded beyond their wildest expectations. Before Rotary became involved, villagers had to walk miles to bring back water, which was not even clean. This meant that villagers were tired out, had little time left to work in the fields, picked up Malaria from the dirty waterholes and generally had very poor health.
Bimma now has clean water to drink and every household has its own latrine and some rudimentary understanding of germs. Diarrhoea, which people previously regarded as a way of life, has all but disappeared, leading to much better health and energy levels. There are fewer mosquitoes, and they do little damage because the Rotary Club has distributed mosquito nets to every family, and trained people on how to use them.
Farming
Rotary initiated a Farm Support Scheme, which showed the villagers to think of farming like a business – like banking or trading. After one year of training, farmers are harvesting many times more than previous years
Families generally lived in one small room in a family compound, with a shared kitchen and no latrine. Now they are reaping the fruits of their labours and building new, more suitable family homes.
More Changes
The Rotary Club made many other improvements, including building a food processing centre to mill corn and process cassava, which has a short shelf life, into its long-life form. People come from surrounding villages to use these machines and the centre is typically in constant use all day.
In Africa, when food is short the smallest children are the first to feel hunger, so the Rotary introduced free school meals. They have also built a kindergarten and an extension to the village's primary school – both necessary because of the large number of incomers to the village.
Microcredit
Thanks to the Rotary, the village has a flourishing microcredit scheme, providing business training and small loans for women. The women form groups to guarantee each other's loans and support and advise each other. So far not one woman has failed to repay her loan plus interest.
Thanks from the Village
Nowadays, there is no hunger in the village and every child goes to school. There are small shops everywhere and plenty of building work is underway. People have more spare time and keep the village cleaner than before - rubbish tips are tidier and footpaths are cleared.
In recent years the population has doubled, as people from less fortunate areas ask permission to move in. The Chief of Bimma is a good manager and has organised the flood of immigrants well, so old and new communities live peacefully with each other.
In a collective letter of thanks, the Chief, Elders, Assemblyman and citizens wrote to express their profound appreciation of the numerous ways in which Rotary had improved their lives. They asked the Rotary to continue working in the area, since surrounding villages still suffer hardship, and they sent their blessings for all the Rotary's undertakings.
"We cannot find words to thank you adequately. We thank you for ever for adopting Bimma as your second home," they said.
________________________________________________
Notes: Ashanti Development (www.ashantidevelopment.org) is a volunteers' charity, and nobody who works for it outside Ghana receives any form of salary or fee. It was set up when Ghanaians living in London asked their friends and neighbours for help to improve the lives of people in their home villages.
Leigh Ornithological Society
Following a recent lunchtime talk to Leigh Rotary from Tony Bishop & Brian Fawcett, everyone was so impressed that it was decided to help the funding of their "Young Birders Section" by presenting a cheque for £500.
Leigh Rotary President Rob Dyson said, "It was pleasing to hear how young children get interested and involved in wildlife, following the school visits and talks given by the members of the Ornithological Society. What an excellent way to get children away from their TV's and computer games and into the countryside, not only to see birds, but to also appreciate the local wildlife, plants and trees."
PHOTO CAPTION – Rotary President Rob Dyson presenting a cheque to Tony Bishop & Brian Fawcett, for the young Birders Section of the Leigh Ornithological Society
YOUTH SPEAKS
Having to stand up and give a speech in front of your classmates, teachers, parents and another 80 strangers is a very daunting prospect, even for adults, but as a young teenager it is even more nerve-wracking!
At the local heats of the "Youth Speaks" competition sponsored by the Rotary Club of Leigh, that is just what youngsters had to do when they showed their skills at the annual event held at Bedford High School in February 2016. The competition was held for teenagers at intermediate and senior levels who could write and present speeches of their own chosen subjects. Teams of three comprised of a Chairperson who introduced the speaker and subject, the Speaker and a person to round up by giving the 'Vote of Thanks.'
Teams were entered from surrounding towns and gave polished performances on such diverse subjects as The Impact Of School Sanctions; Weaving The Social Web; Media, Morality And Madness.
After each speech Leigh Rotarians Gareth Cheesman & the Rev. Terence Hargreaves-Stead asked questions, which the teams had to spontaneously reply to, making an even more nerve-racking experience! The quality of the speeches, the introductions and votes of thanks were quite remarkable and this will be an excellent stepping-stone for these talented youngsters in their later lives.
Rotary Club's Future Presidents
At a time when various types of clubs and other organisations sometimes find it difficult to get people to step forward as their leaders, Leigh Rotary's future is secure, following the announcement of the future Presidents for the next 5 years.
Current President Rob Dyson has installed David Jones as his Vice President, who will start his Presidential year from July 2016. David, who will take on this role for a second time, then announced that his successor will be current Secretary, Brian Mills, followed in turn by Mike Guest, Allan Smallshaw, and John Stringer.
Santa's Highest Christmas Collection
Father Christmas has sent a letter to say a massive "Thank You" to everyone from Leigh and Lowton who kindly donated the amazing record amount of over £13800 to Leigh Rotary Club's charity fund raising.
Santa said "What an incredible Christmas this has been! After a terrible start, when my little helpers were saturated and nearly blown off their feet whilst collecting, my precious Sleigh was then vandalized and we had to cancel our tour that night. Despite these problems, thousands of children and adults came out to meet me and have their photographs taken.
"Lots of children left me their wish-list letters, including one who asked for £100 and a puppy, then 2 Million Pounds, plus £1000, then £60 and a very specific £111,000. I'm sorry I couldn't deliver it, as he didn't leave his name!"
Leigh Rotary's President Rob Dyson said, "What amazing people we have in our town! Many children had been saving their change throughout the year and gave me boxes or bags full of money. After the Sleigh was vandalized, numerous people volunteered to help and whilst we missed the tour around Westleigh, we managed to fit it in on another night.
The funds we collected will be well spent during the next year on youth organisations, the homeless and many other local charities. Rotary would like to thank Bents, Asda, Tesco and Morrisons for allowing collections on their premise and also thanks for the donations to repair our Sleigh from Grimshaw Autos, Balmer Wilcox Estate Agents, Bliss Financial Services, MDS Motors, Stejack Cars and Trimmenduz – but most of all, thanks to the wonderful people of Leigh & Lowton."
SANTA ARRIVES IN LEIGH
Santa Claus managed to get away from his busy day of present making, to call in at a children's party to personally hand out his gifts.
Children from various areas around Leigh were treated to a Christmas party by the Leigh Rotary Club and were enjoying fun and games when Santa arrived. The 40 youngsters had spent the afternoon dancing, eating and playing games and were delighted to receive presents from a very jolly Father Christmas. Later they were feasted on a meal of chicken nuggets, chips and ice cream, then received some presents to take home.
Various Rotarians reported that children had said "it was the best party ever." Those comments made it well worthwhile!
The Rotary Club are grateful to the directors of the Masonic Hall for their kindness in allowing use of their facilities and to caterer "Marks with Splendour" for providing the food.
ROTAKIDS AT LEIGH CENTRAL PRIMARY
The Rotary movement has worked for many years with young people but only recently has it opened up the Rotary way of community service to children as young as 7 years of age. Rotakids is designed specifically for 7 to 12 year olds and aims to promote self-esteem, develop leadership skills and good citizenship.
Working in partnership with Leigh Central Primary School, The Rotary Club of Leigh has sponsored a Rotakids club in the school, which received its Charter certificate 11 September this year. In order to join the club each child is required to pledge that he or she will "endeavour to be fair to all, to serve my community and to show respect for others". All these demonstrate the British values that schools are expected to promote.
The children have elected their own President, Secretary and Treasurer who, working with a school leader and supported by a Rotary mentor, will lead the club in raising funds and carrying out projects that benefit their local and the wider community.
Deputy Head, Richard Houghton said, "The children are very keen to get going and find a suitable project to work on. If the children's enthusiasm is a measure of Rotakids, we are well on our way. The club will have 28 members, initially from Year 6, but could expand to double that size in the future"
Rotary President Rob Dyson presented President Jessica Carter Bailey with the Charter certificate and said afterwards. "I am so impressed by the children and their sincerity in accepting the theme of the Rotakids pledge. We look forward to working with them and supporting them with their projects".
President of Leigh Rotary, Rob Dyson presenting the Charter certificate to Leigh Central Rotakids President Jessica Carter Bailey
Left to right: Rotakids Secretary, Crystal Dawber, Rotary President Rob Dyson, Rotakids President Jessica Carter Bailey and Rotakids Treasurer Rayyan Shah
For specific requests, information, membership or other enquiries,
please contact the Secretary: -
Brian Mills - Secretary
Telephone: 01942-605805 or 07860-857901
Email: brianmills21@me.com
Meeting Information...
We meet on Mondays at 12.45 pm ((except Bank Holidays and two weeks over Christmas and New Year)) Leigh Masonic Hall,
61 Ellesmere Street,
Leigh,
Lancs
WN7 4LQ tel: 01942 673336