Featured pages
Rotary Club of Manchester - welcome! Please scroll/swipe down through this page to find out more about us, in addition to the pages linked in the menu, top-left.
---
About us
Welcome to the website of the Rotary Club of Manchester
Since the formation of our club in 1911, we have been helping worthy causes and others who are less fortunate;
Guided by the Rotary Maxim of "Service above Self "

The club actively supports the Rotary End Polio Now campaign and the Disaster Aid UK campaigns. We also support the Christie Hospital , Francis House Children's Hospice , The Stroke Association , Narrowgate Homeless Shelter & Pettypool Oudoor Activity Centre -amongst others.
We welcome new members interested in having fun while "Giving Something Back " to the community. Fresh ideas and enthusiasm are the lifeblood of any organisation.
Arms of the City of Manchester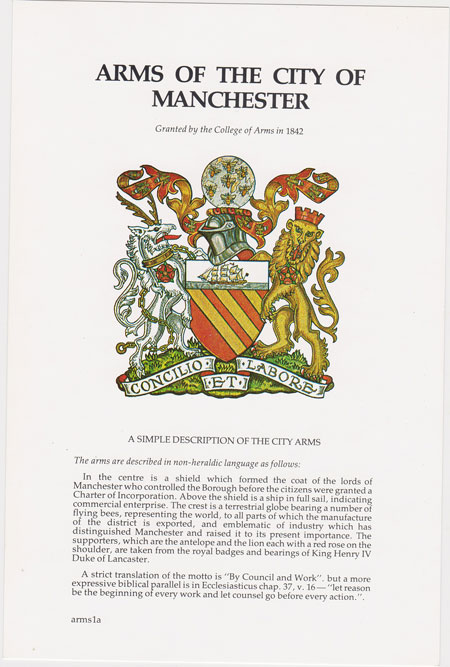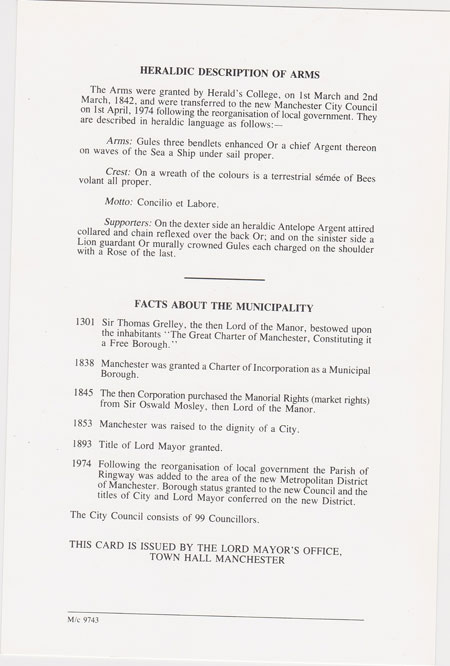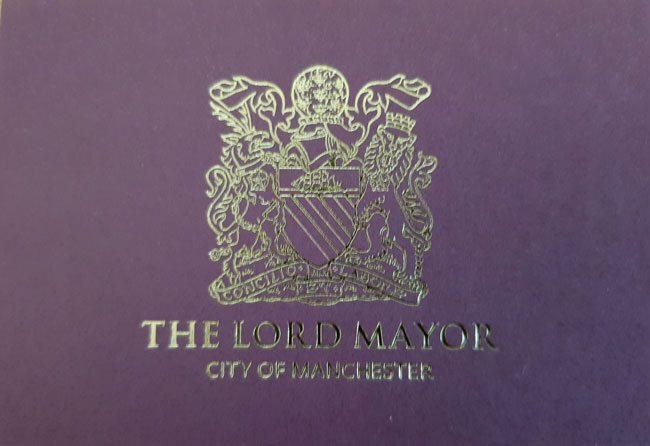 Rotary Club of Manchester
Know Your Blood Pressure Event 14th April 2018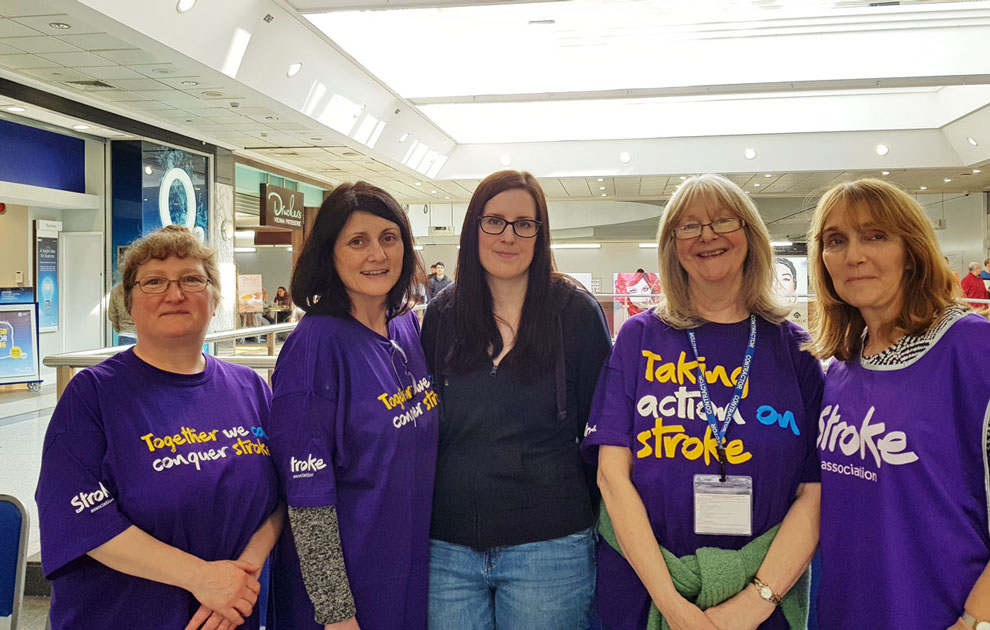 Another successful event, this year we took 509 blood pressures!
Again, one of the most important aspects contributing to the success of the event, is the fact that the Arndale Centre allocate us a prime site, many thanks to Sonya Nolan for arranging that for us, this allows us to maximize the site, by having more tables and chairs, and therefore the number of health professionals to take blood pressures, we had excellent medical students; Rui Jun Lim and Qing Tan, student nurse; Leigh Hutchinson, who also volunteered last year, lecture staff from Manchester University School of Nursing and Midwifery; Ann Caress, Judy Ormrod and Aileen McLoughlin, also nurse Maggie Withington (Sarah's mum) Julie Chapman, Sue Cattermole (who is a stroke survivor) Dr. Jo Downton, Leanne from the Stroke Association brought Dan, Rowen, Kay, Chantelle and Neda and also Nic who, although not qualified to take BPs volunteered to engage with the passing public to offer the BP test.
Of the 509 (259 female and 250 male) people we tested, 387 were no further action required, 122 registered abnormal readings, of those 107 were advised to see their GP for a routine follow up within one month, and 15 were of sufficient concern to be given guidance to visit their GP for an urgent follow up within one week, thankfully, this year we had no hospital admission advised, the age ranges were; 18-29 x 113, 30-44 x 124, 45-59 x 142, 60-85 x 115 and over 85 x 15
After the event, all the drinks, cereal bars etc that were unused, were donated to the homeless shelter Narrowgate in Salford.
Without the help, enthusiasm and support of all the volunteers, including Rotarians and friends of Rotary; Peter Hartley, Roy Chapman, Bill Laidlaw, Sarah Withington, Susan Craig, Alia Arif, Derek Evans, Ernie Metcalfe, Sebastian Moldovan, Robin Graham, Dale Anne McAulay, Elizabeth Farrow, Pat from Trailblazers, and Manuela Costanzo, Manchester University Volunteer Programme students; Adam McGreavey, Victor Lin Hu, Linshu Xu, Yuxiao Zhang, Jayant Goel and Jiangli Liu, this event and important contribution to public health and awareness of stroke, could not take place, and be the success it is, our thanks to Danny at Manchester University Estates, who lend us the furniture, Simon and Pete from BCL Movers were stars, the support of the staff at the Arndale Centre, particularly Sonya, a BIG THANK YOU TO ALL!!
Each year, a theme seems to emerge, and this year, at the end of the event when we were discussing this, Judy was saying how many people were talking to her about their feelings of loneliness, and feeling very alone, this is incredibly sad, then Ann and Aileen commented that they too heard this when they were taking BPs, not only from older people, but younger people too, this impacted so significantly that Judy did this research on the subject, thank you Judy.
Loneliness is a complex concept, and a variety of definitions exist. It may be regarded as social loneliness or isolation, whereby contact with friends and social networks are limited, or as emotional isolation, or a feeling of not being in time, or in connection with other human beings (Holmes et al., 2000). This definition links with earlier work by Bowlby and Weiss (1973) who considered loneliness from a social and psychological perspective, and suggested it to consists of two dimensions, emphasizing the core experience rather than the intensity of the relationships. The experience of loneliness among the very old (Kirkevold et al., 2012) has been regarded in positive terms, for example a feeling of being free, as well as the more negative connotation of being abandoned, and feelings of fear and sadness. Alternatively, Killeen (1998) considered the concept of loneliness as a continuum, with the most positive attributes being feelings of connectedness, and the most negative being alienation and powerlessness as displayed by social and self-isolation. Predisposing factors include partnership status, ethnicity, gender, disability, physical and mental health issues, access to technology, the internet and social media, being a carer and having a limited income which restricts opportunities (NICE, 2016). In January 2018 the UK Prime Minister Teresa May appointed a 'minister for loneliness' Tracey Crouch. This followed the report on loneliness undertaken by the late MP Jo Cox in 2017. In 2018 the Office of National Statistics regarded the UK as the loneliness capital of Europe, following their survey of over 10 000 adults. They suggested one in every 20 people often, or always were lonely and emphasized that 10% of 16 -24 year olds fell into this category, making them the largest proportion of participants. Reasons for this may include a reliance on social media rather than face to face communication, as well as those factors already mentioned.
However, despite the plethora of definitions there is reticence on the part of many people to acknowledge that they are lonely, possibly due to the degree of stigma attached to it but also that it is an expected part of growing old.
Resources
Campaign to end loneliness (www.campaigntoendloneliness.org )
Jo Cox loneliness campaign (www.jococloneliness.org )
The Loneliness Experiment – Radio 4 online survey (www.lonelinessexperiment.orf )
All accessed 30th April 2018.
Barbara Rosenthal 30th April 2018
ARNDALE XMAS COLLECTION 2017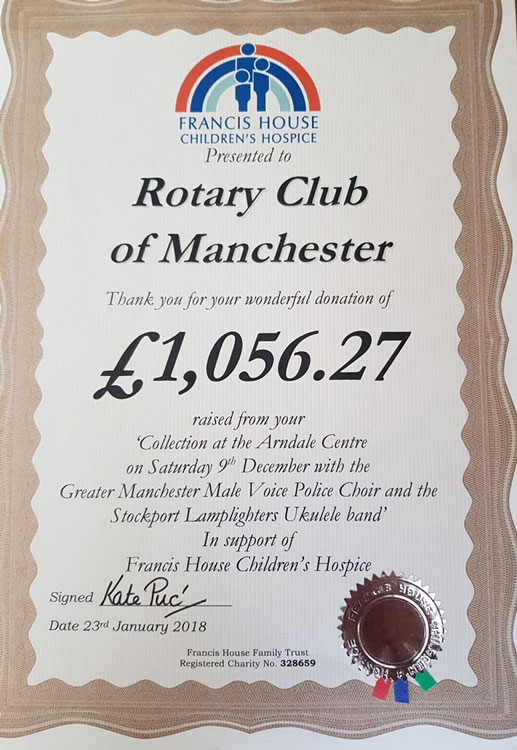 What a fantastic result !
ROTARY FOUNDATION POLIO CHALLENGE.
UK Rotarians have been challenged to raise £1 million for Polio Eradication through the generous gift of 50,000 jars of jam.
The idea is simple – you buy a pot of jam from your Foundation representative (Bill Laidlaw) for £2. You then fill it with coins and give him it back. It is expected that the jar will take about £20. However since the £ Coin is going to be withdrawn this year it has been pointed out that the simple solution is to let Bill have £20 by paper money or cheque.
YOUR MONEY WILL MULTIPLY!! For each £1 you give Bill Gates will give £2. Thus the £1 million UK target could become £ 3 million.
SO PLEASE PARTICIPATE IN THIS WORTHWHILE FUND RAISER FOR ROTARY'S OWN FLAGSHIP CHARITY.
Give Bill a ring and collect your jam jar. Soonest possible – we want to complete the exercise by end June.
PS. Taxpayers can contribute even more by completing a Gift Aid form. Visit rotarygbi.org/gift-aid.
Happening soon...
Meetings and events happening soon
Thursday 29th August 12.30
No meeting today at Manchester Hall
---
no meeting
Friday 30th August 07.00
Manchester Breakfast Charter breakfast
---
at The Armani Centre , Moss Lane , Hulme - details to Margaret Hutchinson
Thursday 5th September 18.00
Fellowship Evening- The Romper
---
Pse advise Roger Walker if you are attending
Tuesday 10th September 17.15
Club council
---
At The Hough End Centre - all club members welcome
Thursday 12th September 12.30
Steve Jordan , Station Officer , Eccles Community Fire Station
---
Operation Florian and Damascus project update
Thursday 19th September 12.30
No meeting today at Manchester Hall
---
We have a ramble the following day instead
Thursday 19th September 14.00
Coffee afternoon at Indra Gupta's house -proceeds to Rotary charity
---
pse let Indra know if you are attending- £10 donation
Thursday 19th September 14.00
Coffee afternoon at Indra Gupta's house -proceeds to Rotary charity
---
Pse let Indra know if attending - £10 donation
Friday 20th September 10.45
Rotary Ramble Bollin Valley
---
Bollin Valley Riverside walk to Prestbury We will meet in the car park of the Legh Arms (Toby Carvery) Adlington (SK10 4NA) at 10.45 and then travel in convoy to the start of the walk at Macclesfield Riverside Park Visitor Centre, Tytherington
future events Past Events calendar district events local events
---
---
---
Rotary News
Be part of a global network of volunteers, trying to make the world a better place. Please also see the 'links & news' page for information from the local district and live feeds from Rotary International and Rotary International in GB&I.
Family Rotary club use skills to kick-start local charities
---
Rotary members unite to tackle world hunger
---
---
Meetings & Venue
Where and when:
We meet on Thursdays at 1230
Manchester Hall, 36 Bridge Street, Manchester, M3 3BT
0161 832 6256