Come, Join us!
The Rotary Club of Middleton is currently looking new members interested in supporting and fund-raising for good causes in Middleton. If you are interested in finding out more about the activities of the Rotary Club of Middleton please contact Stuart Sawle at Stuart.Sawle@sysop.co.uk.
We meet on a Monday evening at 18:45 at the Norton Grange Hotel, Manchester Road, Castleton, Rochdale, OL11 2XZ
Our Vision
To be a modern-day family Rotary Club, working in the spirit of the ideals & objectives of Rotary, achieving the club objectives of serving those in need in our community and further afield.
A Little About Us
.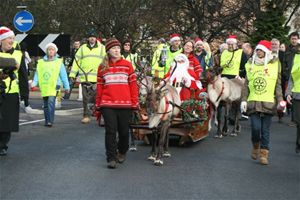 Click the "Action Group" links on the left to see how we fulfill our vision.
The Rotary Club of Middleton has been in existence for many years and today it is a lively and successful club. In the Rotary year 2008/9 we celebrated our 75th. Birthday.
We are part of Rotary International in Great Britain and Ireland which in turn is part of Rotary International, a world-wide organisation.
Non-Rotarians are often unsure of the activities of Rotarians - as much of the charitable work we carry out in the community and internationally goes unsung. The support we give in our own local community takes in local schools and hospices, scouts, and various local charities and support groups. We are proud that almost 1,000 local primary-school children are involved with our club - providing gifts for children in orphanages in eastern Europe.
On the international front we are involved in the eradication of polio through Rotary International's Polio Plus Project, and are committed to providing clean drinking water to a number of villages in Kenya. Whilst we are renowned for responding swiftly to emergencies such as the Tsunami disaster, our work in fact is carried out 365 days a year.
We are not a secret organisation – if you wish to know more about us and our activities, ask us, we will be pleased to talk to you. Just click the "Contact Us" box at the top of the page.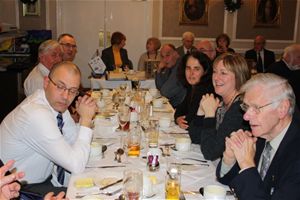 Some of our Members and Friends enjoying the friendly banter at a weekly meeting
The Town of Middleton
Middleton is a town within the metropolitan borough of Rochdale - although its proximity to Manchester, and 0161 telephone code, means that many residents see themselves as Mancunians. Long standing residents though, regard themselves as Middletonians and are very proud of the town's heritage.
During the Middle Ages, Middleton was a centre of domestic flannel and woollen cloth production. Middleton became a centre for silk production in the 18th century, which developed into a mechanised cotton-spinning industry by the mid 19th-century and which continued through to the mid-20th century.This transition gave rise to Middleton as a "Mill Town".