Young business man
joins our club
Daniel Williams was admitted to Rotary International and membership of the club by President Dave Lewis on 17th April.
In proposing Daniel, Bal Unnithan said that Daniel had long been familiar with Rotary, having for many years been brought to Rotary events by his grandfather, the late Rotarian Godfrey, and his grandmother, Inner Wheel member Maureen.
Daniel thanked Bal for proposing him and President Dave for accepting him into the club. He said that he had recently celebrated his 26th birthday and wondered whether the best part of his life was perhaps now behind him. He said that he had decided, now a member of Rotary, that the best part lay ahead.
By chance, the speaker at the lunchtime meeting was Maureen Williams, an honorary member of the Rotary Club of Sandbach, who took the opportunity to present Daniel with a pair of his grandfather's Rotary cufflinks.
Daniel graduated in Physical Geography and Geology from the University of Plymouth four years ago. His intention was to seek a career in that field but since graduating has taken up the post of project manager at the family firm, Godfrey Williams and Son, Speciality Grocers, of Sandbach.
President Dave Lewis said that he was thrilled to be able to induct a member of the younger generation into the club and pointed out to Daniel that he had already made two significant achievements: by probably being the youngest member of the club during the last 70 years and, at a stroke, considerably reducing the average age of the club!
Rtn. John Higgins (Publicity officer)
Sandbach young people swam over 50 miles for charity last weekend. Now in its 25th year, the annual Swimathon, organised by the Rotary Club of Sandbach, was held at Sandbach School.
24 teams took part and participation was again dominated by local youth groups. Guides, Brownies, Scouts and swimming clubs were well represented and Wheelock Primary School and the RotaKids Club at Sandbach Primary Academy both put in teams. The Rotary Club itself entered a team which was well sponsored.
Wendy Bullock, Wheelock Primary School event organiser said, "The children from Wheelock Primary were thrilled to take part in the Rotary Swimathon. Twenty one children from Key Stage 2 swam for 1 hour in a range of strokes and styles. All enjoyed participating in a great community event and contributing to the very worthy charities that are set to benefit."
The final amount of sponsorship money will be divided between the participating organisations for their own projects and the Rotary Club which has chosen Breast Cancer UK, Macmillan Nurses and local charities.
On the afternoon of the second day, Club President, Dave Lewis, welcomed civic and other representatives including Olivia Hunter, Cheshire East Mayor; Martin Forster, Deputy Mayor of Sandbach; Rtn Eric Cowcill, Rotary District Governor- elect; Arnie Lang, President of Sandbach Crosses Rotary Club and Nicola Bramwell, President of Sandbach Inner Wheel Club.
Dave Lewis said, "We are deeply indebted to all those people – life guards, lane marshalls, members of Inner Wheel, Sandbach School, and friends of Rotary – whose support made it possible for us to stage this event".
The Rotary Club of Sandbach meets every Wednesday lunchtime. For further details contact our Secretary Tim Bramwell on 01270 766638.
John Higgins (Publicity Officer)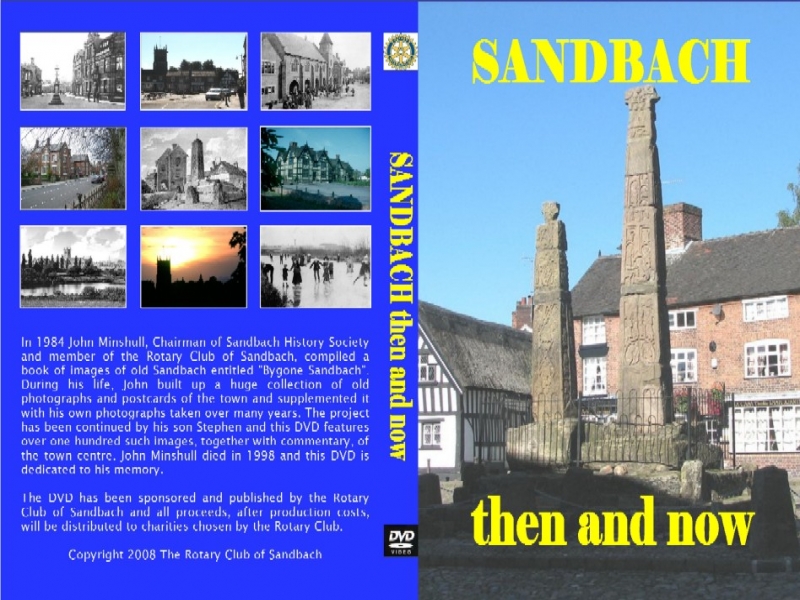 This DVD was produced in 2008 and it contains pictures of old Sandbach town centre and in 2008. Only few copies are left. Priced at £8.00 each it will make an excellent Christmas present. Contact Rtn. John Higgins on 01270 763037.
club activities.
It gives reports on projects undertaken during
nd 2013 � 14
Photo Galleries show pictures of all
activities
r club Newsletter "Crosstalk"
b programme for next 30 days
Meeting Details
Interested in joining Rotary
In the next 30 days...
Meeting Information...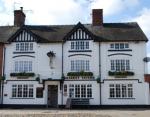 We meet on Wednesdays at 1230 for 12.45pm Market Tavern
8 The Square
Sandbach
Cheshire
CW11 1AT tel: 01270 762099