About us
ROTARY WILMSLOW DEAN
Thank you for visiting our web site
If you are a new visitor to our site, the Club main page, below, displays a photographic record of some of our events and activities during the current Rotary Year.
We are a dual-gender Club with 28 members. Our usual meeting day is Tuesday at 6.45 pm for 7.00 pm at the Deanwater Hotel, Wilmslow Road, Woodford, Cheshire, SK7 1RJ, where we have a one-course meal.

If you want to see more of our activities from last year, click on the menuu button, What We Do, then select 2017/18.

Wilmslow Dean Rotary thanks Armadillo Self Storage - Storage for homes and business for their continuing support of the Club in 2018/2019.

We are now in the New Rotary Year 2018 - 2019
WITH A NEW SET OF PICTURES OF OUR CLUB EVENTS AS WE PROGRESS THROUGH THE CURRENT YEAR.
THE FIRST EVENT IS THE SCARECROW FESTIVAL PRECEDED BY THE PARADE THROUGH WILMSOW.

THIS YEAR IT WAS THE TURN OF THE CHILDREN WITH PARENTS WHO FORMED A LONG LINE HEADED BY TOWN CRIER AND PIPE BAND

EACH CHILD JOINING THE MARCH TO BANK SQUARE WAS GIVEN A HAND HELD MODEL SCARECROW TO DISPLAY AND ADD TO THE OCCASION.

HERE IS A SELECTION OF PICTURES

FROM THIS WELL SUPPORTED EVENT.
Rotarian Ian
Ferguson with MP Esther McVey
preparing the hand held scarecrows for the children joining the parade.



The children and parents assemble into a long line to join the pipe band to march through the town to Bank Square.

.

Ready to go

Town Crier announces the event.

Into Grove Street.


Bank Square

It was a hot day so the bottles of water and an apple at the Rotary gazebo were very welcome.
The apples and water were kindly donated by Sainsburys and Waitrose


The pipe band march back to end the parade event.





Well done Town Crier
WILMSLOW SHOW 2018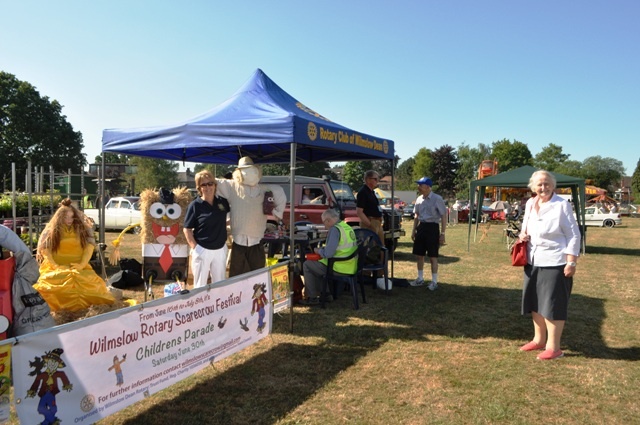 Getting ready before the Show opening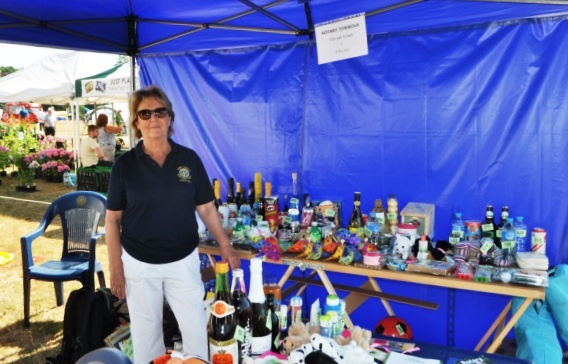 tombola prizes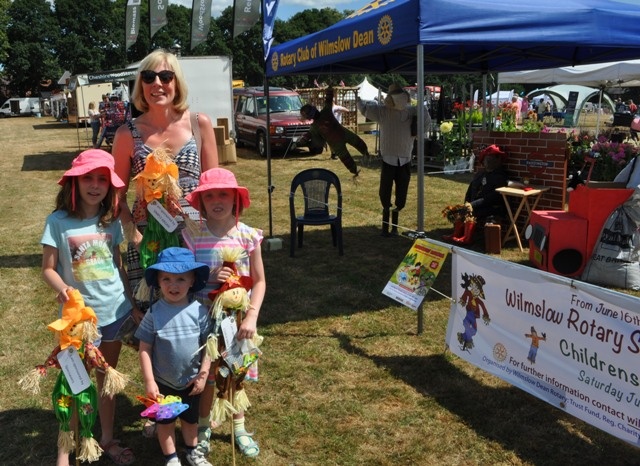 Children who took part in the Rotary Scarecrow Festival were given a miniature scarecrow, which also gave them free admittance to the
Wilmslow Show
The Rotary stand with tombola and the finalists of the Rotary Scarecrow Festival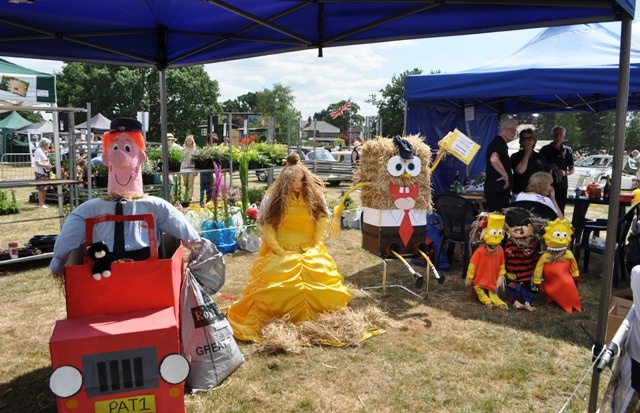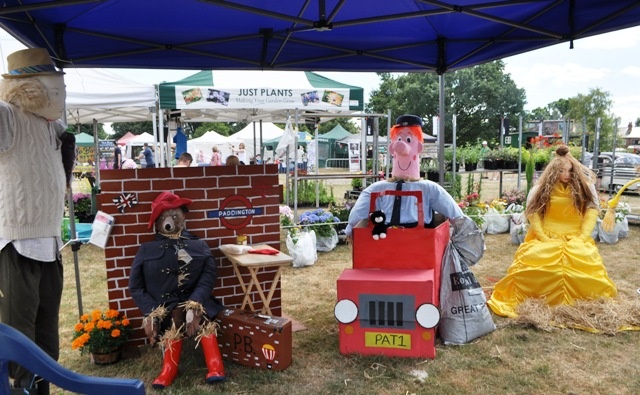 Above the finalist in the Rotary Scarecrow Festival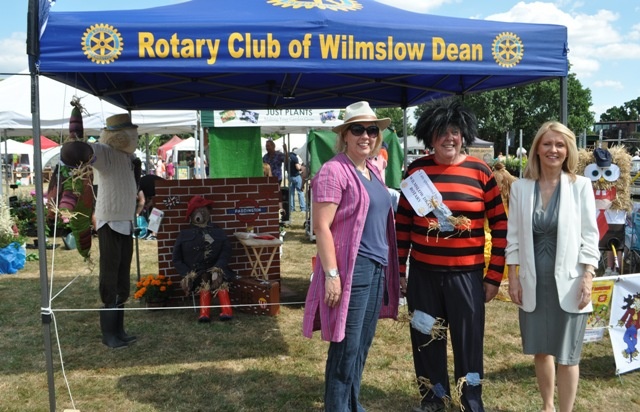 Judging the scarecrows
Above Angela McPake, Chairman of the Wilmslow Show Committee,
Dennis The Menace, alias Rotarian Ian Ferguson and Tatton MP Esther McVey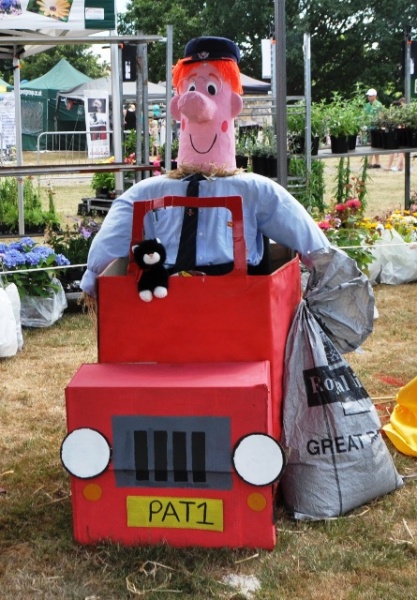 Above, the winner Postman Pat, created by staff of Wilmslow Post Office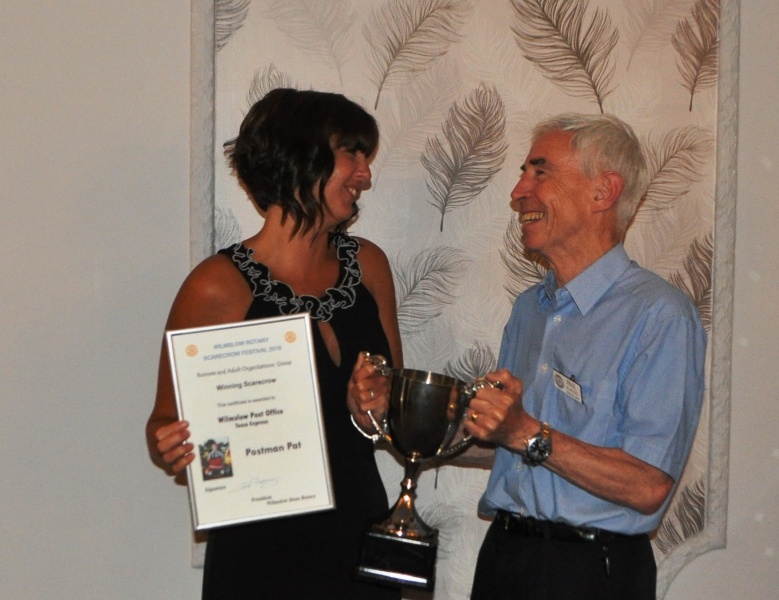 Paul Almond presenting the winners cup.
************
After two major events
we have two social occasions, the first at Crown Green Bowles, taking advantage of the warm weather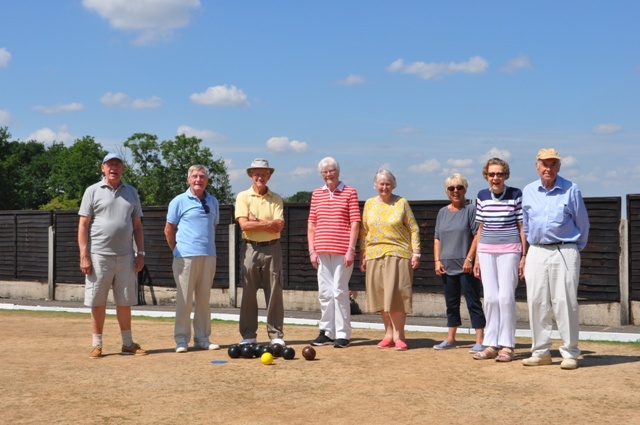 SECONDLY, BELOW, WE ALSO HAD AN ENJOYABLE DAY OUT ON THE MACCLESFIELD CANAL TOGETHER WTH A SPLENDID LUNCH PROVIDED BY THE LADIES
Below - lots of interesting bridges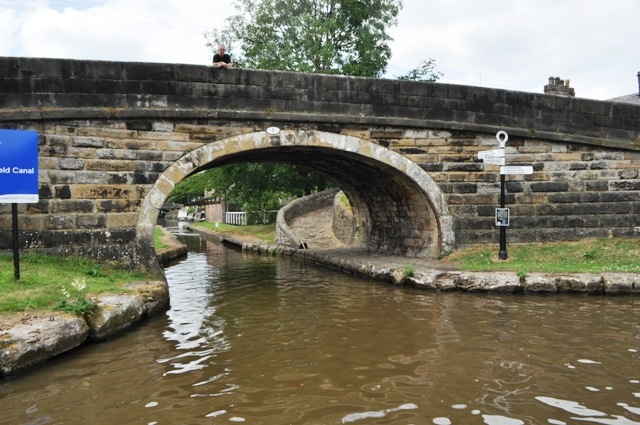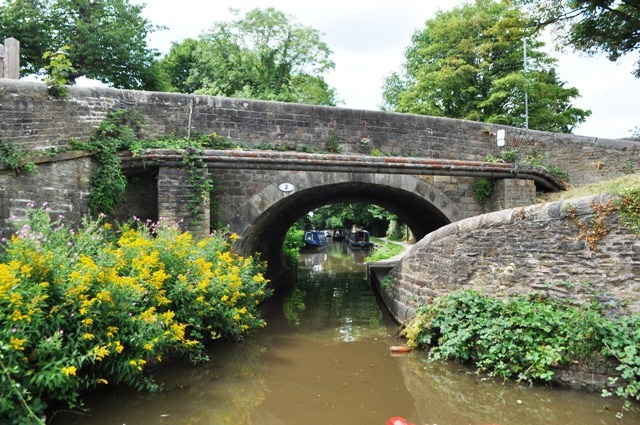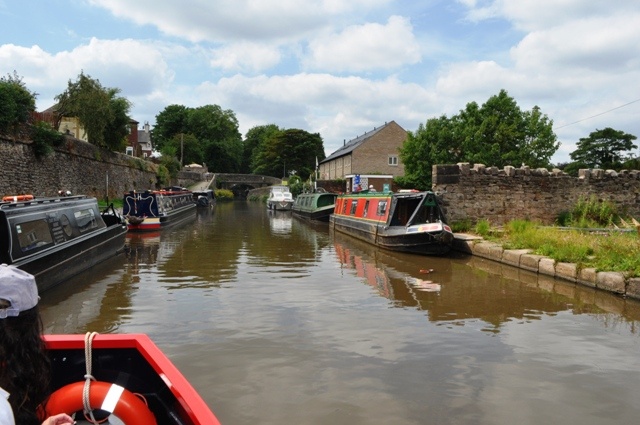 Even the cows needed cooling down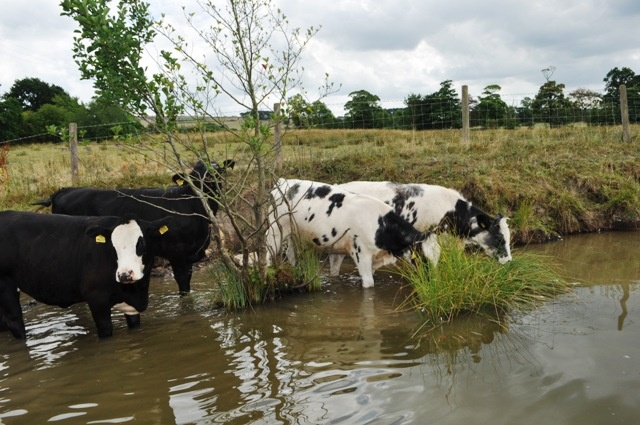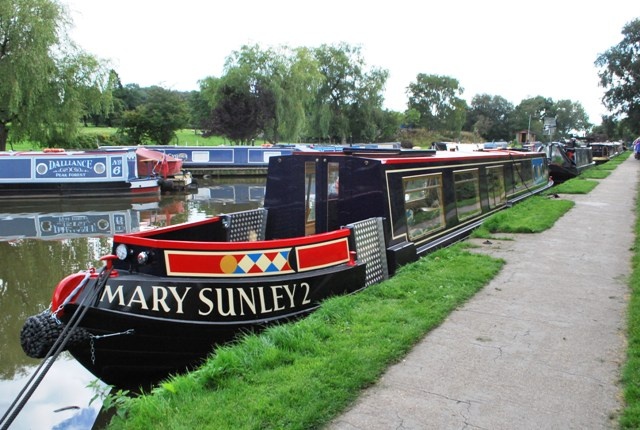 All tied up after an enjoyable afternoon
Below, Hazel Russell (L) with President Carol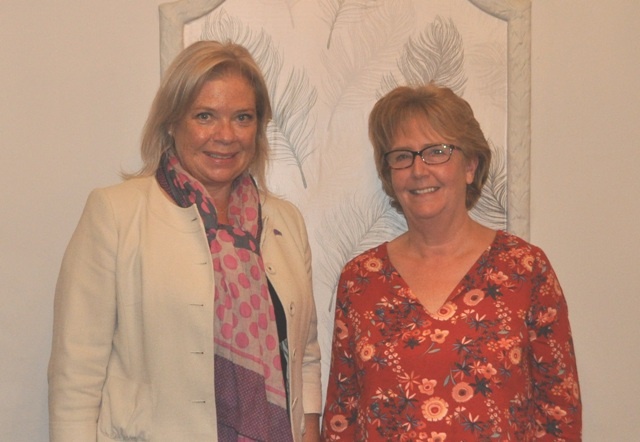 Hazel, Head of Fundraising for Papyrus, gave us an in depth talk on the growing problem of Suicide in young people and the work of their growing organisation.
25th September
Our speaker this evening was Jane Pinder, below with President Carol (L)
Jane is the Regional Fundraiser for Lymphoma Action which works with people suffering from the many kinds of Lymphoma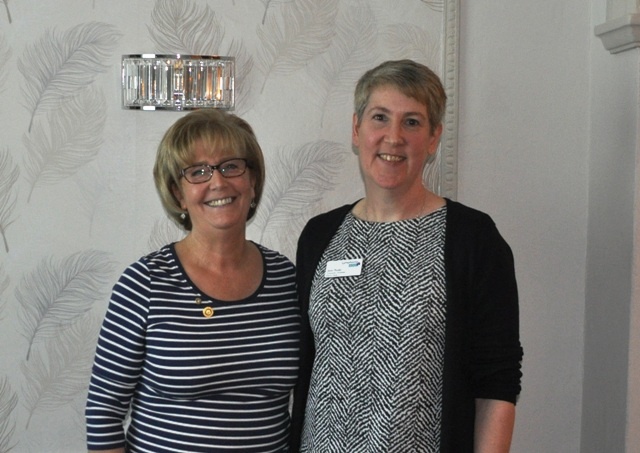 At the same meeting, we welcomes two new members of our club.

Pictured below, with President Carol, Derek De Belder, formally a member of Gatley, and District Governor, and Rotarian Sue Worthington


Special Charity Dinner October 18th 2018
This dinner was held to raise money for two charities: Papyrus and Combat Stress
Our guest speaker for the occassion was Khumi Burton, a Deputy High Sheriff for Manchester, who gave an illustrated presentation of her life.


Below receiving their cheques from President Carol are Hazel Russell (L) of Papyrus and Khumi Burton (R) from Combat Stress


23rd October 2018
A fascinating talk on the East Lancs Railway given by Mike Moore, below with President Frank McCarthy




GOLDEN AWARD
Wilmslow won it's fifth gold in the Britain in BLoom competition. It was nominated as the best Large Town in the North West of England, and will represent the North West in next years National competition. Our Rotary Club achieved an Outstanding Award for its contribution to the town's success with its Jubilee Rose Garden .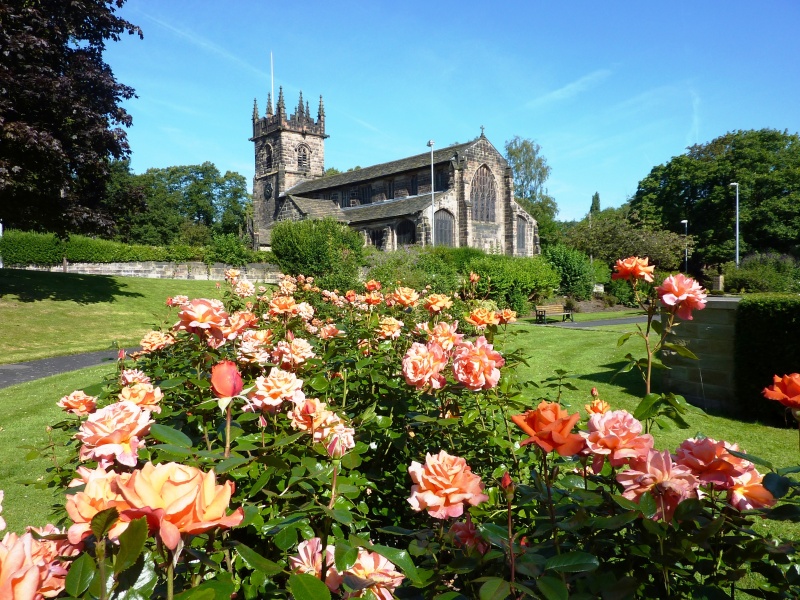 A picure from 2015 when a group of Rotarians

prepared the beds at the memorial gardens for the 100 rose bushes

A fine specimen as a reward
SPEAKER MEETING 13th November

Our speaker tonight was Prof Ian Morison who gave a fascinating presentation on the history of Jodrell Bank
REMEMBRANCE SUNDAY 2018
The event in the Memorial Gardens was well supported by the community. The Rotary wreath was presented by Club President Frank McCarthy.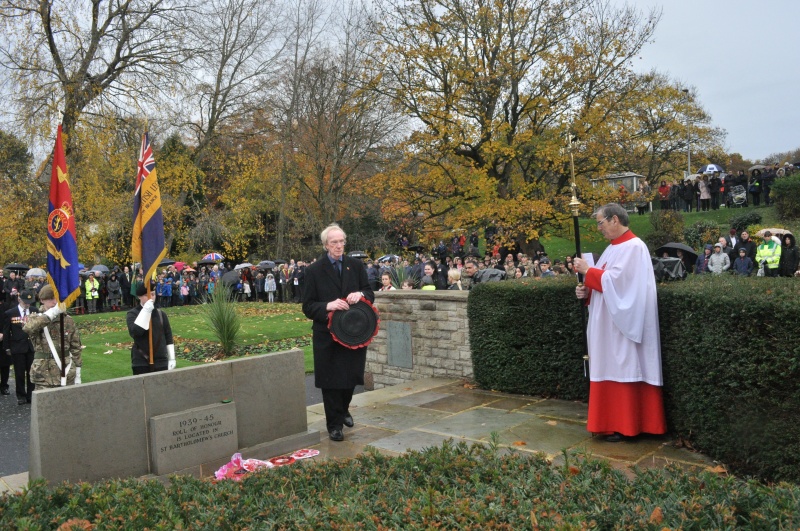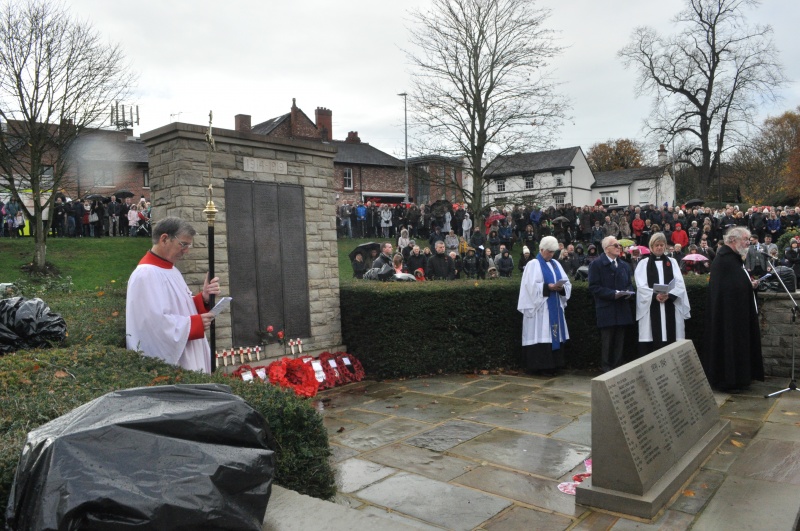 THE CLUB 81st CHARTER CELEBRATION.
Club members with partners, family and friends celebrated this special event at The Deanwater Hotel.
Below President Frank welcomes the company and his top table guests


After dinner we were entertained by Maria Manchester
who presented us with a selection of popular songs, with audiance participation and on the dance floor.



Pictured L - R

Cllr David Pincombe, Maria Manchester, Cllr Martin Davies Chairman of Wilmslow Town Council, President Frank McCarthy, District Governor Toney Graves, Sue Worthington and Asst District Governor Rosemary Boardman

OTHER CHRISTMAS EVENTS 2018




COLLECTING FOR LOCAL ROTARY CHARITIES WITH SANTA IN OUR NEW SLEIGH.


SANTA IN OUR NEW SLEIGH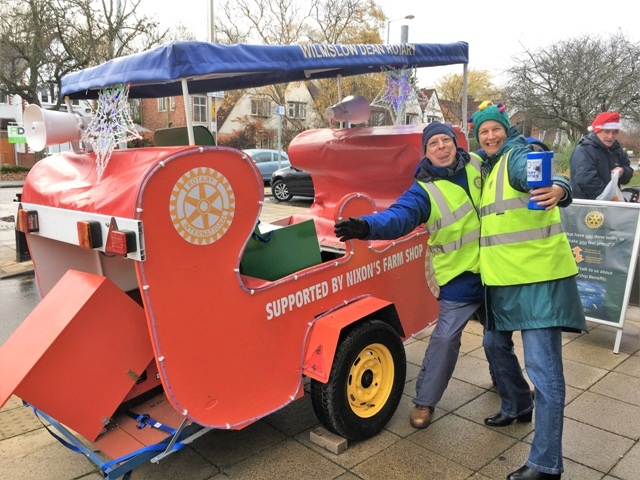 WITH TWO YOUNG VISITORS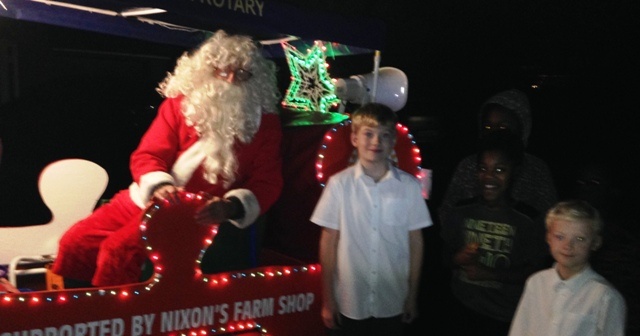 THE CLUB CHRISTMAS PARTY

  
Honorary Rotarian and Deanwater Hotel Manager Barry Richards receives a Rotary "thank you" for the excellent service to the club during 2018.




Member Peter Mayall receives a Saphire Paul Harris Award for service to the club and the local community.


We were entertained by members and partners to a selection of Christmas sketches.

The group lead the audiance through The 12 days of Christmas


Table C makes their responce.
Treasurer has reported that the total collected from our various events over the Christmas period amounted to £4,700. We would like to thank all those who contributed to our charity fund. The amount will be donated shortly to selected local Rotary charities.
*******
JANUARY 2019
WE HOSTED THE HEATS FOR THE SENIOR AND JUNIOR SCHOOLS YOUTH SPEAKS COMPETITION
HERE THE WINNERS FROM THE TWO SECTIONS - BOTH FROM WILMSLOW HIGH SCHOOL



JANUARY 22nd 2019
WE STAGED ONE OF OUR REGULAR SOCIAL EVENTS.
A BURNS NIGHT DINNER.
HERE ARE A SELECTION OF PICTURES FROM THE EVENING.


AT THE DEANWATER HOTEL BALL ROOM.

PRESIDENT WITH AG ROSEMARY BOARDMAN AND DOROTHY McCARTHY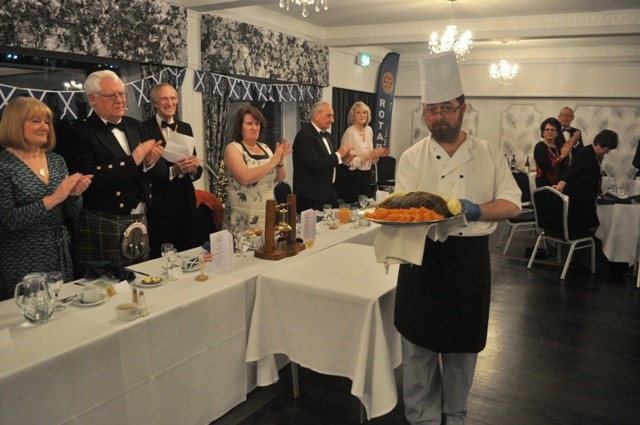 THE HAGGIS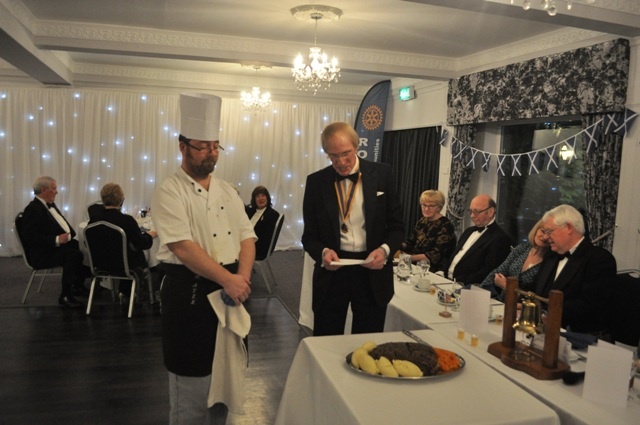 READING THE ADDRESS


ADDRESSING THE BEASTY


READING AN ODE TO A MOUSSE - yes Mousse!
SCOTTISH DANCING


AULDE LANG SYNE


CHINESE NEW YEAR 5th Feb
THE YEAR OF THE PIG
WE CHOSE A CHINESE MEAL TO MARK THIS OCCASION.
BELOW OUR HAPPY GROUP ENJOYING THE WEEKLY MEAL.
MEMBER DEREK DE BELDER PROPOSED A SUITABLE TOAST "KUNG HEI FAT CHOI"
( GOOD FORTUNE TO YOU ALL )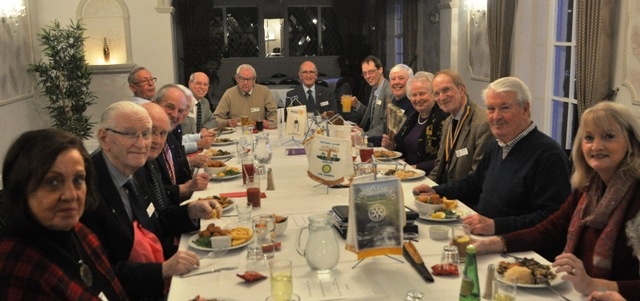 SPEAKER MEETING 12th FEBRUARY 12th 2019
Past DG Stan Bowes gave us a most interesting presentation.
His subject covered global warming, the environment and the various opinions currently held on the subject.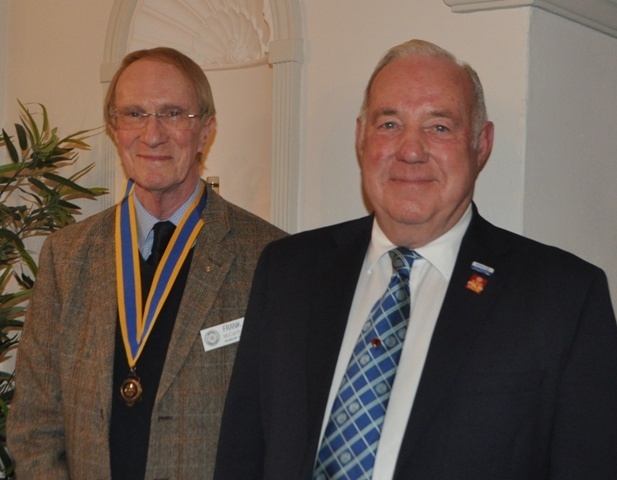 ***************************************
If you are interested in seeing what we did during the previous Rotary Year, From the Menu button (top left of home page), Select 'WHAT WE DO', then select 2017/18, where you will find a complete record of the year's events.
ROTAGYM


ROTAGYM is a new facility for the Wilmslow Community.

It was conceived by Wilmslow Dean Rotarian Geoff Shelmerdine, who saw the need for a facility that was available for all residents, and with the help of Rotarians Frank McCarthy, Ian Ferguson and Christopher Dodson, Councillors on Wilmslow Town Council, the idea finally became a joint venture between the Rotary Club of Wilmslow Dean, Cheshire East Council and Wilmslow Town Council.

The Opening Ceremony




Geoff pictured here to left of Cheshire East Council Mayor Cllr Arthur Moran as he cuts the ribbon to officially open the ROTGYM. Also in the picture, President Cllr Frank McCarthy and Cllr Martin Watkins, Chairman of Wilmslow Town Council


The Mayor tries it out


as does the Chairman of Wilmslow Town Council Cllr Martin Watkins along with Town Crier Rotarian Reg Lord.











.
































CLUB VISIT TO MEDIA CITY AT SALFORD QUAYS.
Some pictures of the surrounding buildings


.
The BBC studio tour.

Many well known shows are set in this fully equipped studio.




Note the props for Blue Peter.

One of the audio control desks.

Mike Ramsden about to present the weather forecast.



A short break after an enjoyable tour, thanks to the BBC guides.
11th APRIL
Dr. Roger Small, and Cllr David Pincombe gave a presentation of the Handforth District Plan.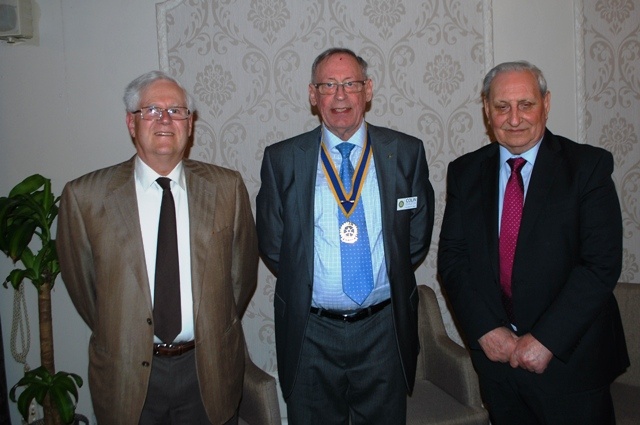 2nd May, we hosted the District Annual Scholar's Dinner
Picture below L to R: Rotary Scholar William Von Schrader from the USA, District Governor Stan Bowes, President Colin Eggleton, and Rotary Peace Fellow Sasha Davis also from the USA
Both our guests gave a presentation depicting the international work they had undertaken during their studies. William recounted his experiences in Mongolia, and Sasha hers in Ethiopia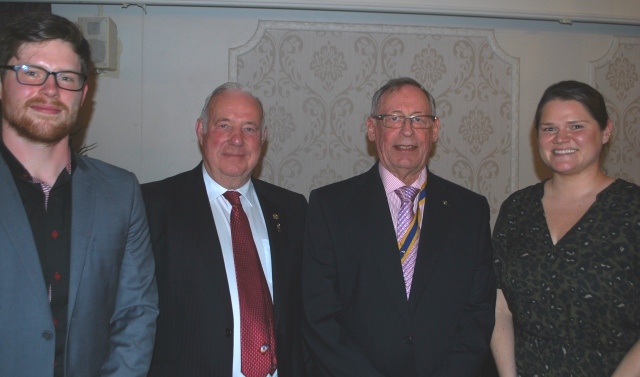 SPEAKER MEETING 16th MAY 2017
This evening we had an illustrated talk on the history of Boat Trains in the Northwest of England, from John Hooley, ably assisted by his wife.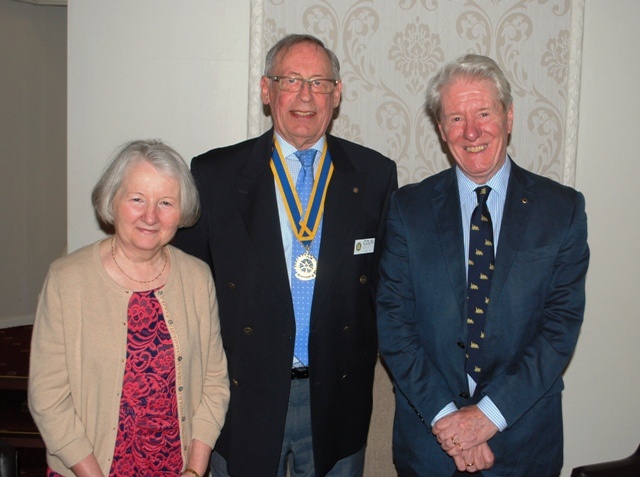 Final of Rotary Junior Youth Speaks Competition
Our club arranged and hosted this annual event, held at the Deanwater Hotel.
Winners: Marlborough School
Below, with the winners cup are Thomas Radnall, Erin Corcoran, Best Vote of Thanks, Isabelle D'Arcy, Best Speaker, with President Colin Eggleton and Headteacher Mrs Pollard.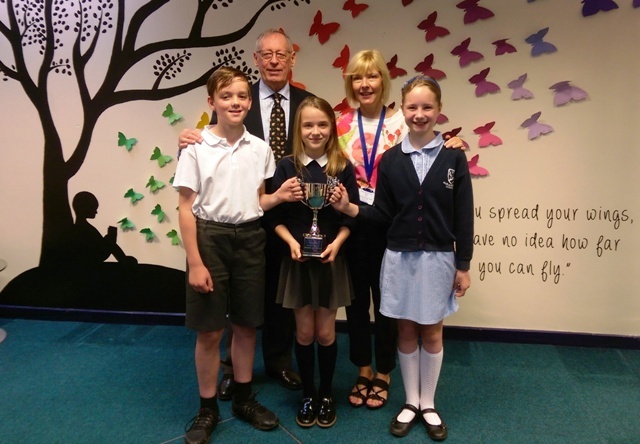 This Year, we supported the Great Get Together, at our Garden Party held in Marianne's garden on a wonderful sunny summer day.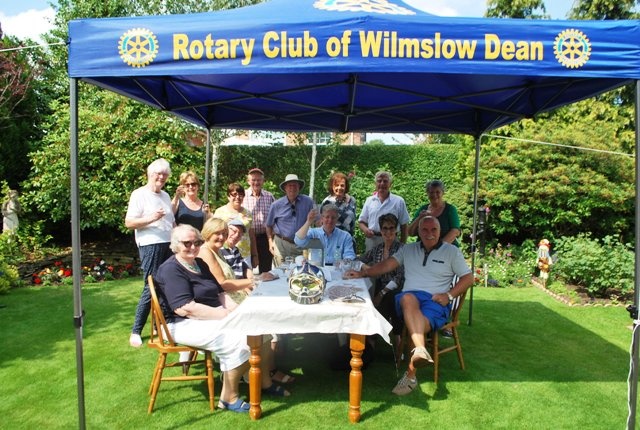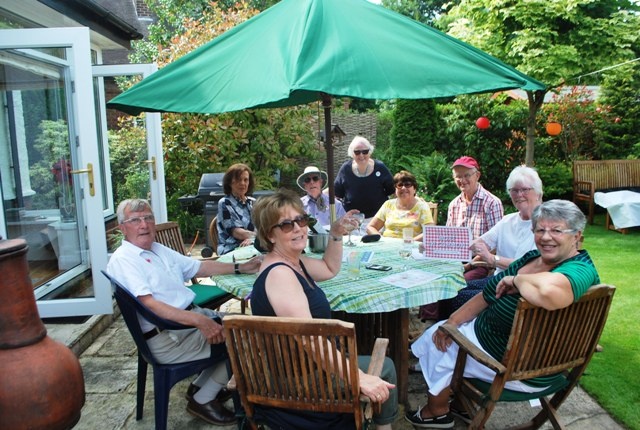 If you have found our the record of this year's activities of interest, and feel able to commit some of your spare time to community service, and would like to know more about Rotary membership, please contact Rotarian Mike Ramsden Tel 01625 535580, email: ramsden453@btinternet.com , or Rotarian Ian Bradley Tel: 01625 266761, email: ian.bradley@manchester.ac.uk
Pay us a visit at the Deanwater Hotel
Telephone Marianne Martyn on 01625 524706 email mmartyn@talktalk.net before 12 Noon on the day before the meeting for more details.
********************************************
Some of last year's events 2015 - 2016
What about Wilmslow in Bloom?
The Rotary Rose Garden planted a few years ago in the Memorial Garden,
was in full bloom for the Judges to see.
The club set up gazebos for the light refreshments which were provided
by Hawthorn Deli.
We hope that Wilmslow Town will gain a Gold Award this year
and this wonderful display will help when the Judges make their decision.
The rose garden has been tended by club members and we anticipate another wonderful display for 2016 shortly.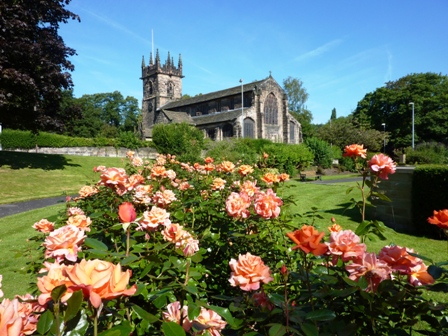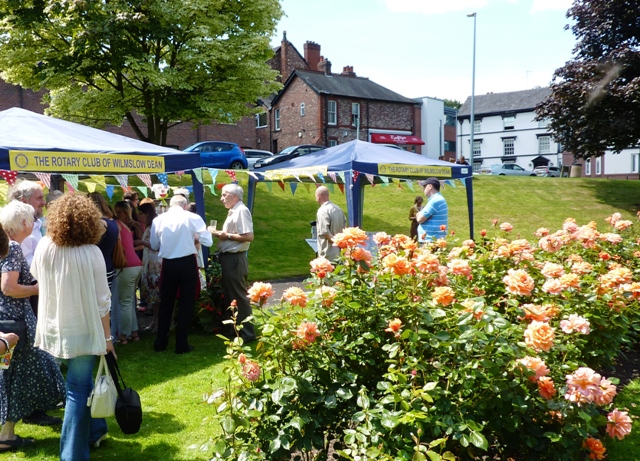 The Rotary gardening team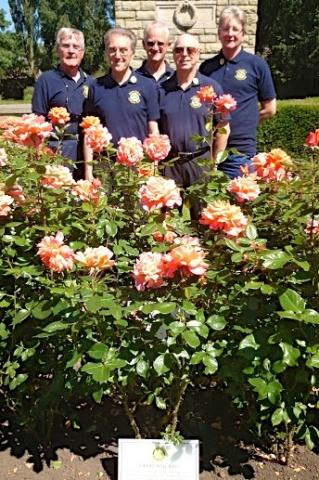 ***
***
Do also have a look at the WILMSLOW.CO.UK for other local news.
and also on Facebook
***


Happening soon...
Meetings and events happening soon
Tuesday 26th February 19.00
Meeting and Speaker (Rtn Tony Graves: District Governor)
---
Tuesday 5th March 19.00
Meeting and Committees
---
Saturday 9th March 11.30
Not the Beaujolais Brunch
---
A wine tasting event preceded by a Full English Breakfast
details
Tuesday 12th March 19.00
Meeting and Speaker (Elaine Shillcock: "Not just travel")
---
Wednesday 13th March 19.15
Council Meeting at The Deanwater
---
Tuesday 19th March 19.00
Meeting and Business Meeting
---
future events Past Events calendar district events local events
---
---
Rotary News
Be part of a global network of volunteers, trying to make the world a better place. Please also see the 'links & news' page for information from the local district and live feeds from Rotary International and Rotary International in GB&I.
Family Rotary club use skills to kick-start local charities
---
Rotary members unite to tackle world hunger
---
---
Meetings & Venue
Where and when:
We meet on Tuesdays at 18:45
(
No meeting following a Bank Holiday
)
The Deanwater Hotel
Wilmslow Road
Woodford
Cheshire SK7 1RJ
Venue: 01625 522906 (apologies to 0162 5 524706 12:00am on day of meeting)