Serving the Cambridge community since 1922, the Rotary Club of Cambridge is a mix of business people, entrepreneurs and professionals making connections whilst working for local and international community projects.
Rotarian David Ridgeon MBE
David was a very long standing member of our Club of over 40 years and became president in 1986 and was admitted as an Honorary member this year.
His Father and Grandfather were also Rotarians and all three were wonderful citizens of Cambridge and model Rotarians. The family connection continues to this day with son-in-law Johnnie Sam a current member. Therefore, almost since the founding of our Club in 1922, a member of the Ridgeon family has been a member.
Not only was he a friend and valuable member of Rotary International, his talents were well recognised by his chosen profession. He served as Master of the Builders Merchants Livery Company and also President of the Builders Merchant Federation (BMF). His most proud moment was to honoured with an MBE by Prince Charles for services to the Builders Merchants Industry and services to the community of Cambridgeshire.
David who took over the role of Managing Director and Chairman in 1973, following the death of his father Elliott Ridgeon, was at the Ridgeon's helm for over 30 years, helping the Group to expand through acquisitions and organic growth, before handing over to his daughter Anne and son-in law Johnnie Sam. During this time, David continued to uphold the Group's commitment in relation to supporting the local community and through sharing profits with a variety of local registered charities. He led with humility, authenticity and, above all a sense of stewardship.
Rotarian John Holroyd had the pleasure of conducting a Focus Interview with him and he was particularly impressed by the fact that he learned his trade thoroughly by spending time in the saw mills of Scandinavia before becoming a member of the family business.
"Many will remember him as a thoroughly human and honourable man who had a great sense of humility"
Rotarian Colin Greenhalgh reminds us that David was a Governor of Hills Road Sixth Form College.
"His wisdom, commitment and support were greatly appreciated. He was also a fine Rotarian and an astute businessman with the highest professional and ethical standards. David's death will be a loss to so many people and it marks the passing of a great man"
David Ridgeon born 6th May 1935, died 7th October 2014

Our president, Philip James, took the opportunity when preparing for our recent Charter Night to investigate how many members of our Club have been Mayor of Cambridge.
No fewer than 18 individuals.
Philip said "One of the Rotary maxims is Service above Self and I suggest that those on this list exemplify that principle"

H G Whibley 07-08
R Starr (Hon) 18-19
G P Hawkins 19-20, 21-22
J E Purvis 28-29
H Franklin 29-30
E Jackson 30-31
A A Spalding 33-34, 38-39
E S Peck 37-38
G F Hickson 47-49, 62-63
A C Taylor 50-51
H O Langdon 51-52
S T Bull 52-53
C E Ridgeon 56-57
W Cole 59-60
M N Bradford 66-67
H C Finbow 68-69
D R Mackay 79-80
P Cowell (Hon) 82-83, 87-88, 91-92, 98-99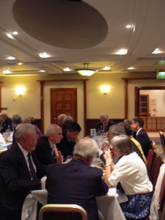 The Rotary Club of Cambridge held its Charter Evening on 30 September at the Cambridge City Hotel.
The large gathering was entertained by a talk by Sir Roger Gifford (London banker and former Lord Mayor of London) on banking in the City of London today.
This was followed by a lively discussion involving Jane Paterson-Todd (CEO Cambridge Network) and Philip Augar (Author and well-known commentator on banking and its recent past)
At the end of a thoroughly successful evening Club President Philip James thanked Rotarian John Grieve for organising the event.
The Mayor of Cambridge, Cllr Gerri Bird, was a guest of honour and our picture shows one of the many tables in animated discussion!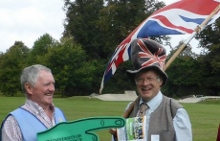 Bridge the Gap
This year's annual event saw around 3,000 people take part in a scenic stroll around the Cambridge colleges in support of local charities.
Rotarian Paul Henry has represented the Rotary Club of Cambridge on the organising committee for six years and is shown with Rotarian Josua Vanneck who is is obviously proud to support the Union!
---
WHY NOT CONTACT US?
---
Use this link to do so.
---
Click this for the list of meetings.
---
Our website is sponsored by our members businesses
and by members with a particular interest in a charity
and by a member with a particular interest in this volunteer-led organisation