Featured pages
Welcome to our brand new website template. Please click on the Menu hamburger - top left to find out more. Don't hesitate to contact us for more details including membership.
Talks we Enjoyed
---
This page gives a synopsis of some fascinating recent talks at our club including those by Sir Anthony Brenton, Professor Christopher Dobson and Dr Andy Williams VP of AstraZeneca in Cambridge.
details
What we do outside Rotary
---
Rotarian Julian Landy started Homes for the Homeless in 2017 with a mission to reduce rough sleeping in Cambridge
details
---
About us
"Making connections whilst working for local and international community projects."






LATEST CLUB NEWS......................
President's Night at Fitzwilliam College


Tuesday 22 May 6.30 for 7.00 pm
Suzi Digby will speak on "What is the future of music in state schools?"
In an informal debate to which guests are welcome.
Suzi Digby OBE, Lady Eatwell, was born in Japan and lived in Hong Kong, Mexico and the Philippines before settling in London and Cambridge. She is an internationally renowned Choral Conductor and Music Educator. She has trail blazed the revival of singing in UK schools and the community over two and a half decades. Digby is also a Visiting Professor at the University of Southern California (Choral Studies). In 2014, she launched her Californian professional vocal consort, The Golden Bridge.
Our President, Julian Landy maintains:
"The music industry is one of the biggest export earners for the UK, and has been for years. Not just the Beatles. Think of all the performers, pop and classsical, the musicals, the CDs and downloads from British performers. All over the globe they have appreciative customers. The vast majority of the talent began their musical journey at school. Mostly at state schools. Now the possibility of continuing this tradition is under threat from the trend away from teaching music in schools. Why?"
The principal of Impington Village College and the head of music education at the County Council will both speak for the status quo. IVC is the one school locally that uses the EBACC, the English Baccalaureate, which cuts music teaching completely from the curriculum.
Lady Eatwell (Suzi Digby) will speak against the current provisions and a head teacher from Birmingham who started her own music school in order to escape the state system will speak likewise.

We help with mock interviews..

A group of members recently conducted Mock Interviews with students on the Foundation Course at Cambridge Regional College. These are students whose previous educational experience has been unsatisfactory, many leaving school with few or no qualifications, and consequently with very low self-esteem and little confidence in their ability. In the Foundation Year, they focus on improving their English Language and Maths, usually with the intention of trying a GCSE at the end of the year, and also developing their personal and social skills with a view to being able to apply for a College FE course/apprenticeship and/or part-time or full time work.
The purpose of these Mock Interviews was to help students overcome their fear of an interview and improve their presentation of themselves to people they didn't know. Rotarians interviewed in pairs, interviewing students for 15/20 minutes and then giving the students feedback and advice. Subsequent feedback from the students suggested they had appreciated the experience and learned from it. We will be undertaking a further session of Mock Interviews on 25 April.
John Barrett, Chair, Youth Service Committee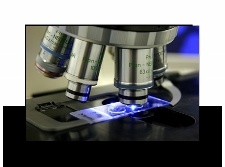 Dr Ian Calder
A pathologist by training, and after a career in the Coroner's court, Dr Calder has become a renowned expert on the pathology of diving deaths. He spoke to the Rotary Club of Cambridge about his work investigating the cause of death among divers, and showed some gruesome pictures of various causes.
His work is much about trying to discover a pattern which can help improve safety for the future. 43% of deaths are caused by asphyxia. Little is known about decompression sickness. Divers can die from hypothermia, and also excessive heat in the diving suit. Deaths occur because amateur divers do not follow instruction and wander off alone, but there was a surprisingly high number of murders and suicides. Determining the cause of death was never simple: it was necessary to look at the health of the victim, his personal actions, the environment and any technical issues such as equipment failure.
There are now some 3,000 professional divers, from North Sea oil rigs for example, and some 250,000 recreational divers with sub aqua clubs. Regular diving affects every organ in the body.
Report by Rotarian David Spreadbury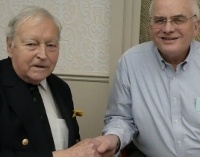 Dr Calder with our President Julian Landy
MAGPAS AIR AMBULANCE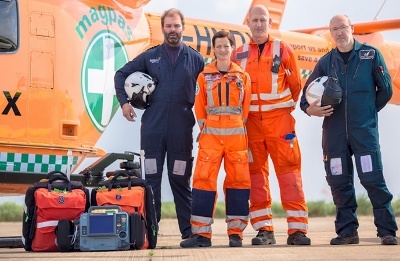 Rotarian Philip James, member of the Rotary Club of Cambridge, received a letter from MAGPAS AIR AMBULANCE on 27 February warmly thanking him for donations totalling £1,060 from the Club and inviting him to visit their helicopter base at RAF Wyton.
"Every pound you give helps Magpas Air Ambulance bring essential lifesaving care by land and air to patients in life-threatening emergencies....."
A well known local journalist is welcomed into the Rotary Club of Cambridge as a member by our President Julian Landy.
Jenny Chapman -Hay was Business Editor of the Cambridge News for twenty years from 1997 to 2017, she was also Editor of the Cambridge Business Magazine during that same period. Prior to these positions Jenny started her career as a trainee journalist with the Westminster Press, then as a reporter with the Coventry Evening Standard before taking a break to have a family. Jenny won a number of journalism awards both local and national during her long career.
Jenny retired in 2017 and is now writing a new novel following the republication of 1980's novels this year and the publication of her 2003 novel in Germany. She has recently started a new business venture trading in antiques.
Jenny is particularly interested in all aspects of homelessness.

STOP PRESS......

Cambridge 105 radio's Christmas Day broadcast of our Carol Concert at Great St Mary's Church attracts an audience of 10,000 listeners!

More about our Club
Rotary International is an association of business and professional men and women, committed to using their time, training and experience to serving the community.
We could use your skills, knowledge and input to take part in local, national and international humanitarian opportunities to help others.
We meet every Tuesday, mainly for lunch, but once a month for breakfast and also for an evening meal, at the Gonville Hotel Cambridge.
If you are interested in finding out how to join us please email our Club Secretary cambridgerotaryuk@gmail.com
Visiting Cambridge? You may find these links helpful during your stay:
If you are a visiting Rotarian you are welcome to come and see us for lunch on Tuesdays.
Use this link to do so.
---
Click this for the list of meetings.
-
Happening soon...
Meetings and events happening soon
Monday 26th March 19.00 -
Whist Evening
---
At the home of Patsy and Clive
Glazebrook - contact Patsy to book a place
Tuesday 27th March 19.00 -
Dinner meeting at the Gonville Hotel
---
Polly West - 'East Anglia's Children's Hospices (EACH)… 30 years on'
Host - John Mott; Cashier - Rosemary Turner; Reception - Peter Jones; Equipment/projection - John Grieve
details
Tuesday 3rd April 13.00 -
Lunch meeting at the Gonville Hotel
---
Meeting details TBA
Host - David Ball; Cashier - Paul Henry; Reception - Edward Thackray; Equipment/projection - John Martin
Tuesday 3rd April 18.00 - (members only)
Council meeting
---
Wednesday 4th April 19.00 -
Quiz Night at Masonic Hall, Bateman Street
---
Open to all. Teams of about 6 people. Light supper will be provided.
£10 per person.
Tuesday 10th April 07.30 -
Monthly Breakfast Meeting at the Gonville Hotel
---
Cashier - Anthony Nix
Tuesday 10th April 13.00 -
Lunch meeting at the Gonville Hotel
---
Zachary Beecher - 'From Nassau Hall to Mosul: A Perspective on Service'; Host - Peter Jones; Cashier - Jim Stewart; Reception - Sally Stewart; Equipment/projection - Andrew Priest
details
Tuesday 17th April 13.00 -
Lunch meeting at the Gonville Hotel
---
Annual General Meeting - members only
Host - Sylvia Pryer; Cashier - Joshua Vanneck; Reception - David Spreadbury; Equipment/projection - Clare Waterhouse
Saturday 21st April 10.00
District Assembly
---
Usually held in Diss
future events completed calendar district events local events
---
---
---
Rotary News
Be part of a global network of volunteers, trying to make the world a better place. Please also see the 'links & news' page for information from the local district and live feeds from Rotary International and Rotary International in GB&I.
Rotary supporting young people
---
Rotary on the brink of polio history
---
---
Meetings & Venue
Where and when:
We meet on Tuesdays at
at the Gonville Hotel, Cambridge. Times vary so see the Programme for time and details. Please give notice of intention to attend by noon on the Friday before by clicking the homepage 'How to contact us' or 'Visiting Rotarian' button