Featured pages
Welcome to our brand new website template. Please click on the Menu hamburger - top left to find out more. Don't hesitate to contact us for more details including membership.
---
About us
"Making connections whilst working for local and international community projects."






LATEST CLUB NEWS......................
President's Night at Fitzwilliam College


Tuesday 22 May 6.30 for 7.00 pm
Suzi Digby will speak on "What is the future of music in state schools?"
In an informal debate to which guests are welcome.
Suzi Digby OBE, Lady Eatwell, was born in Japan and lived in Hong Kong, Mexico and the Philippines before settling in London and Cambridge. She is an internationally renowned Choral Conductor and Music Educator. She has trail blazed the revival of singing in UK schools and the community over two and a half decades. Digby is also a Visiting Professor at the University of Southern California (Choral Studies). In 2014, she launched her Californian professional vocal consort, The Golden Bridge.
Our President, Julian Landy maintains:
"The music industry is one of the biggest export earners for the UK, and has been for years. Not just the Beatles. Think of all the performers, pop and classsical, the musicals, the CDs and downloads from British performers. All over the globe they have appreciative customers. The vast majority of the talent began their musical journey at school. Mostly at state schools. Now the possibility of continuing this tradition is under threat from the trend away from teaching music in schools. Why?"
The principal of Impington Village College and the head of music education at the County Council will both speak for the status quo. IVC is the one school locally that uses the EBACC, the English Baccalaureate, which cuts music teaching completely from the curriculum.
Lady Eatwell (Suzi Digby) will speak against the current provisions and a head teacher from Birmingham who started her own music school in order to escape the state system will speak likewise.

Another new member joins.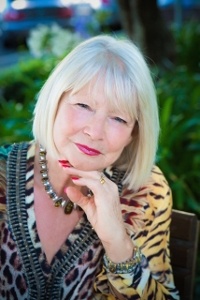 Gill Coe who is married to our longstanding member, Ed Coe, joined the Rotary Club of Cambridge recently. Gill is an accomplished artist and a Member of the Cambridge Drawing Society.
"I have always lived in a rural environment, and take my inspiration from the colours and forms found there. I enjoy painting natural subjects, landscapes, flowers, and wildlife. For the last 5 years I have concentrated on oil painting and love the vibrancy that this medium brings."
Before long Gill intends to introduce our Club to Facebook and is already helping our Public Image Committee.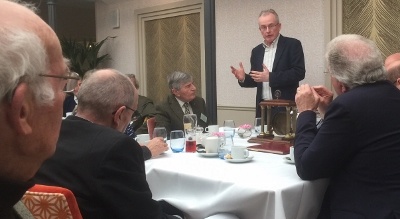 Chris Jenkin who is the prime mover behind Cambridge Churches Homeless Project came to our meeting at lunchtime on Tuesday 20 February at the Gonville Hotel to give us their very latest news.
Our Carol Concert before Christmas in support of Cambridge Churches Homeless Project was an enormous success and around 600 people gathered in Great St Mary's Church, Cambridge for the Rotary Club of Cambridge Concert. Seven youth and school choirs sang a variety of Christmas music from traditional carols to contemporary Christmas songs with the audience joining in with the carols at the end of each half
The presentation we have quickly made to Cambridge Churches Homeless Project amounted to £3,000.
More news follows.....



Our Technology Tournament
6 February 2018
An observer's view
As Edward Thackray has already written a report for the Cambridge News, I decided that this item should be written as a report from an interested observer, who did not know what to expect. The whole idea is to excite the interest of young people in engineering, possibly as a profession.
Ten teams from five schools, including teachers took part in an exercise to build a model of a launcher to fire a space capsule, represented by a golf air ball, into the stratosphere. They were given five hours to design and build a solution.
What did I find? On arrival at about 10.00AM, at the Freemason's Hall, I expected the parking to be difficult. No problem, there were several spaces available, but as I used Park and Ride it was not relevant.
By that time all schools and pupils were hard at work in the main meeting room. Although guidance sheets and materials were provided there was much to do in the design and build of the project and the mixed sex teams of about six members in each group had many problems to solve. Three qualified engineers including Graeme Minto were looking for drawings and working sketches, design principles and analysis, team organisation, and solutions to problems.
There were occasional failures in construction and design, some of which were all too obvious, but above all I was struck by the enthusiasm and enjoyment expressed by the participants. Many pupils had little experience in using small hand tools but John Barrett, who ably supervised the workshop assisted by other Rotarians, ensured there were no mishaps.
Domestic arrangements were well planned and handled by Anne St Ives both on the day and beforehand and the staff at the Freemason's Hall came up trumps.
At the end of the day, prizes were given for Planning and Teamwork, Design Development and Innovation, Portfolio Design and Presentation and Overcoming Difficulties.
In actual fact, three teams achieved the performance targets set for firing and directing the capsule, the final overall winner being decided on the other remaining factors.
It was all too obvious that our Club had once again achieved its objectives in providing a stimulating and enjoyable day for all participants.
Everyone involved in organising such a successful day deserves the thanks of all Club members.
Rotarian John Holroyd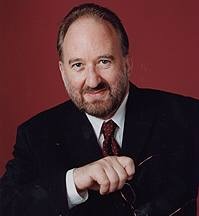 COLIN HONEY
Our honorary member Colin Honey was paying one of his now regular winter visits to the Rotary Club of Cambridge when on 16th January he spoke about trying to influence governments into making ethical decisions. Descended from a great grandfather who went to Australia to find gold and ended up building Methodist chapels, Colin took a degree in philosophy at Melbourne University and then a degree in theology in Cambridge. Now he is researching applied ethics and spending some winter months at Westminster College.
Colin explored the problems of finding the principles on which to base ethical decisions. He had been a member of a government health committee in Australia, trying to encourage decision making to take into account ethical considerations, but with less success than he would have liked. In a delightful ramble, his comments ranged from wondering if it was acceptable to act on people if they were unaware of the action, through to a (tongue-in-cheek) suggestion that euthanasia should be confined to the fit and healthy.
On what ethical basis does one justify policy decisions in government or business? Where does one find the principles on which to base one's own views? At least it is easier for the individual who can use his faith and for Rotarians who have the Four Way Test.

STOP PRESS......

Cambridge 105 radio's Christmas Day broadcast of our Carol Concert at Great St Mary's Church attracts an audience of 10,000 listeners!

More about our Club
Rotary International is an association of business and professional men and women, committed to using their time, training and experience to serving the community.
We could use your skills, knowledge and input to take part in local, national and international humanitarian opportunities to help others.
We meet every Tuesday, mainly for lunch, but once a month for breakfast and also for an evening meal, at the Gonville Hotel Cambridge.
If you are interested in finding out how to join us please email our Club Secretary cambridgerotaryuk@gmail.com
Visiting Cambridge? You may find these links helpful during your stay:
If you are a visiting Rotarian you are welcome to come and see us for lunch on Tuesdays.
Use this link to do so.
---
Click this for the list of meetings.
-
Happening soon...
Meetings and events happening soon
Tuesday 27th February 19.00 -
Dinner meeting at the Gonville Hotel
---
Roger Crabtree 'The History of PYE in Cambridge'; Host - John Barrett; Cashier - Graeme Minto; Reception - Sally Stewart; Equipment/projection - Nigel Neville
Saturday 3rd March 10.00 -
President Elect Training Seminar run by District
---
This is for the incoming club presidents in the District
Tuesday 6th March 12.00 -
Administration Committee meeting
---
Tuesday 6th March 13.00 -
Lunch meeting at the Gonville Hotel
---
David Adamson 'How and Why the University Expanded so much from Start of the Century'; Host - Jim Stewart; Cashier - John Parry; Reception - Graham Sanderson; Equipment/projection - Anne St Ives
Tuesday 6th March 18.00 - (members only)
Council meeting
---
Tuesday 13th March 07.30 -
Monthly Breakfast Meeting at the Gonville Hotel
---
Cashier - Philip James
Tuesday 13th March 13.00 -
Lunch meeting at the Gonville Hotel
---
Meeting details TBA; Host - David Spreadbury; Cashier - Sylvia Pryer; Reception - David Ball; Equipment/projection - Robert Ransom
Tuesday 20th March 13.00 -
Lunch meeting at the Gonville Hotel
---
Meeting details TBA; Host - Edward Thackray; Cashier - Dee Hutley; Reception - John Holroyd; Equipment/projection - Rob Hook
Frugal lunch
future events completed calendar district events local events
---
---
---
Rotary News
Be part of a global network of volunteers, trying to make the world a better place. Please also see the 'links & news' page for information from the local district and live feeds from Rotary International and Rotary International in GB&I.
Rotary supporting young people
---
Rotary on the brink of polio history
---
---
Meetings & Venue
Where and when:
We meet on Tuesdays at
at the Gonville Hotel, Cambridge. Times vary so see the Programme for time and details. Please give notice of intention to attend by noon on the Friday before by clicking the homepage 'How to contact us' or 'Visiting Rotarian' button