Serving the Cambridge community since 1922, the Rotary Club of Cambridge is a mix of business people, entrepreneurs and professionals making connections whilst working for local and international community projects.
Want to know more? Do you want to learn about joining? Please press the "How to contact us" tab above.
Scroll down for the advantages of Rotary membership
Our former MP, Dr Julian Huppert, gives us his views on U-turns and the current EU debate at a recent meeting of our Club.
Click on the "Talks" icon above to find out more
The Rotary Club of Cambridge inducts its second new member in 2016....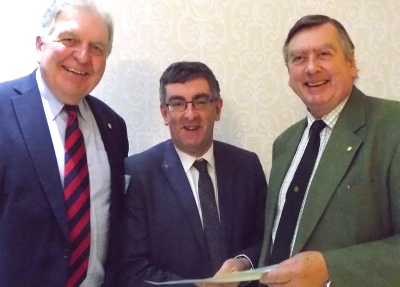 Rev. Colin Smith (seen in the centre flanked by his sponso
r, Rotarian John Barrett and our president, Graham Sanderson).

Colin trained as a barrister in Gray's Inn before joining the Metodist ministry and he is now minister of Wesley Church, Cambridge.

He has a high degree of community involvement including chair of governors of a community special school.
Colin says that his interests include 'family history' despite his surname! He is also keen on book collecting and opera.
Congratulations to Rotarian Patsy Glazebrook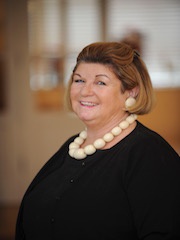 Patsy was awarded the British Empire Medal in the New Year Honours. Patsy is the Vice President of the Sick Children's Trust (this link for their website). Her citation reads 'For services to Sick Children and their Families in Cambridge'. Patsy adds "I was asked to form the Cambridge Fundraising Committee in 2000 when Acorn House was being built at Addenbrookes Hospital. Acorn House is a "Home from Home where parents and siblings can stay when a child of the family is seriously ill in hospital". 15 families can stay at any one time. I have arranged over 300 events in the last 15 years and our committee has raised over £575,000. Chestnut House, with room for 9 families, was built in 2012 at the Rosie for parents who have an ill baby in the Neonatal Unit.'
Maria Xuereb joins us in early January

Maria (seen here with her sponsor, Rotarian Jenny Shaw amd our president Graham Sanderson) worked for many years teaching Chemistry at Hills Road Sixth Form College, and was also a careers advisor there.

She continues as a private tutor in Chemistry for A Level. She is involved in voluntary work for Cambridge Cruse, and for CamDFAS. A keen rower she has often been seen in the town bumps.

Maria is married to John – who recently retired as a consultant at Addenbrooke's Hospital but continues as Fellow and Dean of St Catharine's College.
Advantages of Rotary Membership
Rotary is a membership organisation open to men and women.
We like to ensure that the membership of our Club is as representative as possible of the Cambridge business and professional community.
It provides the opportunity for busy people to get to know a broad spectrum of local people who perhaps they would not otherwise meet.
Visiting Cambridge? You may find these links helpful during your stay:
If you are a visting Rotarian you are welcome to come and see us for lunch on Tuesdays.
Use this link to do so.
---
Click this for the list of meetings.
---
Our website is sponsored by our members businesses

and by members with a particular interest in a charity

and by a member offering
self catering accommodation
on the North Norfolk Coast
Please ignore the testing below this row of text