Serving the Cambridge community since 1922, the Rotary Club of Cambridge is a mix of business people, entrepreneurs and professionals making connections whilst working for local and international community projects.
Want to know more? Do you want to learn about joining? Please press the "How to contact us" tab above
STOP PRESS: 24 March
The Rotary Club of Cambridge has been selected to feature the Rotary Flame as it passes on its way on a trip across the UK after it arrives from Manila and then on to Lagos as it circumnavigates the globe in recognition of Rotary's drive to eradicate polio.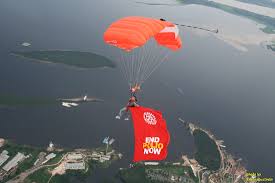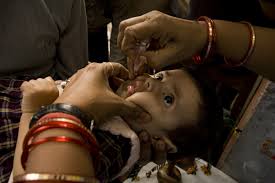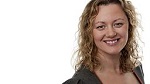 Sue Dougan of Radio Cambridgeshire is interviewing our President to find out what our Club is doing this year.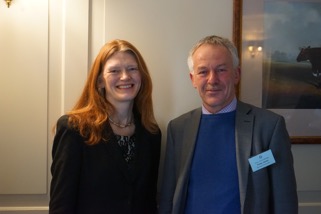 Professor Susan Smith, Mistress of Girton gave us a fascintating talk on her perceptions and possible future solutions of the housing crisis at our recent meeting.
Click on the TALKS tab above for further details of this and other talks given to the Rotary Club of Cambridge.
Professor Smith is pictured with club president, Philip James.
Links: Rotary International
Visiting Cambridge? You may find these links helpful during your stay:
If you are a visting Rotarian you are welcome to come and see us for lunch on Tuesdays.
The Rotary Club of Cambridge Technology Tournament 2015
19 Teams - 17 school teams and 2 teachers' teams – from 7 schools in the region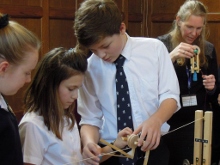 This is a challenge for teams in a morning to design in miniature the solution to a real life problem.
In this year's test a rescue package had to be delivered across a crocodile infested river with just a zip wire in place.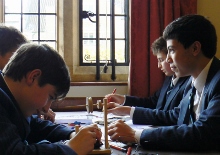 The judging by members of the Rotary Club and colleagues with an engineering background was not only on the result of achieving the task but also on the planning, teamwork, problem solving and documentation/portfolio as well as the working design.
Rotarian Graeme Minto, the Club's Secretary said "The real result for the pupils themselves is developing their teamwork and action planning in a morning as well as enjoying the science and technology".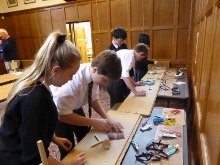 Graeme went on to point out that in a recent edition of the Times, Tom Whipple, Science Editor said "We need to double the number of school leavers going into Science, Technology, Engineering and Mathematics (STEM)".
Rotarian Anne St Ives who organised things for us paid tribute to Elizabeth Crilly, director of Stem Team East, who supported the event and helped with the recruitment of schools and provided all of the materials and equipment. Elizabeth said at this year's event "This gives schools the opportunity to engage with engineers and to take part in learning challenges. We are very glad to have Rotary's support".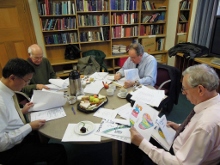 Results
Overall winners
The Perse School Team 2
Design and innovation
St Mary's School, Cambridge Team 1
Overcoming difficulties
The Leys School Team 2
Teamwork
St Bede's Inter-Church School Team 2
Portfolio
Why not contact us?
Use this link to do so.
---
Click this for the list of meetings.
---
Our website is sponsored by our members businesses
and by members with a particular interest in a charity
and by a member with a particular interest in this volunteer-led organisation

Just testing below this line so please ignore of the following: