Serving the Cambridge community since 1922, the Rotary Club of Cambridge is a mix of business people, entrepreneurs and professionals making connections whilst working for local and international community projects.
Want to know more? Do you want to learn about joining? Please press the "How to contact us" tab above.
Scroll down for the advantages of Rotary membership.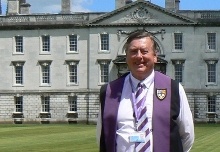 The Rotary Club of Cambridge is proud to announce the election of their president for the new Rotary Year.
Graham Sanderson is a well known figure about Cambridge and was first introduced into the Club by David Cook in 1989. Before that he was with Cambridge Round Table. "That is how I first learnt about fellowship and community service and it seemed a natural follow on for me" said Graham.
"I intend to keep the Club on a steady course and encourage maximum participation in the very varied programme of events that we hold throughout the year"
" I also want to build on recent progress we have made with the concept of mentoring new members."
Graham is a Custodian at King's College.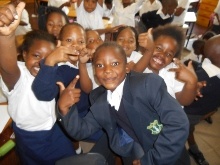 Cambridge Rotary supports education and training in many ways, but our most recent initiative is in collaboration with a lively South African Rotary Club (Helderberg Sunrise 9350) supporting Literacy and Numeracy in deprived areas.
For example black children in the Western Cape speak "Xhosa", a language close to "Zulu". They arrive in school at 5-6 years and the teaching is mainly in English or Afrikaans.
This would be difficult in any country but is made worse since their parents are illiterate and there is little reading matter in their home background.
The Rotary Club of Cambridge is now supporting one school - the "Good Hope Primary School"- with multi-lingual fun learning materials.
This involves the same book in 3 different languages with local paintings, drawings and characters and also we are providing support for teacher training.
The children are enthusiastic and considerable progress has been made - including children taking books home to teach parents!
Arrangements are being made for a group from the Rotary Club of Cambridge to visit South Africa to review progress.
Honarary Rotarian Jean Millar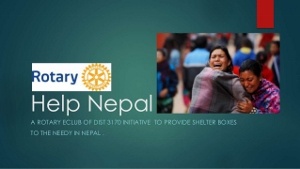 The Cambridge News reports:
The Rotary Club of Cambridge has raised £8,450 to help those affected by two devastating natural disasters.
The charity raised funds from donations from members, and will be used to purchase Shelter Boxes, for those affected by the Nepalese earthquake and the recent cyclone in Vanuatu.
A spokesman from the Club told the News: "It's a fantastic example of Rotary at its best.
"The big advantage of Shelter Boxes over cash contributions is that they give immediate practical benefits in the aftermath of a disaster.
"They contain blankets, water purification tablets, children's activity packs and tools.
"The money came from the immense generosity of club members, and also a donation from Kings College of £590.
"It's practical help they can make use of, rather than just money coming through, which takes time to convert into aid."
Ends
Editors note: Shelterbox was founded in 2000 as the millennium project of the Rotary Club of Helston Lizard.

Bill Gates Congratulates Rotary on Its Polio-Eradication Effort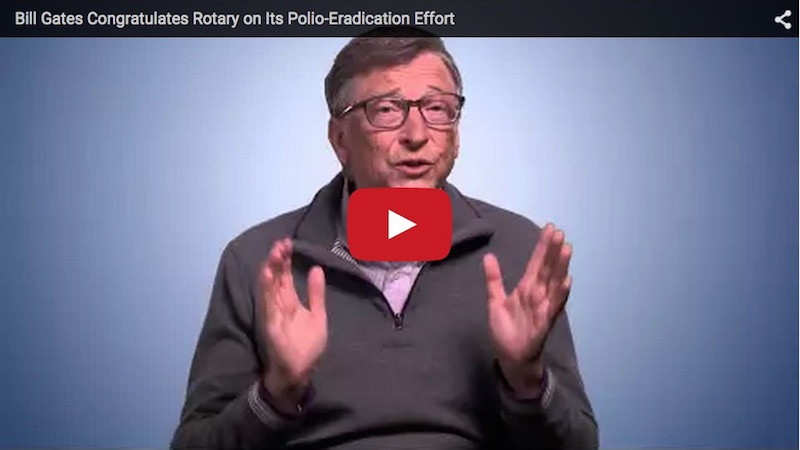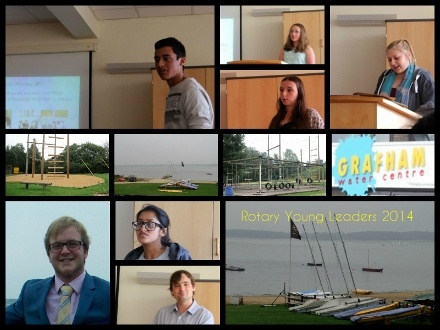 Rotary Youth Leadership Award 29 August - 5 September at Grafham Water
RYLA events are for young people who are about to start their working lives or to enter higher education and who have shown leadership potential and are likely, as adults, to become future leaders.
Students are put into mixed groups of complementary ability where they can take part in outdoor activities. They are placed in challenging situations to help develop leadership and team bonding skills and to increase personal confidence.
If you know of someone who you think could benefit or an organisation that may be interested in collaborating with RYLA please email Rotarian Anne St Ives at anne.stives@asi-financialadvisor.co.uk
The photos are from last year's event.
STOP PRESS.............
Past RYLA participants speak of their experiences to the Rotary Club of Cambridge
First to speak was Lisa Churchill, now a family solicitor.
Lisa attended RYLA in 2009. Team work was compulsory and teams were assembled first thing when no attendee knew another.
Lisa's group was presented with a task of raft building (and she admitted no previous skill in rafts!) Next was an orienteering exercise in the dark and in rain, which taught her the most useful life lesson viz :- Optimism in Adversity and to stay positive.
There were times when to create group positivity she had them singing together!
Team work was necessary for all tasks and this point constantly came across strongly. In her career, the emphasis on team work has been very important, as has the 'positivity in adversity' aspect, which constantly helps in her career as a lawyer.
Dale Robinson (architect) attended RYLA in September 2013 and said that this course improved both his leader skills and confidence.
Before this course, he described himself as weak at public speaking, during this course he had to present his part of the project and this aided his self-development.
Both aspects seriously developed as a result of being on this course. He also learned to put 100% into his project, which aided his skills by teaching him to listen to other people and then think solutions out, thus not to be precipitate.
He is certain that his attendance on this RYLA course has developed his ability to present both himself and his ideas clearly, as well as his personal skills.
Dales employer then commented on the truth of his views and his increased usefulness to the company as a result of this course.
Both are very sure that their attendance on the course was a life changing experience.
Rotarian Bob Fenn
Advantages of Rotary Membership
Rotary is a membership organisation open to men and women.
We like to ensure that the membership of our Club is as representative as possible of the Cambridge business and professional community.
It provides the opportunity for busy people to get to know a broad spectrum of local people who perhaps they would not otherwise meet.
Links: Rotary International
Visiting Cambridge? You may find these links helpful during your stay:
If you are a visting Rotarian you are welcome to come and see us for lunch on Tuesdays.
Use this link to do so.
---
Click this for the list of meetings.
---
Our website is sponsored by our members businesses

and by members with a particular interest in a charity

and by a member offering
self catering accommodation
on the North Norfolk Coast
Please ignore the testing below this row of text