Serving the Cambridge community since 1922, the Rotary Club of Cambridge is a mix of business people, entrepreneurs and professionals making connections whilst working for local and international community projects.
Visiting Cambridge? You may find these links helpful during your stay:
If you are a visting Rotarian you are welcome to come and see us for lunch on Tuesdays.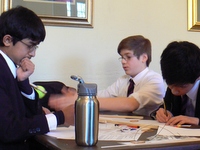 Coming soon!
On Tuesday 3 February our Club will be hosting this year's Technology Tournament at Freemason's Hall in Cambridge.
Teams from schools throughout the region will be pitting their wits to come up with original designs to meet the parameters of the competition this time.
A panel of judges will then deliberate to find the champions!
Why not contact us?
Use this link to do so.
---
Click this for the list of meetings.
---
Our website is sponsored by our members businesses
and by members with a particular interest in a charity
and by a member with a particular interest in this volunteer-led organisation