Serving the Cambridge community since 1922, the Rotary Club of Cambridge is a mix of business people, entrepreneurs and professionals making connections whilst working for local and international community projects.

Our president, Philip James, took the opportunity when preparing for our recent Charter Night to investigate how many members of our Club have been Mayor of Cambridge.
No fewer than 18 individuals.
Philip said "One of the Rotary maxims is Service above Self and I suggest that those on this list exemplify that principle"

H G Whibley 07-08
R Starr (Hon) 18-19
G P Hawkins 19-20, 21-22
J E Purvis 28-29
H Franklin 29-30
E Jackson 30-31
A A Spalding 33-34, 38-39
E S Peck 37-38
G F Hickson 47-49, 62-63
A C Taylor 50-51
H O Langdon 51-52
S T Bull 52-53
C E Ridgeon 56-57
W Cole 59-60
M N Bradford 66-67
H C Finbow 68-69
D R Mackay 79-80
P Cowell (Hon) 82-83, 87-88, 91-92, 98-99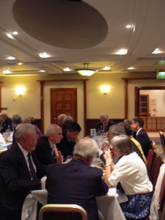 The Rotary Club of Cambridge held its Charter Evening on 30 September at the Cambridge City Hotel.
The large gathering was entertained by a talk by Sir Roger Gifford (London banker and former Lord Mayor of London) on banking in the City of London today.
This was followed by a lively discussion involving Jane Paterson-Todd (CEO Cambridge Network) and Philip Augar (Author and well-known commentator on banking and its recent past)
At the end of a thoroughly successful evening Club President Philip James thanked Rotarian John Grieve for organising the event.
The Mayor of Cambridge, Cllr Gerri Bird, was a guest of honour and our picture shows one of the many tables in animated discussion!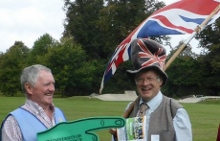 Bridge the Gap
This year's annual event saw around 3,000 people take part in a scenic stroll around the Cambridge colleges in support of local charities.
Rotarian Paul Henry has represented the Rotary Club of Cambridge on the organising committee for six years and is shown with Rotarian Josua Vanneck who is is obviously proud to support the Union!
---
WHY NOT CONTACT US?
---
Use this link to do so.
---
Click this for the list of meetings.
---
Our website is sponsored by our members businesses
and by members with a particular interest in a charity
and by a member with a particular interest in this volunteer-led organisation