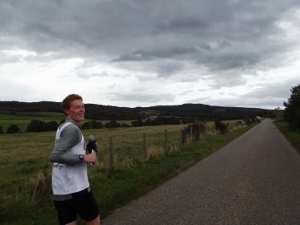 WELL DONE MATT!
23 year old Matt George from Cambridge successfully completed his run form Land's End to John O'Groats (about 900 miles) in aid of the Refugee Council and raised a massive £16,667.26 in the process.

At the outset Matt wrote to the Rotary Club of Cambridge "I became frustrated with the negative portrayal of asylum seekers and refugees and the lack of compassion that is sometimes shown towards them."

Rotarian Rosemary Turner from our Club picked up on Matt's endeavour and our international committee chipped in a contribution to get him on his way.

Rotarian John Parry, secretary of our international committee commented:




"We gave him £600 sponsorship towards his transport costs. He completed 33 marathons and his support car was emblazoned with stickers showing our support. Well done indeed to Matt!"
THANKS!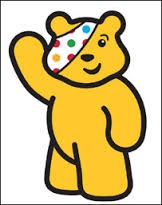 Rotarian Paul Henry with the help from a group from our Club raised £480.00 through a street collection in Cambridge for Children in Need.
On Thursday 10 November we planted 25,000 crocus bulbs in Queens' Green - look out for the results in the Spring!
Many thanks indeed for all the help that we received from everyone including from the Cambridge City Council and the members of the other Cambridge Rotary Clubs which enabled us to finish the work in one and a half hours!
Why purple crocuses?

Because this is the colour of the dye used to mark the finger of a child who has been immunised against polio as part of Rotary International's worldwide campaign to eradicate polio.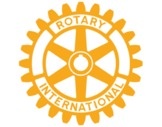 Our Club President, Peter Jones, at the helm.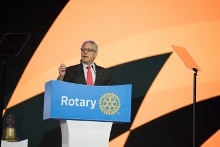 Rotary International - making a difference in the world.

More about our Club
Rotary International is an association of business and professional men and women, committed to using their time, training and experience to serving the community.
Our club comprises 50 men and women - professionals and in vocations, some of whom are retired.
We meet regularly to enjoy fellowship and benefit from the wide acquaintance with 1.2 million other Rotarians worldwide.
We could use your skills, knowledge and input to take part in local, national and international humanitarian opportunities to help others.
We meet every Tuesday, mainly for lunch, but once a month for breakfast and also for an evening meal, at the Gonville Hotel Cambridge.
If you are interested in finding out how to join us please email our Club Secretary cambridgerotaryuk@gmail.com
Visiting Cambridge? You may find these links helpful during your stay:
If you are a visting Rotarian you are welcome to come and see us for lunch on Tuesdays.
Use this link to do so.
---
Click this for the list of meetings.
---
Our website is sponsored by our members businesses

and by members with a particular interest in a charity

and by a member offering
self catering accommodation
on the North Norfolk Coast
Meeting Details
Interested in joining Rotary
In the next 30 days...
Social Media...
Follow @RotaryCam
Tweets by @RotaryCam
Meeting Information...
We meet on Tuesdays at at the Gonville Hotel, Cambridge. Times vary so see the Programme for time and details. Please give notice of intention to attend by noon on the Friday before by clicking the homepage 'How to contact us' or 'Visiting Rotarian' button