"Making connections whilst working for local and international community projects."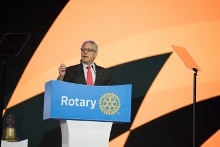 Rotary International - making a difference in the world.

More about our Club
Rotary International is an association of business and professional men and women, committed to using their time, training and experience to serving the community.
We could use your skills, knowledge and input to take part in local, national and international humanitarian opportunities to help others.
We meet every Tuesday, mainly for lunch, but once a month for breakfast and also for an evening meal, at the Gonville Hotel Cambridge.
If you are interested in finding out how to join us please email our Club Secretary cambridgerotaryuk@gmail.com
Visiting Cambridge? You may find these links helpful during your stay:
If you are a visting Rotarian you are welcome to come and see us for lunch on Tuesdays.
Use this link to do so.
---
Click this for the list of meetings.
---
Our website is sponsored by our members businesses
and by members with a particular interest in a charity
and by a member offering
self catering accommodation
on the North Norfolk Coast
End of home page - anything below is experimental, so please ignore

Meeting Details
Interested in joining Rotary
In the next 30 days...
Social Media...
Follow @RotaryCam
Tweets by @RotaryCam
Meeting Information...
We meet on Tuesdays at at the Gonville Hotel, Cambridge. Times vary so see the Programme for time and details. Please give notice of intention to attend by noon on the Friday before by clicking the homepage 'How to contact us' or 'Visiting Rotarian' button