Serving the Cambridge community since 1922, the Rotary Club of Cambridge is a mix of business people, entrepreneurs and professionals making connections whilst working for local and international community projects.
Want to know more? Do you want to learn about joining? Please press the "How to contact us" tab above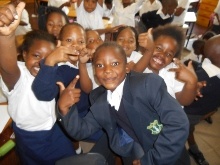 Cambridge Rotary supports education and training in many ways, but our most recent initiative is in collaboration with a lively South African Rotary Club (Helderberg Sunrise 9350) supporting Literacy and Numeracy in deprived areas.
For example black children in the Western Cape speak "Xhosa", a language close to "Zulu". They arrive in school at 5-6 years and the teaching is mainly in English or Afrikaans.
This would be difficult in any country but is made worse since their parents are illiterate and there is little reading matter in their home background.
The Rotary Club of Cambridge is now supporting one school - the "Good Hope Primary School"- with multi-lingual fun learning materials. (see attachment)
This involves the same book in 3 different languages with local paintings, drawings and characters and also we are providing support for teacher training.
The children are enthusiastic and considerable progress has been made - including children taking books home to teach parents!
Arrangements are being made for a group from the Rotary Club of Cambridge to visit South Africa to review progress.
Honarary Rotarian Jean Millar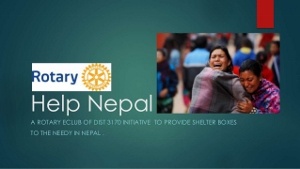 The Cambridge News reports:
The Rotary Club of Cambridge has raised £8,450 to help those affected by two devastating natural disasters.
The charity raised funds from donations from members, and will be used to purchase Shelter Boxes, for those affected by the Nepalese earthquake and the recent cyclone in Vanuatu.
A spokesman from the Club told the News: "It's a fantastic example of Rotary at its best.
"The big advantage of Shelter Boxes over cash contributions is that they give immediate practical benefits in the aftermath of a disaster.
"They contain blankets, water purification tablets, children's activity packs and tools.
"The money came from the immense generosity of club members, and also a donation from Kings College of £590.
"It's practical help they can make use of, rather than just money coming through, which takes time to convert into aid."
Ends
Editors note: Shelterbox was founded in 2000 as the millennium project of the Rotary Club of Helston Lizard.
The Royal Marines respond to a request from our member Rotarian John Martin
Rotarian John Martin was visiting a family member in a care home when another resident, an 82 year old ex Marine Gordon, became distressed and confused. He broke down and asked for his wife, his cat and his dog.



This made John think what he could do.

A call to the army in Glisson Road, during which John explained that he was a Rotarian, led to returned calls from the Navy and then the Royal Marines themselves.

True to their word they came to see Gordon - appropriately on VE Day. A Royal Marine in uniform came to the home and spent a few hours with him and the residents.

Gordon will be made a free member of the Royal Marines Association for life and their Benevolent Association will keep a watchful eye on him.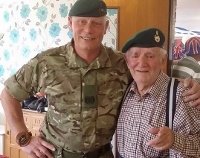 Ex Marine Gordon looks happy with his visit from a serving Marine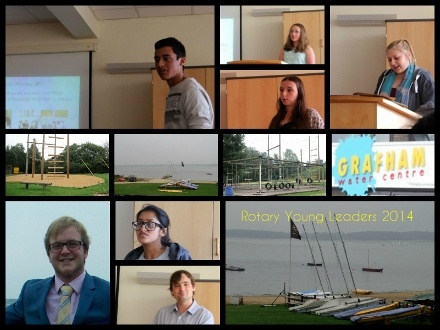 Rotary Youth Leadership Award 29 August - 5 September at Grafham Water
RYLA events are for young people who are about to start their working lives or to enter higher education and who have shown leadership potential and are likely, as adults, to become future leaders.
Students are put into mixed groups of complementary ability where they can take part in outdoor activities. They are placed in challenging situations to help develop leadership and team bonding skills and to increase personal confidence.
If you know of someone who you think could benefit or an organisation that may be interested in collaborating with RYLA please email Rotarian Anne St Ives at anne.stives@asi-financialadvisor.co.uk
The photos are from last year's event.
Another new member joins us
Susan C Brenchley
Sue is a chartered Fellow of the CIPD, and spent some 22 years living and working in central London for the Ministry of Defence. Having worked in central policy divisions for most of that time Sue specialised in HR for several years and was posted to Brampton in 1996 to head up an HR Team. She subsequently led the HR team at Wyton and decided to leave the Civil Service in 2007 to pursue her career in private industry, which she now does in the HR field. She currently lives in Godmanchester and is a local magistrate. Her interests include reading, DIY, crafts and travelling.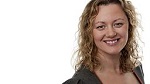 Sue Dougan of Radio Cambridgeshire recently interviewed our President to find out what our Club is doing this year
Links: Rotary International
Visiting Cambridge? You may find these links helpful during your stay:
If you are a visting Rotarian you are welcome to come and see us for lunch on Tuesdays.
Use this link to do so.
---
Click this for the list of meetings.
---
Our website is sponsored by our members businesses
and by members with a particular interest in a charity
and by a member with a particular interest in this volunteer-led organisation

Please ignore the testing below this row of text
Our website is sponsored by our members businesses
and by members with a particular interest in a charity
Our website is sponsored by our members businesses
and by members with a particular interest in a charity
and by member who has a holidy let in Norfolk