Serving the Cambridge community since 1922, the Rotary Club of Cambridge is a mix of business people, entrepreneurs and professionals making connections whilst working for local and international community projects.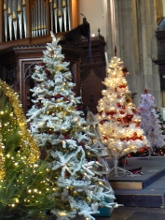 A very happy Christmas and New Year!
Great thanks to the locals and tourists who supported our Christmas Tree Festival which raised nearly £1,000 this year for the Churches' Homeless Project.
Rotarian Tony O'Mara commented:
"Just superb. I was there on Tuesday for a couple of hours encouraging the visitors to enjoy the beautiful trees - and to contribute ! Amongst them were students fresh from their interviews, while others related nostalgic memories of earlier times in Cambridge. One lady had sold her house in Wisconsin in order to come to England for a year! They all marvelled at the artistic display."
Why not contact us?
Use this link to do so.
---
Click this for the list of meetings.
---
Our website is sponsored by our members businesses
and by members with a particular interest in a charity
and by a member with a particular interest in this volunteer-led organisation