Serving the Cambridge community since 1922, the Rotary Club of Cambridge is a mix of business people, entrepreneurs and professionals making connections whilst working for local and international community projects.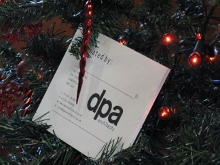 We are now looking for local shops, businesses, schools, clubs and churches to provide a decorated Christmas tree for display in Great St Mary's.
The proceeds will enable us to provide shelter and food for the homeless in the city when the temperature falls below freezing at night.
You will be encouraged to place an A3 sized advertisement for your organisation at the base of the tree.
Full details are available from Rotarian John Martin.
Please support this life-saving project.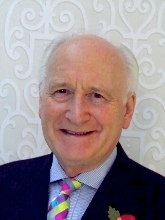 The Rotary Club of Cambridge inducted new member David Ball into our club on 11 November.
David was welcomed into the club by our president Philip James and his club classification will be Material Manufacture.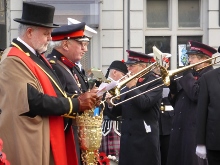 On 9 November Remembrance Sunday services were held across the United Kingdom to honour the country's fallen troops.
In Cambridge a ceremony took place at the War Memorial where Rotarian and DL Colin Greenhalgh laid a wreath on behalf of the Lord-Lieutenant and took the salute at the parade.
The wreath from The Rotary Clubs of Cambridge was laid by Rotarian Richard Stonebridge, President of Rutherford Club. Both our own President, Rotarian Philip James, and the President of Cambridge South, Rotarian Alan Franklin, were in attendance together with other Rotarians.
Rotarian David Ridgeon MBE
David was a very long standing member of our Club of over 40 years and became president in 1986 and was admitted as an Honorary member this year.
His Father and Grandfather were also Rotarians and all three were wonderful citizens of Cambridge and model Rotarians. The family connection continues to this day with son-in-law Johnnie Sam a current member. Therefore, almost since the founding of our Club in 1922, a member of the Ridgeon family has been a member.
Not only was he a friend and valuable member of Rotary International, his talents were well recognised by his chosen profession. He served as Master of the Builders Merchants Livery Company and also President of the Builders Merchant Federation (BMF). His most proud moment was to honoured with an MBE by Prince Charles for services to the Builders Merchants Industry and services to the community of Cambridgeshire.
David who took over the role of Managing Director and Chairman in 1973, following the death of his father Elliott Ridgeon, was at the Ridgeon's helm for over 30 years, helping the Group to expand through acquisitions and organic growth, before handing over to his daughter Anne and son-in law Johnnie Sam. During this time, David continued to uphold the Group's commitment in relation to supporting the local community and through sharing profits with a variety of local registered charities. He led with humility, authenticity and, above all a sense of stewardship.
Rotarian John Holroyd had the pleasure of conducting a Focus Interview with him and he was particularly impressed by the fact that he learned his trade thoroughly by spending time in the saw mills of Scandinavia before becoming a member of the family business.
"Many will remember him as a thoroughly human and honourable man who had a great sense of humility"
Rotarian Colin Greenhalgh reminds us that David was a Governor of Hills Road Sixth Form College.
"His wisdom, commitment and support were greatly appreciated. He was also a fine Rotarian and an astute businessman with the highest professional and ethical standards. David's death will be a loss to so many people and it marks the passing of a great man"
David Ridgeon born 6th May 1935, died 7th October 2014
WHY NOT CONTACT US?
---
Use this link to do so.
---
Click this for the list of meetings.
---
Our website is sponsored by our members businesses
and by members with a particular interest in a charity
and by a member with a particular interest in this volunteer-led organisation