Featured pages
Welcome to our brand new website template. Please click on the Menu hamburger - top left to find out more. Don't hesitate to contact us for more details including membership.
What we do outside Rotary
---
Rotarian Rosemary Turner helps with Victim Support for those who have experienced criminal incidents.
details
Talks we Enjoyed
---
This page gives a synopsis of some fascinating recent talks at our club including those by Sir Anthony Brenton, Professor Christopher Dobson and Dr Andy Williams VP of AstraZeneca in Cambridge.
details
---
About us
"Making connections whilst working for local and international community projects."



To contact us click on a button near to the bottom of this page.


Thank you to these local organisations who support our website:



LATEST CLUB NEWS.......


24 May Stop press........
Please listen to this Sunday's
"Roundabout" on Cambridge 105 Radio.
This programme features the interviews that Tony Barnfield did at Tuesday evening's President's Dinner at Fitzwilliam College.
The programme will be available as a podcast on the Cambridge 105 Radio website within a few days of being broadcast.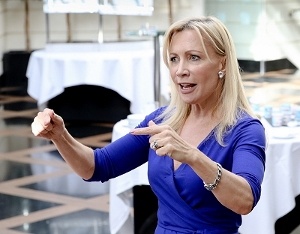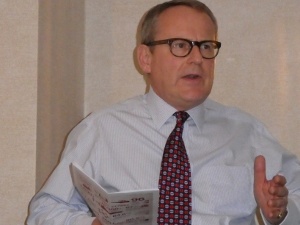 David Gill – Innovation in Cambridge
The Managing Director of the St John's Innovation Centre spoke on May 8th to the Cambridge Rotary Club about the development of innovation in Cambridge. From its foundation to the mid 19th century the university was interested in little but religion and the classics. But when Prince Albert became chancellor he encouraged an interest in science. This was more primary science, concerned with the nature of the world, than anything with a commercial aspect. Any development of that nature was also restricted by the current planning policies which wished to keep the city small and surrounded by green space.
After the Second World War the Mott Report suggested a more expansionist approach, and some visionaries took the opportunity to think about technological innovation. In the sixties Dr John Bradfield promoted the Science Park and Chris Johnson the St John's Innovation Centre. The purpose of the Centre was to provide support and mentoring to young entrepreneurs ready to develop their own businesses. David Gill likened his role to that of a headmaster, giving his sixth form appropriate freedom to grow. These entrepreneurs typically stay for some 5 to 7 years, and the Centre has spawned some hundred spin-off businesses, many now with world-wide reputations. What became the Cambridge Technology Cluster has also benefitted from the 'Cambridge spirit' which is prepared to work with others to enable all to make progress.. To continue that progress further expansion is required, on some more 'agricultural land of indifferent value' such as enabled the Centre to be built.
David gave his talk on what has become a very important aspect of the English economy with a light touch. The success of the Centre has led to 'innovation tourism' and when important visitors come to see what is happening David asks his 'students' to 'wear their oldest tee shirts and behave in a weird manner' to show that they are true boffins
Rotarian David Spreadbury
Cambridge News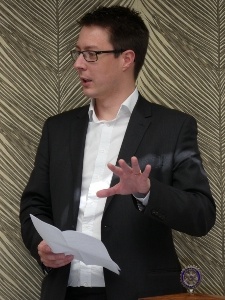 David Bartlett, Editor in Chief, was our lunchtime guest speaker at the meeting of the Rotary Club of Cambridge on Tuesday 1st May.
When he joined Cambridge News, David was given a remit to make the paper relevant on line. In 2016 it had under 19000 likes on Facebook, now it has around 65000.
Although social media can be a threat, it can also help point the way to a more interesting paper. David's secret is Love Cambridge. Social media can illustrate what sells, an example being a story of a night shift with the Police that ran for five days running.
The talk ended with a stimulating and informative question time during which it became obvious that David was on the top of his job and the Cambridge News was alive to all the challenges and opportunities presented by a forward looking paper.
Formats will change and evolve but great story telling will always be important..
Reporter Rotarian John Holroyd and photo by Rotarian Jenny Shaw.
President's Night at Fitzwilliam College
This was an informal debate on the evening of 22 May
"What is the future of music in state schools"
Those taking part included:
Suzi Digby OBE, Lady Eatwell who is an internationally renowned Choral Conductor and Music Educator. She has trail blazed the revival of singing in UK schools and the community over two and a half decades.
Sally Alexander, founder and Principal of Kimichi School Birmingham who started her own music school in order to escape the state system.
Ryan Kelsall, principal of Impington Village College.
The evening was judged an enormous success by all who attended!
We help with mock interviews..

A group of members recently conducted Mock Interviews with students on the Foundation Course at Cambridge Regional College. These are students whose previous educational experience has been unsatisfactory, many leaving school with few or no qualifications, and consequently with very low self-esteem and little confidence in their ability. In the Foundation Year, they focus on improving their English Language and Maths, usually with the intention of trying a GCSE at the end of the year, and also developing their personal and social skills with a view to being able to apply for a College FE course/apprenticeship and/or part-time or full time work.
The purpose of these Mock Interviews was to help students overcome their fear of an interview and improve their presentation of themselves to people they didn't know. Rotarians interviewed in pairs, interviewing students for 15/20 minutes and then giving the students feedback and advice. Subsequent feedback from the students suggested they had appreciated the experience and learned from it. We will be undertaking a further session of Mock Interviews on 25 April.
John Barrett, Chair, Youth Service Committee
MAGPAS AIR AMBULANCE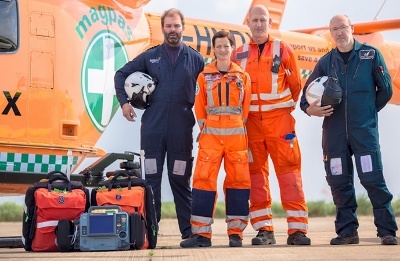 Rotarian Philip James, member of the Rotary Club of Cambridge, received a letter from MAGPAS AIR AMBULANCE on 27 February warmly thanking him for donations totalling £1,060 from the Club and inviting him to visit their helicopter base at RAF Wyton.
"Every pound you give helps Magpas Air Ambulance bring essential lifesaving care by land and air to patients in life-threatening emergencies....."

STOP PRESS......

Cambridge 105 radio's Christmas Day broadcast of our Carol Concert at Great St Mary's Church attracts an audience of 10,000 listeners!


More about our Club
Rotary International is an association of business and professional men and women, committed to using their time, training and experience to serving the community.
We could use your skills, knowledge and input to take part in local, national and international humanitarian opportunities to help others.
We meet every Tuesday, mainly for lunch, but once a month for breakfast and also for an evening meal, at the Gonville Hotel Cambridge.
If you are interested in finding out how to join us please email our Club Secretary cambridgerotaryuk@gmail.com
Visiting Cambridge? You may find these links helpful during your stay:
If you are a visiting Rotarian you are welcome to come and see us for lunch on Tuesdays.
Use this link to do so.
---
Click this for the list of meetings.
-
Happening soon...
Meetings and events happening soon
Tuesday 29th May 13.00 -
Lunch meeting at the Gonville Hotel
---
Frugal lunch and Business Meeting - members only
Host - David Ball; Cashier - John Parry; Reception - Sally Stewart; Equipment/projection - Rob Hook
Tuesday 5th June 13.00 -
Lunch meeting at the Gonville Hotel
---
Rob Hook - My Job;
Host - David Spreadbury; Cashier - Suzanne Sutton; Reception - Peter Jones; Equipment/projection - Clare Waterhouse
Tuesday 5th June 18.00 - (members only)
Council meeting
---
Tuesday 12th June 07.30 -
Monthly Breakfast Meeting at the Gonville Hotel
---
Cashier - Joshua Vanneck
Tuesday 12th June 13.00 -
Lunch meeting at the Gonville Hotel
---
Meeting details TBA
Host - John Mott; Cashier - Graeme Minto; Reception - John Holroyd; Equipment/projection - Andrew Priest
Tuesday 19th June 13.00 -
Lunch meeting at the Gonville Hotel
---
Nick Hadley "Satellite Clubs and How they Work";
Host - John Barrett; Cashier - Jim Stewart; Reception - David Spreadbury; Equipment/projection - Morris Chudleigh
future events completed calendar district events local events
---
---
---
Rotary News
Be part of a global network of volunteers, trying to make the world a better place. Please also see the 'links & news' page for information from the local district and live feeds from Rotary International and Rotary International in GB&I.
Family Rotary club use skills to kick-start local charities
---
Rotary members unite to tackle world hunger
---
---
Meetings & Venue
Where and when:
We meet on Tuesdays at
at the Gonville Hotel, Cambridge. Times vary so see the Programme for time and details. Please give notice of intention to attend by noon on the Friday before by clicking the homepage 'How to contact us' or 'Visiting Rotarian' button