Welcome to the Rotary Club of St. Andrews
Featured pages: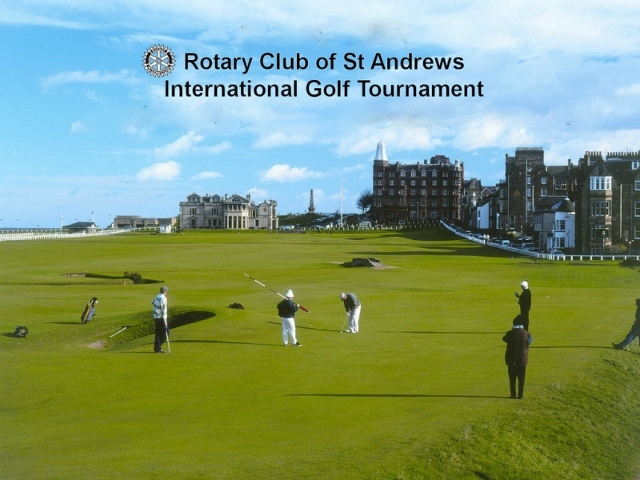 At the Home of Golf, the President and members of the Rotary Club of St Andrews welcome you to our website at www.standrewsrotary.net
The Club was Chartered on 22nd December 1927 with only five members. The Club has grown steadily over the years and now has 70 members.
Rotary makes a World of Difference to our community: local , national and international. We are involved in a wide range of activities which cover all age groups in the community. These include an annual "Community Winter Treat", sponsorship of pupils for Camp RYLA and Euroscolar and the Primary Schools Football.
Every year in June,on The Old Course, we host an International Golf Week when some 300 visiting Rotarians take part from over 20 countries. Contact rotarygolfstandrews@gmail.com
We also enjoy fundraising activities which have made significant contributions to local, national and international charities. Local charities have included Rymonth, Worldwide Cancer Research, Diabetes UK and the St Andrews Hospital dialysis unit, while international charities include Shelter Box and Polio Plus which will eradicate Polio from the world.
There is no end to the contribution Rotary makes to making the world a better place in which to live. Rotary is a welcoming international network of 1.2 million members in 200 countries. We are a friendly family and look forward to welcoming new members to develop friendships within the club and throughout the community.
The Club is the sponsor club of a Rotaract Club for students at the University. Web site at www.rotaractstandrews.net
Whether you are a Rotarian or not we hope you will find some of what we have here of interest to you. You will find under "Programme" some of our completed items for the last 6 years. There is also a list of future events and meetings which you are most welcome to attend.
There is always a warm welcome to join us at our Wednesday lunchtime meetings at 12.50 pm in the Scores Hotel.