Welcome to the website of the Rotary Club of Loddon Vale
We are a small, friendly club of professionals living or working in the Loddon Vale Area which encompasses Woodley, Sonning, Charvil,Twyford, Winnersh and parts of Earley and Lower Earley.
-------------------------------------------------------
Young Writers Competition
Ellie Behan, on her 8th birthday, receiving her prize as Winner of Loddon Vale's local heat of RIBI Young Writer competition from Rtn Trevor Barber. The task was "Write a letter on the subject of Peace".

Woodley C of E Primary School's assembly on 8th May 2013: all the school's entrants to RIBI's Young Writer competition line up with their certificates beside Rtns Trevor Barber and Anne Coulson.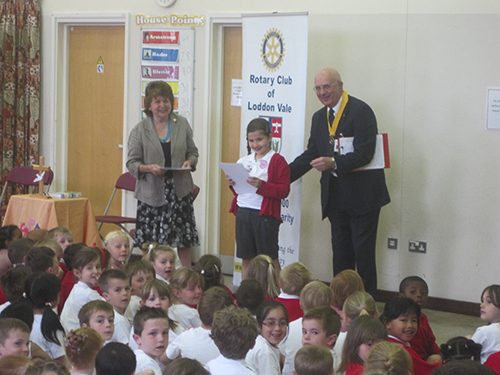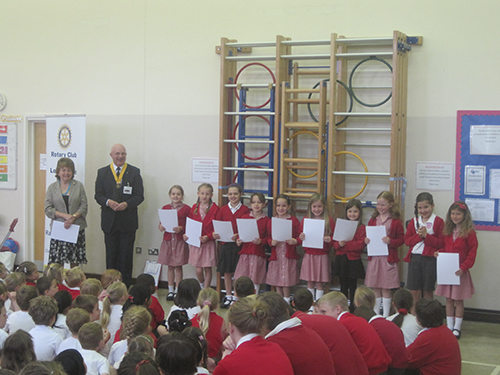 The winners of the Senior and Intermediate sections were presented with their prizes and certificates at the Club lunchtime meeting on Monday 20th May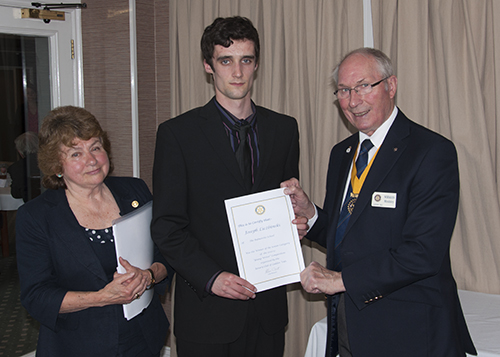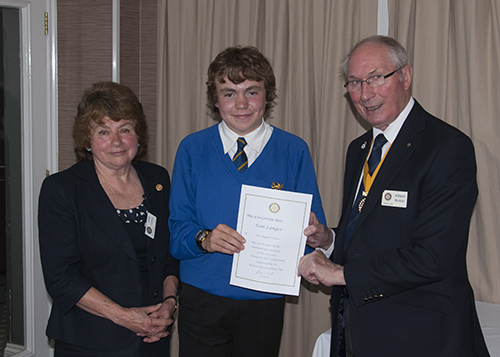 Joseph Liczbinski (left) from the Bulmershe School and Tom Langer from Piggott school receive their certificates from Vice Pres. Norman Moulsley with Anne Coulson Club and District coordinator.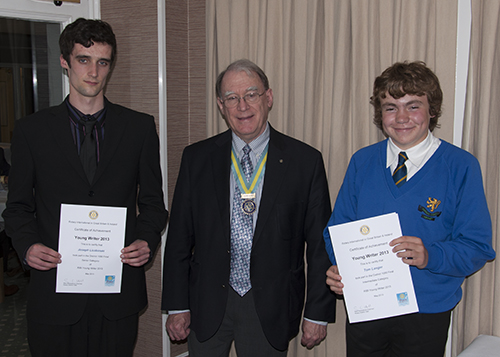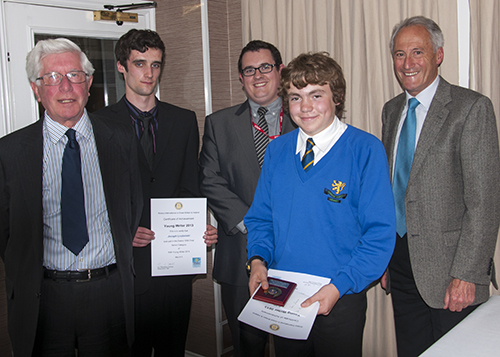 (Left) Joseph and Tom receive their certificates from Rtn Alistair Knox Asst Gov.
(Right) Douglas Kedge (Judge), Joseph Liczbinski, Richard Cornish (Asst Head. The Bulmershe School), Tom Langer, Alan Wright (Judge).
Emma-Louise Roberts (Tom Langer's teacher) with Alistair Knox presenting Tom with District Winner Trophy for outstanding effort.
............................
Loddon Vale's First Successful Golf Day at Badgemore Park
Monday 15th April 2013
Photos of some of the participants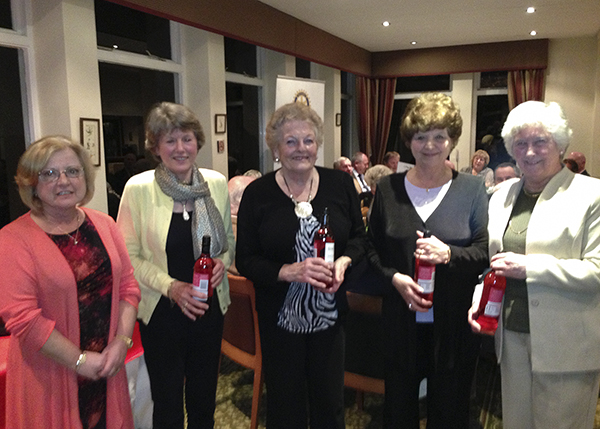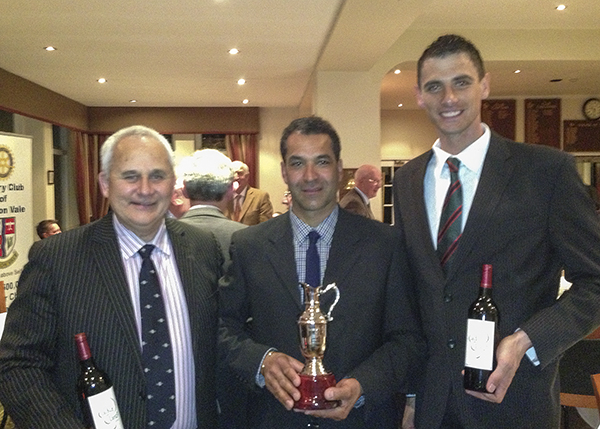 Beverley West with the Musketeers Ladies.... Toby North, Neal Stanley, Chris Wainwright. Farmers Boys Team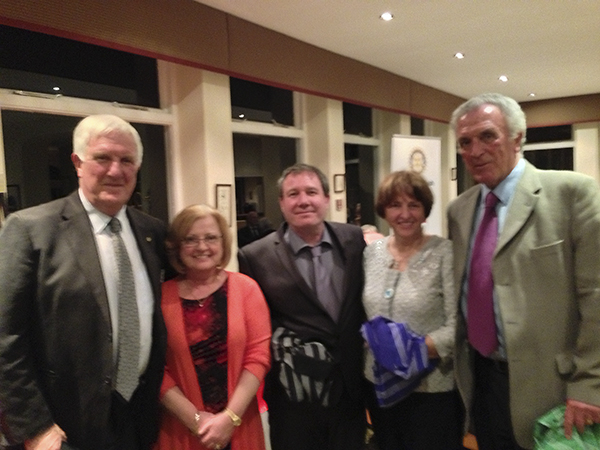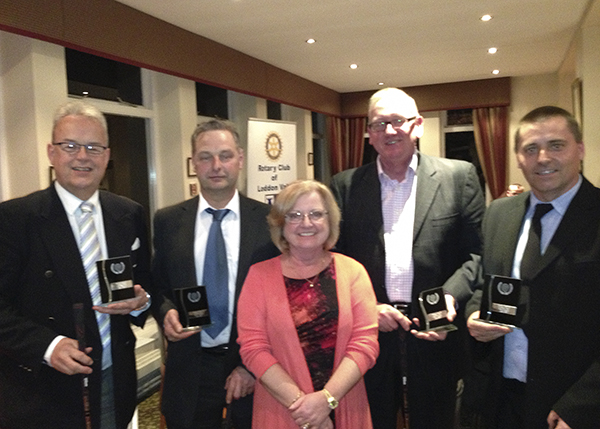 The RC Loddon Vale Rotary Technology Tournament at Waingels College on
22nd March.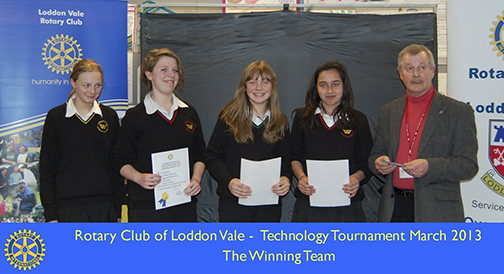 Left to right: Abi Evans, Hannah Kearsey, Emily Walton, and Megan Dodsworth who is next to Ian Heighes who presented the prizes and spoke about the importance of engineering in his life and in general.


Young Generations Young Muscians' report and Images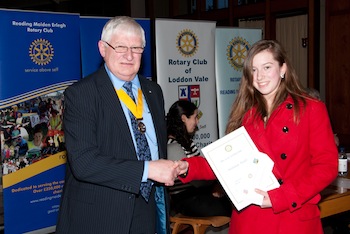 Youth Speaks Winng teams of the first heat of Youth Speaks Competition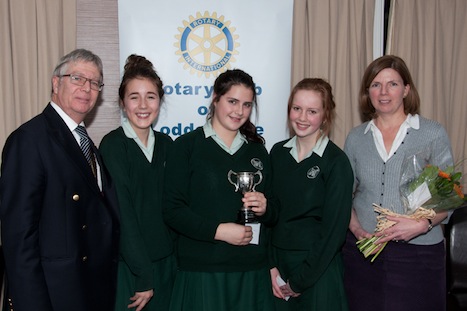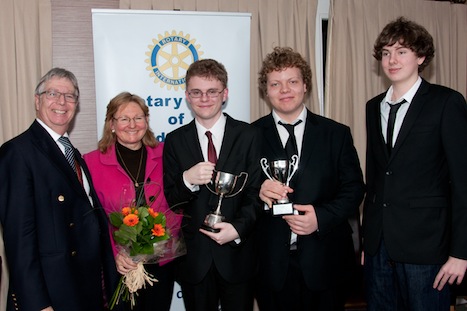 President Alan West with the winning teams from Abbey School (intermediate)
& Piggott School (senior section)
'Wind in the Willows..Pantomime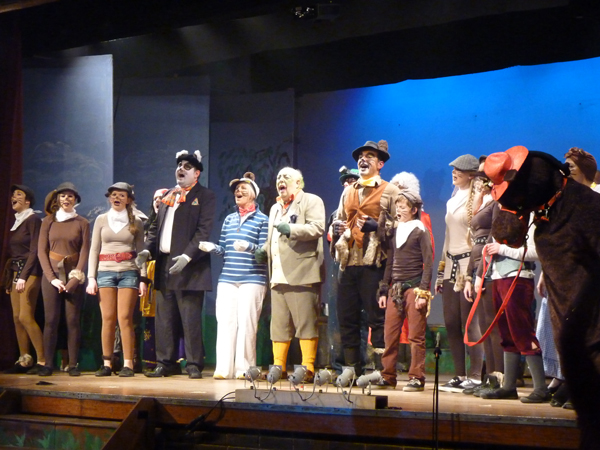 Staged by Twyford & Ruscombe Theatre Group
The Panto on the 8th January was sponsored by the Rotary Club where Jack Cornwall presented a cheque for £250 on behalf of the President to help towards the production costs. This special performance was staged for children with special needs from Addington School, Woodley, Kennel Lane School, Bracknell and The Avenue School.
Cyclethon Presentation of Funds Evening 29th October 2012
President Alan West with John Hammond presenting cheques to the recipients resulting in the Cyclethon Quest.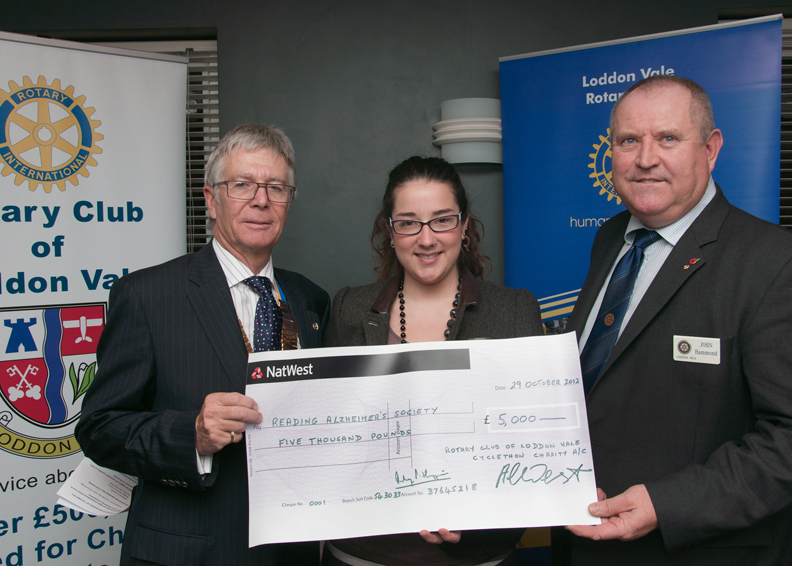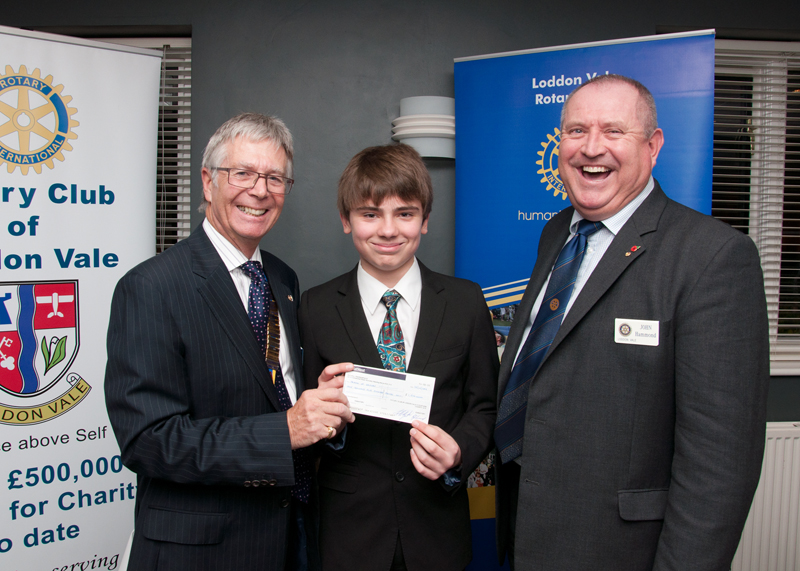 Top left: Ellie Hughes - The Alzheimer's Society - receiving £5000
Top right: Jason Thrower on behalf of Yvonne Thrower of Bridges Resource Centre - receiving £1500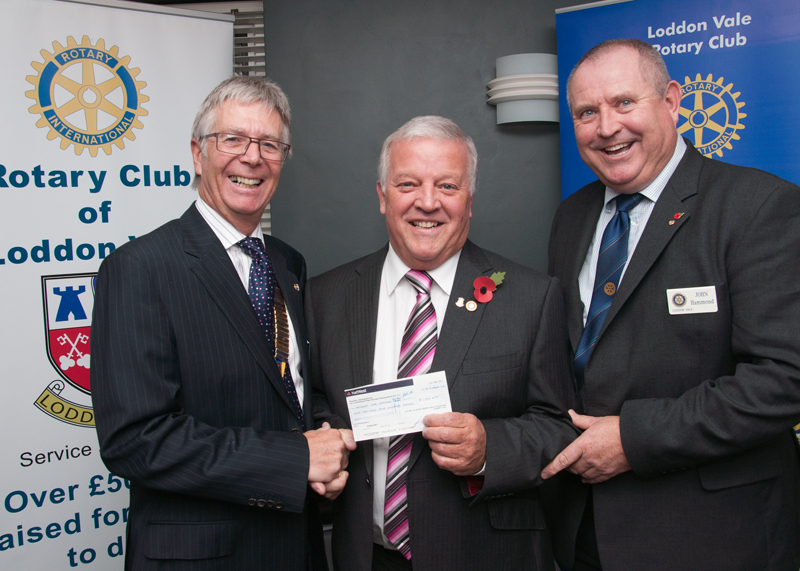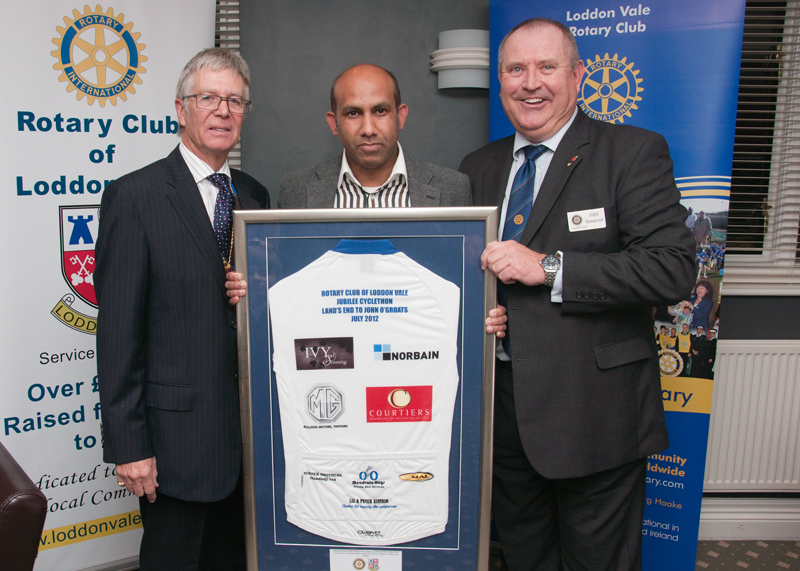 Bottom left: Bill Soane on behalf of Woodley War Memorial Fund receiving £1500
Bottom right: Bobby Ali The Ivy Restaurant Sonning sponsor - receiving presentation shirt
----------------------------------------
Rotary International is one of the world's largest service organisations, with some 29,500 clubs in more than 160 countries.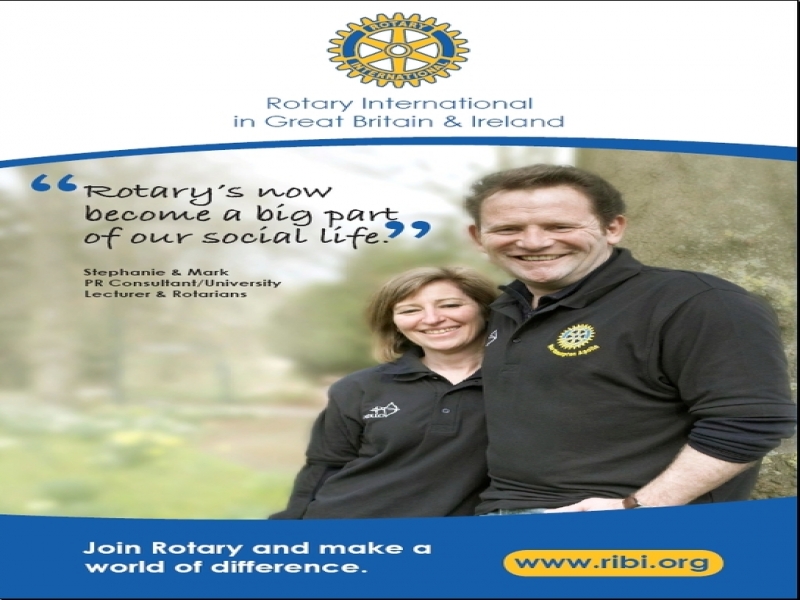 Annually, Rotary clubs worldwide invite a limited number of men and women to become members. These prospective members represent various businesses and professional activities in their communities. As a progressive-minded business or professional person, you will see that belonging to a Rotary club, where outstanding representatives of the different vocations in your community come together, has its benefits. To be invited to become a member, you must be: A leading representative of your business or professional activity willing to help and participate in projects that enhance your community willing to work on projects that help people in developing countries and promote international understanding and goodwill. Rotary clubs provide: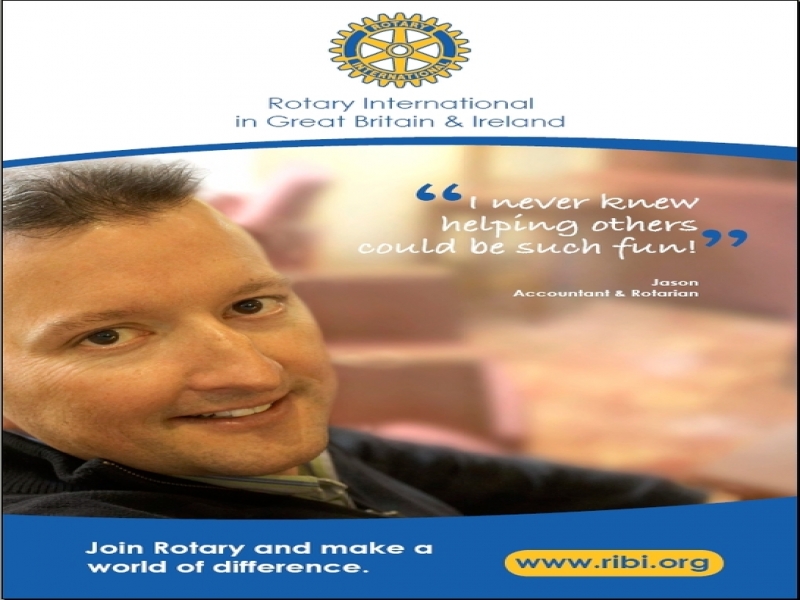 Friendships with other managerial and professional leaders in your community. Prestige of membership in a worldwide organization. Ongoing practical education a networking of people who can help you become more successful.Promotion of higher ethical standards in your business or profession. Projects to enhance your community. Help for communities in countries around the world
This is part of the internationalism of Rotary International - a service organisation which exists in more than 160 countries represented by 29,000 Clubs and 1.2 million members.
To find out more About Rotary watch the videos or links here:-