The Rotary Club of Portishead
---
---
PHILIPPINES TYPHOON HAIYAN DISASTER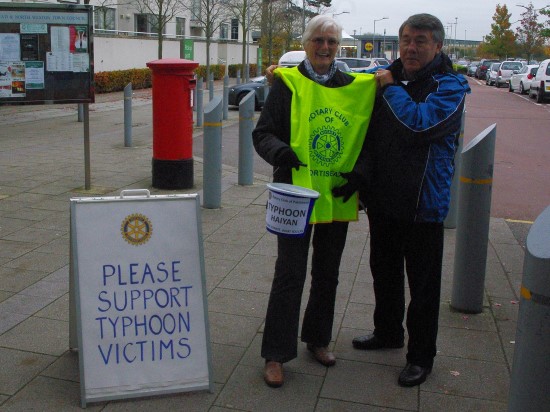 Members of Portishead Rotary Club, along with their partners and volunteers spent a day in the Town raising funds to help relieve the suffering caused by Typhoon Haiyan in the Philippine Islands.
A staggering total of £3,433 was collected from just five collecting points around the Town, after Rotarian David Bowring had earlier eloquently promoted the event on in a hastily arranged appeal broadcast with the co-operation of Radio Bristol.
Rotary Club President David Oyns said "We were amazed at the response to our appeal. Our thanks must go to North Somerset Council, who quickly processed our application for licences to collect, to the management of the stores who allowed us to collect on their premises, and, most of all, to the overwhelming generosity of the people of Portishead. We can assure donors that all the money collected will go directly to charities already on the ground in the Philippines".
These include Rotary charities "Shelterbox" providing tents and survival equipment, and "WorldWater Works" providing water survival equipment and tools.
The Club will be raising funds for local Community projects later in the year as usual.
---
WELCOME
Please select from the "What We Do" tab at the top to find out more about the local projects we are are involved in.
To find out about our regular meetings, please see the list on the right of this page, and the "Programme" tab at the top of the page.
If you are interested in joining or finding out more about our club, please complete this contact form or click on the "Join Rotary" box at the top right of this page.
---