SWIMATHON 2014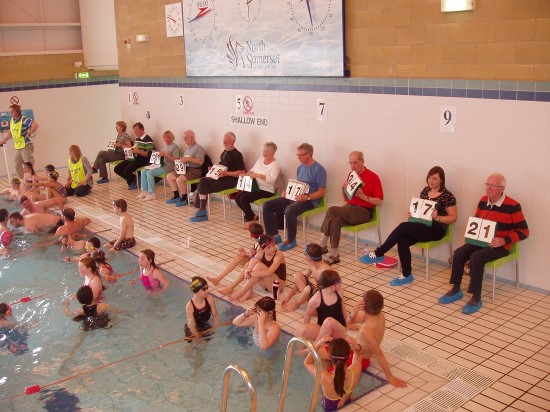 NINTY ONE TEAMS TOOK PART IN THE 2014 SWIMATHON
Local good causes will receive an enormous boost to their funds as a result of the Portishead Swimathon held this weekend. The annual event, now in its 18th year, was organised by the Rotary Club of Portishead in collaboration with the management of The Parish Wharf Leisure Centre, where it took place.
This year a record number of over 550 swimmers took part, all noisily supported and encouraged by their friends and families at the poolside, joined in the fun. Swimming in teams of six, representing local schools and organisations, the swimmers swam in relay for 35 minutes, raising funds for charity through sponsorship. One team swam 143 lengths which was 1 short of the previous record of 144.
The principal charities to benefit this year are "Children's Hospice Southwest", "The Great Western Air Ambulance" and local Schools and groups.
Rotarian President David Oyns opened proceedings by starting the first session. Popular local TV celebrity Jemma Cooper, always very generous with her time for local charity events, then took over the starting hooter for a while, the last swimmers going into the water at 7; 30pm!
Rotarian Mollie Young said "the generosity and community spirit shown by businesses and residents of Portishead and surrounding areas continues to be astonishing. All the costs incurred in promoting and staging this event were met by donations from local businesses, enabling all the money raised by the swimmers to go directly to the selected charities and local projects. Members of the Rotary Club are very grateful to everyone who has taken part in organising and supporting the event".
The total amount raised will not be known until all the sponsorship money has been collected. What we do know is that a total of 6,727 lengths of the pool were swum.
NEXT YEARS SWIMATHON WILL BE HELD ON
SATURDAY 25TH APRIL 2015
---
MARIE CURIE COLLECTIONS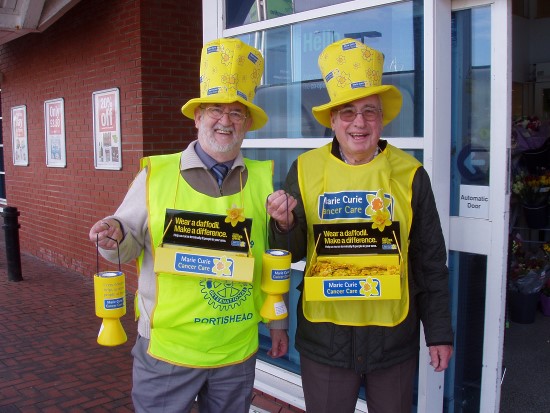 On March 1st, we collected for Marie Curie Cancer Care at Waitrose, Lidl and Co-Op in Portishead. Amazingly we managed to collect £1,908.59 which was a fantastic result. Marie Curie provide over 2,000 cancer care nurses in the UK and provide 9 hospices - the largest single provider in the UK.
Thanks to everyone who helped and all those who contributed to this very worthwhile cause
---
WELCOME
Please select from the "What We Do" tab at the top to find out more about the local projects we are are involved in.
To find out about our regular meetings, please see the list on the right of this page, and the "Programme" tab at the top of the page.
If you are interested in joining or finding out more about our club, please complete this contact form or click on the "Join Rotary" box at the top right of this page.
---