Welcome to the website of the Rotary Club of Guernsey
Itex-Rotary Walk - 8 June 2013: Be inspired and Inspiring!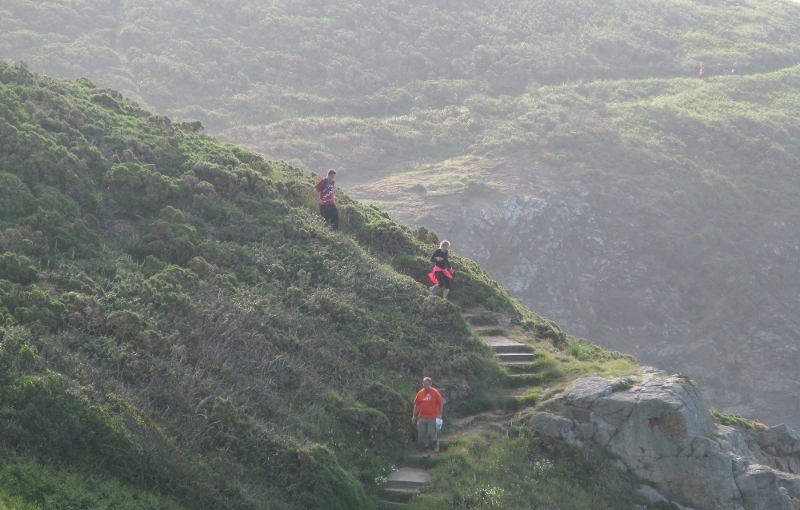 It is that time of year again, when over 500 walkers take to the cliffs and coastal paths around Guernsey and walk 40 miles for local charities. Follow the separate link to the Itex-Rotary Walk registration website or, if you just want to be inspired by the stunning scenery, scan through the photos and write-up of last year's walk on a perfect day in June 2012. We will publish a further report on 2013's Walk later in June.
Please click here to access the registration website.
Please click here for the 2012 Report and photographs.
Welcome to the Rotary Club of Guernsey
It is said that every minute of every day Rotary will touch the lives of millions somewhere in the world. By combining their skills and resources, members of Rotary are able to make a real contribution to the lives of others.
In Guernsey alone, our club raises tens of thousands of pounds for community projects and local charities. Members also volunteer their time – supervising and running community projects and events, such as the Itex Walk, Christmas hampers for the needy and the Tree of Joy, providing Christmas presents for children who might not otherwise receive much. Several projects are aimed at promoting the achievements of young people, such as Youth Speaks and Young Chef.
The Rotary Club of Guernsey is very much a fun loving club made up of male and female members covering a wide range of professions, with the common theme of fellowship and providing service to the local community and abroad and wider support to Rotary International initiatives world wide, such as the eradication of polio.
We meet for lunch every Wednesday at the Wellington Boot Restaurant, Hotel de Havelet, St Peter Port, Guernsey and have speakers at most meetings except for our monthly business meeting. This is a great opportunity to catch up with friends, visitors and guests who are always made most welcome by the membership. The lunches are well attended and the atmosphere of laughter and conversation really make this a weekly event to look forward too.
Both guests and visiting Rotarians are very welcome and we would encourage you to come along and meet with the club. For further information relating to lunch start times etc. click on 'Meeting Information' above.
Further information on the club can be found on the website, but if you wish to contact the club there is a link on the site and someone will get back to you as soon as they can.
General Information
The Rotary Club of Guernsey was founded on the 3rd March 1923 and is within District 1110 which covers Hampshire, East Dorset, South Wiltshire, the Isle of Wight and the beautiful Channel Islands.
Honorary Members of the Rotary Club of Guernsey
His Excellency the Lieutenant-Governor Air Marshal Peter Walker
The Bailiff of Guernsey, Mr Richard Collas
Sir de Vic Carey
Sir Geoffrey Rowland