Greetings from Ray Shead our Club President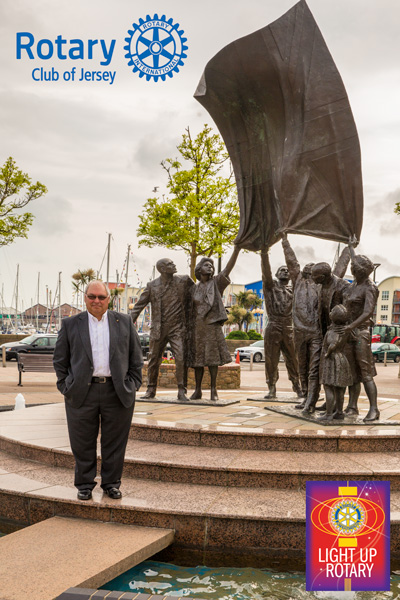 You have arrived at the web site of one of Jersey's service clubs.
In Rotary, our members work together to "give something back" by helping the less fortunate, both here in Jersey and Worldwide. Some of our current projects are highlighted below. We enjoy what we do and get great satisfaction from helping others, networking and making friendships with like-minded people throughout the world. I am fortunate to be leading our Club in a year that sees the launch of two major projects.
The redevelopment of our Good Companions Club at Le Marais and the launch of our "Peace Island" programme.
These represent a significant challenge to our members and I would be pleased to hear from anyone who has an interest in our aims and may wish to help us achieve them.
Breaking News 8th May 2015

Jersey is declared a Rotary Peace Community
the first in the British Isles.
Please follow the "What We Do" menu above to see all the work we do in the Community and feel free to explore all the other menus too.

We support Local and International communities by offering our time and expertise as well as goods and funds to promote wellbeing in communities worldwide. Follow these links to learn more.

Local

- International -

Youth

.
Our own direct contribution to Island Life, the Good Companions Club. Run by Rotary for over 60 years, providing a social hub for the young at heart.

In the next 30 days...
Social Media...
Rotary Club of Jersey
Promote your Page too
Follow @RotaryJersey