Welcome and thank you for visiting our website
We have served the community here in Andover since 1949. We support and promote a wide range of charities and humanitarian projects, locally, nationally and internationally as one of more than 33,000 Rotary Clubs with a total membership in excess of 1.2 million serving in over 200 countries.
We serve our local community with a particular focus on the young and not so young.
All work and no play.....! Certainly not, Rotary provides an opportunity for fun and friendship. Rotary is there to be enjoyed and is open to men and women who share our values.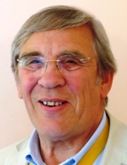 Igor Obrastsoff-Rutinsky, President 2014/2015