Members of the Gillingham Rotary will be holding their annual Race Night on Friday 6th November at the Olive Bowl. The cost of the tickets will be £10.00 with good food and a raffle as well as a good evening out helping to raise money for charitable causes.
Last year over 80 people attended and helped raise over £1000 which was divided between
Dorset Young Carers, Gillingham Recreation Ground and local Rotary Good Causes. 6 Races were held, in dispersed with food and a raffle.
Saturday 18th July Gillingham Town Meadow.
Did you visit the Gillingham Rotary stall and see the Shelter Box and discuss Rotary with one of the Rotarians there?
If you wonder what Gillingham Rotary is all about as you only see us collecting at Christmas then visit us at the Gillingham and Shaftesbury Show on the 19th August. We will there and happy to explain what we are all about. Yes we are always looking for new members but more importantly we want people to be aware that Rotarians are available to help deserving causes both local and national. We are currently discussing with people in Nepal about supporting a sustainable project with the money that has been collected in the town. Watch this space for a progress report on how your money will be used.
Are you aware what Rotary Members do?
Do you know
a) how they support your local community?
b) how they help with International Disasters?
c) there are educational programmes that support young people?
If you cannot answer yes to the above questions then read on.
Rotarians are business, professional and community engaged individuals
within this locality who meet regularly. We choose to work together to
support both local and international charities and have a lot of fun doing
so. Rotarians participate in a wide range of educational, intercultural
and humanitarian activities designed to improve the lives of others. We
help those less fortunate than ourselves.
To find out more details use the contact link at the bottom of the page.
To access the July edition of our club news follow this link Rotary Focus
Saturday 18th July Gillingham Rotary will have a "stall" showing the community about Gillingham Rotarians and Rotary in general. They will also be at the Gillinghgam and Shaftesbury Show. Engage in conversation with people at the stall and find out more about Rotary.
The annual Shoe Box appeal has started with collection of the shoe boxes for disadvantaged children in Albania, Montenegro, Moldova and the Philippines. For further information contact Roland on 01747824284.
The Annual Race Night will be on the 6th November and a Burns Night will be held on January 24th these will be community social events that will raise money for Local and International Charities.
Rotary Ride for Prostate Cancer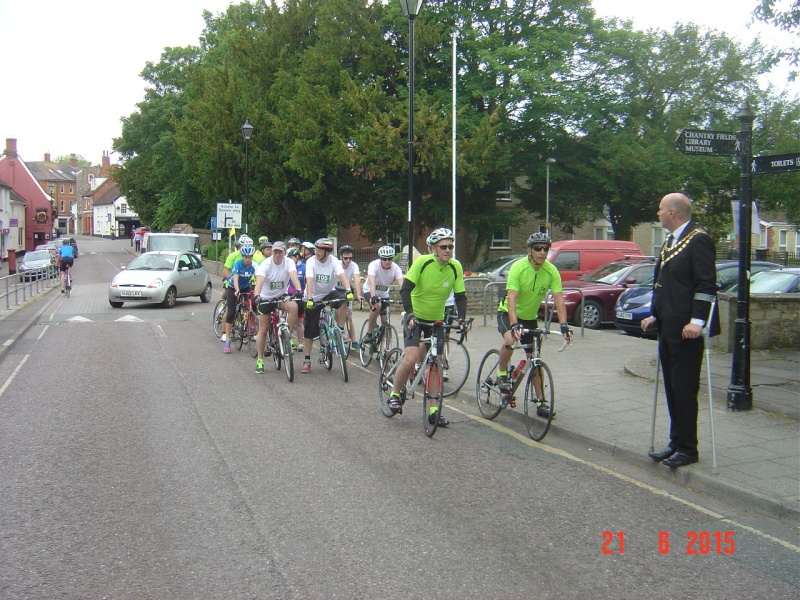 On Father's Day, 21st June 2015 as part of a national cycling event, Rotary clubs throughout Great Britain and Ireland Raised awareness of and money for National Prostate Cancer Charities. Cycling from coast to coast around the British Isles, every mile covered will be registered and the total money raised will be publicised.
As part of this Gillingham Rotary supported by Gillingham and District Wheelers are organised two rides, a Family Fun Ride 4.1 miles and for the more enthusiastic rider a 25 mile route.
Through entry and sponsorship a significant amount of money has been raised in support of The National Prostate Cancer Charity.
Fashion Show
On Friday 6th March Gillingham Rotary in conjunction with George at ASDA held a Fashion Show. The event was held at the Olive Bowl. The tickets are priced at £5.00, to include nibbles, Young persons under the age of 14 were free. The evening was in aid of the charity Tickled Pink and Rotary Charities. and a significant some of money was raised.
Rotary Club Sponsored Walk 21st September 2014
Gillingham Rotary organised a 4k and 7k sponsored walk on Sunday 21st September. The walk started and finished at the Town Meadow. Walkers were given a choice of the following local charities to sponsor. Gillingham Scout Group, Dorset and Somerset Air Ambulance and the Gillingham Recreation Ground were the main charities to benefit from this years event. The organisers were a little disappointed with the number of entries but in the end 23 people entered.
The three charities benefitted from a total of over £1300 and will also receive the proceeds from Gift Aided donations. This total is an excellent sum of money raised and the Rotary Club wish to thank all who contributed towards a excellent mornings event.
In the photograph are some of the walkers, both two and four legged, the helpers and Rotarians.
.Wheels of Success - Charity Challenge
Two Cycling Rotarians raised just over £2500 for Diabetes UK & Rotary Charities
On Sunday 13th October 2013, Peter Cook and Roland Martin started a Charity
Tandem Bike Ride around part of Dorset. Over a 4 day period they raised funds for Diabetic UK and for local Gillingham charities. The money raised has been split 50-50 split for these charities.