Are you aware what Rotary Members do?
Do you know
a) how they support your local community?
b) how they help with International Disasters?
c) there are educational programmes that support young people?
If you cannot answer yes to the above questions then why not come
along to the Olive Bowl at 7.00pm on Wednesday 20th May
and find the answers.
To acccess the latest Club News follow this link. Club News
Fashion Show
On Friday 6th March Gillingham Rotary in conjunction with George at ASDA are holding a Fashion Show. The event will be held at the Olive Bowl starting prompt at 7.30, so get there early to secure a front row seat. The tickets are priced at £5.00, to include nibbles, Young persons under the age of 14 are free. The evening will be in aid of the charity Tickled Pink and Rotary Charities. There will be a Bar and Raffle.Tickets are available from Winning Smiles, Paws, Claws and Jaws and Gillingham ASDA.
Members of the Gillingham Rotary wish to thank all those who attended their Race Night on Friday 7
th
November, over 80 people enjoyed all the excitement of the racecourse at a fraction of the cost while supporting Dorset Young Carers, Gillingham Recreation Ground and local Rotary Good Causes. 6 Races were held, in dispersed with food and a raffle. Taking everything into account the evening raised over £1000 which is an excellent sum of money to be divided amongst the three charities.
Rotary Club Sponsored Walk 21st September 2014
Gillingham Rotary organised a 4k and 7k sponsored walk on Sunday 21st September. The walk started and finished at the Town Meadow. Walkers were given a choice of the following local charities to sponsor. Gillingham Scout Group, Dorset and Somerset Air Ambulance and the Gillingham Recreation Ground were the main charities to benefit from this years event. The organisers were a little disappointed with the number of entries but in the end 23 people entered.
The three charities benefitted from a total of over £1300 and will also receive the proceeds from Gift Aided donations. This total is an excellent sum of money raised and the Rotary Club wish to thank all who contributed towards a excellent mornings event.
In the photograph are some of the walkers, both two and four legged, the helpers and Rotarians.
ANNUAL CARNIVAL and DUCK RACE. 4TH October 2014
Once again members of the Rotary Club staged the annual duck race at the Gillingham Town Bridge. Despite the poor weather, it rained most of the morning, 21 races were held. This is well down on previous years and is probably due to the poor weather keeping people indoors. The proceeds were divided between the Hot Rock Carnival Club, Gillingham Carnival Committee and The Rotary Club Charities. All receiving just over £100 each.
The photograph shows members selling ducks at the Town Bridge.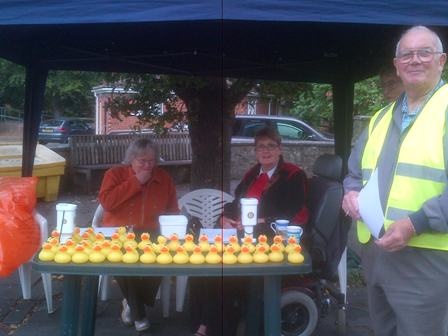 .Wheels of Success - Charity Challenge
Two Cycling Rotarians raised just over £2500 for Diabetes UK & Rotary Charities
On Sunday 13th October 2013, Peter Cook and Roland Martin started a Charity
Tandem Bike Ride around part of Dorset. Over a 4 day period they raised funds for Diabetic UK and for local Gillingham charities. The money raised has been split 50-50 split for these charities.
A further charity tandum cycle ride is currently being organised, when and where has not been decided.

ABOUT GILLINGHAM ROTARY
We are an organisation of volunteers who are members, men and women from Gillingham and the surrounding area. Using the menu on the left you can find out some of what we do. Over the past couple of years we have supported a number of local charities and overseas disasters. Shelter Boxes were sent to Haiti and Water Purification Boxes to Pakistan. By activities of members worldwide Rotarians Change Lives if you wish to know how or why please contact the Secretay using the contact button above and ask your questions.
As part of Rotary International in Great Britain and Ireland, an organisation of more than 55,000 volunteers, men and women who, as members of over 1,850 Rotary clubs, volunteer their time, talents, professional skills and energy to improving the lives of people in their local communities and others around the world. Rotary International in Great Britain and Ireland is part of the world wide Rotary International Organisation.If you are a Rotarian visiting or new to the area and wish to pay us a visit then please make contact and we will arrange a suitable evening for you to join us when you will be made most welcome.
Charity No. 1036744
If you would like to attend a meeting of The Rotary Club of Gillingham please contact the Club Secretary by using the Contact form above. As a member of a Rotary club, you have the opportunity to give something back, to give hope to those less fortunate and to make lives worthwhile and fulfilled. You'll make firm friends as well as worthwhile business contacts; you'll learn valuable new skills and grow as a person; and you'll be sure of a warm welcome from other Rotarians around the world whenever you're on your travels.