Welcome to the website of the Rotary Club of Ringwood
WELCOME TO THE ROTARY CLUB of RINGWOOD
Founded 1947 Club President 2012/13: Geoffrey Ridgway
The Rotary Club of Ringwood was started in 1947 and the Founder President was Ted Harvey the licensee of the St Leonards Hotel, who was already a member of the Poole Rotary Club. By 1947 Ted considered there was enough interest in Ringwood to form a club of ite own, so with the blessing of Poole Rotary Club, Ted became the first President of Ringwood Rotary Club. The club met every Tuesday at 1 pm at the Crown Hotel, where members enjoyed lunch followed by a speaker before returning to their various occupations. In those days almost every one of the 23 members was a well known local businessman or professional.
RIBI President visits Ringwoods Tools For Self Reliance
Today March 27th 2013 the RIBI President John Minhinick visited the Ringwood branch of Tools For Self Reliance.
RIBI President John Minhinick meets Rotarian Laurie Dormer Chief Administrator of Ringwood Tools For Self Reliance.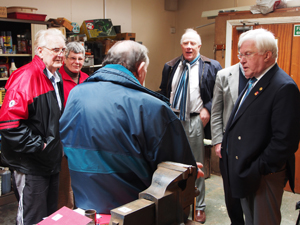 RIBI President John Minhinick meets Rotarian John Meredith manager of the Ringwood branch of Tools For Self Reliance.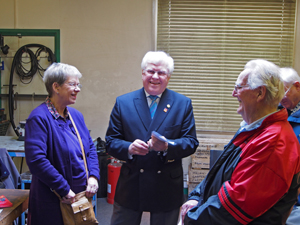 RIBI President John Minhinick enjoying a chat with Rotarian Laurie Dormer.
OUR NEXT PROJECT SATURDAY 18th MAY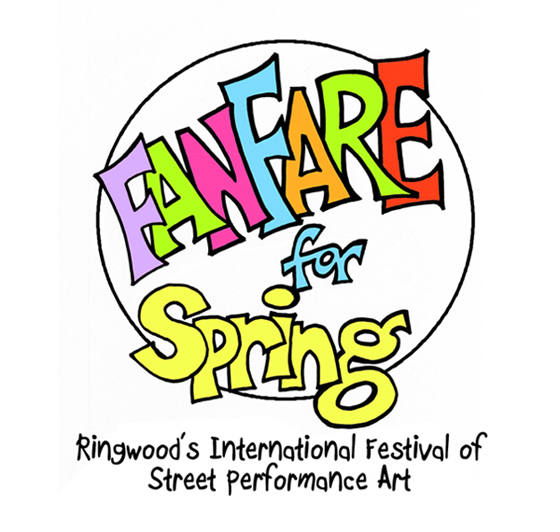 This is an exciting event, when visitors to Ringwood will be entertained throughout the day from 10.30 am to 4.30 pm with Music, Song, Dance, Street Theatre, Jugglers, Story Tellers, Magicians, Fire eaters, Sword Swallowers and the like.
FOR ALL THE LATEST INFORMATION GO TO:
SEE YOU IN TOWN ON SATURDAY 18th MAY 2013
New Business Partners for Ringwood Rotary.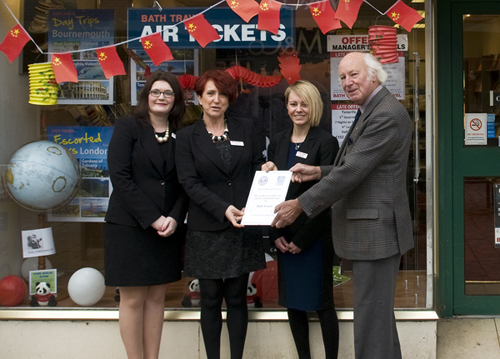 Ringwood Branch of Bath Travel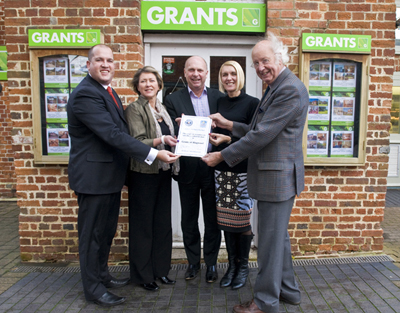 Grants Estate Agents Ringwood
Wish Week November 2012
One of the recipients of Ringwood Rotary Wish Week 2012 whho was nominated by Mrs Debbie Sammut, was 10 year old Rhianna Sammut who suffers from Psioratic Arthritis and a skin condition Urticaria Pigmentosa and is in constant pain and discomfort. She has drum lessons at school which she has found very therapeutic and helps her to forget the pain and discomfort. Ringwood Rotary sourced an electronic drum kit to help her, and now she will be able to practice at home without disturbing her family and neighbours. We hope that the drums will brighten her life a little.
Below are photographs of Rhianna, her Mother, family and friends and also Rotary President Dr Geoffrey Ridgway and Rotarian Dick Sherrin who helped source a set of Ferris 501 Digital Electronic drums.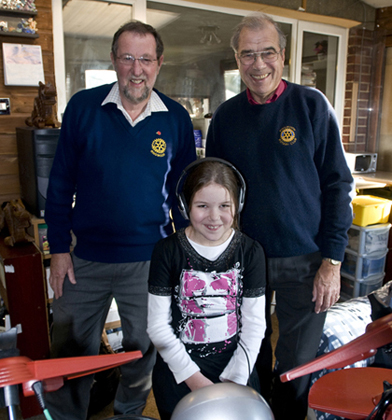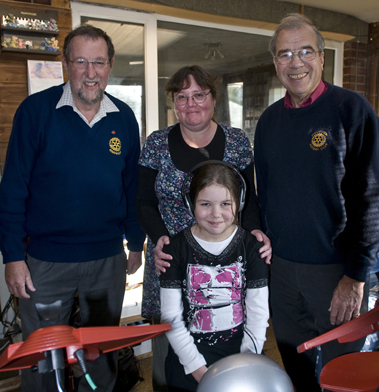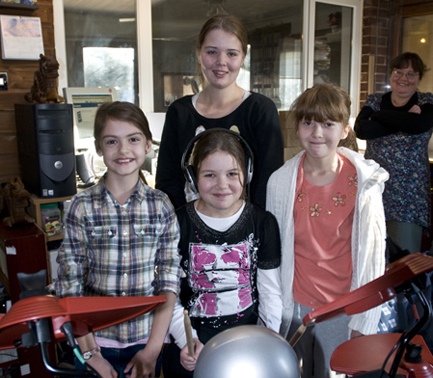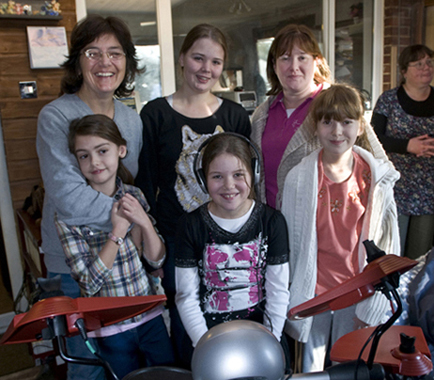 Ringwood School present shoeboxes to The Rotary Club of Ringwood October 2012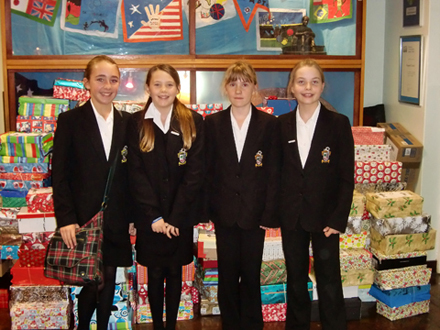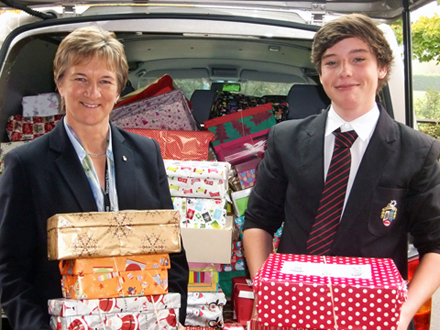 Wish Week September 2012
Rotarians Trevor Williams and Michael Ruecker took Ringwood residents Terrance Britton and Wife Geraldine to Swindon Railway Museam as part of this years Ringwoodv Wish Week.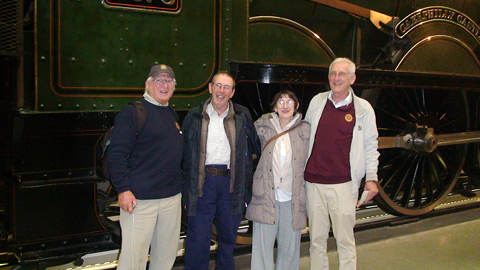 June 22 2012
Ringwood School Calendar Photographic Competition.
Winners of the Rotary Calendar photographic competition from Ringwood School show their certificates and prizes together with IT Teacher Stuart Fielder at the prize presentation on Friday 22 June at Ringwood School. Ringwood Calendars will be produced shortly and be on sale in aid of Ringwood School and Local Rotary Charities. Sophie Sparrow was awarded 1st prize of a voucher for £50.00 (To be spent at Wessex Photography), a book and certificate. Her image of Ringwood Forest is shown below and will appear on the front page.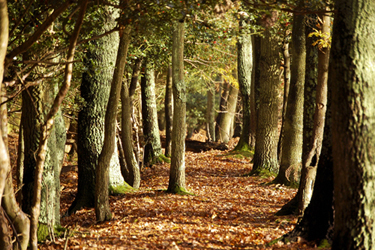 Other winners were Josh Perriman, Katie Laurilla, Heidi Atwill (Staff), Brendan Burden, Mary Melrose, Emily Wheeler, Tom Vaughn, Mark Kendrick, Alex Griffin, and Mark Skeates (Runner Up).
Our thanks go to Bath Travel, Millers Antiques, Century 21 Business Machines, Ringwood Trading Estate, Ringwood Carnival, Ellingham Show, Raymond Brown Ltd, Jon Grant Estate Agents, Sheering Bettle Associates and Moyles Court School for supporting the calendar
June 2012 Presidential Handover
R to L, Past President Alan Hollands, President Alistair Stokes and President Elect Geoffrey Ridgway at this years Presidential Handover at the RNLI HQ in Poole, Dorset. At the same event Alistair Stokes presented Geoff Kynaston with a Paul Harris Fellowship Award as depicted below:
April 2012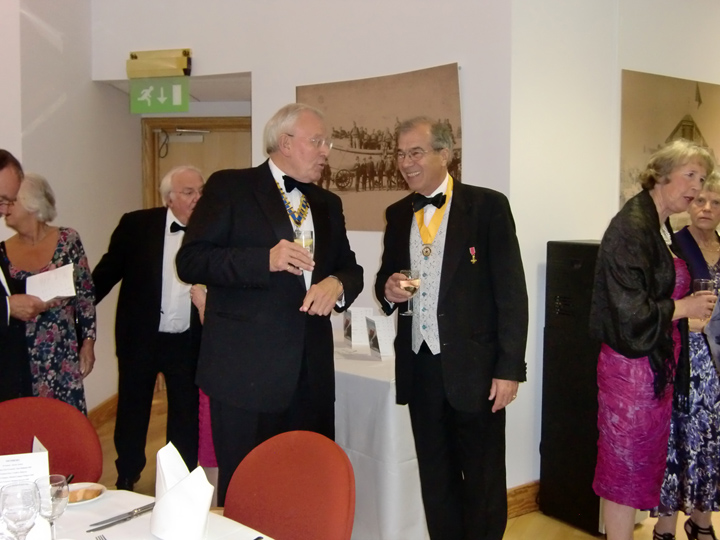 President Alistair Stokes and Presiden Elect Geoff Ridgway at the Club Charter Evening held at the RNLI Headquarters in Poole.
Rotarians, Partners and Friends at the Presidents BBQ in the New Forest July 2010
(Select to see Video)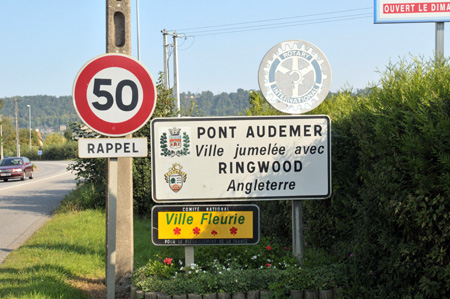 Twinned with the Rotary Club of Pont-Audemer in Normandy France and the Rotary Club of Oberhausen in Germany.