Welcome to the Rotary Club of Hawick
I was invited to join The Rotary Club of Hawick in 2007and have appreciated greatly the fellowship enjoyed since then.Having served on different Committees, I was then invited to serve as Junior Vice President, Vice President, and now to become President of The Rotary Club of Hawick is a great privilege.
Our Vice President for the coming year will be Scott Elliot, and he, helped by all of our other Club members and officers, will give a wealth of experience to enable and assist me as I endeavour to fulfil my duties as President.
Our incoming Committees have already set out innovative and interesting plans and projects in our ongoing efforts in support of both International and locally based charities.
We always have an interesting programme of speakers at our meetings in addition to our most enjoyable social events.During the course of the coming year, with the support of my wife Rosalyn,I will endeavour to represent our club wherever and whenever possible.
It would be an added pleasure if we were able to welcome new members to our Club, and to warmly welcome visitors to our area.
The theme of the new Rotary Year will be 'Rotary Serving Humanity'. With so much unrest and turmoil in many parts of the world, I am confident that even in a small way we will be able to contribute to Serving our fellows.
Jim Walker President 2016-17
Photo above : 'The Horse': possibly the best known landmark in H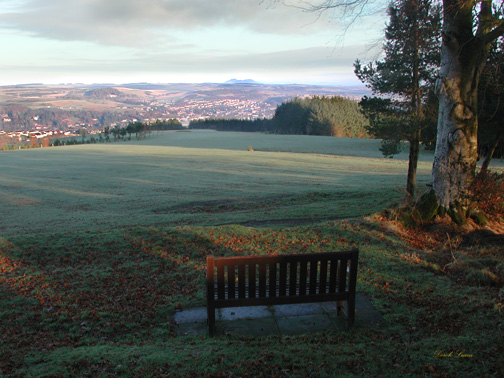 awick, and a symbol of the town's historic traditions. However, we're an active club, and, while aware of our successful history, we're trying always to look forward, keen to welcome new members who will bring freshness and new ideas. We're lucky to live in a lovely part of the Borders - Hawick among the hills - and maybe that's why so many of our club members are keen golfers, enjoying the views, for example, from the top of the local Vertish Hill.
Photos by Derek Lunn

Meeting Information...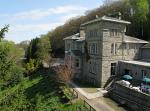 We meet on Thursdays at 18.30 for 19.00 Mansfield House Hotel, Weensland Road, Hawick TD9 8LB tel: 01450 390350
Meeting Details
Interested in joining Rotary?
In the next 30 days...

Changeover meeting when new office-bearers take up the reins.

Weekly meeting with guest speaker

DG Lindsay visits Hawick as part of his tour of District 1020's Clubs