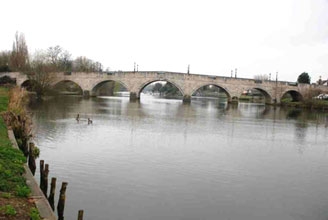 The Rotary Club of Chertsey is based in the Borough of Runnymede.
We have a dinner meeting on Tuesday evenings at Abbey Moor Golf Club, Green Lane, Addlestone, KT15 2XU. see map

Chertsey Rotary is part of a worldwide association of individuals who, through fellowship,fund raising and other activities, support their community and beyond, delivering resources and assistance where there is a genuine need.
Chertsey Rotary
Young Photographer Competition
Competition Subject
'MY TOWN'
The aim is for young people, between 6 and 16 years old, to capture an image of their town, seen through their own eyes. The judges will be looking for individuality and creativity in the composition of the shot.
Prizes
1 X First prizes of £60 for age group 6 to 11 plus large print of photograph in frame

1 X First prize of £60 for age group 12 to 16 plus large print of photograph in frame

2 X Runner up Prizes of £20 each for age group 6 to 11 plus print of photograph

2 X Runner up Prizes of £20 each for age group 12 to 16 plus print of photograph

Prize Giving
All Prize winners will be requested to have a photograph taken for local press on collection of their prizes at the Black Cherry Fair on Saturday 9th July 2016

Closing Date
Closing date for entries is midnight on Saturday 25th June 2016.

Entry Categories

PRIMARY = 6 - 11 years old

SECONDARY = 12 - 16 years old

Submission of Entries
All submissions must be submitted, as an attachment, via email to: ROTAPHOTA@gmail.com

The following information must be included within the email content to which the entry is attached. (Without the following information your submission will be excluded from the competition):
Which category the entry is for, Primary or Secondary

Full name, address and date of birth.

Parent/Guardian name and contact number.

Brief description of the entry including location.

An automatic response will be sent on receipt. No other replies will be provided.
Rules/Terms & Conditions
No further entries will be accepted after the closing date

Photographs will be given a unique serial number to replacing the identity of the photographer for judging purposes

The organiser of the Competition will not be judging the photos

A judging panel including representatives from Chertsey Rotary and Thorpe Park will judges the entries and their decision is final

The Chertsey Rotary has the final decision on the winning photographs

On entering the competition, you agree that Photographs and the name and age of the photographer may be displayed on the Rotary/Rotary related Event Websites and Stalls and local news media

No Photographs containing close up images of People Permitted

Photographs judged to containing explicit or inappropriate content will be disqualified without notice

Photographs of photographs or other printed material not owned by the entrant are not allowed

Photographs entered into the competition must not be manipulated by any computer software or applications

All photographs must be in JPG format

Entrants must have the permission of their parent/guardian/School to enter and as such all entrants must be submitted through their parent/guardian/School email address to the email address above

Full name, Age and address and parents contact name and number will be required for all entrants and must be included with the photograph submission

All photographs must have been taken by and be the implicit property of the person entering the competition

Photographs only NO Video

Up to Two photographs can be submitted by each entrant

Only one submission by each entrant is allowed

No material we be returned to entrants

Information relating to this competition including winners will be posted on the Chertsey Rotary Web Site and Rotary Social Media pages http://www.rotary-ribi.org/clubs/homepage.php?ClubID=867
All Prize winners will be requested to have a photograph taken for local press on collection of their prizes at the Black Cherry Fair on Saturday 9th July 2016
The Terms & Conditions may also be downloaded here

We're a small, friendly, club Please look round the site to find out more about what we do. We are a part of Rotary International, which is the world's largest service organisation for business and professional people.
If you are a Rotarian visiting the area, you will be made welcome at one of our meetings - check the programme page for further details. Click the 'Sat Nav info' on the 'meeting information, right, to get detailed directions on how to find our meeting place.

Meeting Information...
We meet on Tuesdays at 1845 for 1915 Abbey Moor Golf Club
Green Lane,
Addlestone,
Surrey,
KT15 2XU tel: 01932 570293
meeting details

Social Media...
Rotary Club Of Chertsey
Promote your Page too