Welcome to the Rotary Club of Bridgend
What do we do?
By combining skills and resources, Members of the Bridgend Rotary Club make a real contribution to the lives of others. As Rotary is present in 200 countries, we are unique in being able to reach people in need all over the world, from running life changing projects in developing countries, making an immediate response to disaster hit regions, and supporting local community projects and charities.
SOUTH WALES SPECIAL SCHOOLS FOOTBALL CHALLENGE SHIELD OCTOBER 2014
This annual event organised by the Rotary Club of Bridgend and Heronsbridge School was again sponsored by Past Rotarian Derek Gaynor.
The Mayor of Bridgend County Borough Council, Gary Thomas, presented the winners shield to Maes Gwyn School from Aberdare. The runners up were Ysgol Bryn Castell from Bridgend.
The most improved side was Woodlands High School, Cardiff, with the fairplay award going to Penybryn School, Swansea. The player of the tournament award was Dan Thomas from Maes Gwyn School, Aberdare.
All one hundred plus players were presented with medals by Mayor Gary Thomas and Rotarian Gillian Hale, Chair of the Bridgend Youth Services Committee.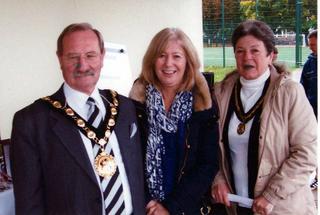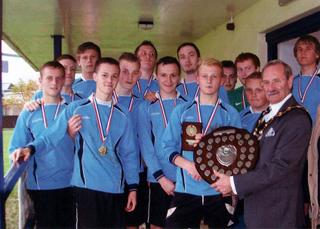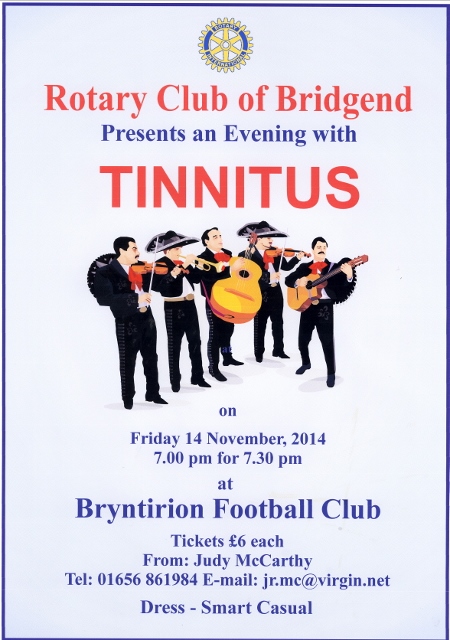 Autumn Walk Saturday 11 October 2014
Cardiff Bay
9 members of the Rotary Club of Bridgend (President Sue Cassidy, Rotarians Hopkin Joseph, Edward Jones, William William, Mike Lewis, Gillian Hale, Sonja Cain, David Hubbard and John McCarthy) plus 7 guests and a dog left the Custom House at Penarth Marina at 09:30 to walk around the eastern perimeter of Cardiff Bay to Mermaid quay.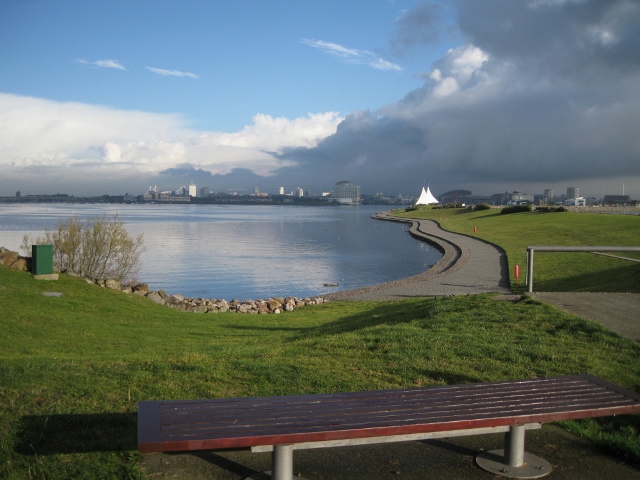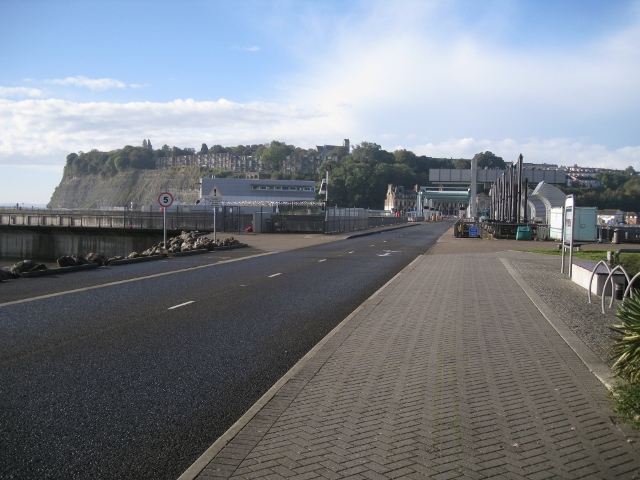 After crossing the barrage locks, passing by the fish pass, walking along the open elevated section of the barrage provided a good vista out to the Bristol channel (where it was high-tide with a seawater level higher than the freshwater level within the barrage) and inland looking towards the Penarth Marina, the Ely River Marina, the Sports village, the Taff River Marina, the Wetlands Reserve and Mermaid Quay. After a brief stop at the Scott Memorial display (recording that it was from Cardiff over a 100 years ago that the expedition set off to the South Pole) walking further along the barrage provided better views of the entrance, on the seaward side of the barrage, to Cardiff Docks (still a very busy freight port), with to the North views to the Senydd, the Millennium Centre and the Pier head building. In the distance Cardiff City Centre buildings (e.g... the Millennium Stadium) were clearly visible. There after the walk proceeded, passing the Colliery exhibition, undeveloped docks, the " Dr Who Exhibition Centre" , and the Norwegian Church to reach Mermaid Quay.
At Mermaid Quay,as the Norwegian Church cafe had not opened, a very welcome coffee was taken at Cawalladers. Some of the party then visited the shops at Mermaids Quay, others walked on westwards,past St David's Hotel, to the Wetlands Reserve;a habitat for lots of water fowl and birds.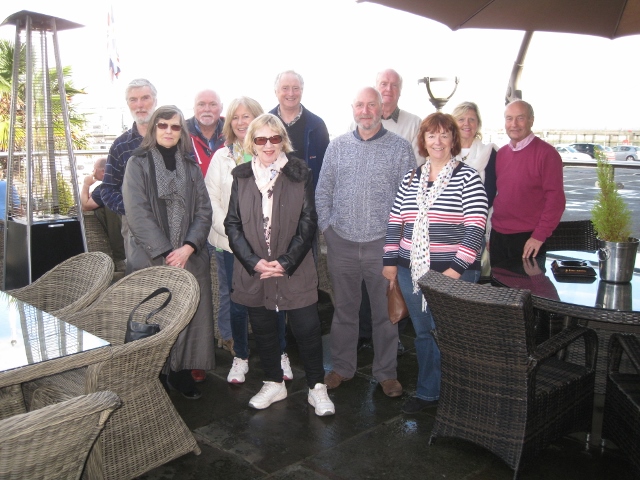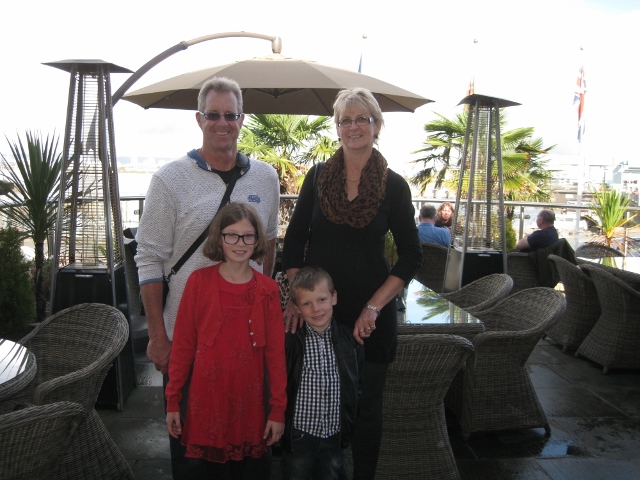 The Whole party then re-assembled at the Pier head Building to watch a 10 minute film of the changes in the docks at Cardiff; growing as a coal exporting port in the 80 years to 1914 (exporting at it's peak to over 10 million tones of coal) declining for that use in the 60 years afterwards to nothing in 1970 but still a very busy freight port.
Three of the party walked back to Custom House, the remainder taking a water taxi (which toured the western side of Cardiff Bay passing the sports Village-the national swimming pool, the white water rafting centre etc). All metup at the Custom House at Penarth Marina, now a very good restaurant, for a welcome two course lunch to finish the trip.
The weather forecast had been for rain so all had wet weather gear. In the event it was a warm dry morning ideal for walking but whilst at Lunch there were torrential downpours. Some-one was looking after the Rotary Club of Bridgend that morning !!!!
Rtn Hopkin Joseph
Rotary Club of Bridgend Bake off
The rotary club of Bridgend recently held a fun bakeoff in the Blandy Hall, Laleston, to raise funds for the supply of LifeStaw, a portable water filter. These will be distributed to vulnerable ethnic groups in developing countries. The LifeStraw Filter effectively removes all bacteria and parasites,responsible for causing common diarrhoeal diseases, from polluted water sources.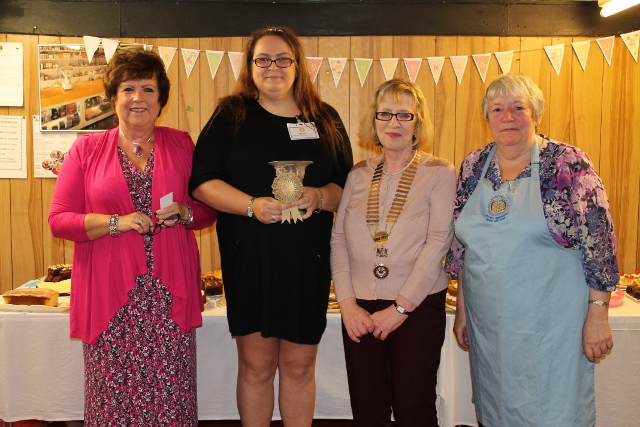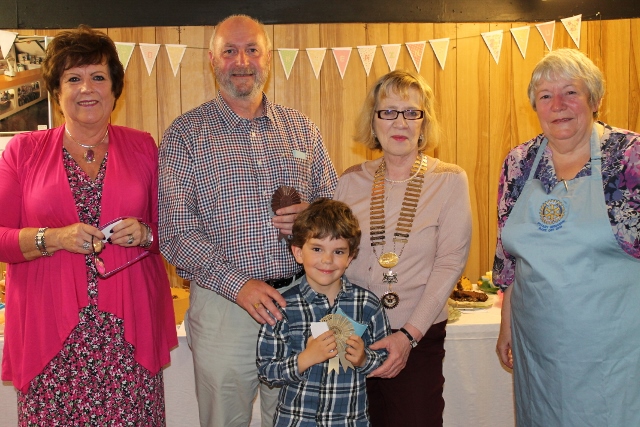 In the photos Judge Carol Moon, overall winner Gemma Brooks, President Sue Cassidy,Rtn Judy McCarthy,Past President Michael Lewis and Morgan.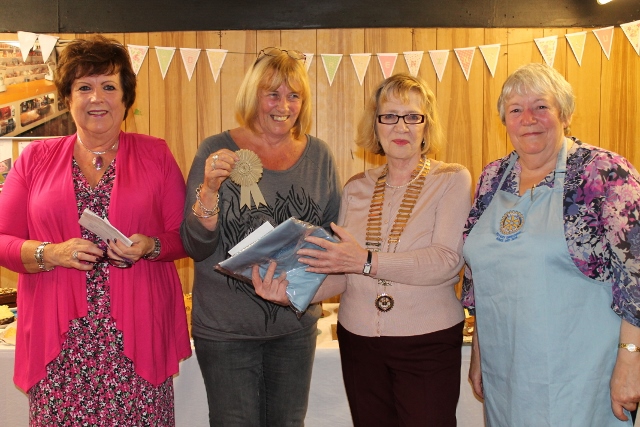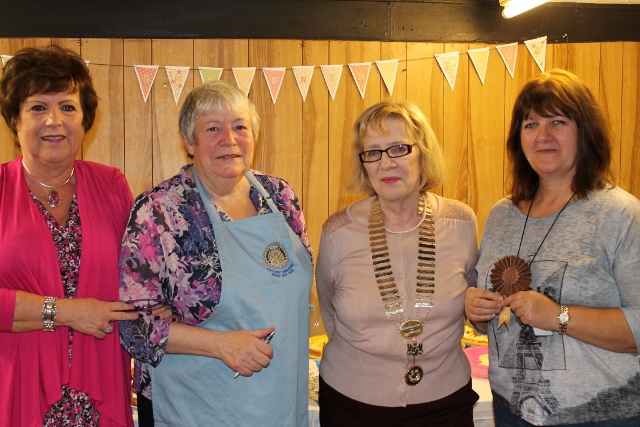 Diane Ward receiving her gold award. Gaynor Davies receiving her Bronze award.
A gold rosette and one prize of a £25 cookware voucher, sponsored by Procook and Tesco, were awarded to each of the winners in 3 categories: Large cakes; Gemma Brooks. Small Cakes (plate of 6); Diane Ward. Cakes an with International Theme; Doreen Watts. The overall winner, Best in show; was Gemma Brooks, who received a trophy Vase. Each winner also received a specially commissioned Rotary Bakeoff apron.
A special Award was presented to young Morgan, the grandson of Rotary Past President Michael Lewis, for his expertise in producing a mouth-watering plate of small cakes. The show was competently judged by Carol Moon. Silver rosettes were awarded to Juliet McIver and Julie Williams, with one unclaimed. Bronze rosettes were awarded to Kyra Lewis, Gaynor Davies,Stacey Thomas and Reverend Mike Lewis. Rotarians Haydn and nick, from the Rotary club of Brynmawr, gave an impressive impromptu demonstration of the LifeStraw that really brought home to all present the purpose of the evening. The Rotary Club of Bridgend would like to thank all those who entered cakes in the Bakeoff, plus our sponsors and Judge Carol Moon.
Rtn John Ward
FISHING FOR THE DISABLED ANNUAL COMPETITION
ROTARY CLUB OF BRIDGEND
PAST PRESIDENT KENDRICK GRIFFITHS QPM MEMORIAL SHIELD
Ex-chief Constable of Merthyr Tydfil Kendrick Griffiths QPM was remembered on 17th September 2014 when Special Schools and Adult Training Centres within the area took part in a fishing competition at Seven Oaks, Ystradowen, for his commemorative shield.
Representatives from Bryn Castell, Heronsbridge, Valley Gateway Training Centre, Bridgend Resource Centre and Pencoed Comprehensive School (Special Unit) took part. The winning team was Pencoed Comprehensive School and they were presented with the trophy by Rotary President Sue Cassidy.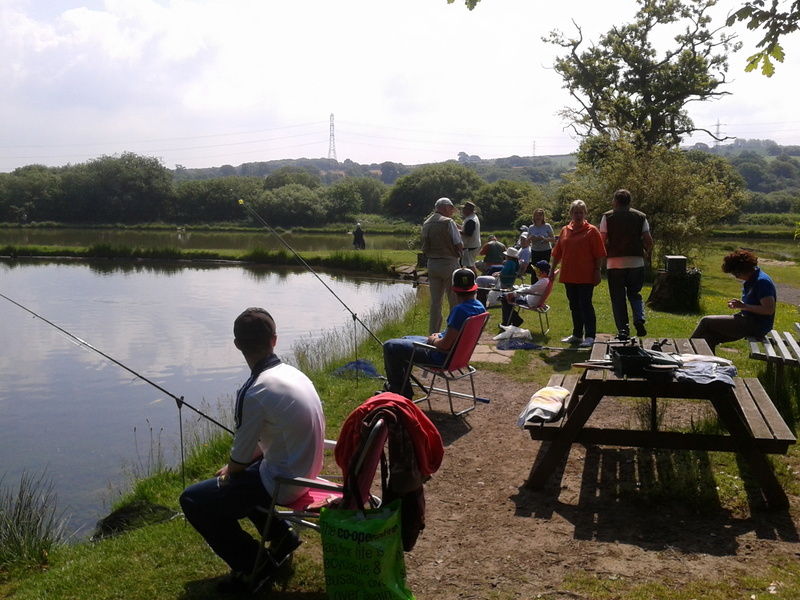 The Bridgend and District Fishing for the Disabled Association are desperately seeking volunteers from experienced fishermen to assist and ensure the continuation of their very worthwhile, and very much appreciated, monthly fishing competitions for young people.
If you can assist in any way please contact Ralph Merchant Tel.No.01656-667855 for further information.
District Governor visit and Wheel Chair presentation
The Bridgend Rotary Club dinner held on 1st September was delighted to Host Cellan Hall and his immediate family,his Mother Mrs Anita Davies and her partner Mr Gareth Clode. They were there to see Cellan Receive his sports wheelchair, which he hopes will help him get selected to play top flight table tennis at the Rio Para Olympic games in 2016. The Rotary Club has raised a significant amount of funding through various means to fund the wheelchair and are delighted that they were able to support Cellan in this way.President Sue Cassidy told the assembled audience that Cellan was an inspiration to all young people not only is he dedicated to his table tennis and plays at every opportunity in all major competitions, but is also focussed on his studies. Cellan recently achieved 10A's and 3B's in his GCSE exams.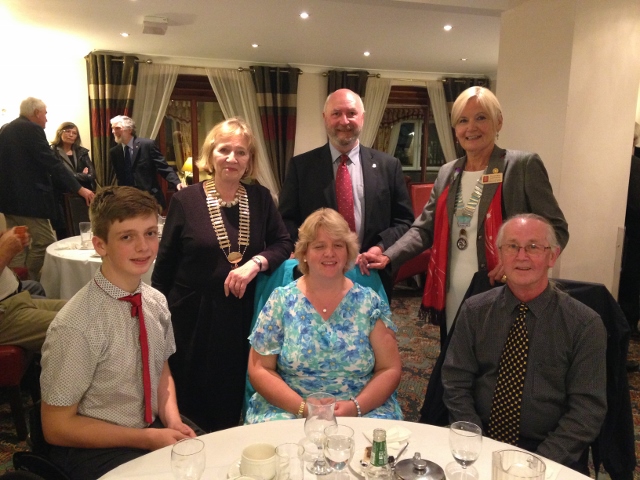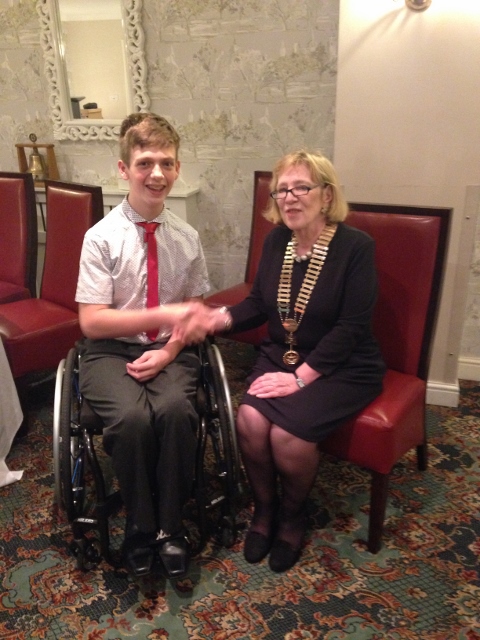 President Sue with past president Mike Lewis, District governor Sandra, Cellan and his family.
District governor Sandra Townsend gave a small talk saying "September is Youth service month". I find it really encouraging when people say "Are you that Rotary Club that helps those youngsters? "WELL, WE ARE". This is the time of year when we are asked to focus on our support for these younger people in our community, and you are probably planning the list of projects, which your club intends to support. Our present interact and rotaract clubs carry out many worthwhile service projects within our community, raising considerable amounts of money to support them. I have had the greatest please in the last few weeks to see four new interact clubs established in the district. This is wonderful. Your support to Cellan is exactly what we are about and sponsoring Cellan who is trying to achieve the highest goals in his sport is truly fantastic. I am sure that we all wish Cellan every success in his ambitions both in his table tennis and his future career.
President Sue thanked the district governor for her kind words and support and reminded members that this is only one of many ongoing projects in support of our community that we will be engaged in this year.
WM
Rotary Bowls Competition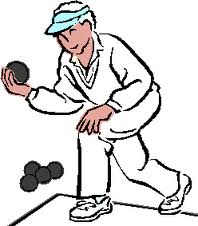 The Rotary Club of Bridgend invited all Rotary Clubs in the district to participate in a bowls competition to be held at the Tennis and Bowls Club on Thursday 28th August 2014 organised by Rtn Stan Harding. The competition was blessed with good weather and was supported by Rotary Clubs from Cowbridge, Porthcawl, Port Talbot and Bridgend.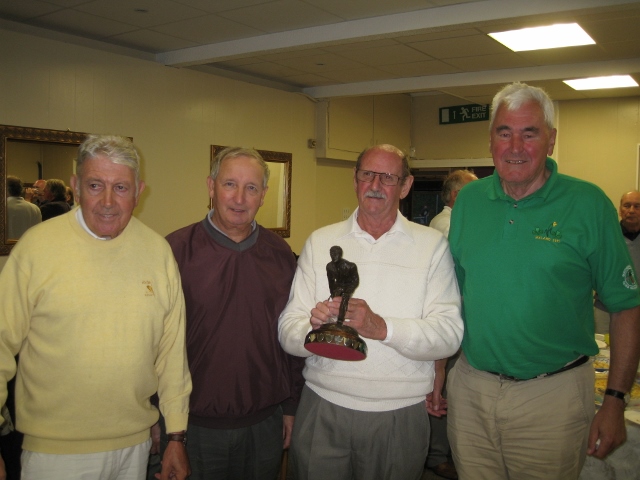 The winning team came from Bridgend. The trophy was presented by Rtn Stan Harding (far left).The team members, Rtn Graham Hapgood,Rtn Edgar Burt and Rtn Gerry Bassett with Porthcawl Rotary Club coming a close second.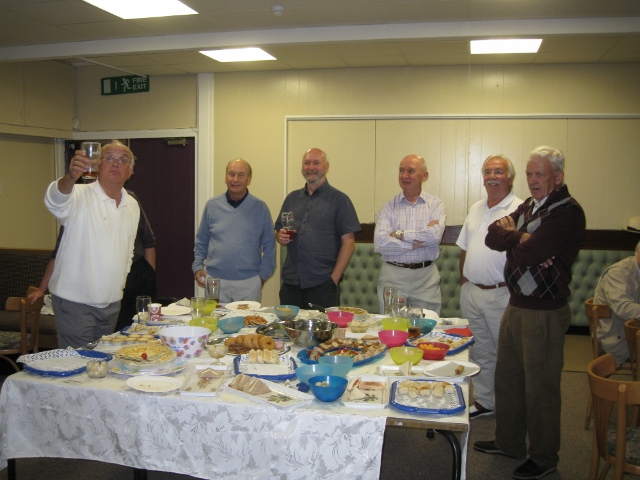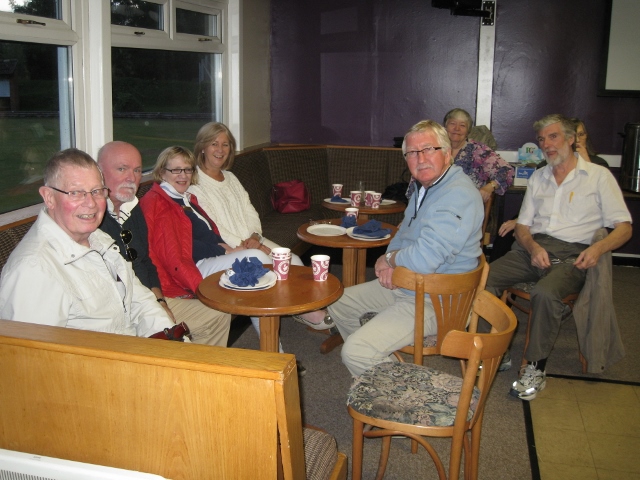 A special thanks go to the Bridgend Tennis and Bowls Club for providing the facilities and an excellent buffet during this their centenary year. A good time had by all.
Garden Party
The garden party took place on July 26th at Rtn Gwyn Thomas's farm at Pencoed. This event has in the past taken place at the end of June but it was decided to move the garden party to the end of July due to inclement weather in previous years. The move was a good decision as the sun shone all week-end. The party was a great success with guests and members enjoying the afternoon with games, music and excellent food supplied by Catherine Lewis.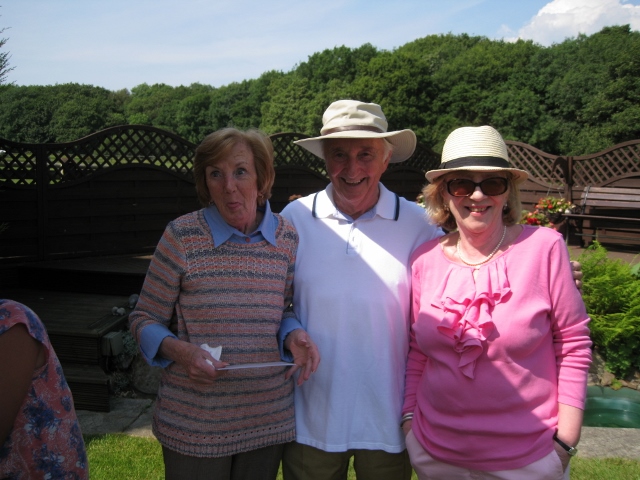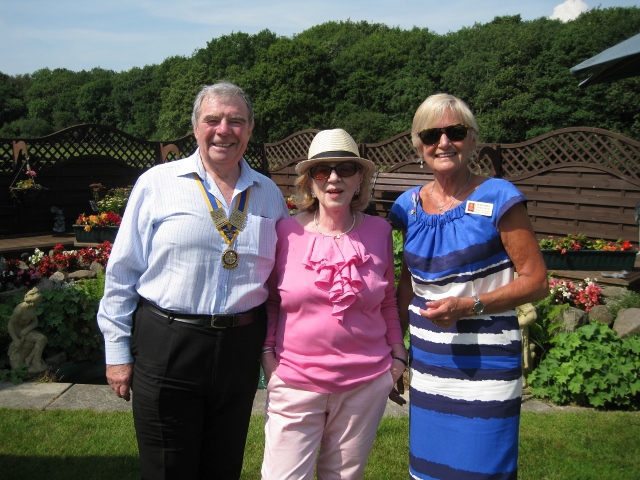 Gwyn & Marlies receiving a special award from President Sue for allowing the garden party to be held at their home for many years. Special guests at the party were the President of Porthcawl Rotary Club and District Governor Sandra with President Sue.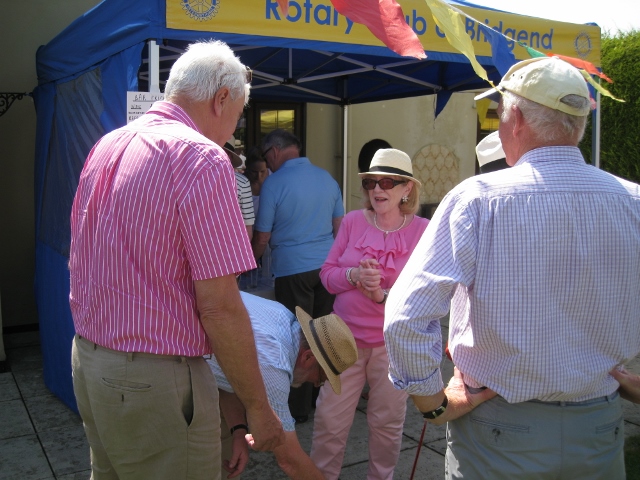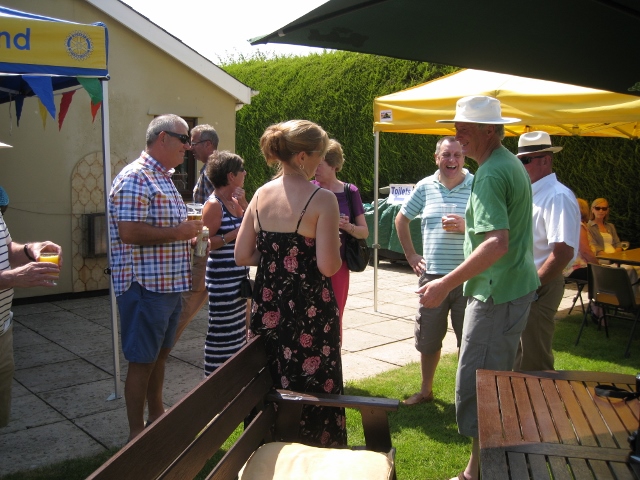 Members enjoying the afternoon. A great time was had by all.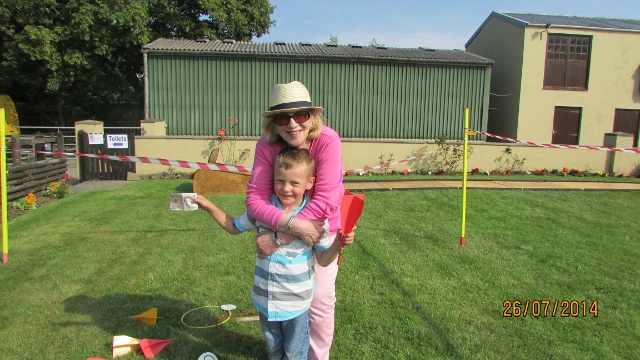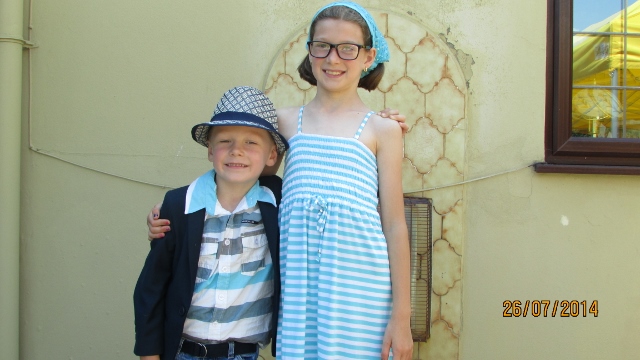 Tomi and Paul at the Garden Party. Paul picking up his winnings from President sue. Don't tell his Mum!
Club President's Hand over Dinner
The Rotary Club of Bridgend Hand over Dinner took place at the Heronston Hotel on Monday 7th July. Special awards were also made on the evening. This year the Harvey Palmer Award was presented to Mr Richard Howe from Heronsbridge School for his work promoting football and other activities for children and adults with physical and learning disabilities. The Rotarian of the Year award was presented to Rtn Edgar Burt for his outstanding work for many years organising and running the fishing for the disabled and Interact Club at Pencoed Comprehensive School.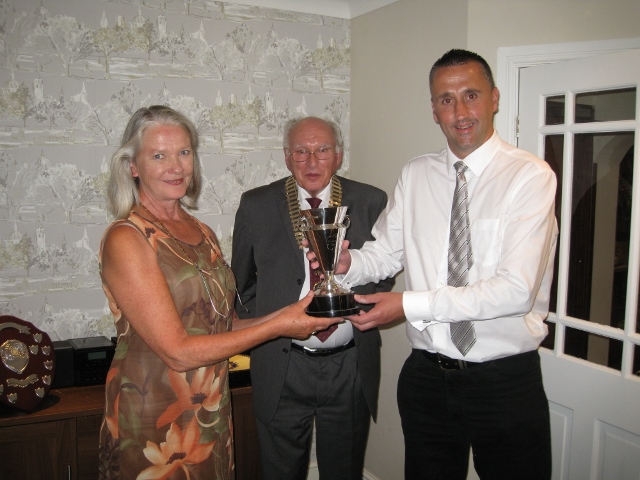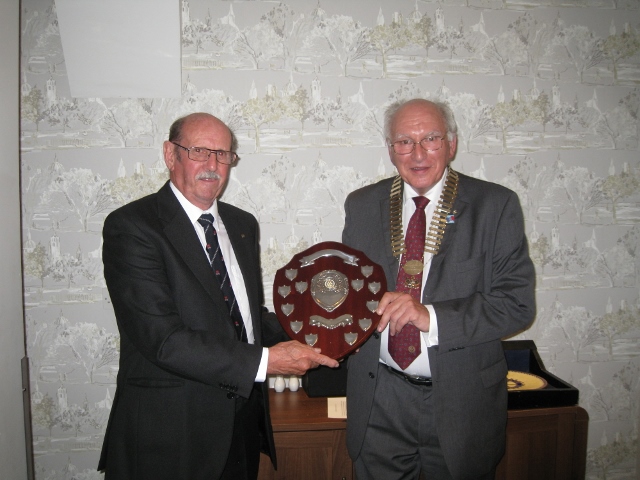 Catherine with President Allan Presenting the Harvey Palmer Award. President Allan presenting the Rotarian of the Year Award to Rtn Edgar Burt.
The out going President Allan spoke of the hard work and achievements of the Club over the last year and thanked everyone for their efforts. The new President Sue Cassidy thanked Past President for all his hard work. President Sue spoke on the year ahead and what was hoped to be achieved. The international theme for Rotary this year was "Light Up Rotary" and by this we understand what it means for Rotary in the Community. A sense of joy, happiness and hope with fellowship is a vital part of our Club. We are a group of individuals who bring all of this together with our own personalities, abilities, strengths and interests to the Club.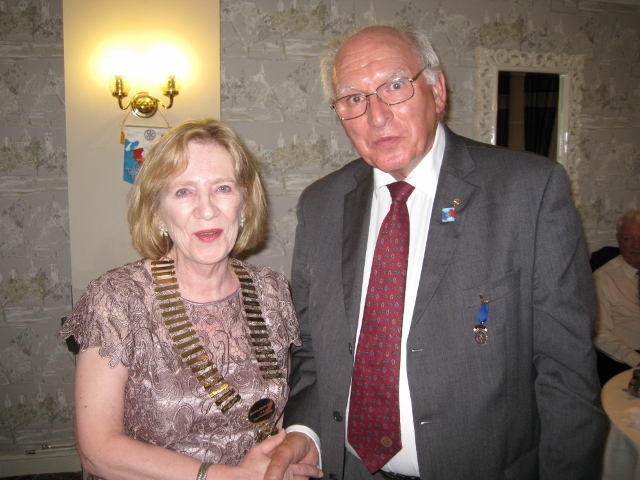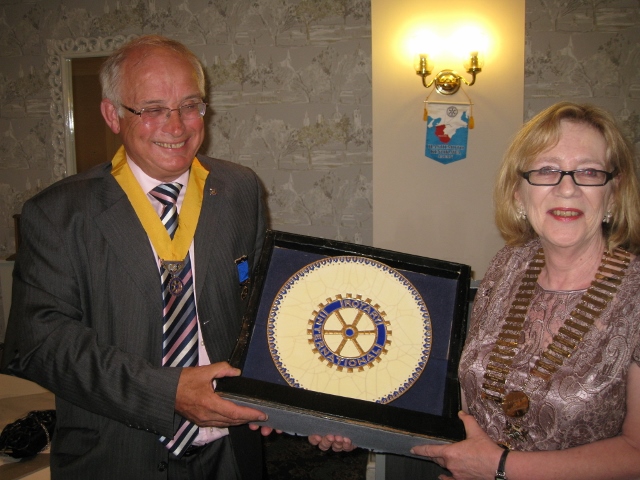 Past President Allan handing over to President Sue. President Sue presenting the Rotary plate to President Elect Alan Reeks.
Wiggle Dragon ride 2014
On the 8th June the Wiggle Dragon took place starting and finishing in Margam Park. Riders had the choice of several routes up and down the South Wales valleys with most experienced riders taking the Devil's route over 200K. Over 4,000 riders took part in the race. The Rotary Club of Bridgend was in charge of 5 of the 6 feeding stations for the riders and was supported by the Rotary Clubs of Porthcawl and Rhondda, and by friends and relatives.
The feeding station at Glasfynydd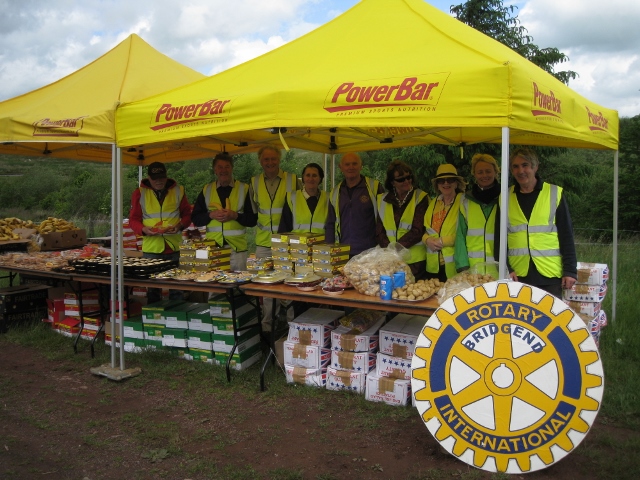 A lot of hard work and planning went into the event with members having early starts and very late finishes.
The feeding station at Rhigos working flat out feeding the riders.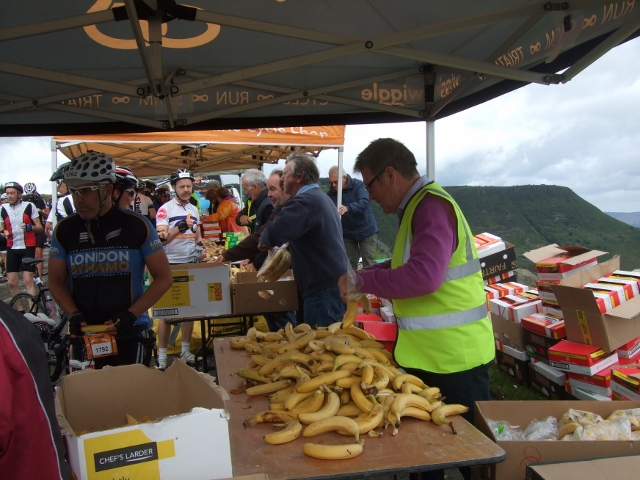 A big thanks to everyone who helped to make the race such a success.