Welcome to the Rotary Club of Bridgend
What do we do?
By combining skills and resources Members of the Bridgend Rotary Club make a real contribution to the lives of others. As Rotary is in 200 countries we are unique in being able to reach people in need all over the World, from running life changing projects in developing countries, making an immediate response to disaster hit regions, and supporting local community projects and charities.
Rotary Club of Bridgend has purchase and sent a Shelter box start, for the Philippines appeal. (more information to follow).
What is Happening Over Christmas !!!
Over the Christmas period we have lots of funding raising events.
"Wheelchair for Cellan" appeal took place on Sunday 24th November Sainsbury's supermarket. This was a great success.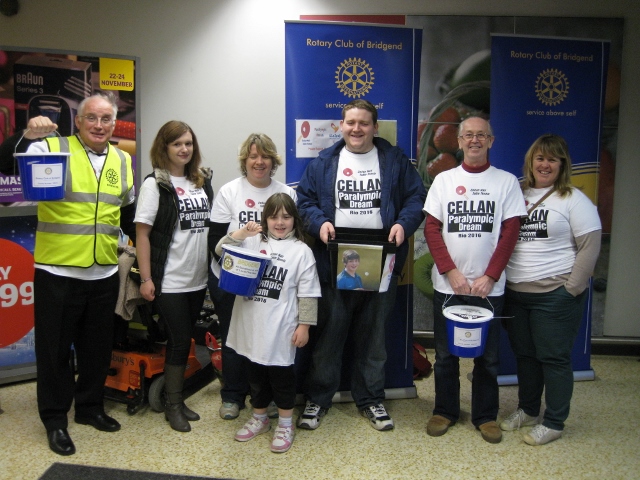 Money collected on the day £765.96. This has been match funded by Barclay's Bank to the tune of £750. Well Done everyone !!!
Christmas collections at the Supermarkets
Tesco, Brewery lane
Friday 13th, Saturday 14th, Sunday 15th. December
Tesco Cowbridge Road
Friday 20, Saturday 21st, Sunday 22nd. December.
Come and support these events by contacting Alan Reeks.
Christmas Grotto
Get into the spirit of Christmas by helping with the Grotto at Bridgend market.
Saturday 30th November, Saturday 7th December, Saturday 14th December.
Contact Sue Cassidy
Rotary Christmas Carol concert on 12th December at St Davids church Laleston Bridgend.
Singing Santa's
Friday 20th December. Starting at the Heronston Hotel 19:15 hrs.
Contact Alan Reeks for more details.
Foundation International Evening
Members and their guests of the Rotary Club of Bridgend were gathered at the Heronston Hotel for the annual event hosted by the Foundation Committee of the Club. As usual, the guest speaker was an Ambassadorial Scholar either studying in Wales from a foreign country or an outbound scholar from Wales who had been studying overseas. On this occasion, the club was delighted to receive Tomos Lewis from Dinas Powys who in 2011-2012 studied for his MSc degree in Columbia University, New York, in Broadcast journalism.
In an excellent address, following a most enjoyable meal, he gave a well-crafted account of his time there and the months he spent looking in detail at the Harlem district and its inhabitants. He was fortunate enough to remain in America and assist the BBC in its coverage of the 2012 Presidential election. During the question and answer session following his address, he answered all questions put to him with a depth of knowledge covering current world problem areas; the place in history he thought the presidencies of Kennedy and Obama would have over the passage of time and his future aspirations. He also mentioned his time when studying for his initial degree at St Andrew's University was at the same time as Prince William and Catherine Middleton were studying there.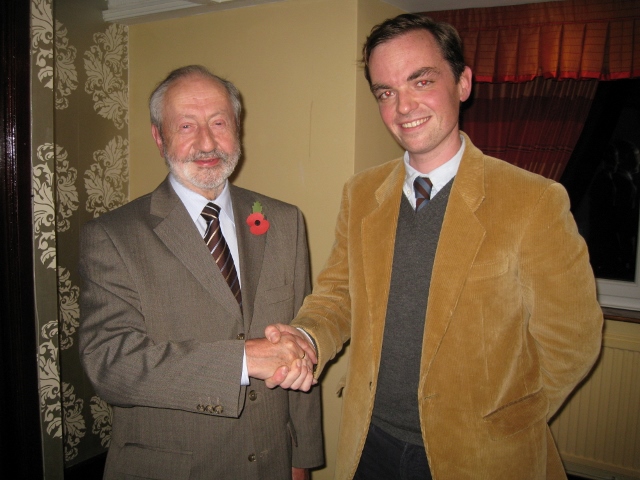 All present were delighted with the presentation and wished Tomas every success in his endeavours. He is currently working in London for an independent media company. He had spent time living and working in Beirut, Kuwait and has studied for a short while in St Petersburg, Russia. Before going to America on an Ambassadorial scholarship sponsored by the Rotary Club of Dinas Powys, he worked as a broadcast assistant at the BBC for BBC news in Cardiff, working primarily for the Corporation's Welsh language news programmes on TV and the Radio.
President Allan Brooks thanked everyone for attending, the committee for arranging the successful event, the speaker Tomos for travelling from London and for his polished contribution, making the evening so memorable.
Rtn Hugh Thomas
Chairperson Foundation Committee
Fishing for the Disabled Annual Fishing Competition
Rotary Club of Bridgend Past President Kendrick Griffiths QPM Trophy
Ex Chief Constable of Merthyr Tydfil Kendrick Griffiths was remembered on 23rd October 2013 when special School in the area competed at Seven Oaks for his commemorative shield.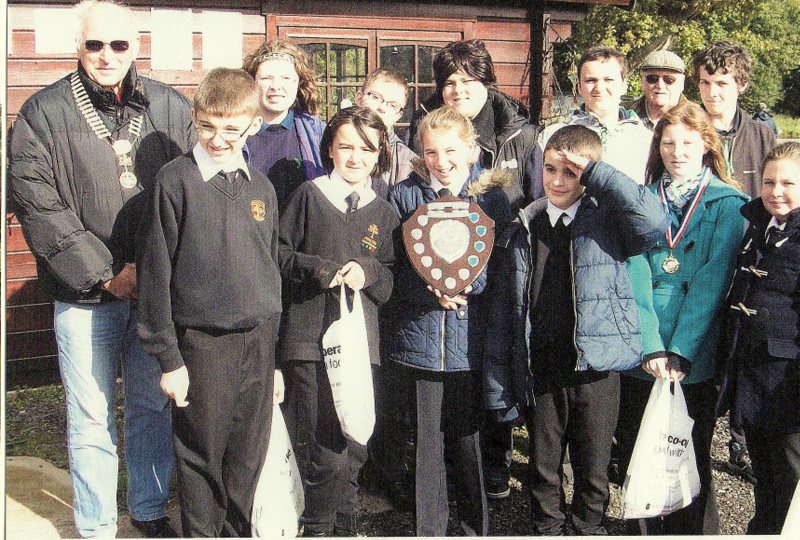 Rotary President Allan Brooks attended the event and presented the trophy to the winning team of Pencoed Special School.
This annual event is organised by Rotarian Edgar Burt
Rotary Autumn Walk
At 10am last Saturday (12th Oct). Led by President Allan Brooks and guided by Rtn Hopkin Joseph a party of 8 members and Friends plus a canine guest Ben. (Allan Brooks, Edgar Burt, Paul Cheadle, David Hubbard, Allan Reeks & Catherine, Gwyn Thomas and John McCarthy). Set of from the Llangeinor Arms.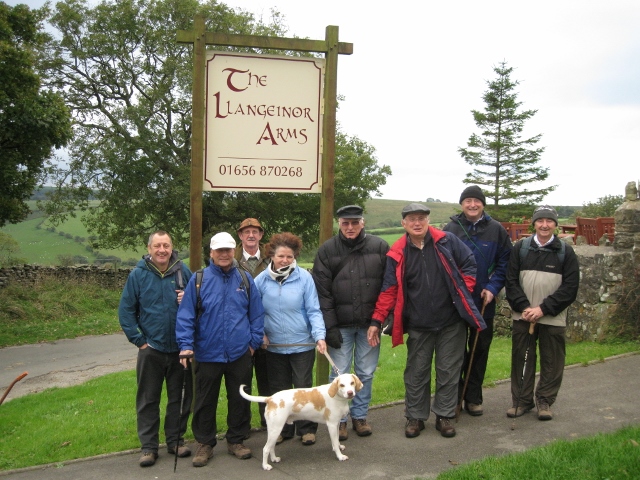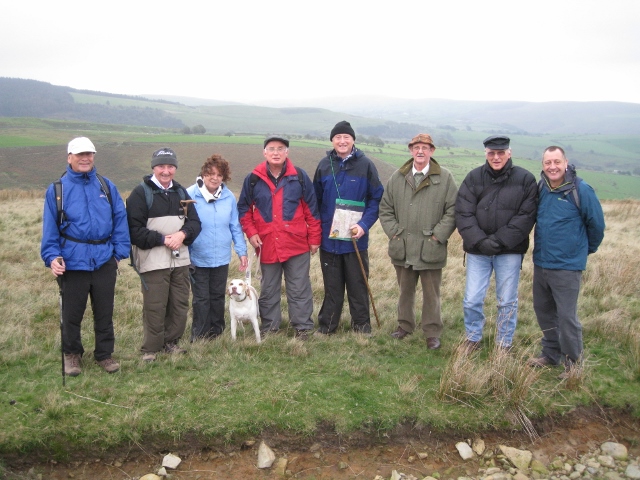 Following the North by North west path over the Llangeinor mountain to Pant Blaenhirwr (over looking Pontycymmer in the Garw Valley and Ogmore Vale in the Ogmore valley). A dry grisp morning with good visibility afforded panoramic views of both valleys in the area cutting through the upper hill strata, and to the south the plains of the coastal areas of Glamorgan.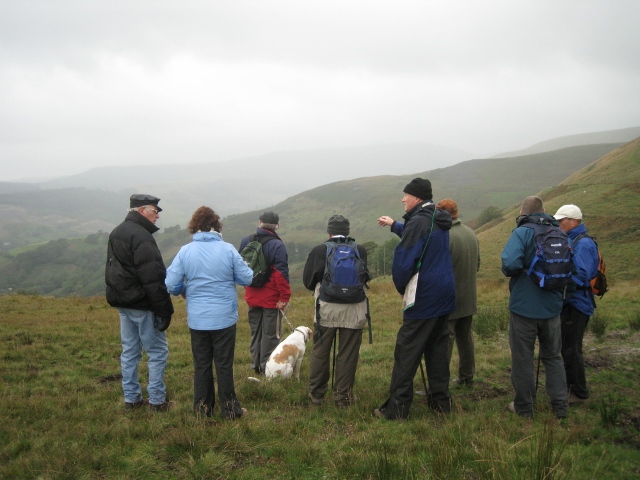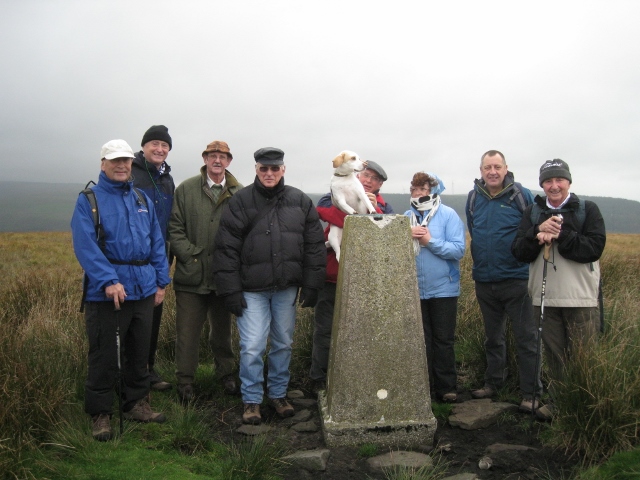 The return journey was via the Pen-y-Foel trig point with there after a gentle downward slope to the Llangeinor Arms to be greeted by fellow Rotarians and guests (Bob & Jean Broughton, Dianne Pearce-Hubbard, Caron Jones, John & Diane Ward). For some welcome liquid refreshments followed by a splendid Lunch. For all who walked the last mile downwards from the trig point to the pub was easy walking, but even so no one could keep up with Edgar Burt and Gwyn Thomas!!
Rtn Hopkin Joseph
Bridgend & District Fishing for the Disabled Association
Volunteers from this Association, with the help of the Rotary Club of Bridgend and several other organisations, have for the last fifteen years entertained and educated several special schools students from the Bridgend area.
One day a month, during the season, approximately twenty students are invited to go fishing at the Seven Oaks Trout Farm, Ystradowen.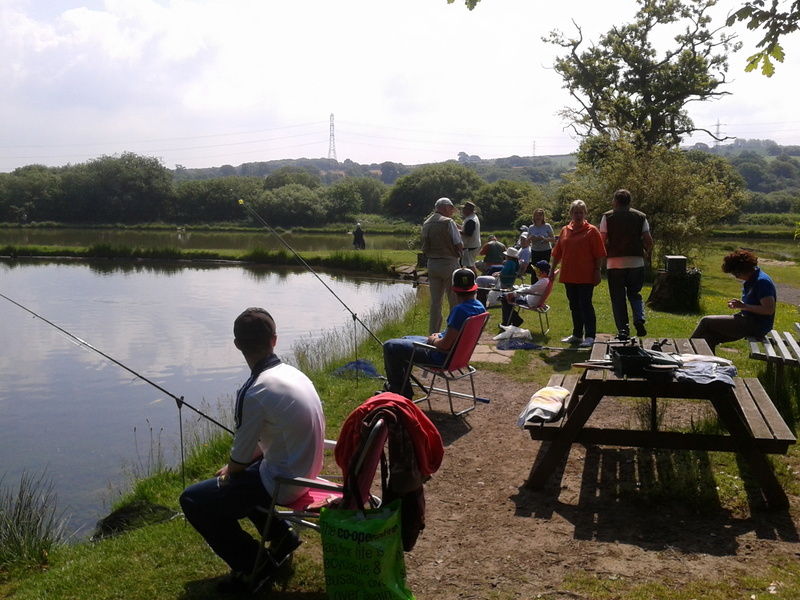 The organisers have recently decided to donate some of their catch throughout the fishing season to the Catering Department of Bridgend College. These fresh trout will be used to enable catering students to learn the skills of filleting fish, which is part of their curriculum. This is a wonderful gesture of the disabled helping the able bodied students.
Volunteers to help on the day of fishing are always welcome at Ystradowen. Anyone interested please contact Rtn Edgar Burt on 01656 667855.
Schools and Associations, who have already participated and thoroughly enjoyed themselves are :- Heronsbridge School, Bridgend. Bryn Castell, Cefn Glas. Pencoed Comprehensive Special School. Valley Gateway Day Centre, Sarn. Bridgend Recourse Centre and Blind and Deaf Association, Bridgend.
Rtn Roy Hodgkinson 18th Set 13
Tribute to Rotarian Harold Fletcher PHF 1926-2013
Harold was born in Liverpool, moving to Bristol and eventually settled in Bridgend. He was introduced to the Rotary club of Bridgend by Walter T. Cross in August 1968. He was, at the time, the treasurer of the Bridgend and District PHAB Club. His early business transactions were musical instruments, electrical repairs and finally in wholesale newspaper distribution. He became President of the Rotary Club of Bridgend in 1987/88 and within that year encouraged all club members to support the Polio Plus Campaign.
In 1989 he received a special Rotary award for fifteen consecutive years of 100% attendance at club meetings. During his long service from 1968 to 2013 he has served on every club committee and been chairman of most of them. Despite spending half the year in Majorca Harold continued to play an significant role in the running of the Bridgend Club, particularly in respect of the 100 club, group study exchange, Ambassadorial Scholars and the preparation of the Club Directory. He was well known as the Rule Guru on constitutional matters.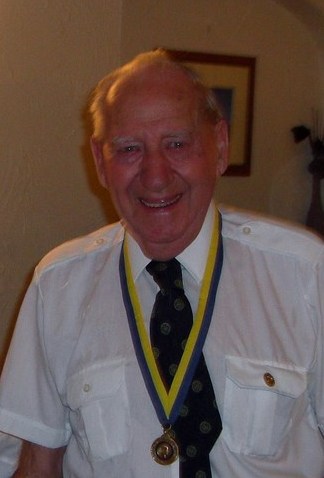 It was on Monday,28th June 2010, when President of that year David Hubbard proudly presented Harold with a Paul Harris fellowship for his services to Rotary. Sadly during the early months of 2013 Harold was diagnosed with a variety of serious illnesses, which resulted in his passing away on 29th July 2013. The funeral took place at the Bridgend Crematorium on 8th August 2013 with tributes made by past President Hugh Thomas, Mike Lewis, President Allan Brooks and his close friend Chris Ellis, Who confirmed his total commitment to the Majorca community as well as Bridgend.
Harold you will be sadly missed.
RH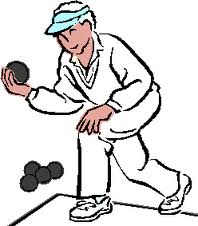 Rotary Bowls Competition - Port Talbot - August
The Rotary Club of Port Talbot invited neighbouring clubs participate in a bowling competition held at Vivian Park, Port Talbot. Unfortunately only twenty-one attended, with nine members coming from the Rotary Club of Bridgend. The bowlers representing Bridgend were President Allan Brooks, Edgar Burt, Stan Harding, Graham Hapgood, Roy Hodgkinson, David Hubbard, Brian Roberts, Neil Solman and John Ward.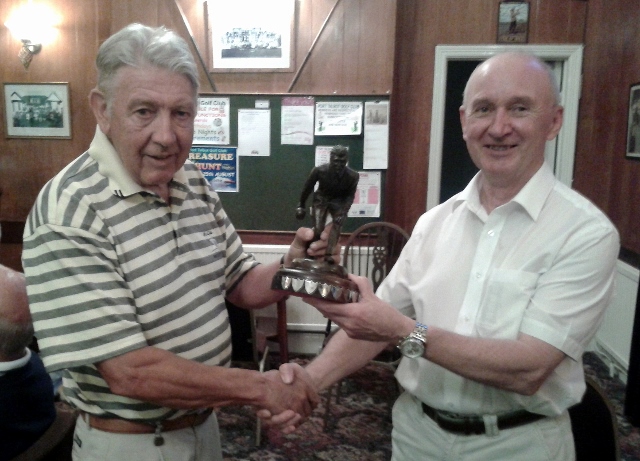 President Barry Page of the Rotary Club of Port Talbot declared Bridgend as competition winners and presented Stan Harding with a trophy and a £20 to donate to a charity of the Club's choice.
An excellent social event on a beautiful summer's evening was followed by a delicious buffet and liquid refreshment at the Golf Club.
RH
President Change over Dinner
In July Rtn Allan Brooks took over from Rtn Mike Lewis as President of the Rotary Club of Bridgend. Mike gave an end of year report using a state of the art presentation using power point with continues slides and back ground Music. Member were surprised at the amount of work which had been completed in the last year.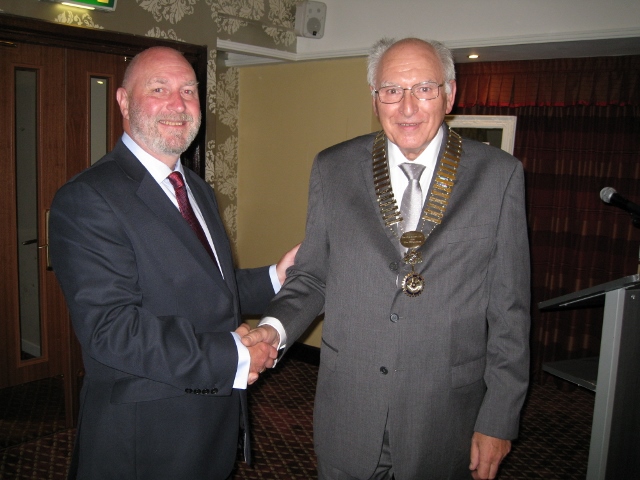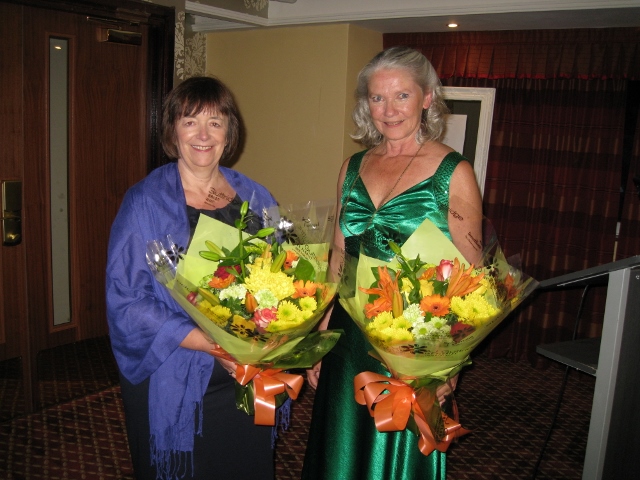 Picture 1 Past president Mike Lewis handing over to the new President Allan Brooks. Picture 2 The first ladies at change over dinner Mrs Susan Lewis & Mrs Catherine Lewis.
President Allan Brooks spoke on his vision for the year ahead and the challenges facing Rotary.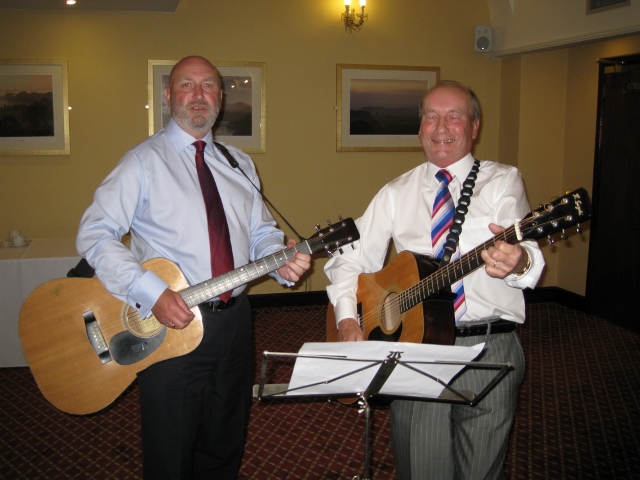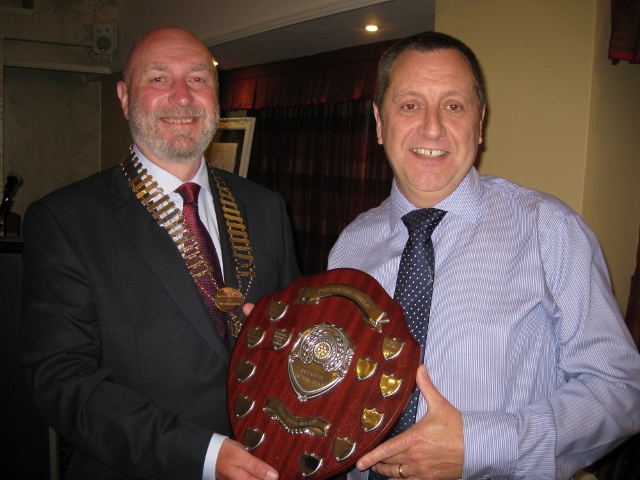 Picture 1 Rtn Mike Lewis and Rtn David Hubbard entertaining everyone with a musical interlude. Picture 2 President mike Lewis presenting Rtn Paul Cheadle with Rotarian of the year for his outstanding work in the Club.
Rotary Spring Walk
The Rotary spring walk this year was organised by Rtn Hopkin Joseph Along the costal path from Porthcawl to Sker house and back.
On Saturday 4th May a group of 22 Rotarians and friends met at Royal Porthcawl Golf Club, to be hosted / guided for the morning walk and lunch by Gaina Morgan and Margaret Thomas. As we set off, crossing the putting green to reach the public coastal path walkway (a broad walk in this area) Margaret gave a little talk on the background of the club and the clubhouse (a building which had initially been erected at the Great Exhibition and there after taken down with part transported to Porthcawl). When we reached Pink Bay Gaina pointed out the fresh water well in the rocks, and the window at sker house in the distance used by seventeen century "wreckers". The next stop was Sker point-where the Santampa had run aground in 1947 (Gaina's father had been part of the shore based rescue party) with the loss of 47 people including the lifeboat volunteers on the Mumbles lifeboat.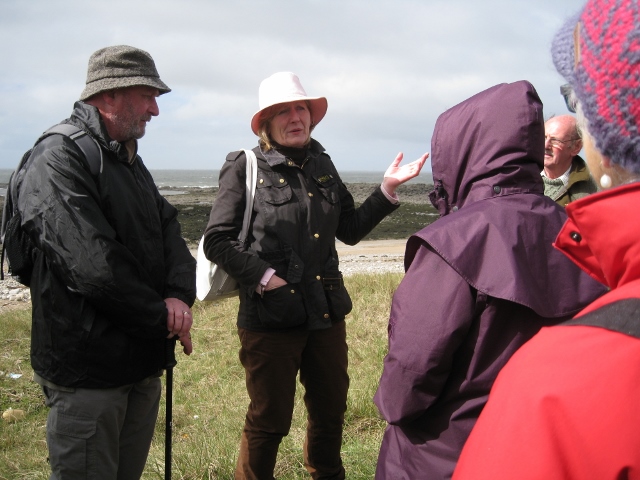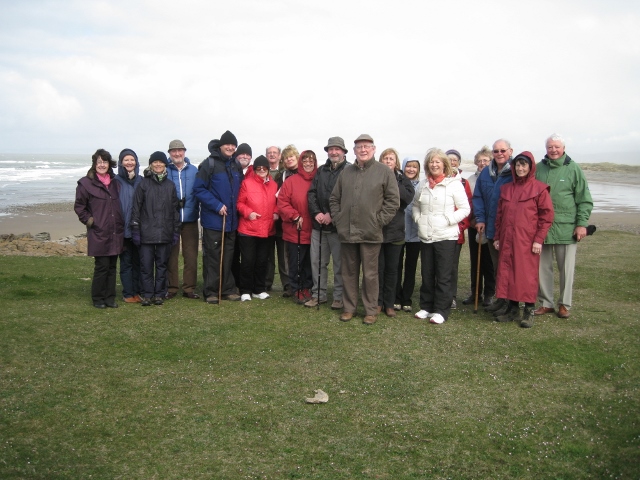 A short walk followed to Sker House, stopping at a second world war US troop constructed wells. In the garden of Sker House Gaina gave a detailed background of it's history, its occupants (from Monastic times in the twelfth century to the Turberville family and their support of Catholic priests some of whom, and Gaina had read their last letters which still survive, were "hung drawn and quartet to the "wreckers" through to the recent tenant farmers. Gaina showed us the Monastic Barn, and the Monastic fish pond. The role / work of the buildings at Risk Trust was explained, and how the current owner, Professor Niall Ferguson, had (with the help of John Exon) improved the garden. The return journey almost retraced our steps to the Royal Porthcawl Golf club for a welcome glass of liquid refreshment, and a lunch thereafter in the club dining room of goujons of fish, peas and chips.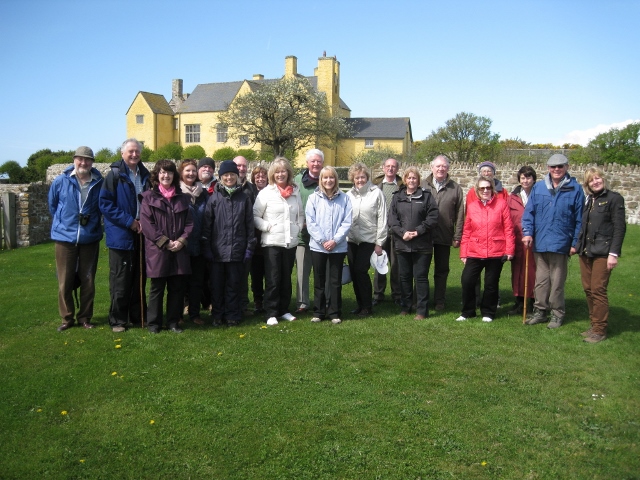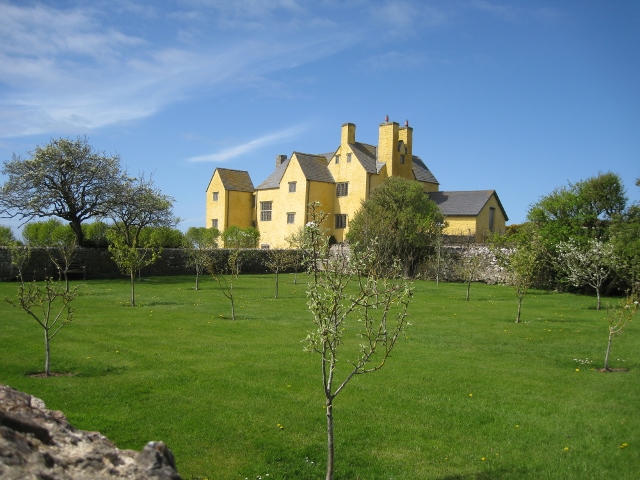 A dry but windy morning-good for a walk.
Many thanks to Gaina for telling is about the area in general and Sker in particular, to Margaret for the information provided about the Golf Club and for hosting us there, and to Professor Niall Ferguson (with john Exon) for letting us wander around the gardens of sker House. Special thanks was given to hopkin for organising the day by Rtn Teresa Griffiths.
Rotary Junior Quiz
An exciting Quiz Competition was held at Maes yr Haul Primary School on Thursday 2nd May. Six local primary schools competed to win the Junior Quiz organised by Bridgend Rotary Club.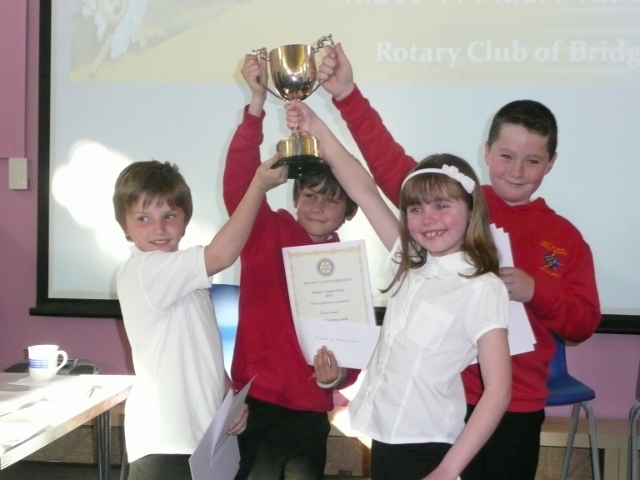 Ffaldau, Coychurch, Litchard, Maes-yr-Haul, Oldcastle and Trelales Primary school were each represented by 4 students who were tested on their general knowledge. Parentsfamily, teachers and friends turned out to support their teams and they were not disappointed by the standard of responses to the questions.
After a very close competion the Maes yr Haul team emerged victorious! The team members were Max Hemsley, Olivia Gibbs, William Hurley and James Dowie.
Bridgend Rotary would like to thank all the schools, including pupils and teachers, who prepared for the competition. They offered all of those present a very lively and exciting evening. Congratulations!
Amelia Trust Farm
The Rotary club of Bridgend has carried out a large project installing a new kitchen area at the farm for young people to improve there cooking skills.
This work with the help of a simplified grant was carried out by Rtn Neil Solman, Rtn John Ward with assistance from Rtn Mark English formally of Bridgend club and now a member of the Llantwit Major rotary club with support from Rtn Sonja Cain, Rtn Natasha Kerr and there family's.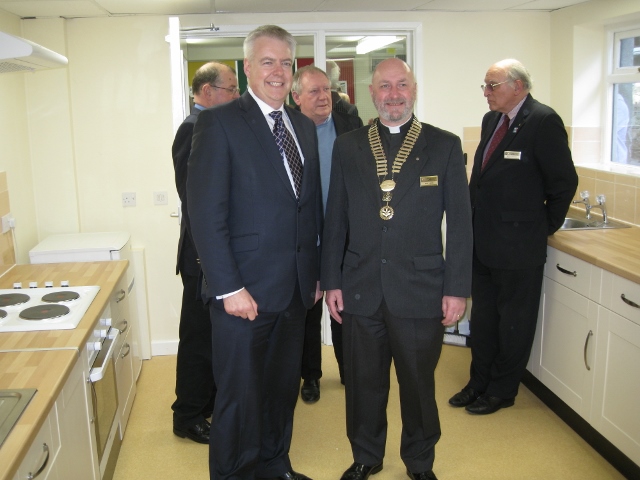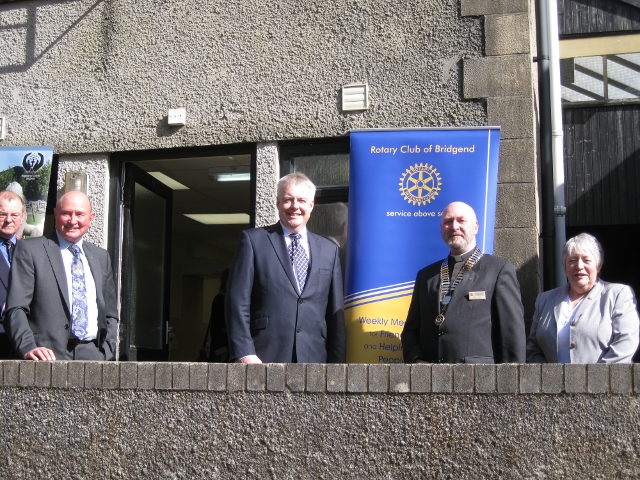 The First minister Carwyn Jones came to the Amelia Trust Farm to officially open the area and to look at the work carried out on the farm.
Two New Members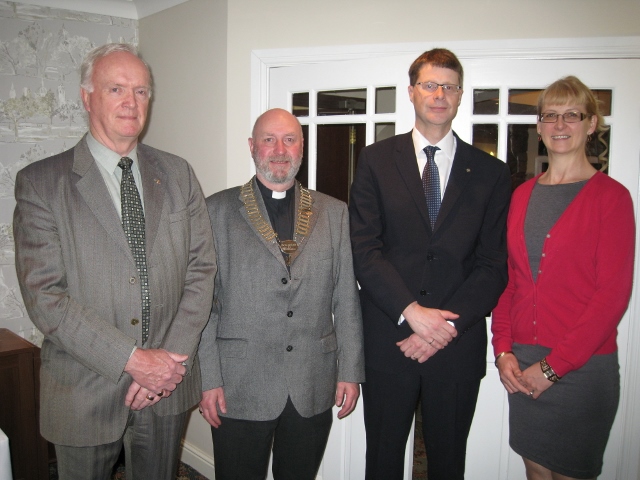 President Mike Lewis Inducted two new members today, Edward Jones & Greg May with Rtn Sonja Cains chair of membership committee.
Tinnitus Concert
The Rotary Club of Bridgend was entertained on Friday evening 22nd March by tinnitus. Tinnitus is a band of 5 doctors and a pretender with a first aid certificate! They first performed in 1990 in many local illustrious venues such as, The Laleston Inn, Wick village Hall and one (very brief) appearance at the Porthcawl Pavilion, to which they have never been invited back! They perform mainly for fun, to annoy their audiences and raise money for charity. Two younger members have expanded their repertoire by three new songs,including one written after 1950!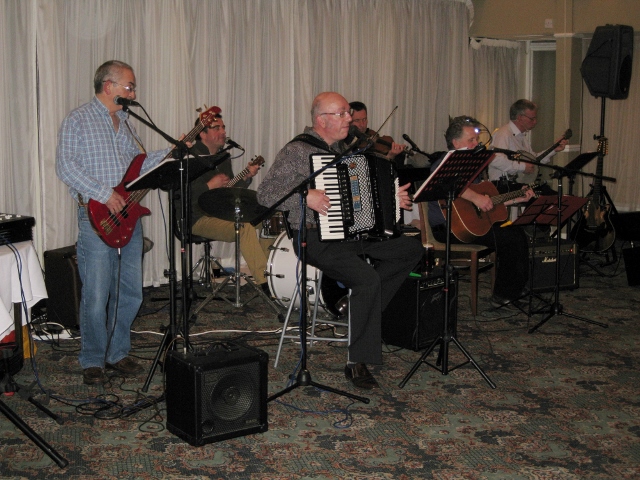 To be Serious for a moment, It was a brilliant evening. They presented a random selection of songs, with no noticeable theme, two or three of which had not been heard by the evening's audience before.
The purpose of the evening was to raise money for the charity Abesu, which is a Penarth based charity, supporting the building of a women's commune, with houses and water, in Southern Zambia. Abesu's aim is to enable the women, who are mainly widowed due to the Aids epidemic, to be self-supporting.
Bridgend Rotary Club is very grateful to Tinnitus for giving up their time to support this worthy cause. It was a most enjoyable evening and they certainly will be asked for a repeat performance.
Rtn Caron Jones, International Committee.
Junior Youth Speaks Competition
An exciting competition was organised by Bridgend Rotary club to showcase the excellent standard of Public speaking presented by the Primary schools in the Bridgend area. The competition was hosted by Croesty Primary School on Thursday 21st March. On the evening Croesty School Choir offered a very warm welcome to everyone by adding a musical touch at the beginning of the event.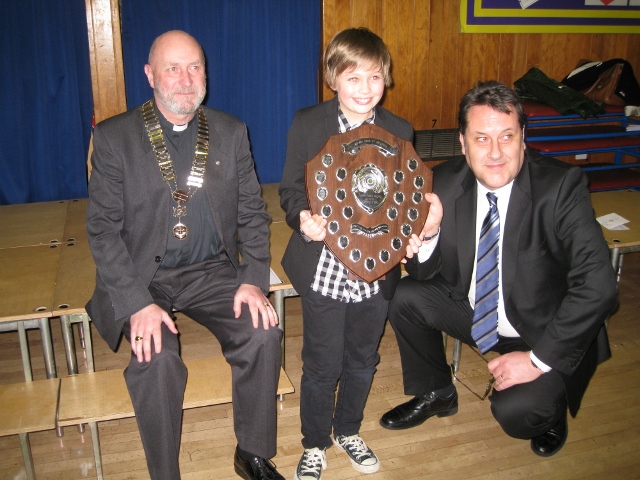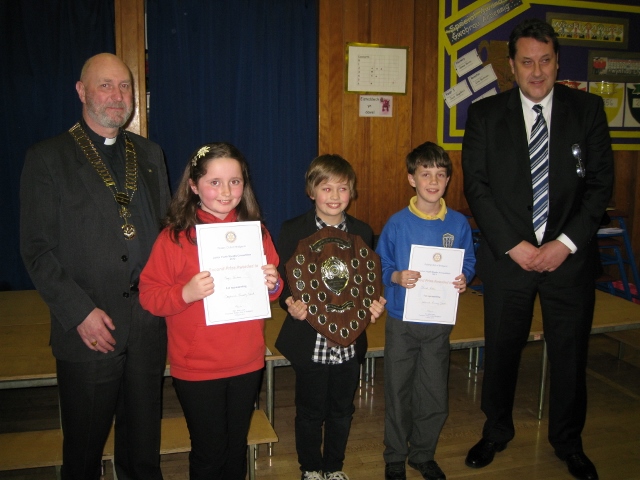 Eleven Primary Schools entered the competition and all competitors were of a very high standard. This made it a very enjoyable experience for all family, friends and staff who were there to offer their support.
The adjudicators had a difficult task on the evening, but first prize was awarded to a worthy Cameron Jones from Tremains Primary School whose topic,was "The Horse meat Scandal". Second Prize was given to Madison Taylor from Maes Yr Haul, whose topic was "What a difference a Century Makes". Third Prize was awarded to Daniel Exton from Litchard Primary School, Whose topic was "Island Farm Prisoner of war camp".
The Winner,s Shield is sponsored by the Sinclair Motor Group Mr. Lee Page, Head of business at Bridgend Audi, was there to present the shield to Cameron Jones. Mr. Mike Lewis, President of the Bridgend Rotary club, was also on hand to present Certificates to all participants.
Rtn Gillian Hale
International Evening
On March 4th The International Committee held a special evening With guest speaker RT. Hon Rhodri Morgan Introduced by the first minister Carwyn Jones.