Welcome to the Rotary Club of Bridgend
What do we do?
By combining skills and resources, Members of the Bridgend Rotary Club make a real contribution to the lives of others. As Rotary is present in 200 countries, we are unique in being able to reach people in need all over the world, from running life changing projects in developing countries, making an immediate response to disaster hit regions, and supporting local community projects and charities.
Junior Youth Speaks
Bridgend Rotary Club held its annual competition at Croesty Primary School on Thursday 19th March. It was a very exciting event with 11 primary schools competing for the Rotary Shield awarded to the winner. Each competitor chose his/her topic and presented it to the audience. Diverse subjects such as Drones, Super heroes, the impact of Poverty on Education and Winston Churchill were presented in an interesting and lively manner.The standard of the speakers was exceptional, making it a very difficult task for the adjudicators. The event was well attended by parents, teachers, friends and Rotarians to make for a friendly evening and an audience who offered great support to the pupils on stage.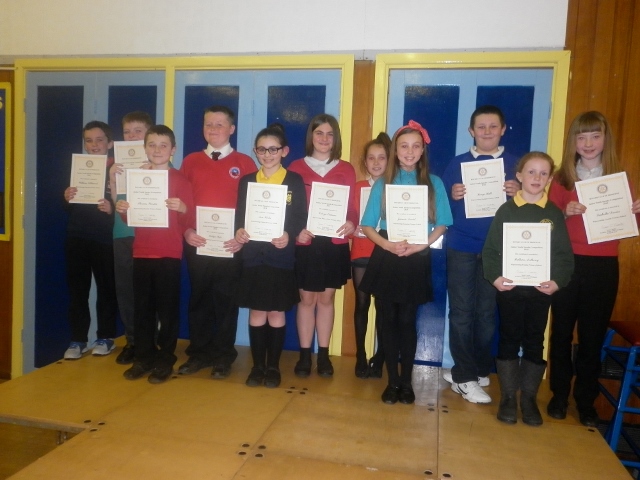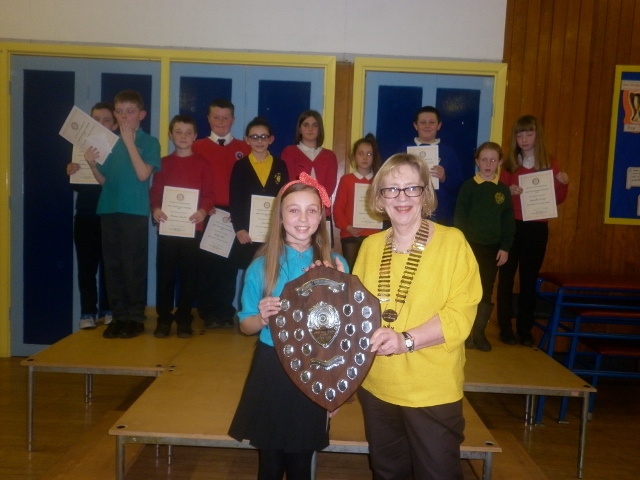 The final result was that Jasmine David of Tremains Primary School was declared the winner on the evening. Jasmine presented a lively and persuasive argument to convince her audience that "More boys should be encouraged to become involved in Dance". Jasmine was presented with the Shield and a gift voucher by President Sue Cassidy. David Sheldon from Pencoed Primary School was also awarded a prize as the runner up on the night. He offered an extremely interesting and engaging point of view on "School Attendance".
The whole evening was a great success and was enjoyed by all those present. Bridgend Rotary Club wish to thank all those students who took part to make it such a wonderful competition.
Rtn Gill Hale
International Evening
On 2nd March the International committee put on an International evening with speaks from Ty Cariad Africa With guests from Interact at Pencoed Comprehensive School.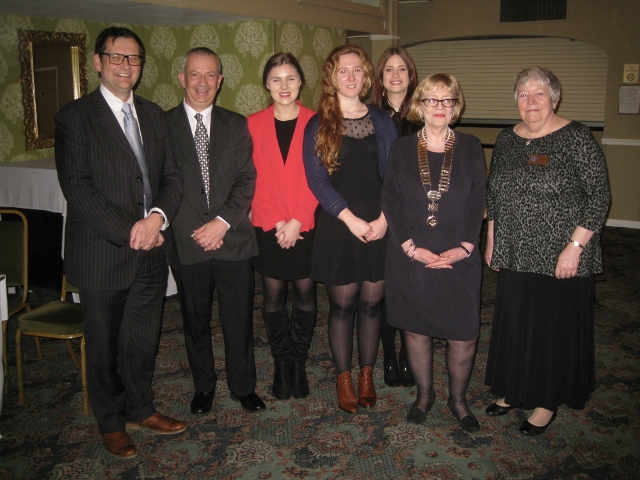 Speaks from Ty Cariad Paul Booth and Harvey Jones, Guests President of Interact, Ellie Taylor,Treasure Rhian Bateman and Secretary Carwen with President Sue Cassidy and Chair of International Committee Rtn Judy McCarthy.
Ty Cariad Africa
Ty Cariad children's home in Namugongo was established in 2003 following a visit by Paul Thomas (Chaplain to South Wales Fire and rescue Service) to the Uganda fire and rescue headquarters in Kampala. His visit coincided with a local fire fighting team's return from an incident where they rescued two babies, who had been dropped into latrine. Sadly these babies died and Paul shared in the fire crew's distress.
Ty Cariad Africa is a UK based charity that raises money to help orphans and vulnerable children in sub-Saharan Africa. There aim is to relieve poverty, sickness and distress and to provide access to education amongst orphans and vulnerable children. They have a partner with organisations that promote tracing, re-linking and resettlement of children in their families and extended communities wherever possible. They believe that all children have a right to be loved and to be safe from harm. They should have nutritious food, clean water and good healthcare a right to education and a right to play - to be children.
Rotary Web Team
Rotary Club of Bridgend Valentine's Dinner
This special annual event which is organised and run by Rtn Roy Hogkinson has been well supported for over 25 years by Bridgend Rotary Club which was held at Bridgend College Seasons Restaurant on Thursday 12 February 2015.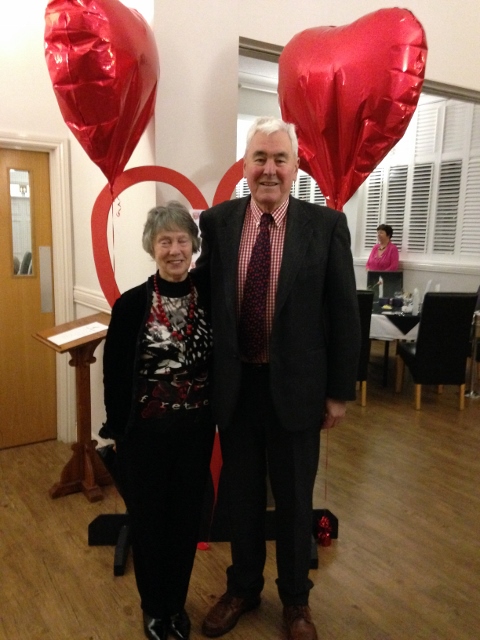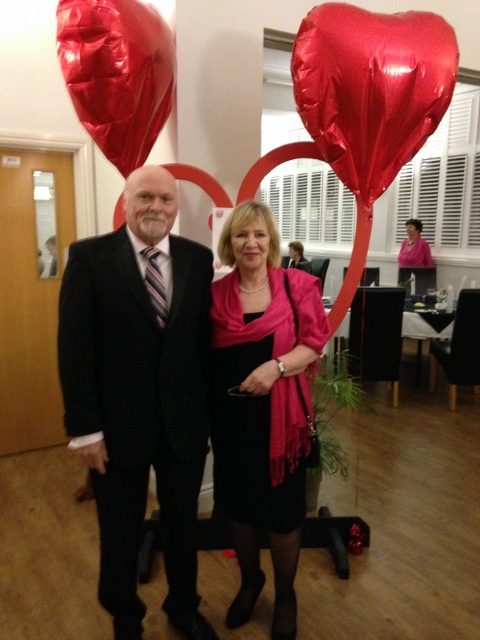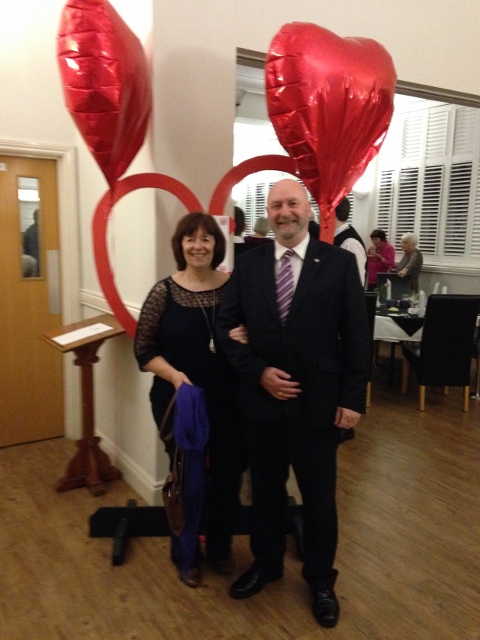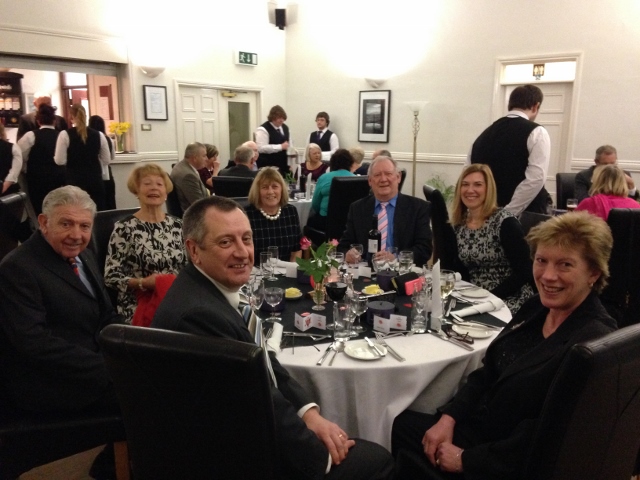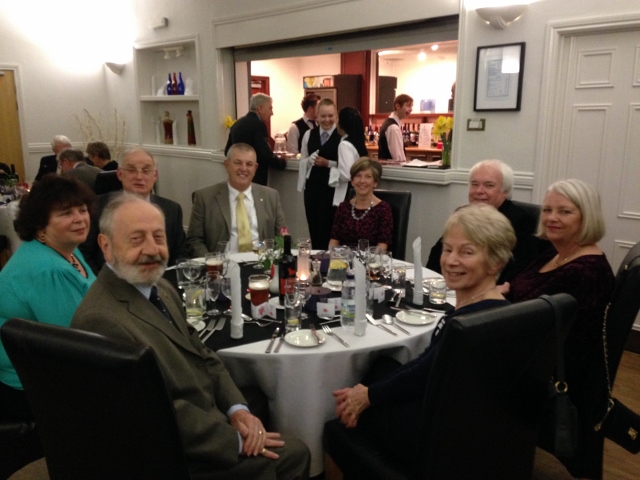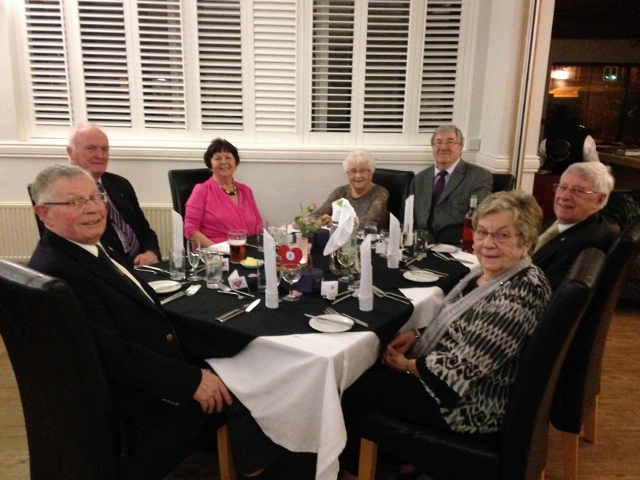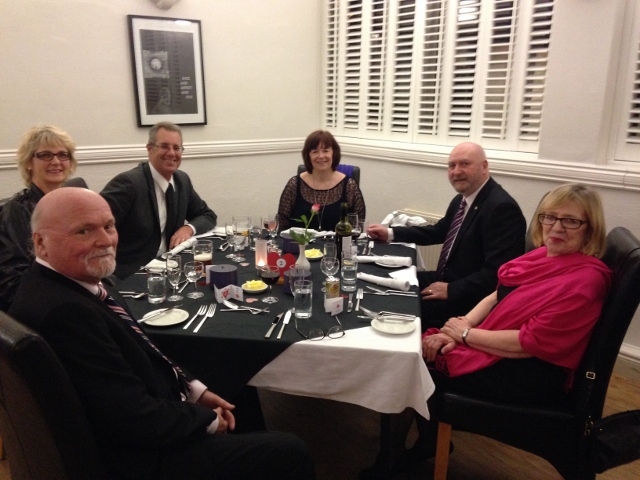 Many thanks should go to Restaurant Manager Anthony C Trumpery, head Chef Neil Hughes and all the students who prepared the food and the waiting staff who courteously provided an excellent services.
Rotarian President Sue Cassidy thanked the College staff for this special evening and Rotary members for the continued support of this Student career development event.
Rotary Web Team.
Bridgend & Porthcawl Rotary District Final Quiz Competition
The competition was held in the Atlantic Hotel, Porthcawl on Monday 9 February. The competition was hosted by Porthcawl with the Assistant Governor, Mansel Thomas adjudicating. Both teams started slowly with an inspired guess from Bridgend winning the first round. As the rounds continued Bridgend started to edge away with the final score of Bridgend 42 points Porthcawl 30 points with both teams been congratulated on a hard fought contest.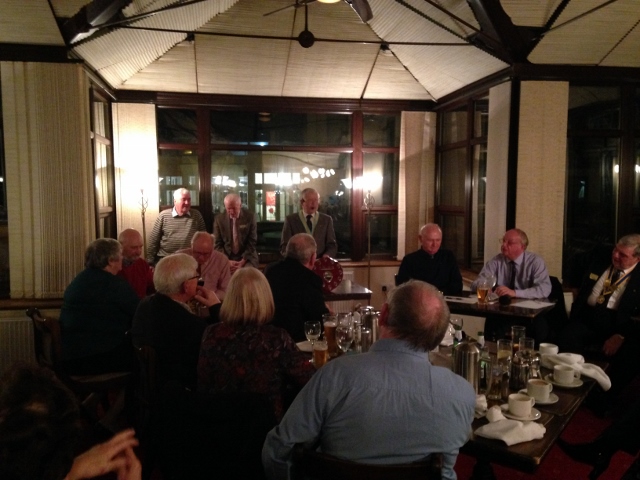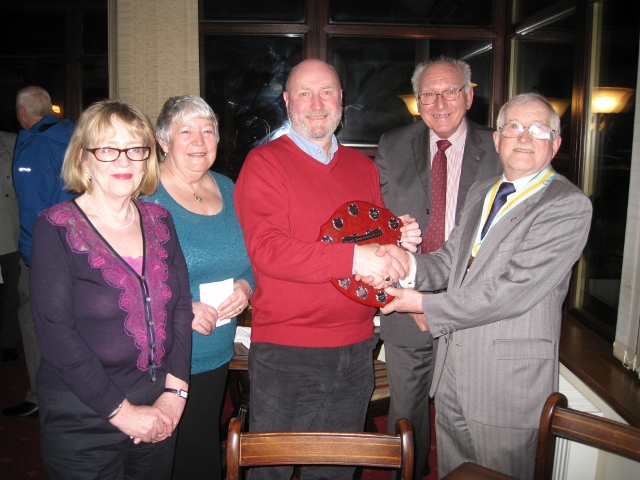 The President of the Porthcawl Rotary Club, Rotarian Wayne Warlow, was magnanimous when he congratulated the Bridgend Rotary club team an a deserving win and wished them well in the next round of the competition, the inter-district final. President Sue Cassidy of the Bridgend Rotary club said; that it was a most enjoyable evening with good company , food and fellowship with the win coming as a bonus. She thanked the Porthcawl Rotary club and President Wayne for hosting the evening and suggested that a rematch could be arranged at some point in the future. The teams were delighted with their efforts and were congratulated by the assembled Rotarians on a well run and competed contest.
Rtn Wayne Morgan.
International Youth speaks area final
The Bridgend Rotary Club was delighted to host the Rotary International District 1150 area Youth speaks final at Brynteg Comprehensive school on Monday 19th January 2015. The competition aims to offer young people; An experience of speaking on a public platform as members of a team. An in contrive to formulate ideas on topical subjects. The discipline in dealing with a topic in a limited time. The opportunity of learning and practising high standards of expression,presentation and appearance. the impartial criticism and assessment of performance by experienced adjudicators. Each team is comprised of three members; the chair person, the speaker and the proposer of a vote of thanks.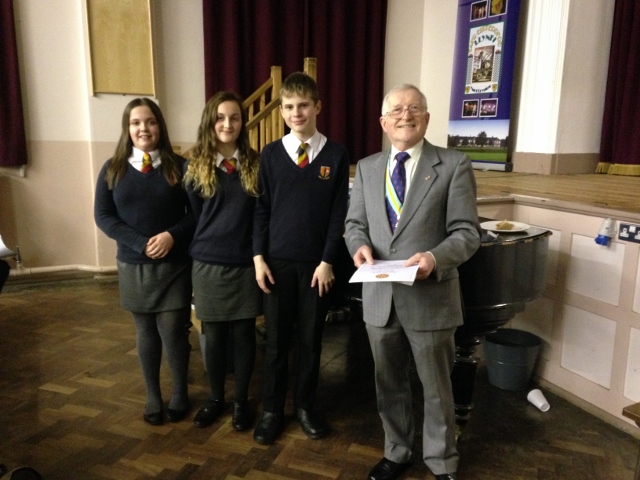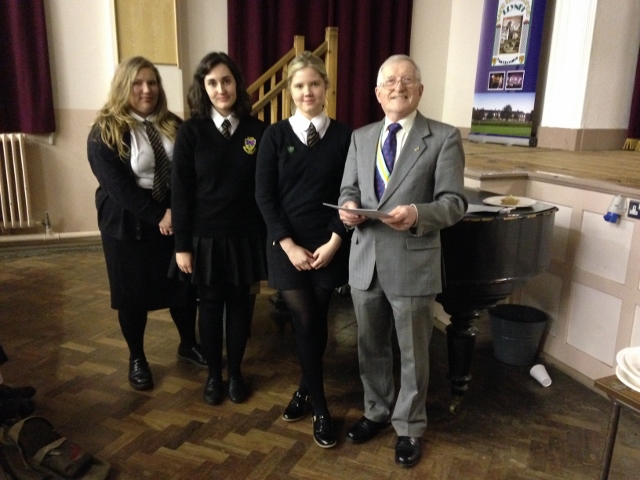 There were in effect two competitions at the area final; Intermediate competitors from Brynteg Comprehensive School their topic"Welsh should remain mandatory in schools and the current system should not be altered" speaker Halle Bletsoe, verses, 293 (Cowbridge) Air Training Corps their topic "Will space tourism change humanity for the better" speaker Thomas Wood. The senior competitors comprised; Ysgol Gyfun Maesydderwen, Swansea, topic "Better off a life on benefit" speaker Isabelle Truscott. Brynteg Comprehensive school topic "Should the global community be making a greater contribution to prevent the spread of Ebola" speaker Conner Lomax and Cowbridge Comprehensive School topic "The UK should do more to help developing countries combat disease" speaker Elliot Macneil.
The adjudicators Mr Andrew Wood, Reverend Hywel Richards and Mr James Ledyard stated that the competition was very tight with the winners taking honourers by the narrowest margin. Questions to each team were put by Rotarian Caron Jones and the time keepers were Rotarian Roy Hodgkinson and Rotarian Edward Jones. Rotarian Mansel Thomas, District assistant governor presided over the competition along with Bridgend President Sue Cassidy. Both stated that this was a very high calibre completion and congratulated the contestants encouraging them to continue the good work and wished them well in their future careers.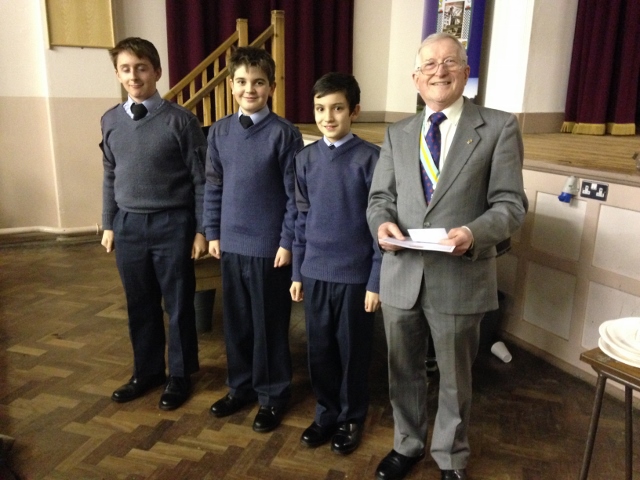 Winners Intermediate Competition: 293 (Cowbridge) Air Training Corps. Runners up, Brynteg Comprehensive school.
Winner Senior Competition: Cowbridge Comprehensive School. Runners up Brynteg Comprehensive School with third place going to Ysgol Gyfun Maesydderwen.
The winners of both categories will now go forward to compete in the district final on Friday 6th March 2015 at Cowbridge Comprehensive School.
Rtn Wayne Morgan
Shelter Box
At a resent Tinnitus concert, sufficient funds were raised to purchase a shelter box. This box can be traced via the shelter box web site, www.shelterbox.org/trackbox box number UK0073210. Thank you to all who helped to make this possible.
Christmas Collections
At the run up to Christmas, the members of the Rotary Club have been working hard collecting at local super markets to raise funds for local charities. The reindeer and slay are hand made by Rotarian Gwyn Thomas.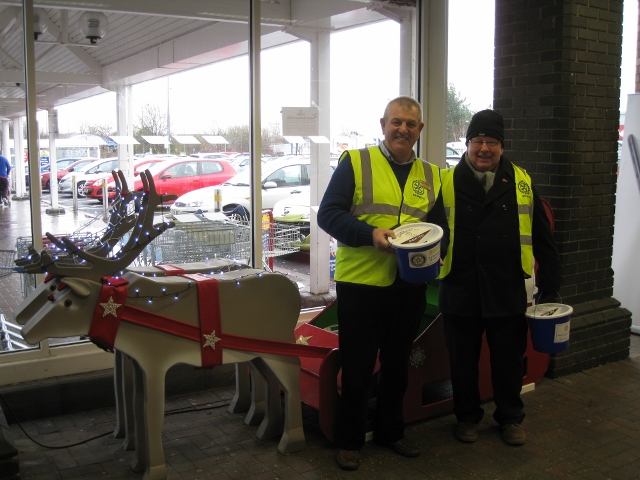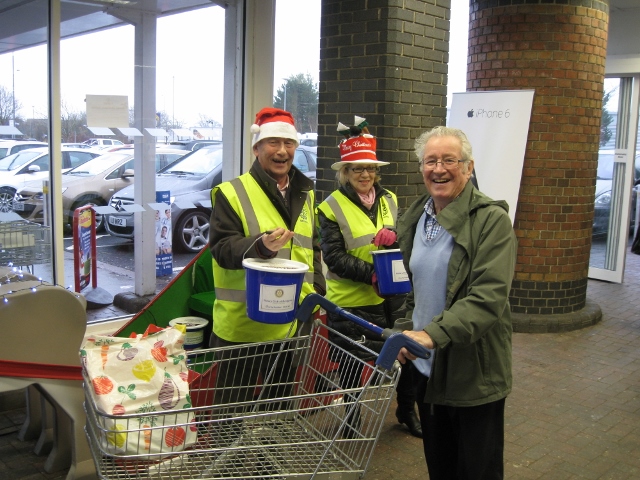 Bridgend Rotary Club Christmas Special
A festive all stars variety Bridgend Rotary Club Christmas Dinner was held on December at the Heronston Hotel. The Christmas Dinner was a feast of good food,good company,good wine and a variety feast of Rotary Members entertainment. Hosted and compared by Rotarian Hopkin Joseph, the acts included, A pantomime written by Rotarian John Ward, a piece of Dylan Thomas drama read by Rotarian Allan Jones, a solo Rat pack performance by Rotarian Wayne Morgan and a demonstration of the ancient art of Japanese Sumo Wrestling. Sumo is a form of wrestling with deep origins in Japanese legend and history. The sport dated back over 1,500 years and was ably demonstrated by Rotarian Edward Jones and President Sue Cassidy. The President commented that although it was a hard fought contest she though that on the night she had given it her all and just won to a worthy opponent.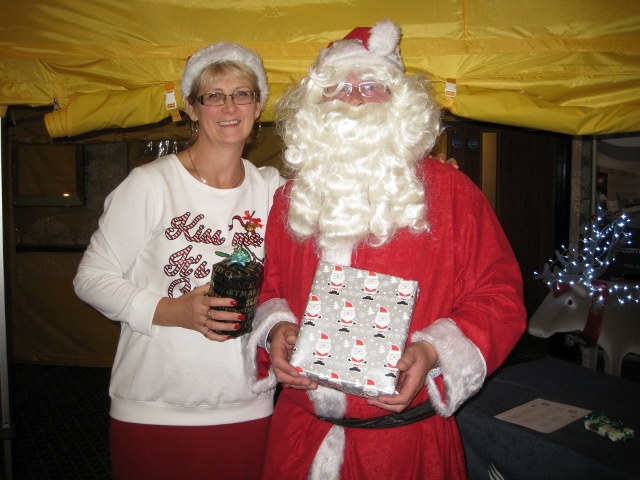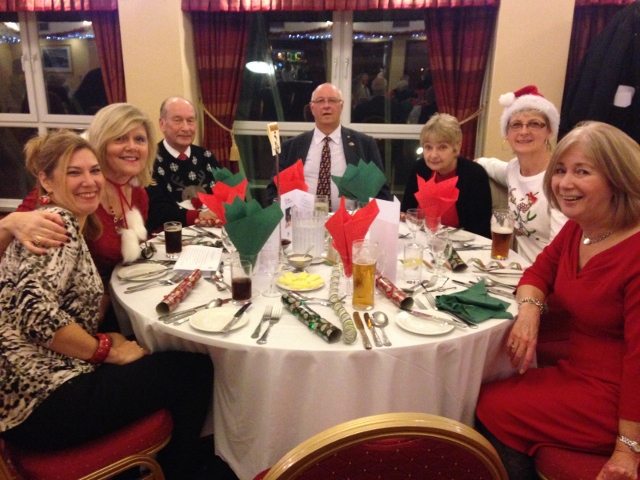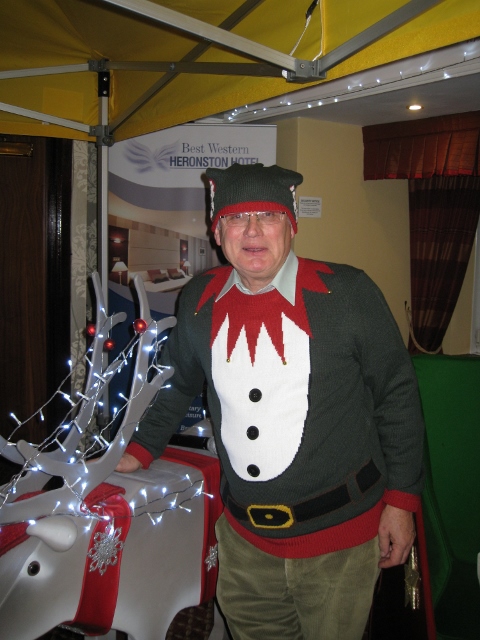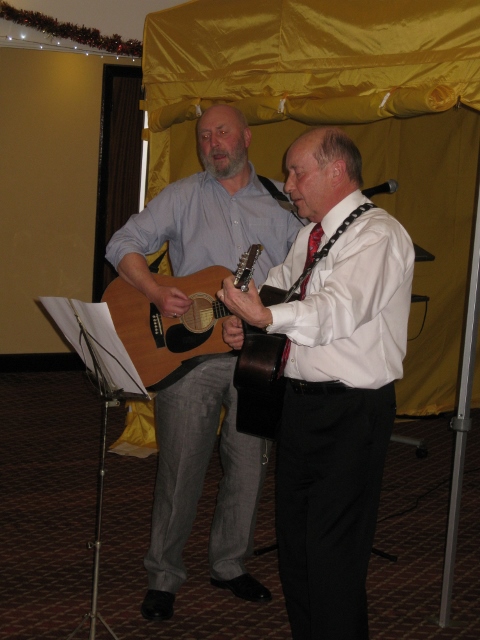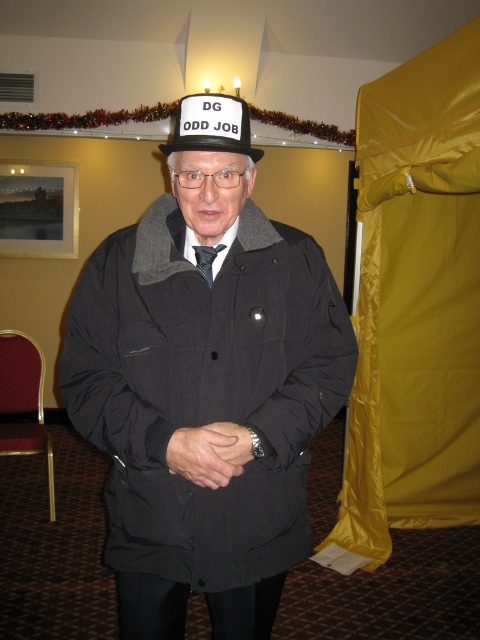 President Sue thanked the Heronston Hotel and their staff for a wonderful evening saying that, the evening was a huge success with much merriment and hilarity being had by all in great part due to the professionalism and hard work of the management and in particular Julie, Chef's front of house staff.
Rtn Wayne Morgan
Quiz Night
On December 1 at the Heronston Hotel, Bridgend Rotary club took on Maesteg Rotary club in a quiz night semi final. The Bridgend members who were a scratch team as usual team members were away. The Bridgend team beat Maesteg with a record score and move on to the final against Porthcawl in January.
Senior Youth Speak
The Rotary Club of Bridgend held its Senior Youth Speak competition at Brynteg Comprehensive School on Thursday 20 November 2014. This year we had two teams enter this stage of the competition. These teams were both from Brynteg Comprehensive School an intermediate team consisting of three year 8 students: Chairperson, Megan MacKenzie-Sheran, Speaker Halle Blesoe and a vote of thanks to Dylan Thomas. The topic for the speaker was 'Should Welsh be mandatory in School'. The adjudicating panel; Liz Summer, Will McAllister and Allan Jones judged the performance as encouraging with much promise for the future.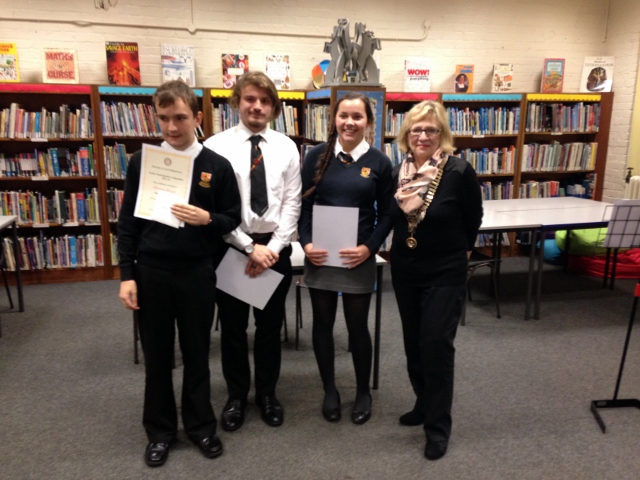 President Sue with the teams from Brynteg Comprehensive School.
The Senior Team with Chairperson, Thomas Prosser, Speaker Connor Lomax were from year 13 and a late standing for the vote of thanks, Lowry Morrison year 10. The topic for the speaker was 'Should the global community be making a greater contribution to prevent the spread of Ebola'. The adjudicating panel judged the team as having put up a very fine performance especially the speaker Thomas Prosser. President Sue said; It is wonderful to see such passion, enthusiasm intelligence and talent from the young people of Bridgend. It is a pity that more schools had not taken up the offer to enter teams in the competition, but I understand the pressure on staff and students at this time of year. Both teams showed that they had thoroughly researched their subjects, offering their views in an articulated, confident and clear way. We wish both teams the very best of luck in the area finals.
Rtn Wayne Morgan
Tinnitus Concert
The Rotary Club enjoyed an evening with the Tinnitus Group of musicians at its annual Tinnitus concert held at the Bryntirion Football Club on Friday 14th November. The Tinnitus musicians are made up from a fine group of individual consultants who give of their time freely for charitable events. They are extremely accomplished multitalented group of musicians who great entertainment and fill a whole evening with a mixture of serious rock, country and modern with a sing along repertoire.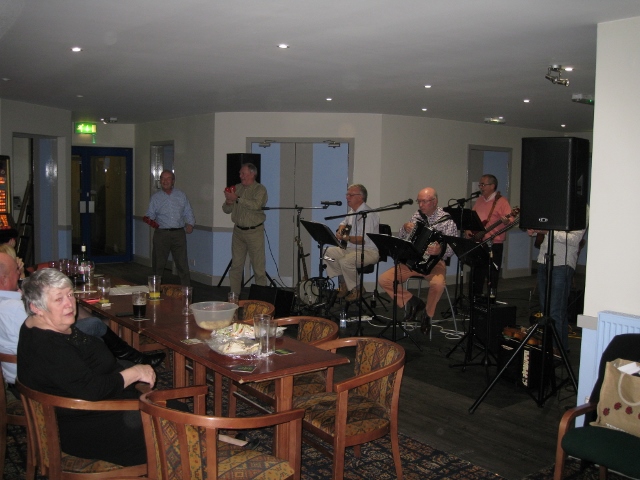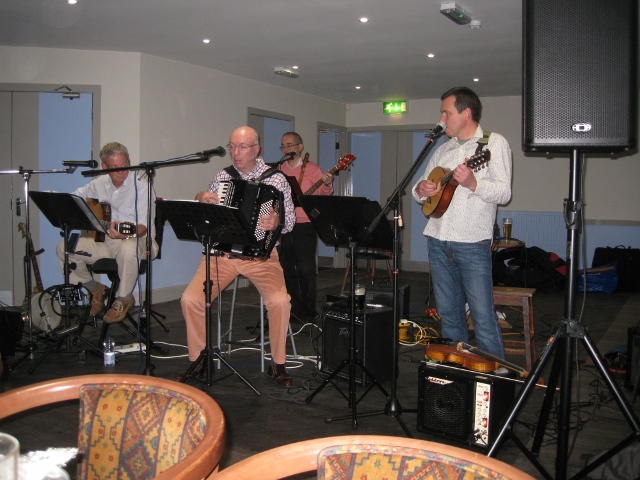 Tinnitus group been supported by Rtn David Hubbard and Rtn John Ward.
President Sue Cassidy said; that we are delighted to once again have Tinnitus at our annual charitable event. They are great entertainment and we are extremely grateful to them for giving up their time to be with us again this year. The Money raised tonight will go into our local charitable fund to purchase a Shelter box which will go to a disaster area anywhere in the world and will sustain a family with shelter and equipment to meet their needs for six months or more.
Rtn Wayne Morgan
Tree Planting at Pen - y - Fai Primary School
On Friday 14th November, First Minister Carwyn Jones planted the first tree, part of a landscaping project, at Pen-y-fai Church in Wales School, ably assisted by the County Borough Mayor, Cllr Gary Thomas and his Consort Mrs Kay Jenkins, Head teacher Mrs Christina Bach,pupils, teachers and parent from the school, President Sue Cassidy and other assorted Rotarians.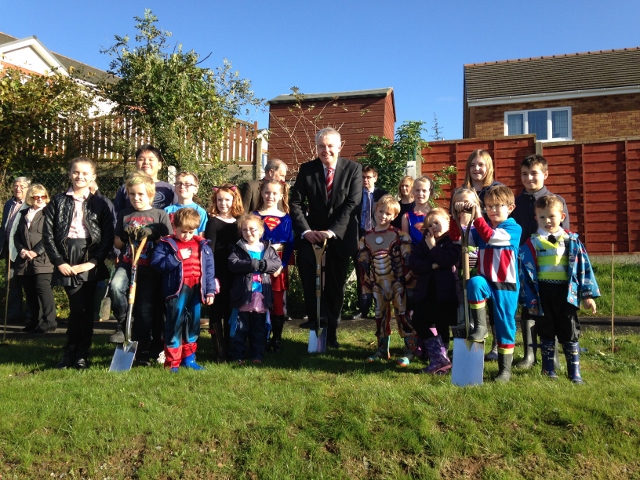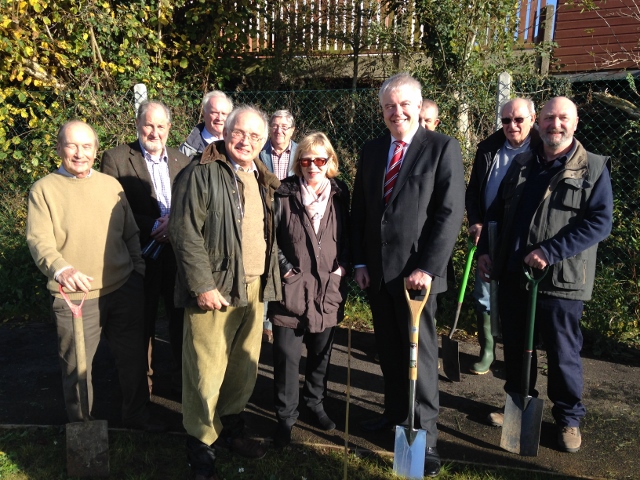 First Minister with Children planting the first tree. First Minister with President Sue Cassidy with Rotarians planting trees.
120 trees were provided by the Woodland trust, along with bamboo stakes and protective sleeves. species planted were hawthorn,hazel,holly,rowan,crab apple and downy birch.
The project has involved pupils at the school in planning the planting site, and they will be involved in future maintenance of the trees as the grow. Planting will provide hedging and shelter, and will encourage the return of wildlife disturbed during the building of the new school, in due course, the bats which were re-homed during the building work will be able to return also.
In addition, in keeping with commemoration of WW1 projects across the country, part of birch wood will be dedicated as a WW1 Memorial wood.
The new planting, as well as providing pleasant landscaping, will also be a valuable teaching resource for the school.
Thank you to all who turned up to assist on the day.
Rtn Mike Lewis
Foundation evening with the First Minister
On November 3rd the Rotary Club of Bridgend held its annual Foundation evening with the First Minister Carwyn Jones as guest speaker,with Presidents and guests from Cowbridge and Porthcawl Rotary Clubs.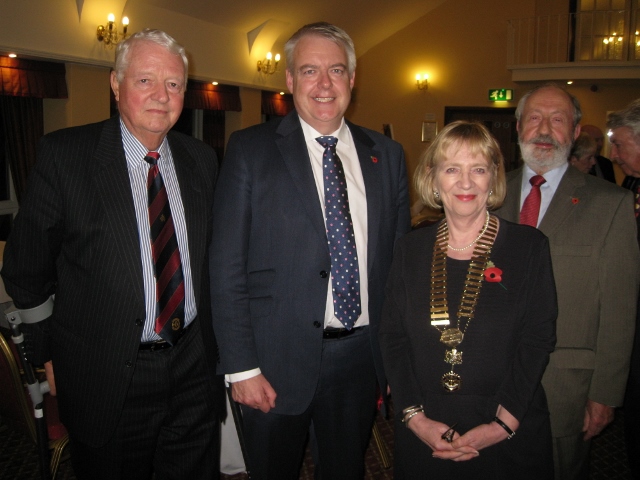 Rtn Caron Jones, First Minister Carwyn Jones, President Sue Cassidy and Rtn Hugh Thomas.
After an excellent meal, Carwyn spoke at first on his experiences in New Zealand as a bachelorette student sponsored by the Rotary Club of Cowbridge. He then went on to speak on the NATO conference telling humorous stories of the event, closing with a question and answer session on Wales and local government.
SOUTH WALES SPECIAL SCHOOLS FOOTBALL CHALLENGE SHIELD OCTOBER 2014
This annual event organised by the Rotary Club of Bridgend and Heronsbridge School was again sponsored by Past Rotarian Derek Gaynor.
The Mayor of Bridgend County Borough Council, Gary Thomas, presented the winners shield to Maes Gwyn School from Aberdare. The runners up were Ysgol Bryn Castell from Bridgend.
The most improved side was Woodlands High School, Cardiff, with the fairplay award going to Penybryn School, Swansea. The player of the tournament award was Dan Thomas from Maes Gwyn School, Aberdare.
All one hundred plus players were presented with medals by Mayor Gary Thomas and Rotarian Gillian Hale, Chair of the Bridgend Youth Services Committee.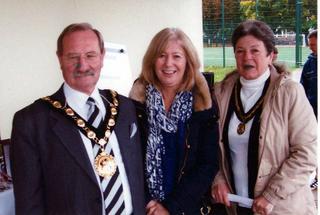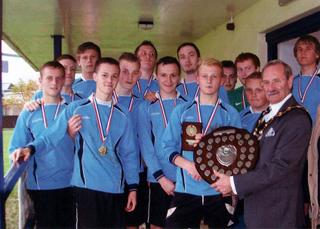 Mayor Gary Thomas,Rtn Gillian Hale and Consort Ms Kay Jenkins Maes Gwyn School Aberdare
Autumn Walk Saturday 11 October 2014
Cardiff Bay
9 members of the Rotary Club of Bridgend (President Sue Cassidy, Rotarians Hopkin Joseph, Edward Jones, William William, Mike Lewis, Gillian Hale, Sonja Cain, David Hubbard and John McCarthy) plus 7 guests and a dog left the Custom House at Penarth Marina at 09:30 to walk around the eastern perimeter of Cardiff Bay to Mermaid quay.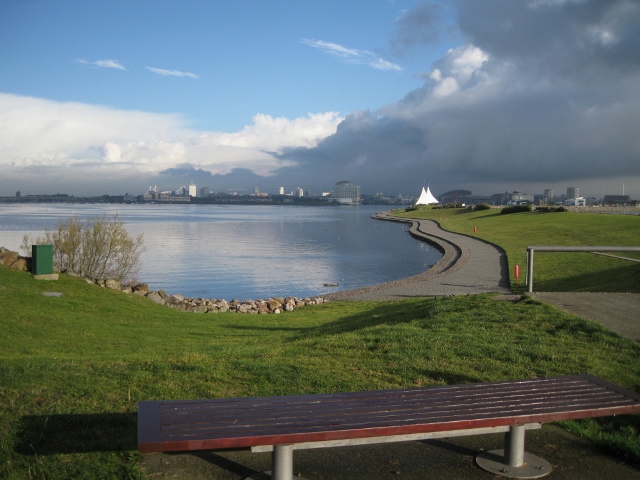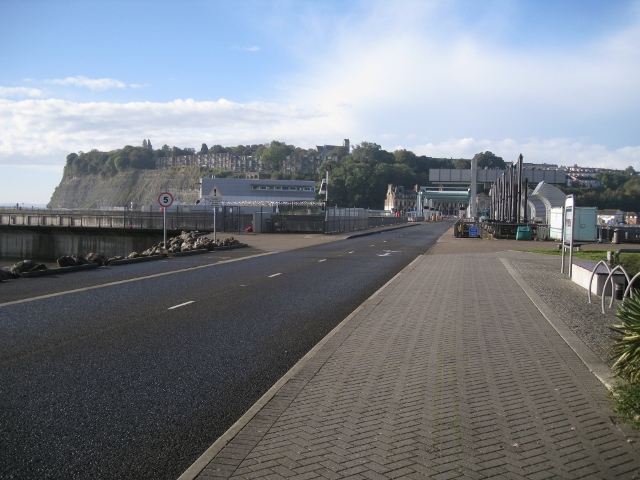 After crossing the barrage locks, passing by the fish pass, walking along the open elevated section of the barrage provided a good vista out to the Bristol channel (where it was high-tide with a seawater level higher than the freshwater level within the barrage) and inland looking towards the Penarth Marina, the Ely River Marina, the Sports village, the Taff River Marina, the Wetlands Reserve and Mermaid Quay. After a brief stop at the Scott Memorial display (recording that it was from Cardiff over a 100 years ago that the expedition set off to the South Pole) walking further along the barrage provided better views of the entrance, on the seaward side of the barrage, to Cardiff Docks (still a very busy freight port), with to the North views to the Senydd, the Millennium Centre and the Pier head building. In the distance Cardiff City Centre buildings (e.g... the Millennium Stadium) were clearly visible. There after the walk proceeded, passing the Colliery exhibition, undeveloped docks, the " Dr Who Exhibition Centre" , and the Norwegian Church to reach Mermaid Quay.
At Mermaid Quay,as the Norwegian Church cafe had not opened, a very welcome coffee was taken at Cawalladers. Some of the party then visited the shops at Mermaids Quay, others walked on westwards,past St David's Hotel, to the Wetlands Reserve;a habitat for lots of water fowl and birds.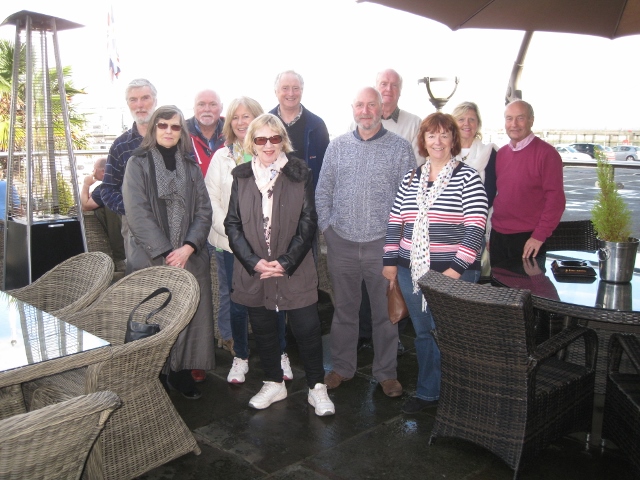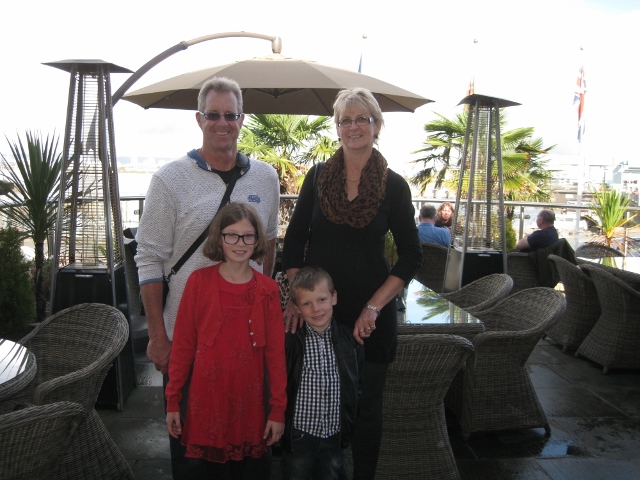 The Whole party then re-assembled at the Pier head Building to watch a 10 minute film of the changes in the docks at Cardiff; growing as a coal exporting port in the 80 years to 1914 (exporting at it's peak to over 10 million tones of coal) declining for that use in the 60 years afterwards to nothing in 1970 but still a very busy freight port.
Three of the party walked back to Custom House, the remainder taking a water taxi (which toured the western side of Cardiff Bay passing the sports Village-the national swimming pool, the white water rafting centre etc). All metup at the Custom House at Penarth Marina, now a very good restaurant, for a welcome two course lunch to finish the trip.
The weather forecast had been for rain so all had wet weather gear. In the event it was a warm dry morning ideal for walking but whilst at Lunch there were torrential downpours. Some-one was looking after the Rotary Club of Bridgend that morning !!!!
Rtn Hopkin Joseph
Rotary Club of Bridgend Bake off
The rotary club of Bridgend recently held a fun bakeoff in the Blandy Hall, Laleston, to raise funds for the supply of LifeStaw, a portable water filter. These will be distributed to vulnerable ethnic groups in developing countries. The LifeStraw Filter effectively removes all bacteria and parasites,responsible for causing common diarrhoeal diseases, from polluted water sources.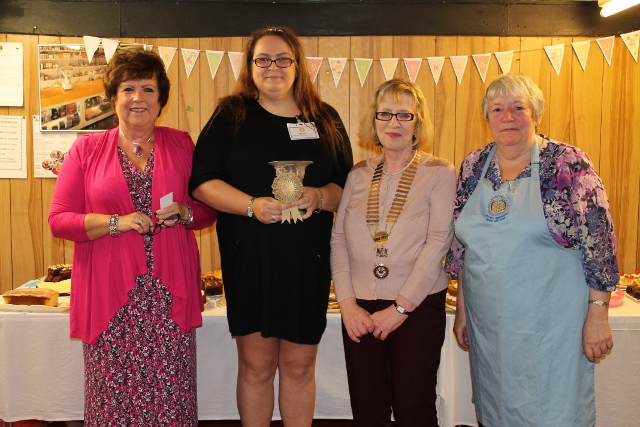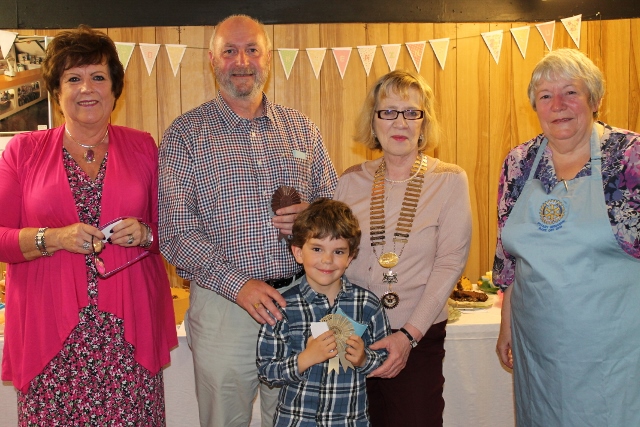 In the photos Judge Carol Moon, overall winner Gemma Brooks, President Sue Cassidy,Rtn Judy McCarthy,Past President Michael Lewis and Morgan.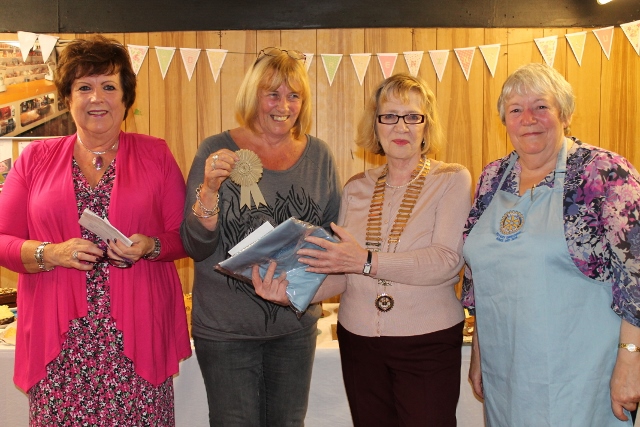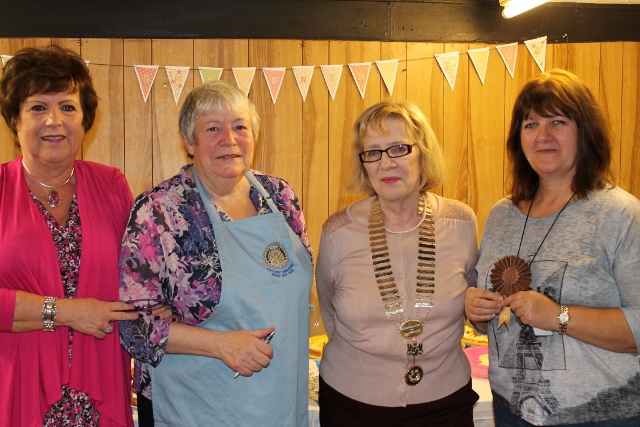 Diane Ward receiving her gold award. Gaynor Davies receiving her Bronze award.
A gold rosette and one prize of a £25 cookware voucher, sponsored by Procook and Tesco, were awarded to each of the winners in 3 categories: Large cakes; Gemma Brooks. Small Cakes (plate of 6); Diane Ward. Cakes an with International Theme; Doreen Watts. The overall winner, Best in show; was Gemma Brooks, who received a trophy Vase. Each winner also received a specially commissioned Rotary Bakeoff apron.
A special Award was presented to young Morgan, the grandson of Rotary Past President Michael Lewis, for his expertise in producing a mouth-watering plate of small cakes. The show was competently judged by Carol Moon. Silver rosettes were awarded to Juliet McIver and Julie Williams, with one unclaimed. Bronze rosettes were awarded to Kyra Lewis, Gaynor Davies,Stacey Thomas and Reverend Mike Lewis. Rotarians Haydn and nick, from the Rotary club of Brynmawr, gave an impressive impromptu demonstration of the LifeStraw that really brought home to all present the purpose of the evening. The Rotary Club of Bridgend would like to thank all those who entered cakes in the Bakeoff, plus our sponsors and Judge Carol Moon.
Rtn John Ward
FISHING FOR THE DISABLED ANNUAL COMPETITION
ROTARY CLUB OF BRIDGEND
PAST PRESIDENT KENDRICK GRIFFITHS QPM MEMORIAL SHIELD
Ex-chief Constable of Merthyr Tydfil Kendrick Griffiths QPM was remembered on 17th September 2014 when Special Schools and Adult Training Centres within the area took part in a fishing competition at Seven Oaks, Ystradowen, for his commemorative shield.
Representatives from Bryn Castell, Heronsbridge, Valley Gateway Training Centre, Bridgend Resource Centre and Pencoed Comprehensive School (Special Unit) took part. The winning team was Pencoed Comprehensive School and they were presented with the trophy by Rotary President Sue Cassidy.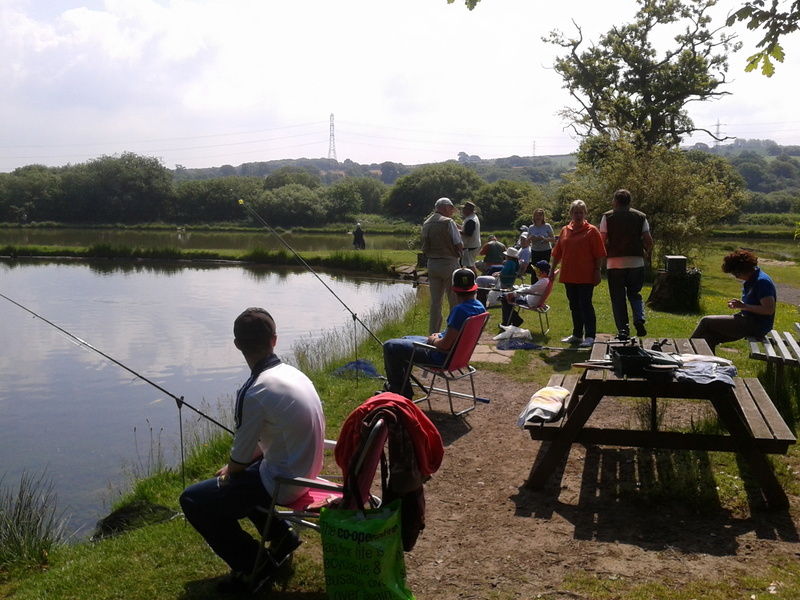 The Bridgend and District Fishing for the Disabled Association are desperately seeking volunteers from experienced fishermen to assist and ensure the continuation of their very worthwhile, and very much appreciated, monthly fishing competitions for young people.
If you can assist in any way please contact Ralph Merchant Tel.No.01656-667855 for further information.
District Governor visit and Wheel Chair presentation
The Bridgend Rotary Club dinner held on 1st September was delighted to Host Cellan Hall and his immediate family,his Mother Mrs Anita Davies and her partner Mr Gareth Clode. They were there to see Cellan Receive his sports wheelchair, which he hopes will help him get selected to play top flight table tennis at the Rio Para Olympic games in 2016. The Rotary Club has raised a significant amount of funding through various means to fund the wheelchair and are delighted that they were able to support Cellan in this way.President Sue Cassidy told the assembled audience that Cellan was an inspiration to all young people not only is he dedicated to his table tennis and plays at every opportunity in all major competitions, but is also focussed on his studies. Cellan recently achieved 10A's and 3B's in his GCSE exams.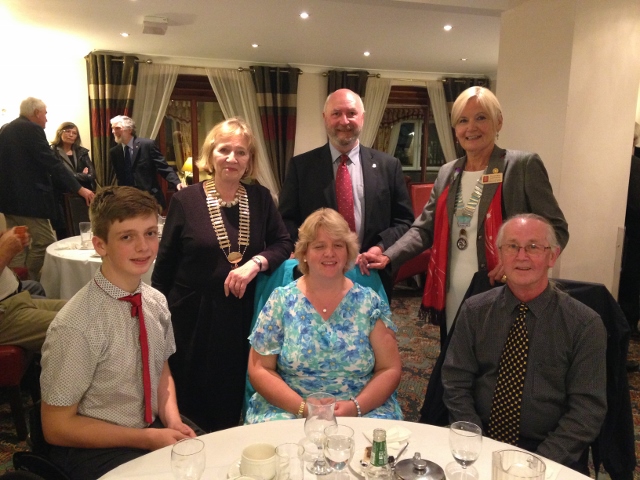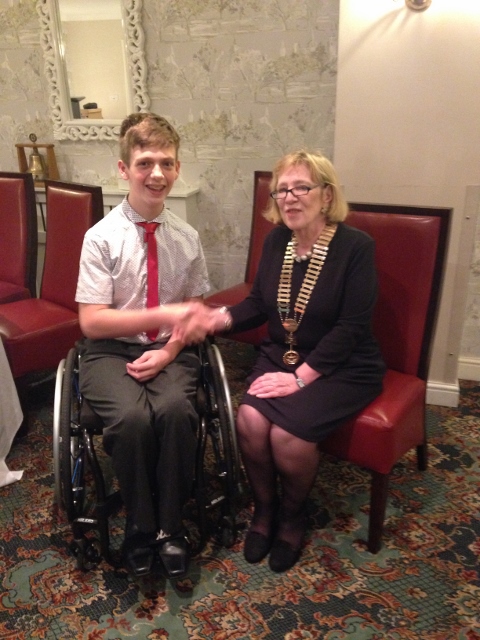 President Sue with past president Mike Lewis, District governor Sandra, Cellan and his family.
District governor Sandra Townsend gave a small talk saying "September is Youth service month". I find it really encouraging when people say "Are you that Rotary Club that helps those youngsters? "WELL, WE ARE". This is the time of year when we are asked to focus on our support for these younger people in our community, and you are probably planning the list of projects, which your club intends to support. Our present interact and rotaract clubs carry out many worthwhile service projects within our community, raising considerable amounts of money to support them. I have had the greatest please in the last few weeks to see four new interact clubs established in the district. This is wonderful. Your support to Cellan is exactly what we are about and sponsoring Cellan who is trying to achieve the highest goals in his sport is truly fantastic. I am sure that we all wish Cellan every success in his ambitions both in his table tennis and his future career.
President Sue thanked the district governor for her kind words and support and reminded members that this is only one of many ongoing projects in support of our community that we will be engaged in this year.
Rtn Wayne Morgan
Rotary Bowls Competition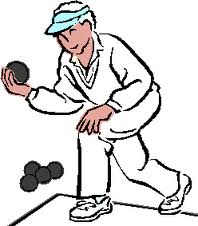 The Rotary Club of Bridgend invited all Rotary Clubs in the district to participate in a bowls competition to be held at the Tennis and Bowls Club on Thursday 28th August 2014 organised by Rtn Stan Harding. The competition was blessed with good weather and was supported by Rotary Clubs from Cowbridge, Porthcawl, Port Talbot and Bridgend.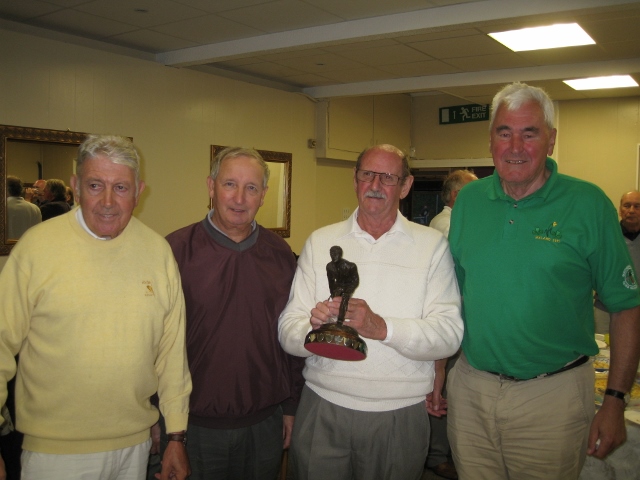 The winning team came from Bridgend. The trophy was presented by Rtn Stan Harding (far left).The team members, Rtn Graham Hapgood,Rtn Edgar Burt and Rtn Gerry Bassett with Porthcawl Rotary Club coming a close second.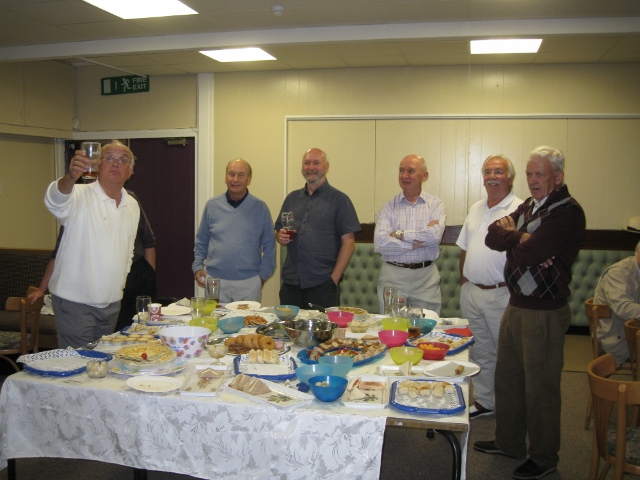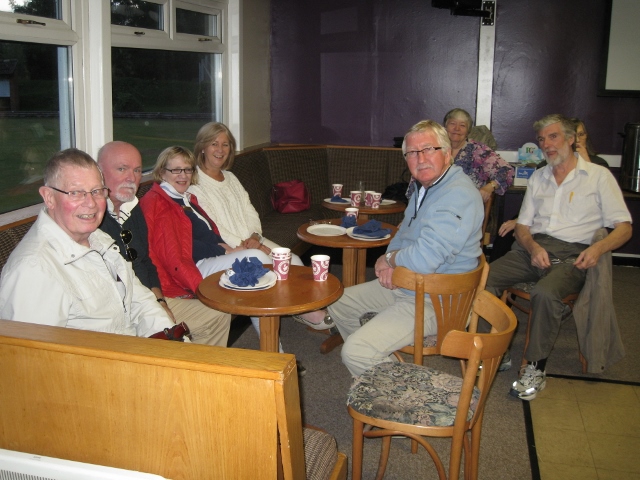 A special thanks go to the Bridgend Tennis and Bowls Club for providing the facilities and an excellent buffet during this their centenary year. A good time had by all.
Garden Party
The garden party took place on July 26th at Rtn Gwyn Thomas's farm at Pencoed. This event has in the past taken place at the end of June but it was decided to move the garden party to the end of July due to inclement weather in previous years. The move was a good decision as the sun shone all week-end. The party was a great success with guests and members enjoying the afternoon with games, music and excellent food supplied by Catherine Lewis.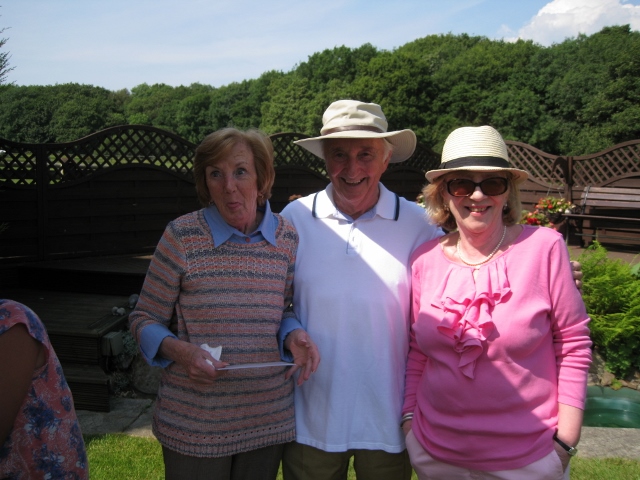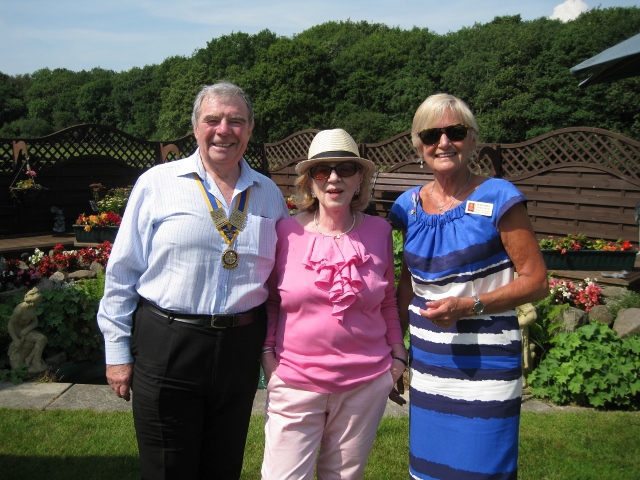 Gwyn & Marlies receiving a special award from President Sue for allowing the garden party to be held at their home for many years. Special guests at the party were the President of Porthcawl Rotary Club and District Governor Sandra with President Sue.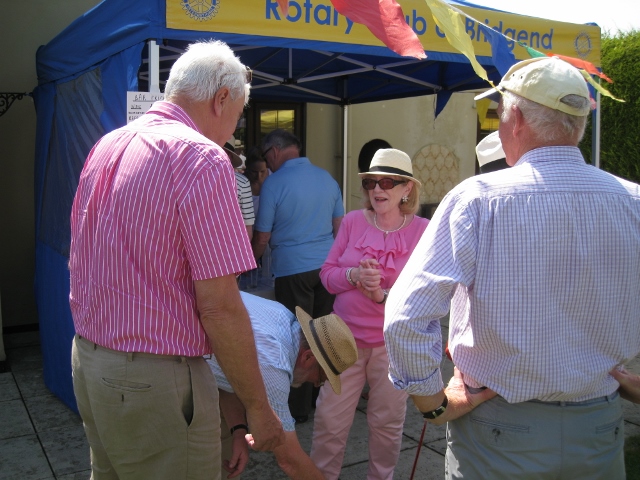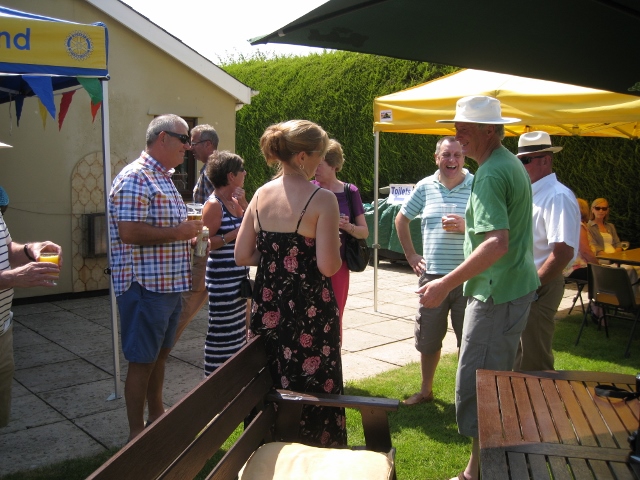 Members enjoying the afternoon. A great time was had by all.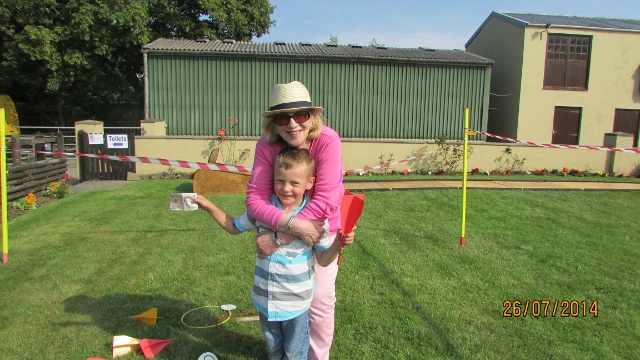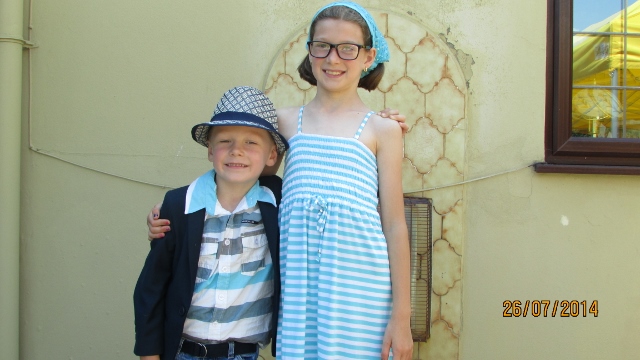 Tomi and Paul at the Garden Party. Paul picking up his winnings from President sue. Don't tell his Mum!
Club President's Hand over Dinner
The Rotary Club of Bridgend Hand over Dinner took place at the Heronston Hotel on Monday 7th July. Special awards were also made on the evening. This year the Harvey Palmer Award was presented to Mr Richard Howe from Heronsbridge School for his work promoting football and other activities for children and adults with physical and learning disabilities. The Rotarian of the Year award was presented to Rtn Edgar Burt for his outstanding work for many years organising and running the fishing for the disabled and Interact Club at Pencoed Comprehensive School.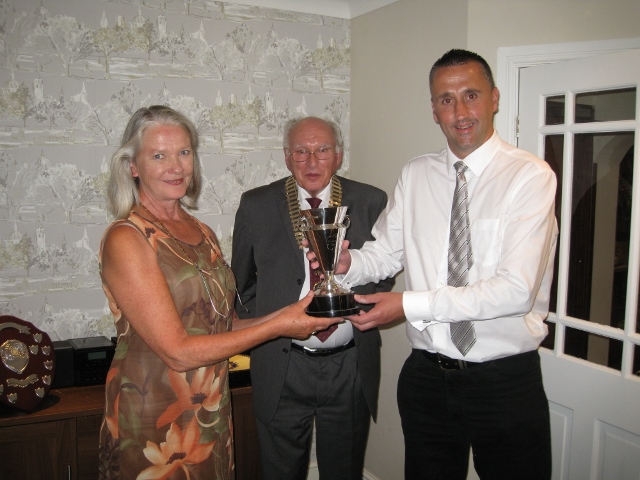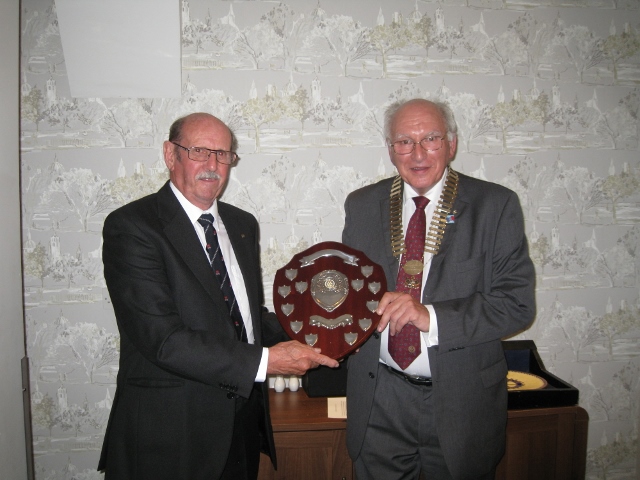 Catherine with President Allan Presenting the Harvey Palmer Award. President Allan presenting the Rotarian of the Year Award to Rtn Edgar Burt.
The out going President Allan spoke of the hard work and achievements of the Club over the last year and thanked everyone for their efforts. The new President Sue Cassidy thanked Past President for all his hard work. President Sue spoke on the year ahead and what was hoped to be achieved. The international theme for Rotary this year was "Light Up Rotary" and by this we understand what it means for Rotary in the Community. A sense of joy, happiness and hope with fellowship is a vital part of our Club. We are a group of individuals who bring all of this together with our own personalities, abilities, strengths and interests to the Club.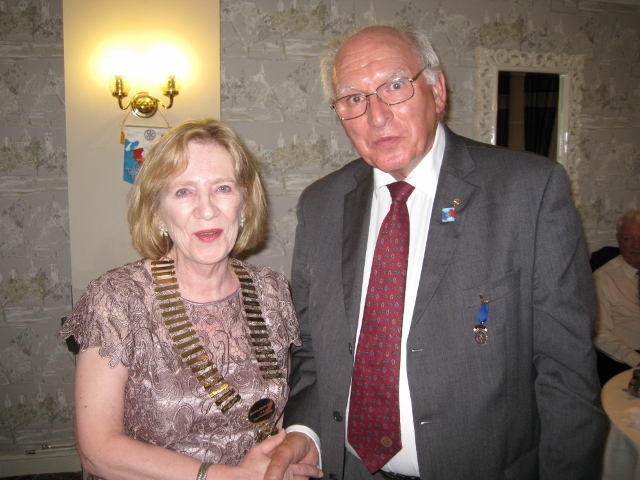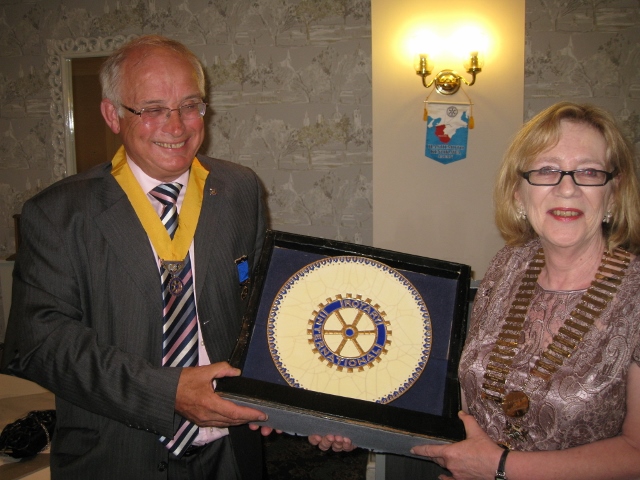 Past President Allan handing over to President Sue. President Sue presenting the Rotary plate to President Elect Alan Reeks.
Wiggle Dragon ride 2014
On the 8th June the Wiggle Dragon took place starting and finishing in Margam Park. Riders had the choice of several routes up and down the South Wales valleys with most experienced riders taking the Devil's route over 200K. Over 4,000 riders took part in the race. The Rotary Club of Bridgend was in charge of 5 of the 6 feeding stations for the riders and was supported by the Rotary Clubs of Porthcawl and Rhondda, and by friends and relatives.
The feeding station at Glasfynydd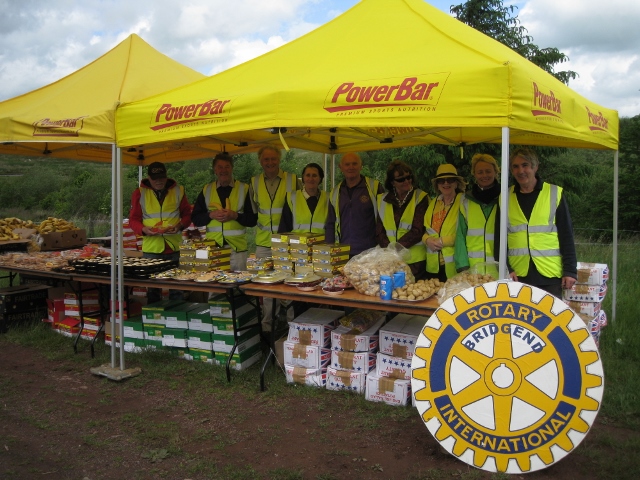 A lot of hard work and planning went into the event with members having early starts and very late finishes.
The feeding station at Rhigos working flat out feeding the riders.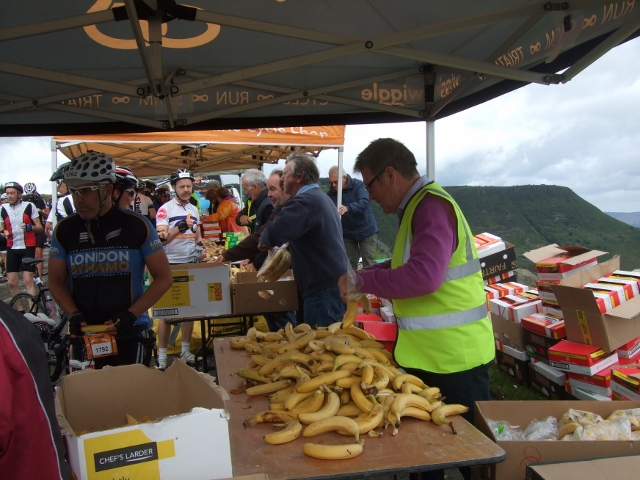 A big thanks to everyone who helped to make the race such a success.