Welcome to the Rotary Club of Bridgend
What do we do?
By combining skills and resources Members of the Bridgend Rotary Club make a real contribution to the lives of others. As Rotary is in 200 countries we are unique in being able to reach people in need all over the World, from running life changing projects in developing countries, making an immediate response to disaster hit regions, and supporting local community projects and charities.
Rotary Club of Bridgend has purchased and sent a Shelter box start, for the Philippines appeal. (more information to follow).
Rotary Club of Bridgend Penderyn Distillery Visit
On the 12th April 2014 several members and Partners from the club visited the Penderyn distillery, which is just North of Hirwaun on the A4059.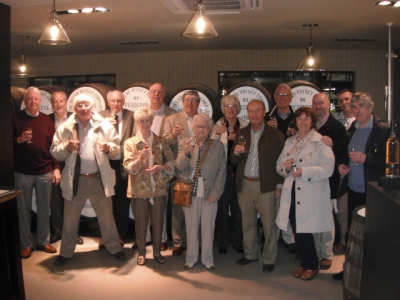 After a very interesting and serious introduction to the distilling of a variety of spirits, We were let loose into the bar and tasting area. The atmosphere immediately changed and mature members suddenly appeared to be like Children let loose in a sweet shop.
When we had sampled and shared a variety of spirits, we were chauffeured to the Ty Newydd Country Hotel.
After further liquid refreshments we enjoyed an excellent three course lunch and returned home to enjoy a late afternoon / early evening snooze.
An excellent way to spend a Saturday - well organised by Rotarians Sue Cassidy and Alan Reeks.
Rtn Roy Hodgkinson
Special award for Rtn Roger Grannum
On Monday night Rtn Roger Grannum received the highest award given in Rotary."The Paul Harris award". The award is given for outstanding service to Rotary. Roger joined the club in February 2002 serving as Treasurer, Secretary, and President. Also organising many charity events such as the Porthcawl walk raising thousands of pounds for local charities.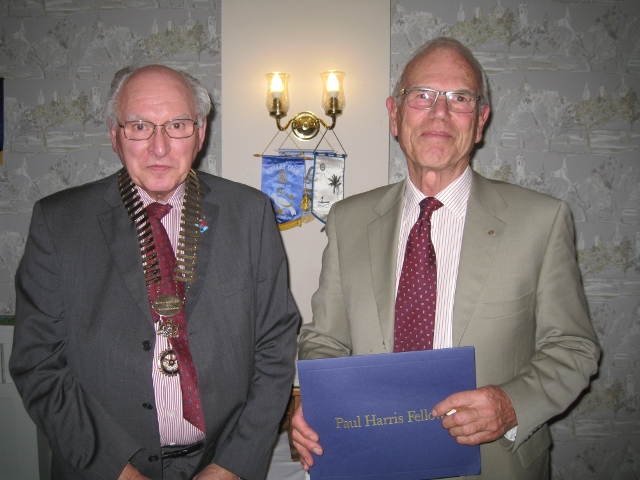 Roger and his wife Margaret are moving to Surrey shortly and has therefore to give up his membership. The President, Allan Brooks, Club Council and all members of the Bridgend Rotary Club wish them both a safe, happy and healthy future in pastures new and offer an invitation to come back to see us all again,at anytime.
On Monday the International committee held an International evening, with guest speaker the Rev Nick Jones and his wife Chris talking on there experiences living and working in Tanzania over a 2 year period.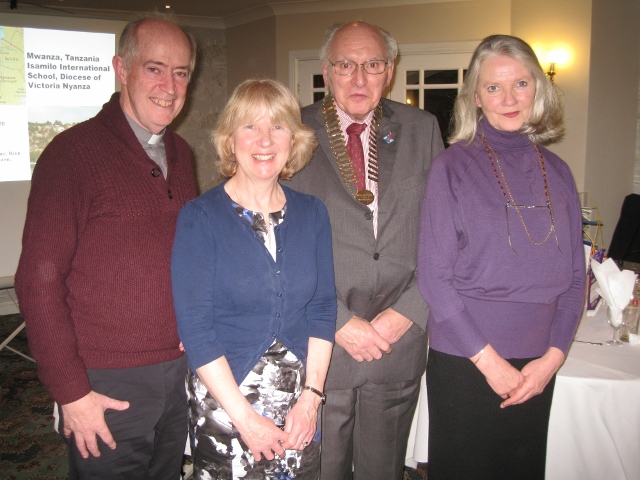 Rev Nick Jones & Chris With President Allan Brooks and Catherine.
The talk was a fascinating insight into their lives and of those less fortunate than ourselves. The president and all club members wish to thank Nick and his dear wife Chris for taking the time and trouble to give us such an entertaining evening.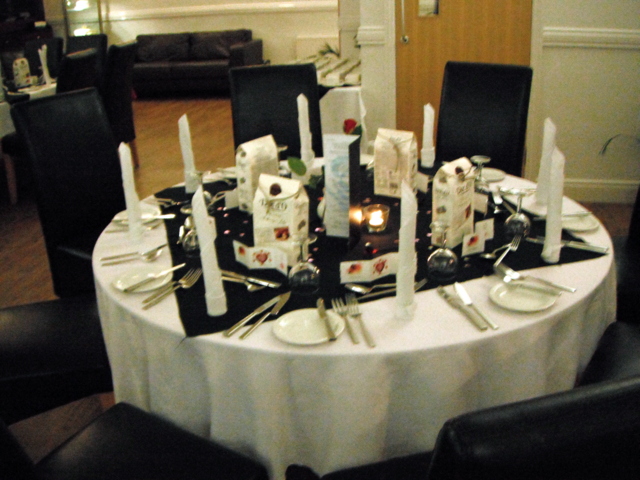 Every year for the last 25 years the Rotary Club of Bridgend have been the " Guinea Pigs" for the catering staff and waiters at the Bridgend College Seasons Restaurant.
Each and every year the club's members and partners have supported the event and achieved maximum attendance of forty diners. This year was no exception, even with adverse weather, the anticipated attendance was achieved.
Many thanks should go to Restaurant Manager Anthony C Trumper, his assistant Kim Jenkins, Head Chef Neil Hughes and all the students, who prepared the food and the waiting staff who courteously provided an excellent service.
From the early years of our attendance the preparation, menu choices, and service have developed from basic to first class presentation at a very competitive price.
We hope to continue this pleasant event for many years to come.
This year gave us the choices of starter, main course and dessert with the most popular choices being Oven Baked French Onion Soup topped with Gruyere Cheese, Poached and Roasted Supreme of Chicken Chasseur and Apple and Sultana Flan with Sauce Anglais and Hazelnut.
The cost of the meal was £13.95 inflated to £16.00 to ensure your partner

received a

red rose and a small gift.
It was especially nice to see Past Member of the Club Derek Gaynor and his wife Kim attending, as special guests, in recognition of his continued support of the Heronsbridge Disabled Football, organised yearly by Rotarian Edgar Burt.
Hope to see you all next year.
Rtn Roy Hodgkinson MBE
Rotary Young Musician: Area Final
The final took place at Cwntawe Community School on 22nd January. It was a very exciting evening with candidates entering the Young Instrumentalist Competition and the Young Vocalist Competition.
The winner of the Young Vocalist was Emily Auriel Hunt who was sponsored by the Bridgend Rotary Club. She is a pupil at Bryntirion Comprehensive School. She sang two pieces: Un Bel di Vedremo by Puccini and The Enchantress by Herbet.
We wish her every success in the next round of the competition which will be held in Ebbw Fawr Leaning Community Centre, Ebbw Vale on Saturday 8th March.
Rtn G. Hale
Rotary Youth Speak Competition
The Rotary Youth Speaks area final was held in Ysgol Gyfun Gymraeg on Tuesday 21st January 2014. The winners of the Intermediate area final were from Ysgol Gyfun Gymraeg Llangynwydd. Members of the team were Elinor Cornish, Loan Lloyd and Aaleah Knill and their chosen topic was "The Inspirational figure of Nelson Mandela".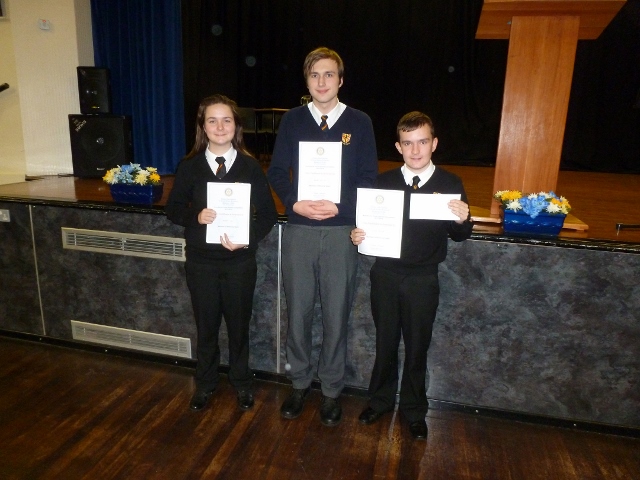 Three teams competed in the Senior area Final of the Public Speaking competition. Brynteg Comprehensive School debated the idea that "The driving age should not be increased to 18 years of age". Ysgol Gyfun Gymraeg Llangynwyd presented an interesting argument explaining "Why social networking sites and Teenagers don't mix. Ysgol Maesydderwen chose to propose the idea that "Booze Britain needs to take Responsibility for its Actions".
It was a very exciting evening and the speakers did not fail to entertain family, friends, teachers and Rotarians who turned up to support them on the evening. It was a very difficult task for the adjudicators but Brynteg Comprehensive School were declared the winners of the competition!
Thomas Prosser was the Chairperson for the evening, Samuel Griffiths was the speaker and Rebekah Lee offered the Vote of Thanks.
They will be going forward to the Rotary District 1150 Finals to be held in the Millenium Centre on March 7th. We wish them success!
Rtn G Hale
What Has Happened Over Christmas !!!
Over the Christmas period we have had lots of funding raising events.
At the beginning of the Christmas Period the club held a party at the Heronston Hotel with excellent food, good quizzes, secret Santa and a Musical entertainment by Rtn Wayne Morgan & Rtn Mike Lewis. A great time had by all.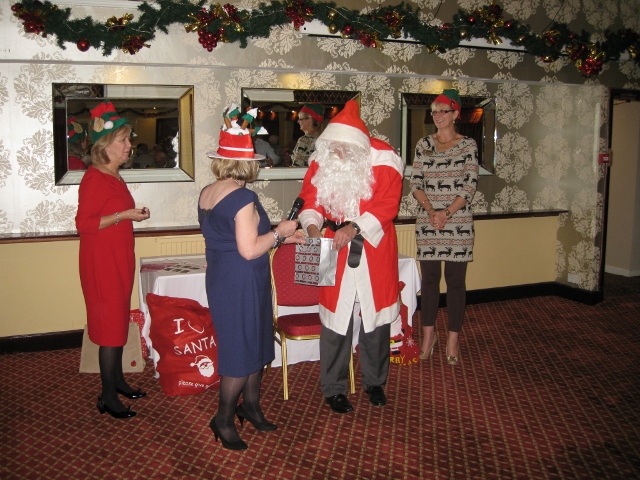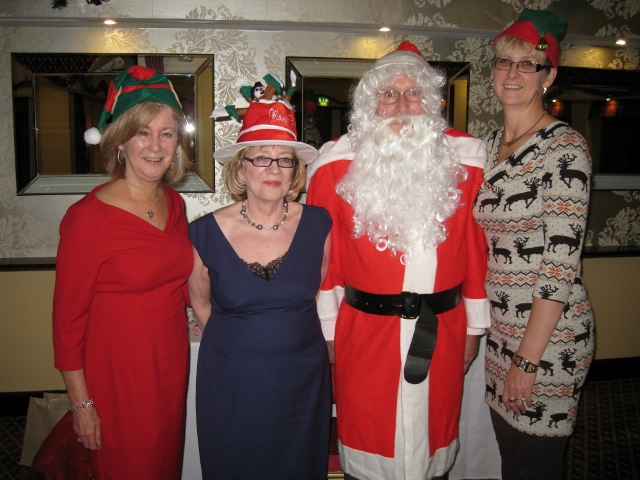 Santa and his elf's working at the Christmas Party
A great success over the Christmas period has been 'Santa's Grotto' in Bridgend market raising funds for the Club.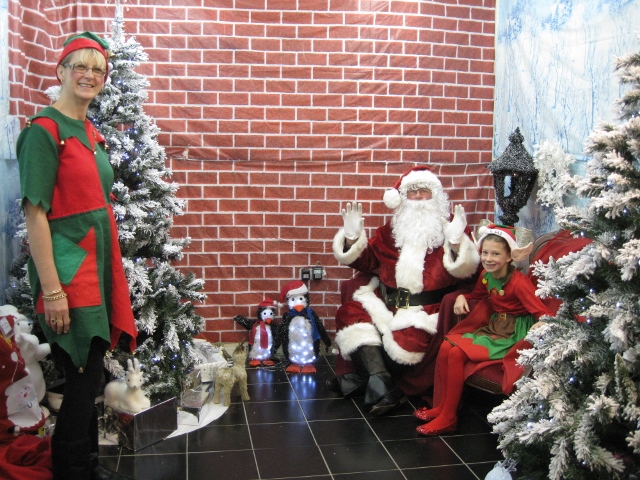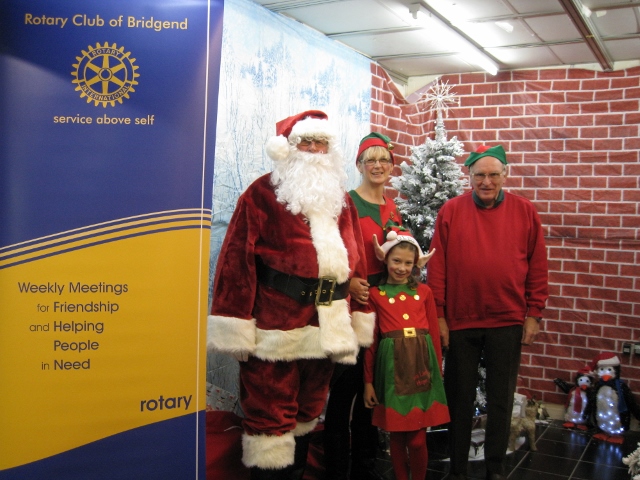 Santa and his elfs at the Grotto with President Allan Brooks.
Club members were very busy collecting at the Supermarkets to raise funds for local charity's.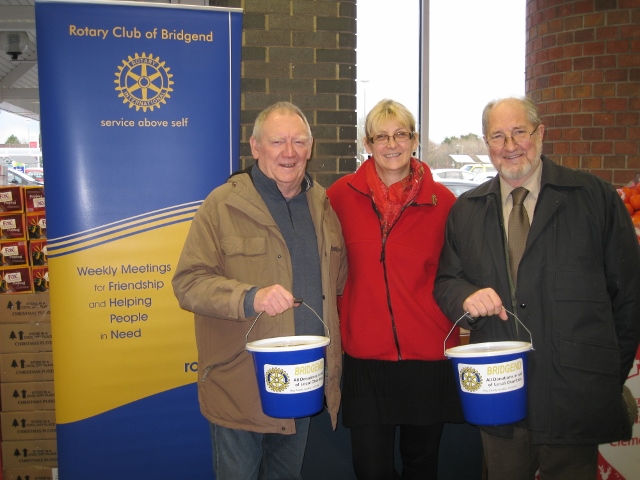 Singing Santa's
This is popular event were club members are jointed by members of the Bridgend Choir visiting watering holes in the local area singing Carols and collecting for club funds.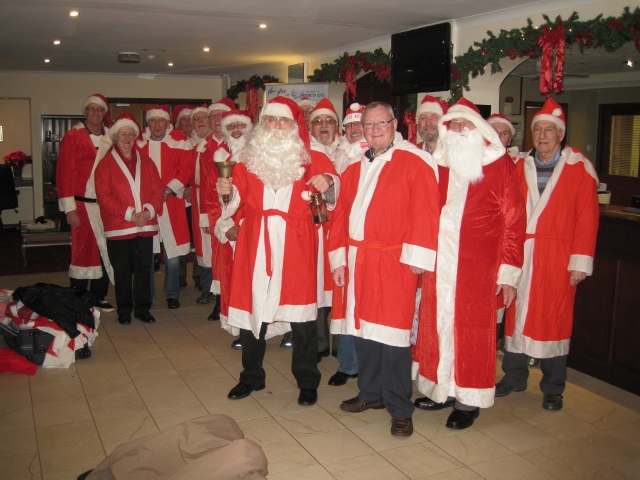 Collecting for 'Cellan'
Over the Christmas period the club has been collecting for 'Cellan' with his family and supports to raise funds for a sports wheel chair. A BIG THANK YOU to Sainsbury's for there help and support.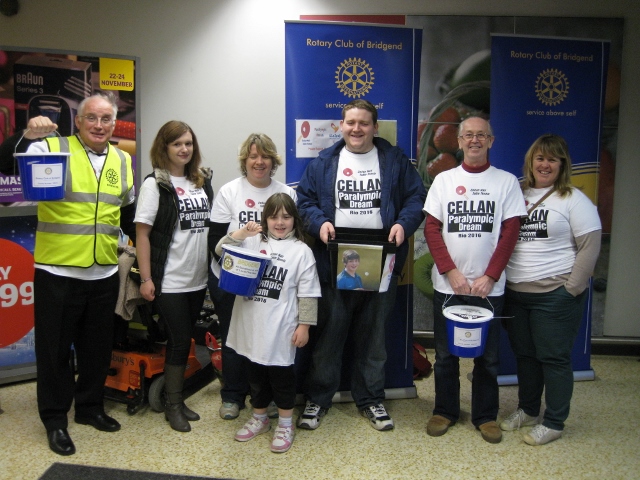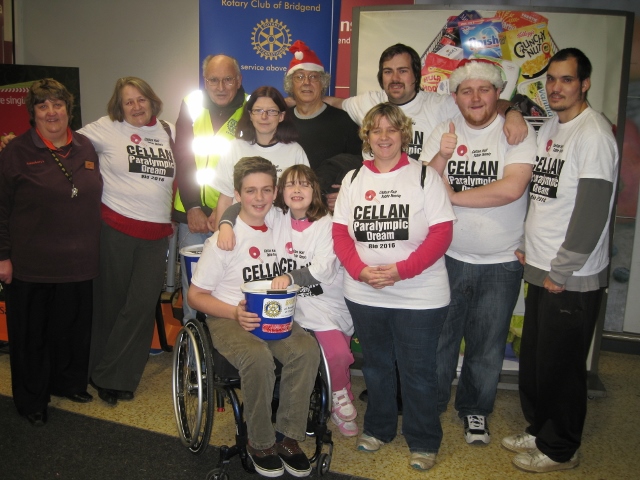 Rtn Gwyn Thomas has been very busy refurbishing the wishing well at the Bridgend market. Also collecting aqua boxes. Pictured with Gwyn is Mrs Jones from Cylch Meithrin Welsh nursery Pencoed who has supported this important project for many years.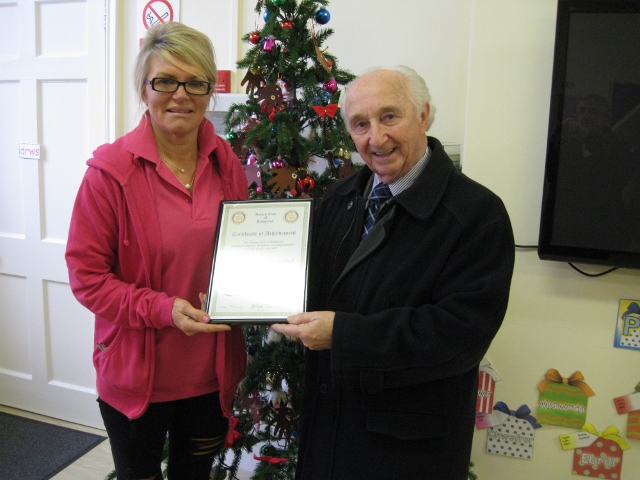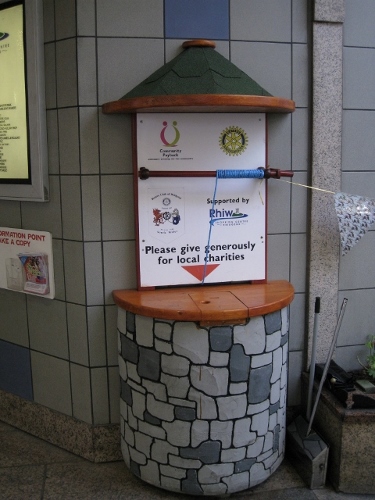 Foundation International Evening
Members and their guests of the Rotary Club of Bridgend were gathered at the Heronston Hotel for the annual event hosted by the Foundation Committee of the Club. As usual, the guest speaker was an Ambassadorial Scholar either studying in Wales from a foreign country or an outbound scholar from Wales who had been studying overseas. On this occasion, the club was delighted to receive Tomos Lewis from Dinas Powys who in 2011-2012 studied for his MSc degree in Columbia University, New York, in Broadcast journalism.
In an excellent address, following a most enjoyable meal, he gave a well-crafted account of his time there and the months he spent looking in detail at the Harlem district and its inhabitants. He was fortunate enough to remain in America and assist the BBC in its coverage of the 2012 Presidential election. During the question and answer session following his address, he answered all questions put to him with a depth of knowledge covering current world problem areas; the place in history he thought the presidencies of Kennedy and Obama would have over the passage of time and his future aspirations. He also mentioned his time when studying for his initial degree at St Andrew's University was at the same time as Prince William and Catherine Middleton were studying there.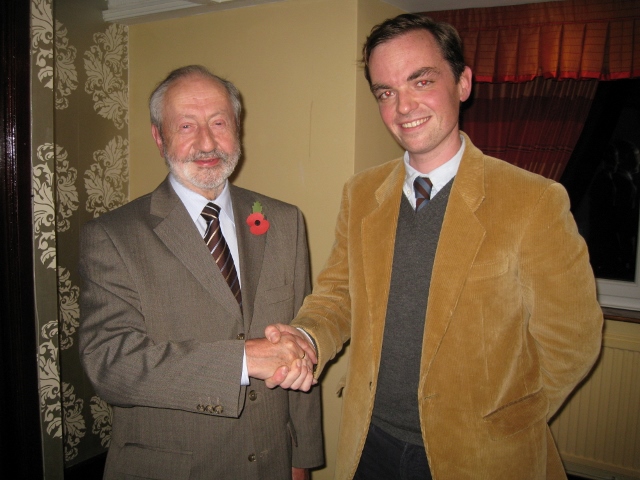 All present were delighted with the presentation and wished Tomas every success in his endeavours. He is currently working in London for an independent media company. He had spent time living and working in Beirut, Kuwait and has studied for a short while in St Petersburg, Russia. Before going to America on an Ambassadorial scholarship sponsored by the Rotary Club of Dinas Powys, he worked as a broadcast assistant at the BBC for BBC news in Cardiff, working primarily for the Corporation's Welsh language news programmes on TV and the Radio.
President Allan Brooks thanked everyone for attending, the committee for arranging the successful event, the speaker Tomos for travelling from London and for his polished contribution, making the evening so memorable.
Rtn Hugh Thomas
Chairperson Foundation Committee
Fishing for the Disabled Annual Fishing Competition
Rotary Club of Bridgend Past President Kendrick Griffiths QPM Trophy
Ex Chief Constable of Merthyr Tydfil Kendrick Griffiths was remembered on 23rd October 2013 when special School in the area competed at Seven Oaks for his commemorative shield.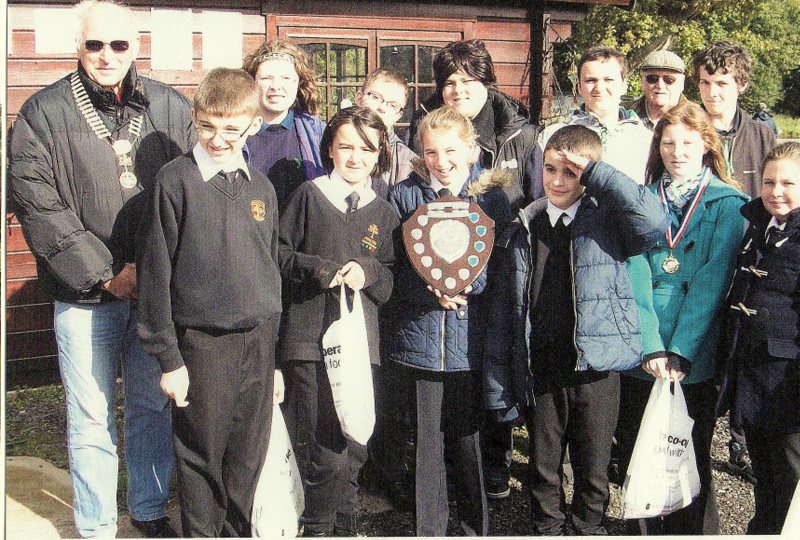 Rotary President Allan Brooks attended the event and presented the trophy to the winning team of Pencoed Special School.
This annual event is organised by Rotarian Edgar Burt
Rotary Autumn Walk
At 10am last Saturday (12th Oct). Led by President Allan Brooks and guided by Rtn Hopkin Joseph a party of 8 members and Friends plus a canine guest Ben. (Allan Brooks, Edgar Burt, Paul Cheadle, David Hubbard, Allan Reeks & Catherine, Gwyn Thomas and John McCarthy). Set of from the Llangeinor Arms.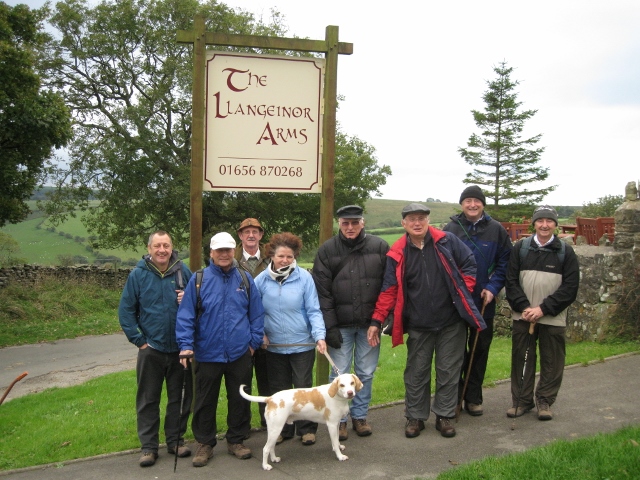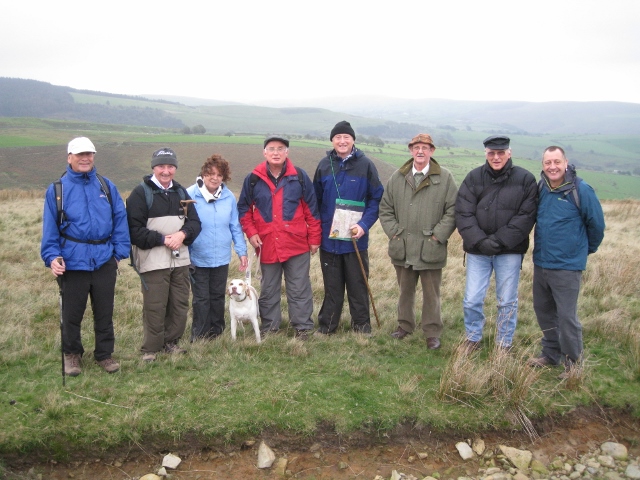 Following the North by North west path over the Llangeinor mountain to Pant Blaenhirwr (over looking Pontycymmer in the Garw Valley and Ogmore Vale in the Ogmore valley). A dry grisp morning with good visibility afforded panoramic views of both valleys in the area cutting through the upper hill strata, and to the south the plains of the coastal areas of Glamorgan.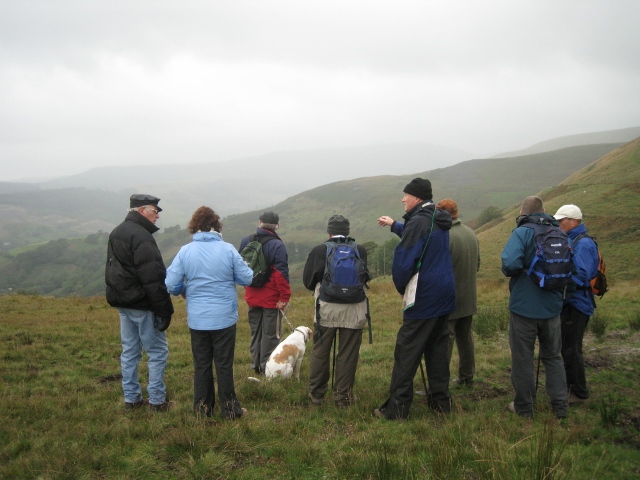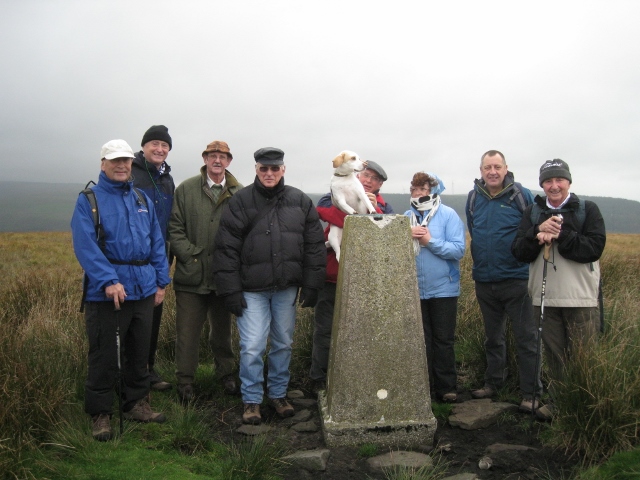 The return journey was via the Pen-y-Foel trig point with there after a gentle downward slope to the Llangeinor Arms to be greeted by fellow Rotarians and guests (Bob & Jean Broughton, Dianne Pearce-Hubbard, Caron Jones, John & Diane Ward). For some welcome liquid refreshments followed by a splendid Lunch. For all who walked the last mile downwards from the trig point to the pub was easy walking, but even so no one could keep up with Edgar Burt and Gwyn Thomas!!
Rtn Hopkin Joseph
Bridgend & District Fishing for the Disabled Association
Volunteers from this Association, with the help of the Rotary Club of Bridgend and several other organisations, have for the last fifteen years entertained and educated several special schools students from the Bridgend area.
One day a month, during the season, approximately twenty students are invited to go fishing at the Seven Oaks Trout Farm, Ystradowen.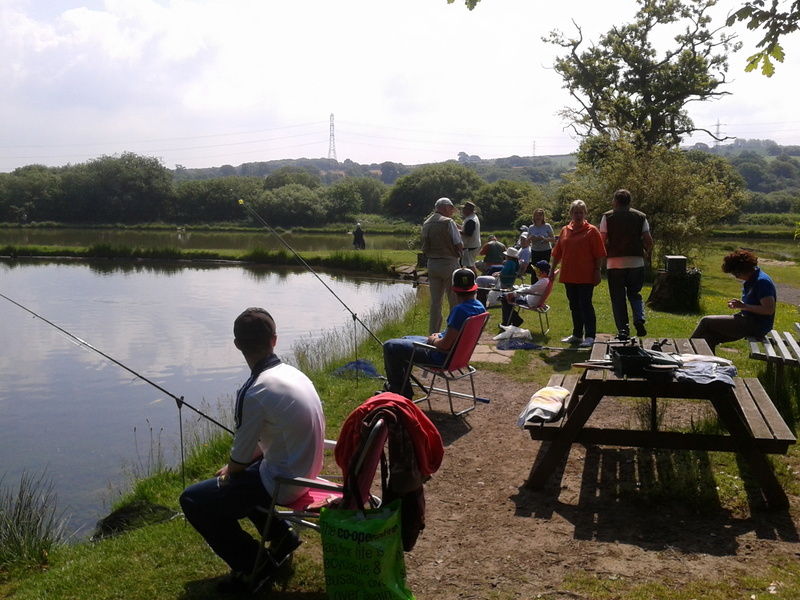 The organisers have recently decided to donate some of their catch throughout the fishing season to the Catering Department of Bridgend College. These fresh trout will be used to enable catering students to learn the skills of filleting fish, which is part of their curriculum. This is a wonderful gesture of the disabled helping the able bodied students.
Volunteers to help on the day of fishing are always welcome at Ystradowen. Anyone interested please contact Rtn Edgar Burt on 01656 667855.
Schools and Associations, who have already participated and thoroughly enjoyed themselves are :- Heronsbridge School, Bridgend. Bryn Castell, Cefn Glas. Pencoed Comprehensive Special School. Valley Gateway Day Centre, Sarn. Bridgend Recourse Centre and Blind and Deaf Association, Bridgend.
Rtn Roy Hodgkinson 18th Sept 2013