CAR BOOT SALE
as featured on the BBC's Antiques Road Trip
The Cowbridge Rotary Club Car Boot Sales raised around £3000 each year for Rotary Charities and we would like to thank all who participate.
The Car Boot Sales are over for this year but we will be back in action in 2015.
The first sale will be on 12th April, 2015.
Future sales are on 10th May, 14th June, 12th July, 90th August and 12th September.
Cowbridge Rotary joins the world of fashion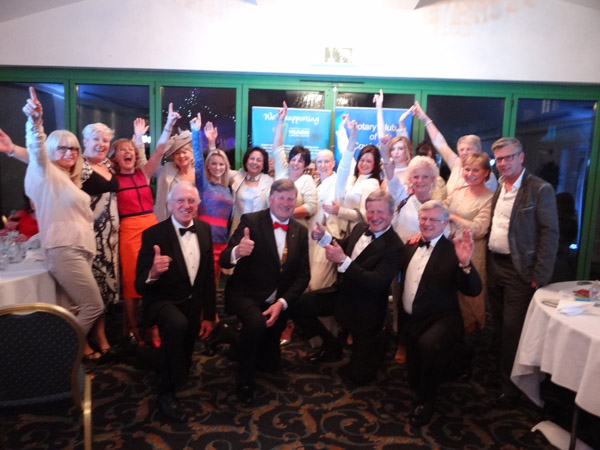 A very succesful evening of fashion and music was held at the Bear Hotel on Thursday, 26th March, 2015.
With fashions provided by Ushi's of Cowbridge and volunteer models a signioficant sum was raised for the Velindre Cancer Centre and a good time was had by all.
Race Night
The betting was fas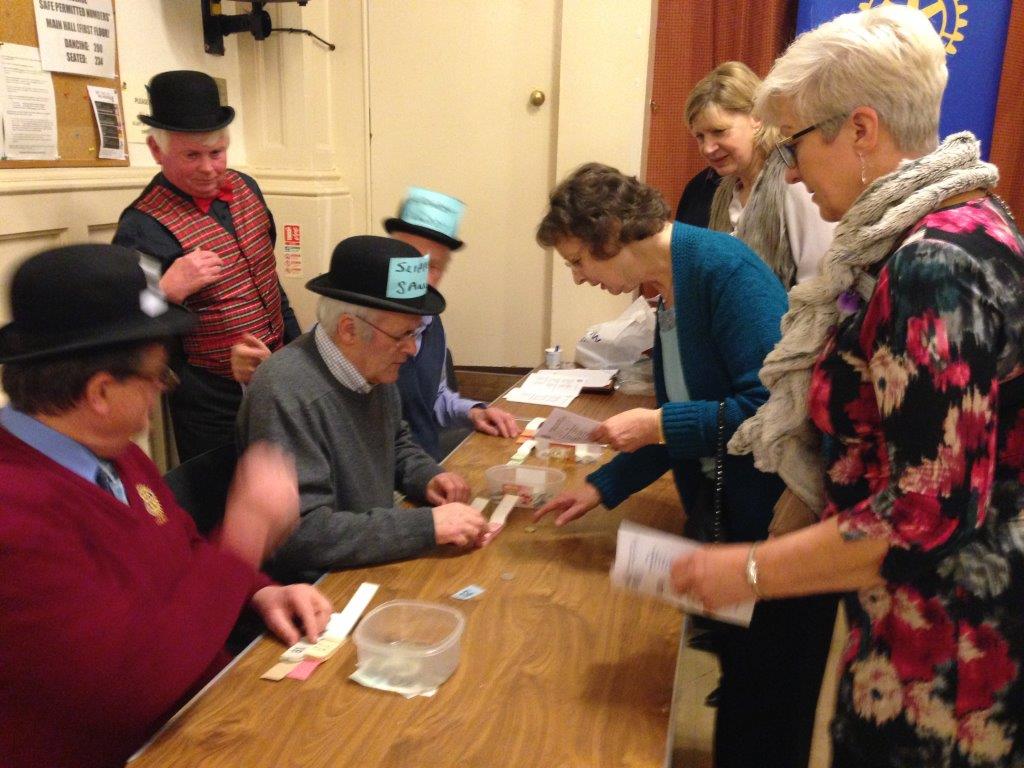 t and furious at the Race Night held in the Cowbridge Town Hall on Saturday, 7th February. After a fish & chip supper followed by a delicious ice cream not all the jockeys were in top form but there were some exciting races with over £1100 being raised for the charitable work of Rotary.

Tools for Self Reliance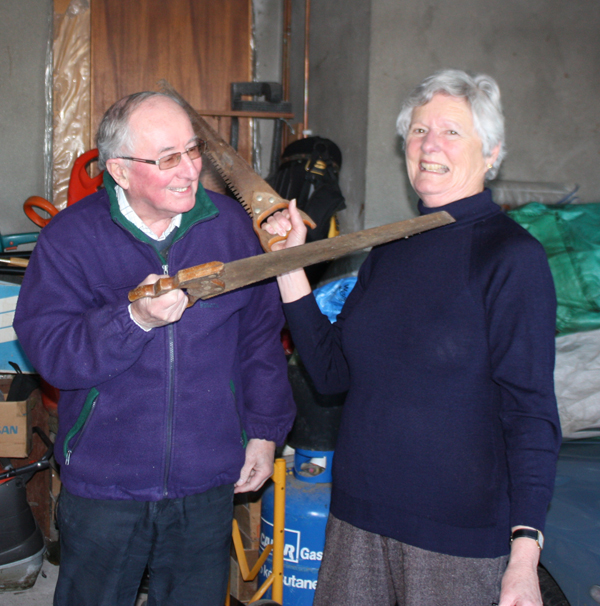 Rotarian Geoff Jones is collecting old, unwanted tools to donate to the Tools for Self Reliance charity. (http://www.tfsr.org/) J-C Jones and his wife Pat "saw" the collection off to a good start.
If you have any of the following, please contact Geoff (geoffbjones@outlook.com)
plumbing tools – especially heavy duty floor-standing pipe benders

arc welders (240V, stick type) plus accessories

carpentry tools – especially large carpenters vices, metal jack planes, tri-planes and drawknives

building tools, especially builders squares and corner trowels

engineering and metalworking tools – especially HSS twist drills, metric taps & dies and hand-operated bench grinders

bicycle repair tools – especially spoke spanners

shoe repair tools – especially skiving knives

auto-mechanics tools – especially heavy duty foot-pumps, tyre pressure gauges and piston ring compressors

electrical repair tools – especially multi-meters and desoldering equipment

industrial/professional quality power tools – especially heavy duty drills and bench grinders

blacksmiths tools – especially anvils and leg vices

good quality Singer round-bobbin hand machines – because spare parts are easily available in the UK and all over Africa for these old but solidly-built machines

electric sewing machines. These need to be in good working order and be capable of zig-zag stitching and embroidery. A foot controller and instruction manual, though preferable, are not essential
---
Rotary welcomes new members interested in having fun while 'giving something back' to the community. Fresh ideas and enthusiasm are the life blood of any organisation! It is easy to contact us using the "Click Here" button at the top right of the page.

---
Rotary provides opportunities to connect with people of like ideas, providing unique opportunities to serve the community using one's own professional skills alongside leaders of other businesses and professions. Rotarians help one another, and together help others.
Rotary is fun — every club holds social activities that offer diversions from today's demanding professional and personal schedules. Conferences, conventions, assemblies, and other events provide entertainment as well as Rotary information, education, and the opportunity for service.
Rotary helps personal growth and development by continuing one's growth and education in human relations and by developing and extending leadership skills. Serving in Rotary helps one learn how to motivate, influence and lead leaders.
Rotarians are people who believe that whilst it is nice to be important, it is more important to be nice.
Cowbridge - A Market Town in the heart of the Vale of Glamorgan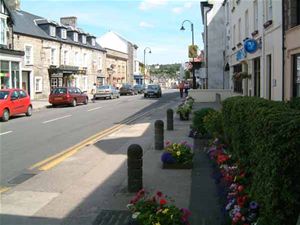 Cowbridge is a township that has developed on the site of a Roman fort built in the 1st century AD. Sir Richard de Clare, Lord of Glamorgan, granted Cowbridge a Charter in 1254 and developed the town. By 1266 Cowbridge had town walls with four gates, although the North Gate was used mainly for cattle. It was an important centre for trade and was the last recipient of a Royal Charter by Queen Victoria in 1886 and was able to appoint its own Councillors and Mayor. This tradition has continued in spite of the local Government reorganisation of 1974.
Cowbridge was renowned for its fairs but also became well known for its traffic jams on the main route from Cardiff to West Wales. A bypass to the north of the town solved that problem and the town continued to develop as a business and commercial centre as well as a popular dormitory town for Cardiff.
Today Cowbridge is known as the "Bond Street" of Wales and there are many shops that make the atmosphere of the High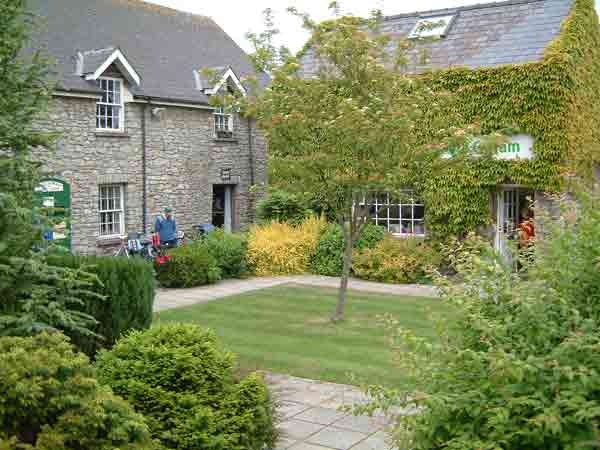 Street an enjoyable place to wander and to spend money! A farmers' market twice a month also adds to the variety of goods available.
The Rotary Club of Cowbridge was chartered in February 1961, currently has 36 members and meets in the Bear Hotel, a historic coaching inn. We are always pleased to welcome visiting Rotarians or others interested in the work of Rotary to our meetings.
Rotary was founded over 100 years ago on the principle of "meeting regularly to enjoy and expand one's circle of business and professional acquaintances." That principle remains true today, and in an increasingly complex world, Rotary continues to provide one of the most basic human needs: the need for friends and fellowship.
(Photos by Mike Baker. www.bakerlite.co.uk)

In the next 30 days...
Social Media...
Follow @CowbridgeRotary
Cowbridge Rotary Club
Promote your Page too