---
Welcome to the Rotary Club of
Loanhead and Roslin. We are a club of
15 members from in and around
the area of Loanhead, Penicuik and Roslin.
Chartered in 1983.
We have held our weekly meetings in
The Original Hotel Roslin for over 30 years.
President Simon Needham and
all the members of the club
would invite you to come along to
one of our weekly informal
meetings and see what we
are all about.
For more information please contact our
Secretary - Mr Sandy Brown
on 0131 440 2690
or by email from our contacts page.
Meeting Information...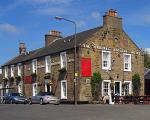 We meet on Mondays at 19.00 The Original Hotel, Main Street, Roslin, EH25 9LE tel: 0131 440 2384