WADEBRIDGE WHEELS 2016
Sun 17th July 2016 at 10.00 - 16.00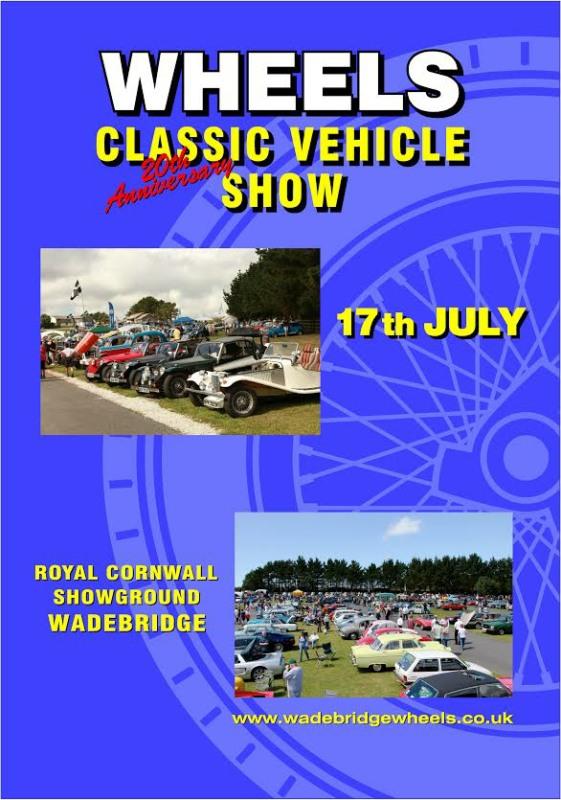 PRESS RELEASE – "Wheels Classic Vehicle Show Celebrates its 20th Anniversary on Sunday 17 July"

In Albi (a city near Toulouse, south-west France) earlier last month, there was a Parade of some 300 Classic Cars around the city's race circuit – impressive though this was, just one vital ingredient was missing…….Wadebridge Rotary Club's vision, experience, dedication and organisation, all of which will be evident at "Wheels 2016" up at the fabulous Royal Cornwall Show Ground on Sunday 17 July!

On the BIG DAY – in case you've forgotten, it's Sunday 17 July – there are likely to be well over 1000 classic cars, motorcycles, commercial and steam vehicles and in addition a fantastic display of around 10 Military vehicles (courtesy of John Bray) including an Army Recruitment truck (fascinating fact: one of these vehicles has its own toilet facilities on-board!). It will be quite a day!

And just in case you thought the event organisers – Wadebridge Rotary Club – were looking only backward, then you may like to know that for a special treat this year one of the Tesla range of cars will be on display to offer a look at the present and the future. These extraordinary cars, which will, undoubtedly, be one of the classics of the future are "designed from the ground up to be the safest, most exhilarating saloon on the road. With unparalleled performance delivered through Tesla's unique, all-electric powertrain, Model S accelerates from 0 to 60 mph in as little as 2.8 seconds". WOW!!

On Sunday 17 July, doors for public entry will open promptly at 10.00 a.m. Tickets cost £7 per adult with children under 12 years old admitted free of charge. And, as ever, there will be full catering/beverage facilities on the Show Ground with plenty of picnic area to enjoy your well-earned rest as you venture around the Show. There will be children's entertainment, trade & craft including the all-important Auto jumble stalls, The Lizard Stallions Horse Drawn Omnibus, Live Music (the magnificent, St Minver Silver Band) and Ring Events (including the Fire Service cutting up a car to demonstrate saving lives; this reminds me to keep my old Volvo well out of their sight) – in fact everything to make this a perfect Family Day Out.

Those of you who are lucky enough to live locally are asked to make a special visit to Bricknells Wadebridge store in Molesworth Street in the 10 days running up to "Wheels 2016" (yes, it's on Sunday 17 July!) to view the "Wheels" window display and then to venture inside to see a very special exhibit aimed to finally convince you to make the trip 'up the hill' to the Show Ground on the BIG DAY!

As always, the nett proceeds (last year over £20,000) from this event will be donated to a number of local charities, organisations and projects – this year the 'headline' charity is the Cove Macmillan Support Centre at Treliske Hospital.

So, it is this vision, experience, dedication and organisation that the city of Albi needs to make their event a bit more like Wadebridge's "Wheels Classic Vehicle Show" – I am sure we all wish them well. In the meantime, and without the hassle of travelling South, come visit "Wheels 2016" at the county's premier location on the A39: The Royal Cornwall Show Ground in Wadebridge.
The Rotary Club looks forward to welcoming you to this very special event on Sunday 17 July. See you there!
Report by Graham Renwick