Rotary Club of Penrith

Home | Club Activities | Helen Boyd - Oil from the Ocean Floor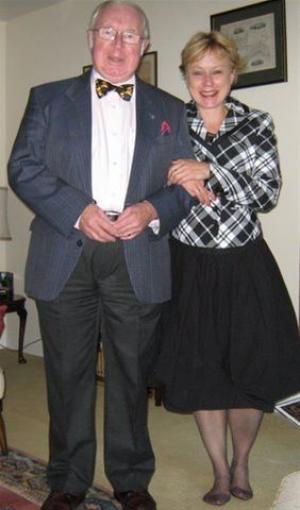 Mon Oct 4th 2010
Members of Penrith Rotary Club found themselves in deep
water at the town's George Hotel on Monday, when their speaker, Helen Boyd,
explained the challenges and technical solutions in recovering oil and gas at
sea. This insight was made possible as Helen is the daughter of Rotarian and
Penrith resident Dick Boyd who introduced her to members. Helen qualified as a
civil engineer before progressing to specialise in offshore pipelines, work
that has taken her to many parts of the world whilst working on installations
at sea.
In explaining the pace of change in her industry Helen
painted a picture of constantly working at the limits of  human knowledge. As reserves of oil and gas
are recovered, new supplies can only be accessed by drilling in deeper and
deeper water.  The North Sea platforms
were working in depths of 200-400 metres with the deepest ever well being
drilled at 450 metres in 1992.   Wells
are now being drilled in depths of 2800 metres which produces such a hostile
working environment that technologies have to be constantly reinvented to cope
with the extreme pressures and temperatures, for example at that depth oil
leaves the seabed at temperatures up to 160C. 
Divers cannot work at depths below 300 metres so the engineers depend on
robot like vehicles that are controlled from the surface.
Helen's talk was supported by an array of high-tech visual
aides, so Rotarians were taken under the sea to discover the extent and
sophistication of the seabed architecture that is put in place to ensure that oil
and gas is recovered safely. Her expertise and previous experience in the Gulf
of Mexico were particularly relevant when explaining the problems that led to
the recent disaster in that part of the world. 
The technologies in use in deep water are so advanced that there is
constant liaison and 'read across' with the space travel and exploration
industry.
Helen, now living and working in Holland, is a recognised
expert in pipeline insulation and coating where she conducts research and
liaises with other world experts. She gave an excellent example of the need to
adapt to deeper water drilling when she explained that some of her successful
pipeline insulation and coatings, previously impermeable to water, had
catastrophically failed when subjected to tests simulating the pressures and
temperatures of very deep water.
The non-technical members of Rotary were relieved to
discover that not everything was high-tech. Good old concrete coatings are used
to weigh pipes down and to strengthen them. Because of the warmer water near
the wellheads, fish are attracted and this can also attract fishing trawlers
that can damage the infrastructure.  The
concrete coatings prevent inadvertent damage. And that is not the only threat,
Helen showed genuine film of a huge whale nosing around the equipment, then a
shark that wrapped its jaws around the pipeline before deciding it didn't like
the taste.  Helen concluded her talk by
showing film of some of the science fiction like creatures that inhabit the
deep.
In thanking Helen, Rotary President John Brookfield,
reflected members' admiration of Helen's achievements, not only succeeding in
what had traditionally been a male dominated world but also in recognition of
her substantial contribution to her industry, one that benefits us all.