Rotary Club of Billericay

Thu Feb 17th 2011
- 00.00, Tue May 31st 2011
A retired sports journalist gives his views on the subject
Can Sport and Politics Ever Be Bedfellows?
With the 2012

London

Olympics just 17 months away, member Rotarian Trevor

Bond was asked to give a talk to

Rotary Club of Billericay colleagues at their weekly lunch on February 14.

No, the subject was not the Valentine's Day Massacre. It was Politics in Sport. Below is a summary of his address.
These were two subjects not only at which I modestly claim to have been reasonably

good at school but remained close to my heart and mind in the years that followed as a national newspaper sports journalist.
I could open the batting for the school cricket team and the following day debate whether a Communist could be a Christian or vice-versa. (which is a bit like asking whether Chairman Mao could pray alongside the Archbishop of
Canterbury
or Stalin with the Pope and would the Holy Book thoughts have to be in red or black, small or large.)
My father, a man of intelligence and self-taught intellect, inspired me in both. My taste of politics came, at the age of ten, with being taking to the hustings in Hornchurch, where I was born. It was a post-word war 2 political battleground

and the big guns came out to speak – Bevan, Morrison and Churchill. The candidates were impressive -. Geoffrey Byng for Labour – later to become Attorney General for

Nkrumu in

Kenya,

Lady Nancy Sear, a suffragette fighter for the Liberals while the Tories lined up their artillery with brilliant young men and war heroes such as Airey Neave. I was enthralled by all.
And my sporting joy was unconcealed when he took me to my first serious soccer match - his beloved West Ham against Tottenham at Upton Park and to see Bradman's great Australian's play
Essex
. I scorebooked every run of their 721 made in the day at Southend. Enough background.
The last time the Games came to the greatest city in the world was in 1948 at the
White
City
when
London
agreed to pick up the baton and run with it when no other country was prepared to spend money to finance a Games in austerity.
London
1948 was a frugal affair but it was also a great success. To their credit, the International Olympic Committee, with leaders good and bad, has never forgotten that.
Yes, politics played its major part in bringing the Games back to
London
. Coe and Beckham did their bit but the man whose influence swung the vote was, love him or hate him, one Anthony Blair.
I am sure that at the ancient Games, the Greeks accused Spartans, Spartans and Athenians cheated on each other and the Trojans cheated on all of them. To say nothing of what the Romans might have got up to. Winning gained you a laurel wreath; defeat, crucifixion. Even today defeat is regarded as disgrace and severe punishment follows.
So to the modern Olympic politics.
Berlin 1936. Adolf Hitler declares an Aryan Games and is gob-smacked when the great black athlete Jesse Owens wins four gold track and field medals. Refuses to acknowledge Owens'achievement. Politics or racism – something of both
Owens' comment at the time: "I wanted no part of politics. So, why worry about Hitler? When we lined up for the 100 metres final, I knew that the next ten seconds was maybe the climax of my life."
Rome, 1960. Described as the "Olympic Games that Changed The World."

Abebe Bikila won Ethopia's first ever gold medal, running barefoot for a new marathon record and sets the stage for an African track revolution. It was also the height of the Cold War.

The CIA, worried that

America
's long jumper Ralph Boston was threatened for the gold medal by
Russia
's Igor Aramovich Ter Ovanesyan subjected "Prince Igor" to a massive persuasion to defect to the States.
Igor said afterwards: "I didn't know whether to trust them. The soldier could have been a double agent. No mention of my wife. I believed in the Russian system and I stayed."

Mexico, 1968. The

Black Power salute on the winning rostrum by American sprinters John Carlos and Thomas Smith.
They were founder members of the Olympic project for Human Rights, both descendents of cotton slaves from the deep south who fought for justice not only in sport but also in politics.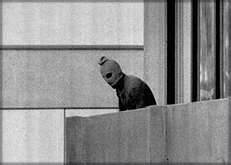 Munich, 1972. The unbelievable sight of 16-year old German athlete Ulrike Matforth winning a double gold medal set against the terror of eleven

Israeli athletes and coaches murdered by the terrorist Bader Meinhoff gang in the Olympic village.
Montreal, 1976: Boycott from

Russia
over US arms trade with Asia and
Africa
. Boycott included key African athletes.
Moscow, 1980.

Coe and Ovett fight out two titanic middle-distance races in a Games overshadowed by President Carter's retaliation order to the

US
to boycott the Games over
Russia
's treatments of dissidents.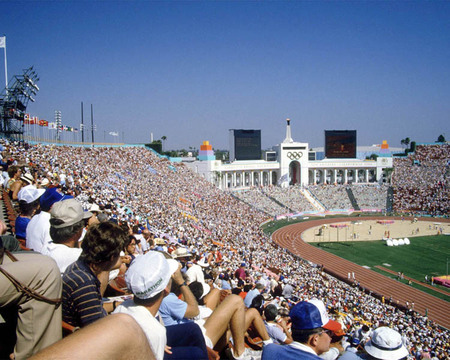 Los Angeles, 1984. The Games opening of a hundred grand pianos. Carl Lewis becomes the greatest

US
athlete since Owens and wins four gold medals but president Regan is attacked in Congress for hosting it when thousands are still in poverty in the southern states. Lewis later tested drugs positive and shamed.
Atlanta. 1996. Total political disaster for the

US

. Local government

failed to foresee environment and access problems. Condemned by the International Olympic Committee – the first time a host country had been so criticised.
Hopefully
London
might escape such political problems. But history suggests otherwise.
These were all events which made me challenge my thinking as a young journalist

- that sport and politics did not mix. Then came a personal event which made me realise I needed to reconsider.
South African sport was put in isolation for more than 20 years because of the government's apartheid policy which denied blacks and coloured to mix and play together with whites – sportsmen and ordinary citizens like you and me.
I was invited, as a cricketer, to go on a tour of
South Africa
in 1981 with some of the greatest county and club players in the land – at the height of apartheid.

My love of cricket ruled my political thinking. What a fantastic place to go to play the game I adored. I was delighted to accept, went along with the tour, played some marvellous cricket, not least at Newlands in
Cape Town
on the famous Test Match ground under the shadow of
Table
Mountain
.
We had two super Asian players in our squad. On a very special night at the plush
Mount
Nelson
Hotel
in
Cape Town
, we were all refused admission because two of our team were coloured. Our leader (the late Bill Frindall of Test Match Special fame) walked us out in protest and we ended up in a cosy pub in Sea Point.
My journalistic nose twitched. Later I went back to
Cape Town
under cover (I would not have been allowed in as a journalist) to write a series of articles for the Sunday Telegraph.
There I spoke to some of the greatest cricketers whom the world never saw in their prime, like Mike Procter, Graham Pollack and Barry Richards

who led the fight against isolation and two sports journalists desperate to write again about South Africa's involvement in world sport but dare not criticise the government – and, sadly, to the greatest bigot I have ever met, Dr Danie Craven, who ruled South African rugby and who told me " No black man will ever be allowed to wear the Springbok jersey."
Between them, enlightened president de Clerk and Nelson Mandela finally removed the barriers. Mandela saw sport as a means of breaking down political racialism and, although there are still problems,
South Africa
is now a senior partner again in the sporting and Olympic world, having staged a football World Cup for the first time on the African continent. It was indeed, in Mandela's words, a Long Walk to Freedom.
The words of one famous sportsman who saw it all in those desperate years, Johnny "Budgie" Byrne, West Ham and
England
centre forward, come back to me time and again.
Byrne, a heavy drinker but a decent man, left
England
and became a director of South African Breweries.

I renewed acquaintance with him in 1981 in his plush home in Constantia, the richest suburb of
Cape Town
.
My question to him: "What will happen if the revolution comes?"
To which he replied. "Not IF.

WHEN. I have a wonderful home here. I have a black house boy, a black nanny to look after the kids, a black gardener and a black chauffeur. I treat them well, I value them and I pay them well. They love me.
"But, when the revolution comes, my black houseboy will not kill me. He will go next door and kill white
massa
.

His houseboy will come and kill me. There is no such thing here as loyalty."
Those words have stayed with me a long time. Sadly dear Budgie has long since died – natural causes or alcohol poisoning I am not sure which but at least not with his throat cut. He did not live to see his words come true in politics but would have died happy acknowledging
Africa
's powerful new role in sport.
Positive: Afghans have learned to play cricket in refugee camps, to defy the Taliban and to be part of the current World Cricket Cup.
America
now parades the black athletes it once tried to deny. No more Olympic boycotts.
Negative. Successive governments in
Britain
rip up playing pitches and deny kids a sporting chance.

Which is why personally I do not begrudge the taxpayers money being spent on bringing the Olympic Games back to
England
. If it does become the legacy we all hope, then we should feel proud to host it.
I am left with a conviction that sport and politics have tried hard to become sound bedfellows. But also with a doubt that the race is a marathon, not a mile, and

has a long, long way yet to run. So has the debate.