Rotary Club of Kirkcaldy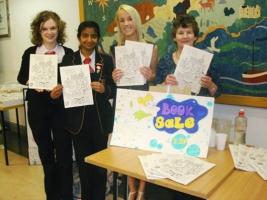 Tue May 1st 2012
The St Andrews Interactors told us about a book they've produced for children in the Victoria Hospital.
Club members were delighted to welcome eight fine young 'Interactors' from St Andrew's High School at the weekly meeting on May 1st. (Interact is Rotary International's service club for young people ages 12 to 18. Interact clubs are sponsored by individual Rotary clubs, which provide support and guidance, but they are self-governing and self-supporting).
6th year pupils Bethany McDonald, Lauren Brand, Holly Roberston, and Amy Guild, along with 5th year pupils Christy John, Angela Karumbi, Ben Haldane and Gavin Gilfillan all had a 'hands on' tale to tell of how 'The Newer Bigger Hospital Book' project has brought cheer and pleasure through the Sick Kids Fife scheme for youngsters in hospital at Kirkcaldy's Victoria Hospital.
With lots of original contributions to the bumper 20 page black and white A4 fun book coming from primary children in feeder schools to St Andrew's High, Interact Club President Amy Guild and her fellow Interactors set about their task. With paper (courtesy of Tullis Russell) and printing (courtesy of Trojan Press) and advice from Maths teacher Clare MacLean, this intrepid band sold 100 copies at The Victoria Hospital.
(Why a black and white Newer Bigger Hospital Book? - to let young patients colour in eye catching items. Monies raised (£133) meant toys were also bought for Sick Kids Fife. The latest fund raiser for local good causes was a 'slave auction' that notched up another £150 for good local causes.
With previous Interact fund raisers for CHAS homes in Scotland and Rotary projects in Tanzania, Club Secretary Rod Scott was right in his vote of thanks to describe this fine octet of St Andrew's High School Interactors as a future strand of Rotary International membership. A credit to their school, their families, and themselves, eight young men and women of Fife gave cause for a real May Day celebration and applause as the meeting ended.