Rotary Club of Misbourne Matins

Home | International
International Activity
Committee Chairman Peter Ballard
Committee Members
Michael Leyland Louis Moss Lavinia Syson Ian Montague
The remit of the International Committee is to extend our community service programmes to an international level. The committee is charged to identify, review and recommend projects in less developed countries of the world and to progress adopted projects through to completion on behalf of the club. We often work in partnership with a Rotary Club near the area to be supported and take advantage of matching grants from Rotary Foundation.
International Projects
Working in Africa
In 2004 the Club was made aware of Rotarians in South Africa who had founded and supported a hospice for both cancer and HIV/Aids sufferers. Our Club helped to provide vehicles to the hospice in 2004 and 2007.
Click here to read a report on the assistance given.
Working in India
A club member on holiday in Goa went to a local Rotary meeting and was asked if Misbourne Matins would join with Indian clubs in providing clean drinking water to schools. Seventeen schools and some 20,000 children were provided with clean drinking water through this project.
Click on left hand menu 'Indian Projects' to read a report on the assistance given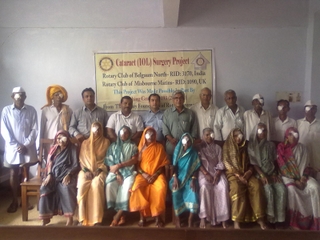 The club chose cataract surgeries for their 2011-12 international project. These were jointly funded with the Rotary Club of Belgaum North, Belgaum being a city 100Km inland from Goa and 500km south of Mumbai. Grants were also obtained from the Rotary Foundation enabling over 800 cataract operations to take place at a series of eye camps at different locations around the city. For just US$30 each, a simple 15-minute cataract operation can restore sight to some of the many blind people in India. The benefits go far beyond the individualís quality of life. It means they can play a full and active role in their family, their community and the wider economy.
Working in Nepal
The Nepal Trust is a Scottish-based charity working exclusively in North West Nepal providing assistance to villages up to 5,000m in the Himalayan foothills. Their main aims are provision of electricity via micro hydro-electric schemes and the lighting of village houses through solar panels.
Click here to read a report on the assistance given.
Working in Bali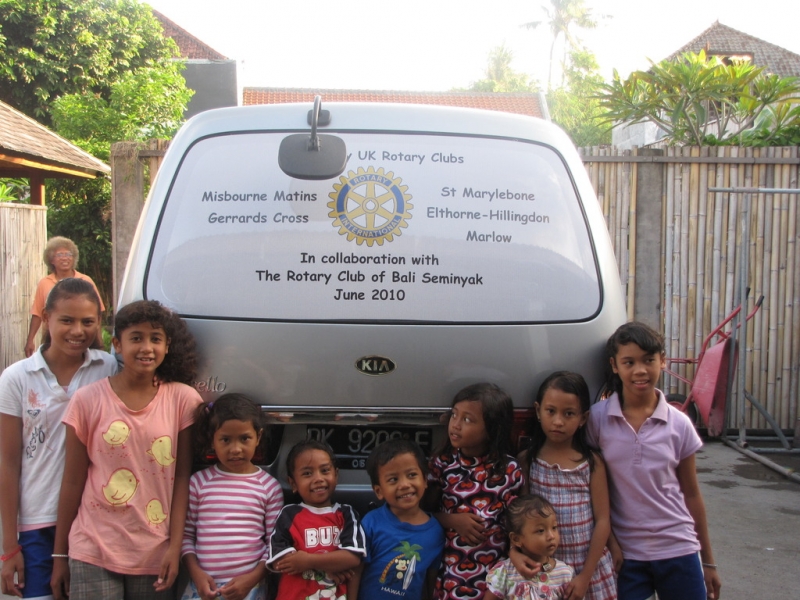 A club member is also a member of a club in Bali and suggested an Orphanage as a candidate for assistance. The orphanage required a vehicle to transport children to school, on trips and, occasionally, to hospital.
Click here to read a report on the assistance given.
Click here to see video of Children of the Orphanage thanking Rotary after delivery of the new bus.
Shelterbox/Aquabox Programmes.
Misbourne Matins actively participates in both these programmes, which are designed to be available and ready for despatch in response to calls for relief aid in areas struck by natural disaster. For example, shelterboxes provided by our club have been sent to Iraq, Tsunami Relief and Kashmir (2).
More information is available at and www.aquabox.org and www.shelterbox.org
Last updated 22/08/12
Sub-pages: