Rotary Plates and mugs Memorabilia
Rotary Memorabilia
Commemorative Rotary Memorabilia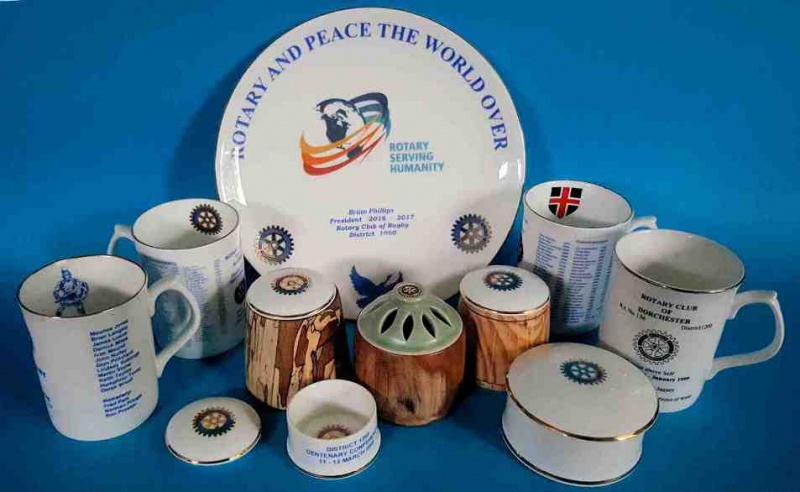 All Items Made From Fine Bone White China
District Governor, Club President and members would you like to mark your year in office or your club in a celebratory way by ordering a Personalised Commemorative Plate, Mug, or a Jewel Box, and in doing so give your support to the Rotary Foundation.
These English fine bone white china items are brought to you by the Rotary Club of Rugby which in sales, since 1998, have raised over 15,000 for the work of Rotary Foundation
Note - This is an example of the plate. The new Rotary logo will be inserted
The Plates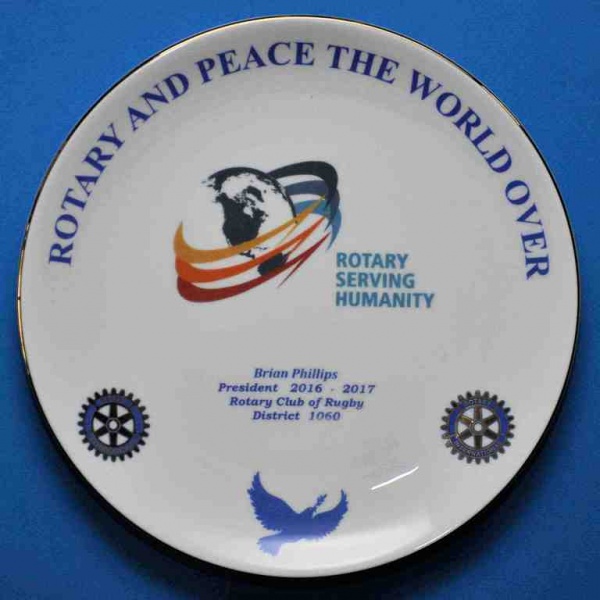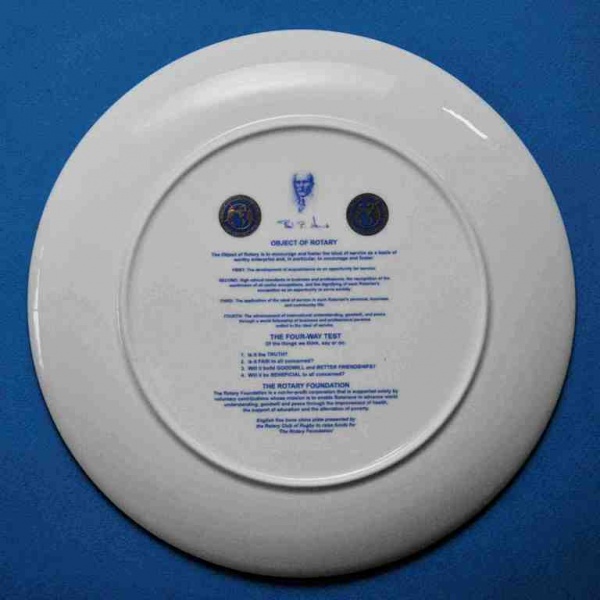 Plate 9" diameter decorated with the current Rotary International logo, and with a 4-line personal inscription, are supplied in Rotary blue with 22 carat gold trim. On the reverse side is printed the Object of Rotary, the Four-Way Test and a citation of the Rotary Foundation. There is a picture of Paul Harris together with his signature and two roundels of the Rotary Foundation.
Price - £42.00 incl. P & P.
The Mugs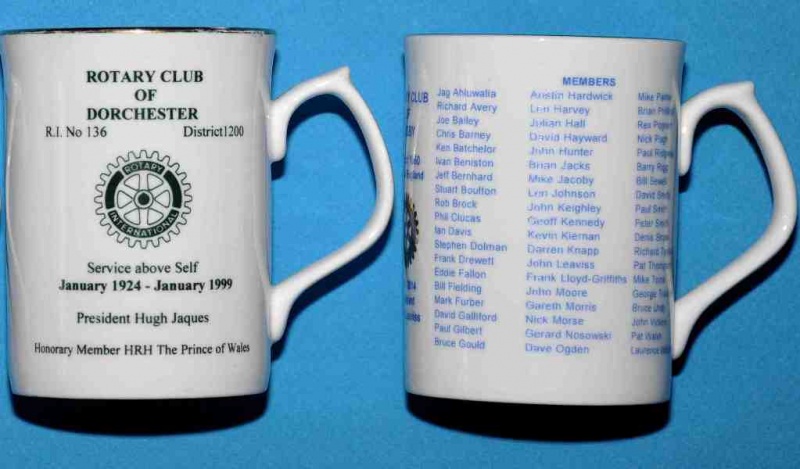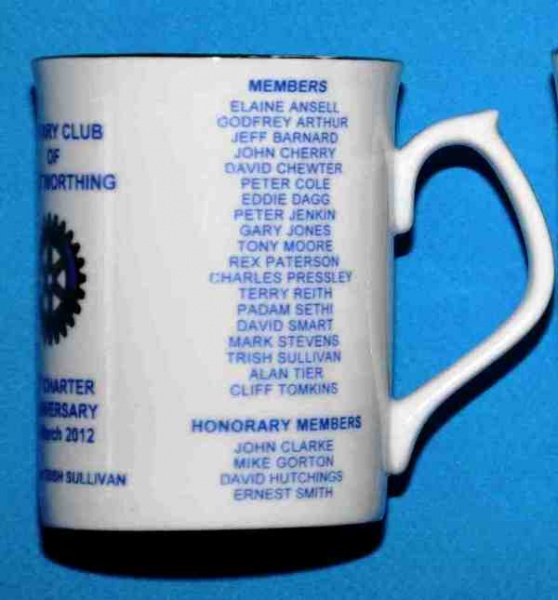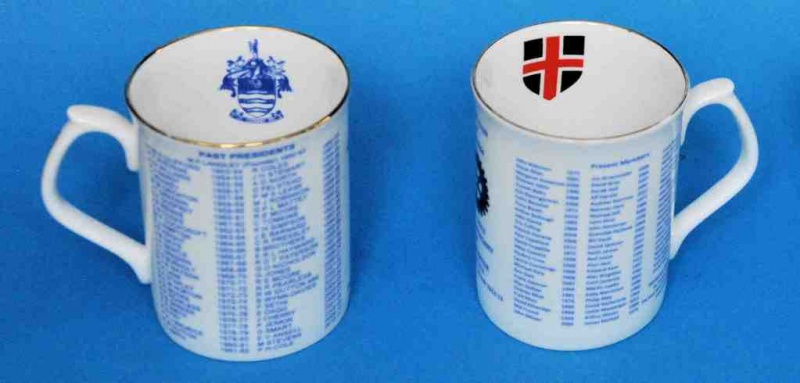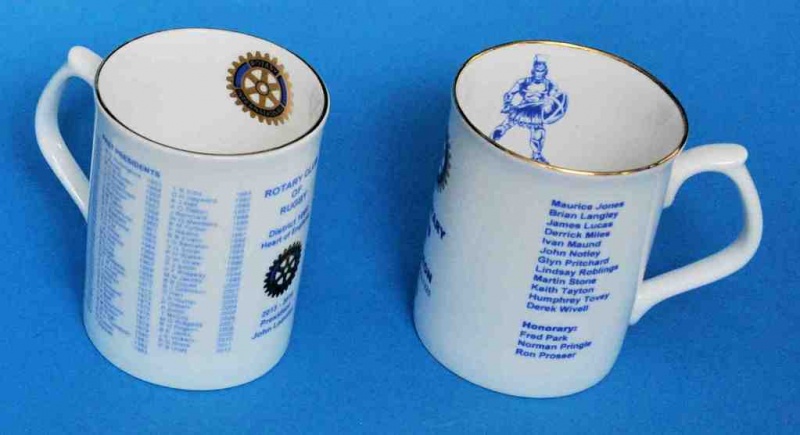 Mug Minimum order number, 25. Decorated in Rotary blue and trimmed in 22 carat gold. Personalisation can include the names of Club Members and/or past Presidents. A Logo can be printed on the inside, and up to 40 words on the external base of the mug. Note:- all mugs have straight sides and are not tapered
Price - £6.70 each with gold in the Rotary roundel or 5.70 without gold. p & p and VAT to be added.
NB. 65p per mug goes to the Rotary Foundation
The Jewel Box
Jewel Box - 2"or 3" diameter decorated with Rotary International Logo and with personalisation on the walls, inside, base and lid of the box. Decorated in Rotary blue with 22 carat gold trim.
Price - £7.00 each (2" diameter)
£7.50 each (3" diameter)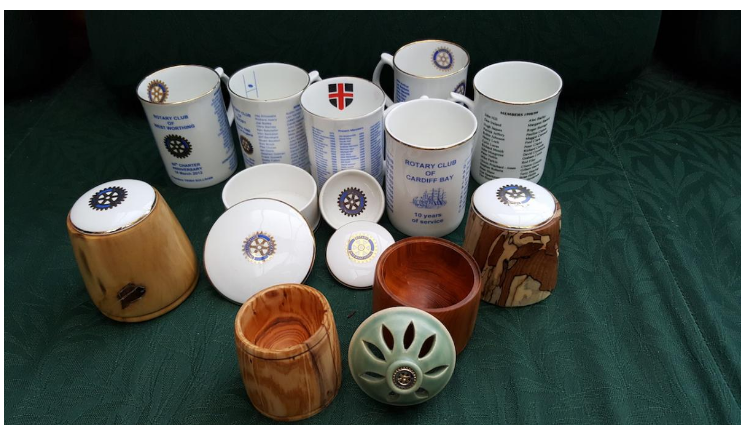 NB. 65p per mug goes to Rotary Foundation
Rotary Memorabilia Leaflet
Rotary Memorabilia Plate Order Forms
Rotary Memorabilia Mug Information
Rotary Mug Graphic Examples
For more information contact Rtn Frank Drewett - Tele 01788 521140, Email frankdrewett@btinternet.com