International/Humanitarian
This Committee supports many activities financially and through hands-on help. The latter has included raising funds for Polio Plus and participating in immunisations in India, filling Aquaboxes for disaster areas and backpacks for Mary's Meals pupils.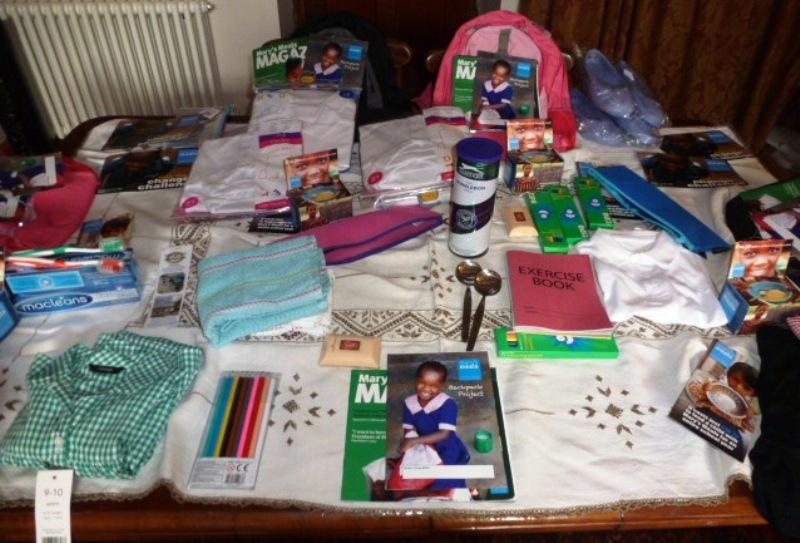 PROPOSED PROGRAMME FOR 2017/18
On the Aquabox front 18 of our target of 24 boxes have been completed with the final 6 ready for packing. At the same time a substantial quantity of cotton sheeting, towels, pillowcases and hand knitted baby blankets have been delivered to the Aquabox base in Wirksworth who are very grateful for our continued support. We arranged a Club visit to Aquabox in August 2016 when 20 members, wives and guests enjoyed a very informative and interesting visit to the depot where a tour let us see volunteers working on a range of Aquabox activities. There was also a demonstration of the impressive pump producing drinkable from very dirty water. Lunch (with tea and coffee!) followed at Carsington Water.
We now have a demonstration box and this has been used so far at St. Peter's and Paul's school in Rawdon and at a Leeds International Inner Wheel meeting in February when £600 was donated to the Aquabox project. It has also recently been seen by Otley Chevin Rotarians at one of their meetings. The demonstration box was also a point of considerable interest and wonder at the Easter Egg Hunt at Rodley Nature Reserve especially with the drinking of filtered dirty water by volunteer Rotarians. Potential interest was shown by the public and enquiries will be followed up.
We have continued to support St. Mary's School, Menston with it's established initiative with the Mnyakanya School in Kwa Zulu Natal. Pupils from St. Mary's reported on their latest very impressive visit to the school in July 2016 at our evening meeting in the autumn. We are supporting the Foundation Committee's application for a Rotary grant towards the projected Mary Jowett I.T. suite at Mnyakanya.
We have continued to collect spectacles which are now routed to the CART charity in Huddersfield.
We are looking to support 2 or 3 charities such as Hope and Homes, subject to funds being available from our budget.
Finally we would welcome additional members to the International committee, particularly from new members or the Thursday meetings.