Rotary Club of Penrith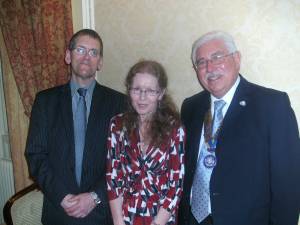 Mon Feb 13th 2012
Lowther Castle & Gardens - the renovation continues apace
Lowther Castle and Gardens
Andrew Mercer, the Commercial Director of the Lowther Castle and Gardens Trust was the guest speaker at this week's meeting of Penrith Rotary Club at the town's George Hotel.
Andrew proved to be an enthusiastic representative of the charitable trust that is breathing fresh life into the castle and its grounds. He is employed to create a major national tourist attraction right here in Eden.
The scale of the project is enormous; the huge two-storey stable courtyard is being converted into a visitor centre, work on the castle and a gallery will take three years and the 130 acres of gardens, first laid out in the 17th century will progressively be revealed and restored over a period of 20 to 25 years.. It is one of the largest such projects in Britain.
The site is now open to visitors who can explore the extensive grounds and watch the conservation craftsmen and women at work on the castle and in the gardens. A range of new craft apprentices including roofers and decorative plasterers are under training on the site. .One little known fact; among the many people involved in the £9m grant aided project are those workers cutting back vegetation under the supervision of the Probation Service having previously received community service orders from the courts.
He reported that the pace of things is quickening. There will be two special daffodil weekends in March, and then, to properly open the stable courtyard, complete with café and glorious toilets, (Andrew's words) on Good Friday 6 April 2012. The museum, gallery, shops, and castle ruins are scheduled to open this July. Meanwhile, with a team of gardeners now established, there is likely to be visible and continuous progress in restoring the gardens.
When the initial; funding is spent, Andrew intends to leave a legacy where, as a visitor attraction, the castle and grounds will be cash generating, sustainable and profitable. In thanking him, Rotarian Jacqui Allison noted that Lowther Castle was an intrinsic part of our history and heritage. The establishment of a visitor attraction on this scale, right on our doorsteps was an exciting prospect for all of us.