NAILSEA CHARITY WALKS and runs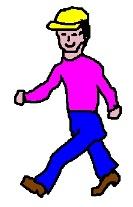 Sun Jun 26th 2016 at 08.15 - 16.30
Walk or run for enjoyment on 26 June 2016 and raise funds for your favourite charity or local community organisation at the same time.
The fifth annual NAILSEA CHARITY WALKS & RUNS took place on Sunday 26 June 2016 ~ Event home page
A record of about £20,000 was raised by the 2015 event, an increase of close to £2,000 over the sum raised by the 2014 event and the 2016 event is raising even more. In fact records were broken on all fronts - by comparison with the 2015 event there were 15% extra walkers and runners in the 2016 event, more charities and local community organisations participating, more online fundraising pages and more funds raised but it will be some time before the total raised will be known. Further donations and/or sponsorship is invited and can be made by selecting the Mydonate icon at the foot of this page.
The event
This event has now become firmly established as an important part of the Nailsea calendar when folks get together to have fun, enjoy the local countryside with friends and family and raise money for deserving local organisations at the same time. It is also a vehicle through which local charities, schools, sports clubs and similar organisations can raise money for themselves through a sponsored walk or run.
Each year The Rotary Club of Nailsea and Backwell receives considerable praise for the choice and suitability of walks, for the administration, instructions and signposting, for the attention to Health & Safety aspects and for the provision of a welcome pack of fruit and water as well as a successful completion set of medal and certificate.
The aim of the day is to bring in as many people from the local area as possible to take part on Sunday 26th June 2016, all having an enjoyable walk with friends, in small groups or on their own - and raising money! Runners can also take part, recognising that they will be 'off road' on a cross country route, over footpaths - often grass / dirt footpaths, with gates, stiles etc. along the way and some self navigation. Each participant will be raising money for a chosen cause or supporting the event by entering and making a donation.
There are three routes, all within the local area, and all starting from, and finishing at, the Scotch Horn Centre in Nailsea. (See The Routes for more information).
Participants will be provided with maps and instructions as well as a route and guidance telephone number and a separate emergency telephone number to call in case of difficulties. Each of the routes will have been tested by a number of volunteers in advance of the day.
The Rotary Club of Nailsea and Backwell act as facilitators, organising the whole event, providing advance publicity, registration forms, maps and route instructions to guide the participants, marshals (if and where deemed appropriate) and administration on the day. Everyone who completes a Walk will receive a medal and a certificate of achievement.
We ask for a Registration Fee of £6 GBP per adult person to cover costs with any surplus going to Rotary activities. Visit the other pages within this section of our site for more information by selecting from the index above or from the tabs on the right. Please do note that juniors must be 17 or under on 26 June 2016, the day of the event.

Please "like" our Nailsea Charity Walks page on Facebook.
---
Contact Graham Hunt about this page: