Handforth Station update
An update on recent developments with the Handforth Train Station Garden project.
The Rotary Club has for many years been maintaining a garden at Handforth Train Station (in Cheshire). This is in support of the more general work undertaken by the Friends of Handforth Station in response to the station becoming run-down in 1996. The station and garden has been recognised with awards on a number of occasions over the year including the Big Society award plaque from the Cheshire Best Kept Station awards 2011.
Mike Ramsden, chairman of the Club's community activities noted "We are delighted to continue our support for the Friends of Handforth Station and are especially thrilled to see that our tending of the station garden contributed to the Big Society award".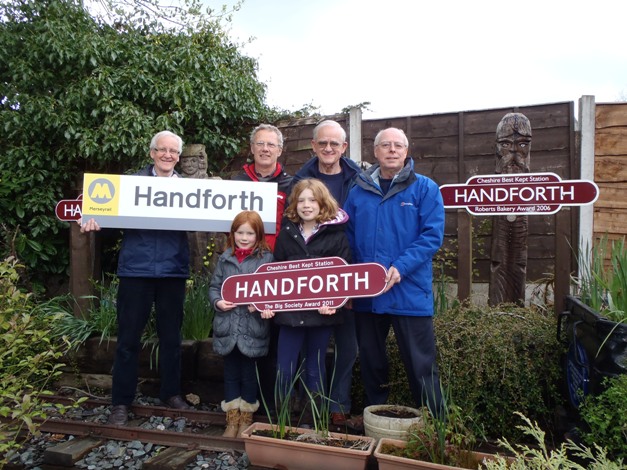 Mike Bishop and Andrew Backhouse (Friends of Handforth Station) and Rotarians Pete Mayall and Mike Ramsden with two junior station supporters.
Friends of Handforth Railway Station
The club has supported this community service initiative for a number of years.
This year with the WW1 centenary the garden has had a makeover
Picture below to see the result.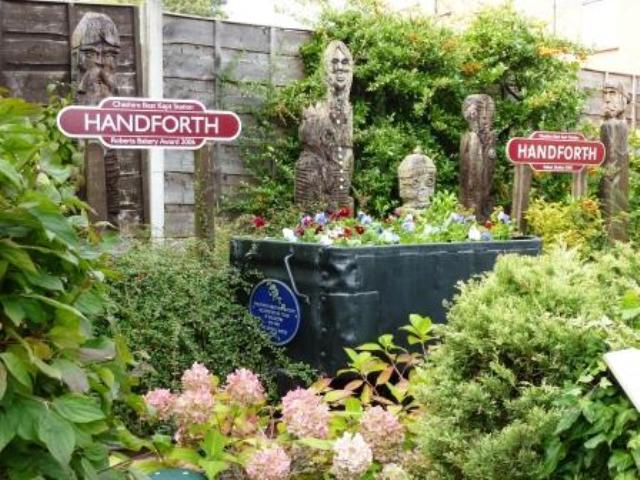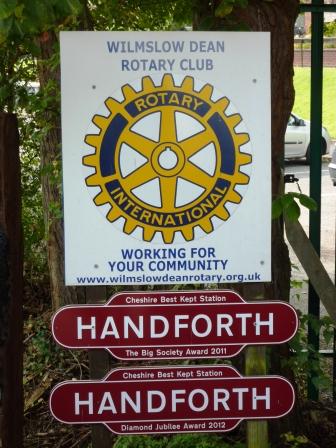 Another Success Story
The Handforth Station has won the Creative Partnership Award
at the recent 12th Annual Award Evening for The Best Kept Cheshire Station.
Here pictured is the group at the presentation
with Rotarians Peter Mayall and Mike Ramsden,extreme right.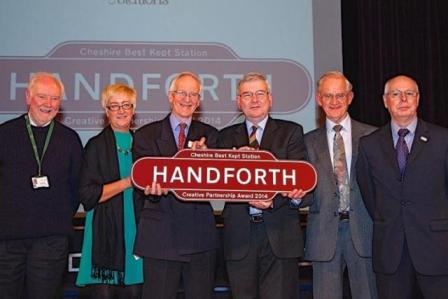 We quote from a local press report.
" "We are particularly pleased that Rotary, who created the sculpture garden with us
and have continued to maintain it summer and winter for 15 years
an achievement in it's own right, could join us to receive the award"