Latest News
Rotary is represented in Keynsham by the Keynsham Rotary Club. Rotary Members join together weekly to socialise, make friendships and to undertake work to support the community and local, national and international charity organisations.
Harvest Supper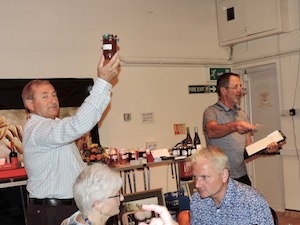 The Club held its annual Harvest Supper on Saturday 14th October which was presented by the International Committee, led by John Pike. After a splendid supper, comprising game pie & salad folowed by apple tart and cream, President Norman expertly launched into an auction of the donated produce and other items. Plenty of good tempered rivalry for the lots and good humour as well. A very worthwhile evening, raising between £750 and £800.
Edward Cannock memorial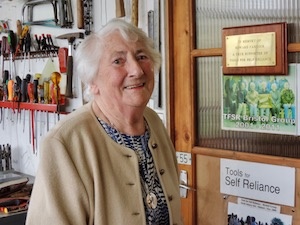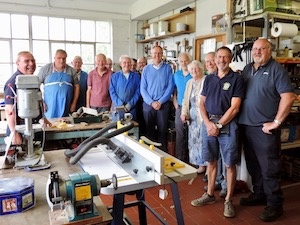 Our former member, Edward Cannock, was an enthusiastic supoporter of the charity organisation, "Tools For Self Reliance",(TFSR) a branch of which operates at the Kingswood Heritage Museum, Warmley. Over the years Edward collected many unwanted tools for TFSR and on Tuesday 5th September, members gathered together with Rotary club members to see Hazel Cannock unveil a memorial plaque in Edward's name, in appreciation of his long association with the charity. Edward left a legacy to TFSR which has been used to purchase essential items of equipment for their work and the Rotary club will continue to support the valuable work of TFSR.
Club visit to Westonbirt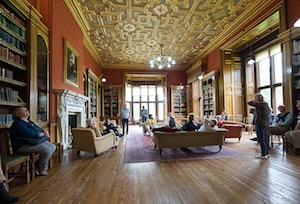 Our Club visit to Westonbirt on 20th August was a most interesting and enjoyable event. The rarely accessible rooms showed the splendid Victorian building at its best.
Club barbecue
Club members gathered at President Norman's for a BBQ last Sunday 23rd July, to raise funds for Rotary Foundation, our own Rotary charity. We managed to dodge most of the showers and enjoyed a great social occasion in the very pleasant suuroundings of Norman's garden. Rotary Foundation is an important aspect of Rotary work, funding grants for major international projects, responding to major natural disasters with humanitarian aid and raising funds for the eradication of polio wordwide.
New Club President Installed
The Club Handover to the new President took place after a splendid lunch at Cameley Lodge restaurant on Sunday 9th July 2017. In summing up his year in office, retiring President Richard Eaton (above left), ranged over some of the events and activities in which Club members had been involved and thanked members and officers for their hard work and support on community projects and fund raising activities. New President, Norman James, thanked Richard for his successful year and his leadership. Norman outlined plans for changes to the Club meetings and administration, which it is hoped will make it easier for new members to join and participate in rewarding community activities and international projects. Before finally vacating the President's chair, Richard presented Paul Harris Fellowships to John Wetherill (who sadly passed away last year), and to Adrian Dodd. New President Norman also presented Trevor Ewins, who was 90 on Monday 10th July, with a Paul Harris Fellowship. These awards are presented by the Club, for service to the Club and the Rotary organisation.
Chandag Infants summer fete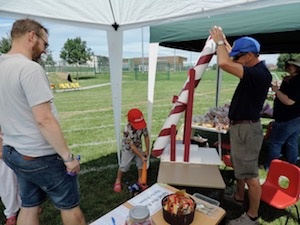 Hook a duck, Splat a rat or win a Ted! Chandag Infants School certainly chose a great day for their summer fete on Saturday 8th July. Keynsham Rotary members turned out to help man these stalls for the school. Not too many rats were splatted but plenty of ducks got hooked and prizes selected by the winners. We hope the stalls raised a good sum for the school and, as a club, we were pleased to contribute to a great day.
Blood Bikes!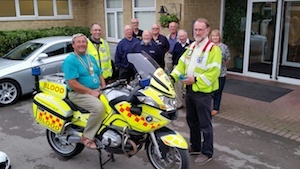 Kevin Slater gave us a very interesting talk on the volunteering group named "Freewheelers" who deliver and collect urgently needed medical supplies and samples for local hospitals and laboratories. They can cover anything up to 30,000 miles in a year delivering items such as blood for transfusions, small items of medical equipment, baby's breast milk and samples for testing. This is another example of how much we depend on volunteers to support our Health Service often without realising the extent and importance of their work. We are grateful to them for providing this service and helping to save lives.
Trip on the Pyronaut at Bristol Docks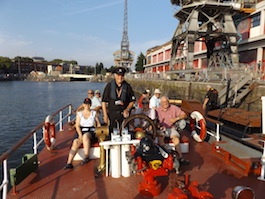 Following a talk to the club last November, Clive Brain subsequently arranged a trip for members on the Pyronaut vessel on Bristol Docks. Members were taken the length of the floating harbour and treated to the fire pumps working full bore. This vessel, with Clive at the helm, took part in the river Thames flotilla celebrating the Queen's jubilee.
Supporting Keynsham in Bloom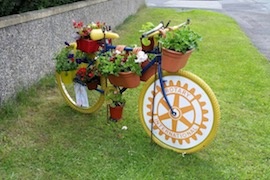 In support of Keynsham in Bloom, one of our members rummaged around in the garage for a redundant bike and cleverly decorated it as the "Rotary Bike". Keynsham in Bloom is making a feature of old unwanted bikes being decorated with plants to make a colourful display and support its Britain in Bloom entry. Good luck in the competition.
Helping Syrian Refugees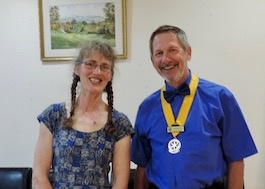 Also, at our guest night on Wednesday, our speaker was Lesley Bowes who has been heavily involved in helping a small number of Syrian families who are in desperate straits and are now trying to rebuild their lives in Bath. Major problems exist from cultural to language difficulties. However a substantial team of volunteers has been assembled with a wide range of practical skills to help settle the refugees into homes and jobs. These people are highly traumatised and vulnerable and we applaud the work that Lesley and her co-workers are doing.
Children's Hospice South West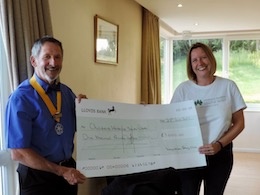 Following our Plant Fair on Saturday 20th May we are pleased to report that a sum of £1000 was raised for the Children's Hospice South West. We are grateful for all the support we have had from Andrews Propery Group, Broadleaze Nurseries, Fonthill Nurseries and Sheila's Plants and to all members of the public who came along. At our guest meeting yesterday 31st May, Senior Vice President, Norman James presented the cheque to Hazel Thompson representing the charity.
Plant Fair20th May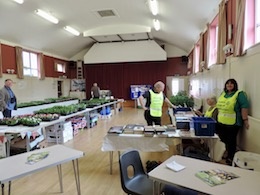 Our Plant Fair was held on Saturday 20th May and has successfully produced £1000 for the Children's Hospice South West. We also had books for sale as well as a coffee and cake stall. Our success has been materially assisted with support from The Andrews Property Group, Broadleaze Nurseries, Shelia's Plants and Fonthill Nurseries. Thanks to all these and to the public for coming along and contributing. Enjoy your purchases in your gardens this summer.
Tea Party but no Mad Hatter!
Last Sunday the Club held a fund raising tea party in aid of Polio+. Newest members, Jane & Rob Thurston hosted the event at their house welcoming some 45 Rotarians and friends. The event raised £300 for Rotary Foundation and the eradication of polio. We are always pleased to welcome people interested in our work and more information can be found at www.keynshamrotary.org.uk .

1st Keynsham Scouts get a new floor!
The Scout HQ at Ashton Way has for many years been the focus of their activities. So much so that the floor has worn out and become unsafe. Last year they started fund raising to raise a mammoth sum of £25k and have now reached that total. Great effort. Our Rotary Club has given support with a donation of £1.5k which was formally presented at last Friday evening's meeting.


St Keyna School, Keynsham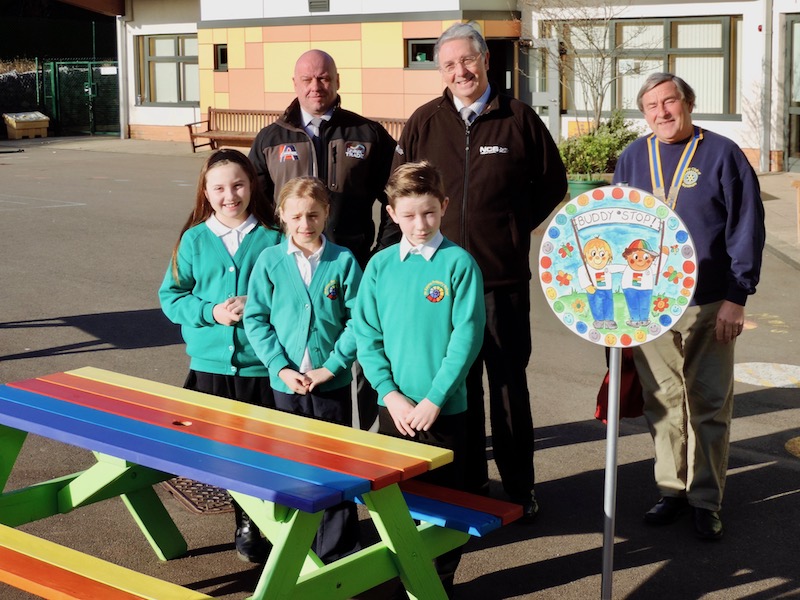 Last year, the Rotary Club of Keynsham was approached by St Keyna School to see if they could get our help with refurbishing some of their outdoor furniture. We agreed to help but were waiting for better weather as we were faced with working outside.
Then, in December last year Rotary received an enquiry from Rick Staples (NCS, Bisley Group), asking if we had any projects they could assist with. Immediately St Keyna's outdoor furniture came to mind. The next piece of good fortune was that David Dover of AkzoNobel (Dulux Paints) agreed to provide the paint. Work progressed at NCS workshopsduring December and January, resulting in two benches being re-varnished and two picnic tables being given a complete makover. We thank our friends for their help, a comment echoed by St Keyna school. One of the students, Sophie, had the great idea to make the rainbow picnic tables "buddy stops" where students can go if they are having a bad day and their friends would know they might like to talk to someone. In the photo above we have (l to r): David Dover, Rick Staples, Richard Eaton (President RC of Keynsham) and in front, Sophie, Jasmine and Leo.
Seasonal Greetings
With seasonal greetings and good wishes to all our Rotarian Friends, colleagues and public supporters who have contributed to our efforts during 2016. We wish you a very happy Christmas and Peaceful New Year.
Rotary Club Guest Night
The 30th of November evening meeting was our Guest Night when partners and friends attend our extended meeting. We usually try to find a speaker with a more unusual story and in Clive Brain we certainly found one! Clive regaled us with his exploits on several historic vessels which are still going strong at Bristol Floating Harbour. The Mayflower, John King and Pyronaut are vessels that have been brought back into working condition and are still to be seen at the harbour. Clive also told us how he took part in the Queen's Jubilee procession of small boats on the Thames with Pyronaut, a fire tender, operating its water jets full bore. A very interesting evening indeed.
Santas helpers!
Whilst some of our members were roasting chestnuts, others were helping to escort the children's parade along the High Street. Great evening all round - and it was dry!
Keynsham Winter Festival
Christmas is not far away, heralded by the Keynsham Winter Festival, held on Friday 25th November. Festivities were in action all along the High Street and Club members were on hand to help sell roasted chestnuts to passing customers. Sales were steady and it was interesting to hear comments like "I remember these from way back" and "What do they taste like?". We were raising money for the Rotary Foundation, which is our own charity, which funds major projects in areas of natural disasters as well as supporting the Rotary campaign to eradicate polio worldwide. Thanks to all who supported us.
Rotary "End Polio" day
Last Saturday a number of our members planted purple crocuses at Queens Road, Keynsham, in support of the Rotary "Purple4Polio" Campaign. They were joined by the Deputy Town Clerk, and representatives of Keynsham in Bloom, Community@67, and the Keynsham Green Team. We are celebrating the major impact that has been made in reducing the incidence of this crippling disease from around 500,000 cases per annum in the 1960s to no more than a handful today. Working with WHO, UNICEF and the Bill & Melinda Gates Foundation, Rotary has contributed over US$ 1.6 billion to immunize 2.5 billion children in 122 countries. After immunization, the children have their little fingers dipped in purple ink to register this and hence our purple crocuses. We hope the springtime will bring enjoyment from our planting and thank all those who have donated to our project over the years. Our aim is the complete eradication of polio but we still have to be vigilant until that is achieved.
Sponsored weight loss (2)
At the same meeting we were given a presentation by Stuart Walker on the activities undertaken by Diabetes UK. He outlined the growing incidence of this disease and then covered the research and development areas to look for future treatments and possibly cures. Rob presented Stuart with a cheque for £527, commenting that both charities were important and he held them as particularly important to him.
Sponsored weight loss (1)
Over the last few months club member, Rob Thurston, has lost 2st 8lbs in a sponsored weight loss, in the process raising £1054 for charitable causes. At our meeting on 28th September Rob presented a cheque for £527 to John Griffiths for the Bujagal Trust. The Trust was formed in Bristol in 2003 and has provided basic but essential support to Ugandan schools at Gulu and Jinja. John expressed thanks on behalf of the trust, stating that the money would go a long way in Uganda.
Cheque presentation to Prostate Cancer UK
Earlier this year we held a very successful Plant Fair at the Fear Institute, Keynsham, raising £1000 for Prostate Cancer UK. In the photo Roger Spooner (JVP) presents the cheque to Pauline Blacker (PCUK volunteer). This organisation is dedicated to raising awareness about the disease, providing support to patients and funding research into new treatments and medicines. In our club we have experienced above average incidences of prostate cancer and we are well aware of the need to have appropriate tests to catch the problem early. Cure is possible but early diagnosis is essential. We are pleased to support the work of Prostate Cancer UK.
Tour of Britain and Bath Cycle Relay Race
Since the successes in recent years of our cycling athletes there has been a burgeoning of interests in the sport generally. A number of our club members were present at the finish of the "Tour of Britain Race" in Bath yesterday (8th Sept) and thoroughly enjoyed the excitement and enthusiasm of the ocassion. But we were not just spectators. We were on a mission to advertise our own event called the Bath Cycle Relay. Organising member, Ken Cookes, engaged in conversation many interested folk. So we are hopeful for a good turn out. The event will be held on Sunday 23 April 2017 and full details will be available from our dedicated web site www.bathcyclerelay.org.uk . Take a look and why not take part with friends and family.
District governor's visit
We were pleased to welcome DG Richard Purdon and his "driver", Helen to our meeting on 7th September. Richard outlined his highly amusing experiences in the lead up to taking over as DG and referred to a number of issues confronting our organisation. Notably encouraging like minded people to join us. He also referred to our highly successful polio eradication programme and commented on the need for continued support for the project to complete the task and prevent a resurgence over the next few years.
Celebrating a new member
At yesterday's meeting, 7th November, President Richard Eaton inducted Jane Thurston to membership of our club. We extend a very warm welcome to Jane and hope she will enjoy the friendship and enjoyment and the activities we pursue. Jane is no stranger to Rotary, coming from a family with a long association and understanding the Rotary ethos. Great to have you on board Jane.
What is he up to?
During our visit to the Bath Soft Cheese Dairy we had to be cover up to minimise the chance of bringing in some unwanted bugs. We had to wear hair nets, beard nets and shoe covers and thoroughly wash our hands. The dairy was spotless! The picture captures John overdoing the hair net bit with Ruth wondering if he's quite got it on right. Picture improved?
Visit to Bath Soft Cheese Dairy

Occasionally we like to make visits to local enterprises and production establishments to learn about their business procedures and activity. Yesterday, 27th July, we visited the Bath Soft Cheese Dairy at Kelston, Bath. Hugh Padfield conducted us through the processes of making award winning cheeses from their own organically produced milk. Four types of cheese are made, probably the most well known being "The Wyfe of Bath", a name inspired by Chaucer's Canterbury Tales. At the end of the tour we were treated to a glass of wine and samples of the superb cheeses. Making our way along the road to Bitton we finished off our most enjoyable evening with a meal at the Swan. Interestingly, the UK now produces a greater variety of cheese than France and these niche producers deserve our support in producing quality goods.
Chandag Infants Summer Fair
Hardly had we finished measuring the onions and we were back at Chandag Infant's School to help the PTA with their Summer Fair. We were asked to man the stall where you had to guess the number of balloons in a small car. We had a great deal of interest - no wonder as the prize was a family ticket to the Science Museum at Bristol plus a bottle of Champagne plus a family photoshoot. Luckily the weather held up resulting in a good attendance. As a Rotary Club we are keen to support our local community, and are ready to help with these sort of events.
The Great Onion Growing Competition
This year, as part of our Plant Fair event in May, we have run a competition at the Keynsham Infants and Junior Schools to grow the biggest onion before the end of the summer term. We are pleased to report that all the schools took part and a number of onions grew to a very presentable size, despite rather unhelpful weather conditions. The winning onion, measuring 10cm across, was grown by Chandag Infants School with Chandag Junior School coming a close second. The Chandag representatives were Josh, Lucy and Joey who received the Roland Reed cup as well as a certificate, some crayons for the class and a voucher for 10 minutes extra playtime (very popular - but subject to teacher's agreement!). We are planning another Plant Fair next year and will be running a similar competition - so watch this space. This year's Fair raised £1000 for Prostate Cancer UK, thanks to public generosity.
Keynsham Music Festival
Rotary members turned out on Sunday 3rd July to assist with the annual Music Festival in Memorial Park, Keynsham. After a week of indifferent weather Sunday proved to be ideal with plenty of sun and summer temperatures. Club members assisted on the gates as stewards and four of our members had dishes of strawberries and cream and cherries for sale. It was a great family day and the Rotary Club of Keynsham is pleased to support this great community event.

A Proper Handbagging
At our Handover last Sunday, awards were handed out by Jenny our outgoing President. John A received a proper handbagging from Jenny because of his outrageous humour and pithy comments during her year. We all enjoy them John, keep them coming!
New Club President
At our Handover lunch yesterday 26th June, our new President, Richard Eaton received the collar of office from the retiring President, his wife Jenny. Jenny expressed her thanks to members for helping to make her year a great success. We took part in many local activities and through our events raised £2000 for The Hive at Kingswood as well as £1000 for Prostate Cancer UK. Richard sees us building on the last year's success with particular emphasis on encouraging new members to join us. He has promised to become more familiar with using IT!.
J