Presentation to RABI
Wadebridge Rotary Club presents a £1000 cheque to RABI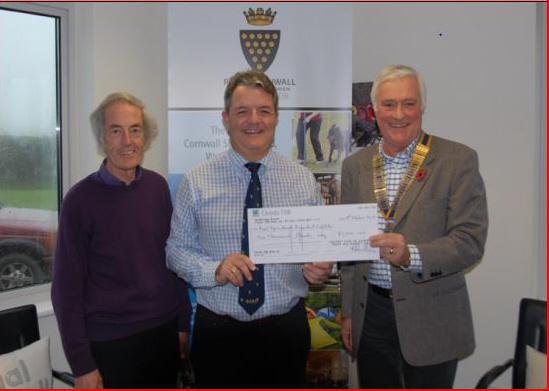 Show related pages
Royal Agricultural Benevolent Institution
Christopher Riddle, secretary of the Royal Cornwall Agricultural Association, accepted a cheque for £1000 on behalf of the Royal Agricultural Benevolent Institution (RABI) from President of Wadebridge Rotary Club, Graham Renwick from funds raised at Rotary's very successful annual Wheels 2013 event, held at the Showground in July.
RABI is a grant-making charity that supports members of the farming community facing need, hardship or distress. Founded in 1860, the charity has an unbroken history of providing long term care and emergency help for farmers, farm workers, tenant farmers, farm managers and families who face hardship, often through no fault of their own.
With compassion, discretion and friendship ir provides confidential welfare advice, practical care and financial support to those in need within the farming community.
Chris Riddle, who is currently National Chairman of RABI, said "We are extremely grateful to Wadebridge Rotary Club and the support of individuals who raise funds for RABI, I know the money will be put to good use."
The photo, by Geoff Nute, L>R shows Rotarian John Pomeroy, Chris Riddle and Graham Renwick.