Boxing Day Dip (2018)
BDD
BOXING DAY DIP 2018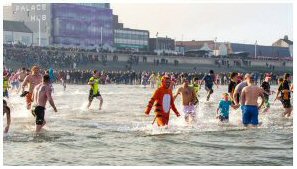 Photo : Dave Cocks/RNLI
ROTARY CLUB OF REDCAR
Come and join hundreds of other dippers
earning money for their favourite charity
Sign in from 10.15am at the Hub (Esplanade) on 26 Dec. Parade leaves at 11.00am
ALL the money you collect
you send direct to
YOUR charity
The Rotary Club charges a £10 registration fee for each dipper to cover
expenses and donations we make to those who facilitate the dip :
( eg. RNLI , Coast Watch , Cleveland Mountain Rescue )
The registration fee also includes Insurance cover for the event ,
changing facilities and drying areas.
Any money left over is used to help Redcar local charities.
for details on how to pre-register
click on 'Links' at the bottom of the screen

then click on 'BOXING DAY DIP (2018)'
(the earlier the better , please ! )