Friends of Bodmin Hospital
Wadebridge Rotary Club donates £2500 to the Friends of Bodmin Hospital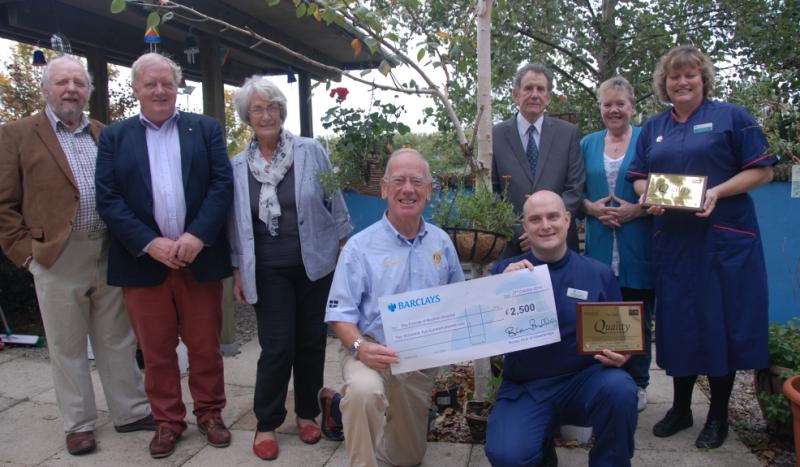 Wadebridge Rotary Club's donation kicks off important project for the Friends of Bodmin Hospital
THE Friends of Bodmin Hospital in partnership with the hospital team have decided that dedicated rooms for End of Life care are an essential requirement for both the comfort, privacy and dignity of the terminally ill and those reaching the end of their life. Such a facility would give patients, staff and families the opportunity to be cared for within a specially designed setting.

During the hospital refurbishment which resulted in the Stroke Rehabilitation facility, it was agreed that both a storage facility and an End of Life Care room would be provided. However, only one was provided, resulting in the current space being used for storage.

At their monthly meeting in March the Friends decided to pursue the reprovisioning of the storeroom to its intended use by providing suitable storage facilities. It was agreed that this was a worthwhile and manageable major project which would require substantial funds and that an initial £4000 be allocated to the scoping, feasibility and architectural plans. The Friends have funds to initiate the building of a storage facility in the hospital grounds and, on being given the go-ahead by the authorities, will devote their fund raising to achieving this essential requirement.

A wonderful kick-start to this objective came with a very generous and substantial cheque from Wadebridge Rotary Club for £2,500 raised at their splendid annual classic car event, WHEELS, at the Royal Cornwall Showground in July this year. Rotary Chairman Brian Budden commented "Rotary are aware and sympathetic to the fact that those who are terminally ill and their families need a more suitable place than around a hospital bed which might be on a shared ward. A facility to provide a seamless transition from hospital care to end of life emotional care. This money raised at WHEELS will allow the Friends of Bodmin Hospital and the Staff to start planning in earnest."

It is appropriate here to note a splendid achievement by the three general wards at Bodmin Hospital: Harbour, Anchor and the Woodfield Stroke Rehabilitation Unit. Over the past 12 months the teams have been working with a National Team as part of the Community Hospital pilot programme to develop, enhance and implement care for those patients thought to be in the last 6 - 12 months of life. In recognition for their hard work they recently attended an Awards Ceremony at the Institute of Education in London to receive their certificates and plaques, accompanied by colleagues from many other Cornish Community Hospitals.

An End of Life Room objective, whilst very ambitious, is well within the Friends capabilities with the help of renowned Cornish generosity. The League of Friends of East Cornwall Hospital (which subsequently amalgamated with the League of Friends of St Lawrences Hospital to become the Friends of Bodmin Hospital) were fundamental in the establishment of the Hospital's Renal Unit with £100,000 contribution and many other initiatives over the years to provide equipment and services for the staff and patients of their community hospital.
Photograph by courtesy of Geoff Nute:
L - R. Tony Greagan, Roy Vannoey (Wheels chairman, Ann Gregan, David Jenkins (vice chairman FBOH), Carol Kerr (committee), Anita Cornelius (Matron), (kneeling) Budden (Club President & Matthew Collins (Ward Manager, Anchor Ward & Stroke Unit)