Annual Beer Festival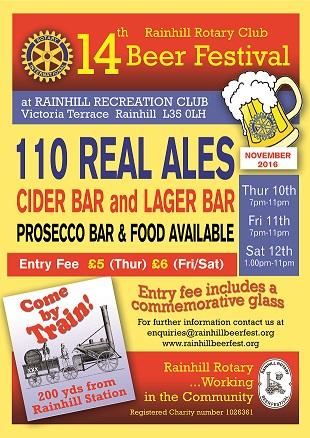 Rainhill Beer Festival pictures have been uploaded for you to browse, click here to go to the Gallery on the Beer festival website

The 2016 Rainhill Beer Festival is now over and thanks to the support of our visitors, supporters and sponsors from local businesses and friends of Rainhill Rotary, has been another great success.
We hope the wide range of beers, ciders, lagers along with the sponsored Prosecco bar, was to everyone's liking? This must have been the case as there wasn't much left at the end of the weekend!!!
The efforts of Rotary members and friends of Rainhill Rotary was, as always, outstanding and everyone should be proud of their contribution.
Our thanks must also go to all our sponsors and especially to the major sponsors:
Mark and Hetty Salmon for sponsoring the Lager Bar
Tony Hayes at Hayes Butchers for sponsoring the Beer Festival T-shirts
Gary Hogan at Hogan Solicitors for sponsoring New Tokens
Rocket Embroidery for sponsoring the pens in the Welcome Pack
Click here to link to the Rainhill Beer Festival site which will also be updated during the coming weeks.