Speakers & Presentations at the Club
The people who gave up their time to speak to us on a variety of interesting topics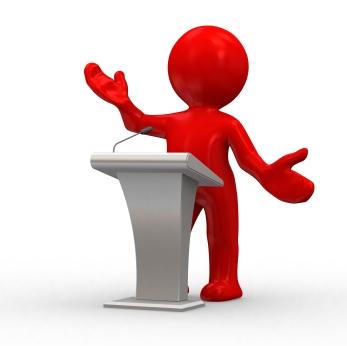 12th July
Today July we had Andy Paterson Chair of Trustees , and Anne Hemfrey Vice chair of the Trustees of Home Start Falkirk West.
Andy spent most of his career in financial services as a computer programmer and systems analyst he then moved into running day care schemes for the elderly. He has been with Home Start Falkirk West since 2011. Anne spent her career working for BAA Scotland as head of planning for Edinburgh, Glasgow and Aberdeen Airports she now sits on the board of Strathclyde Partnership for Transport. She is also a lay member of Law Society's Client Protection Fund and has been with Home Start since 2017.
Home start Falkirk West has been going since 1973 and has one full time manager and a part time family support worker and are based at 72 Duke Street Denny. It is the UK's leading family support charity Each of the areas is a separate charity in its own right and answers to Home start UK.
To become a home visiting volunteer you be, a parent or have full time Parenting experience, undergo 40hrs training and gain formal qualifications, with regular further training, and access to intranet web training. If a volunteer has any problems they can get help from another volunteer or from Home Care UK.
They currently help 40 families by providing home visits and family support groups.
Total income in 2017 was £121,000.00
Home Start Falkirk West are seeking to recruit support, at the moment they have only five trustees and would like to have at least eigh. New trustees would benefit from induction, training and support from existing trustees, national training courses and events and access to the Home Start Intranet which contains information and guidance on all aspects of running a local Home Start.
If you know of any member, family member or friend who may be interested contact
Home Start Falkirk West, 72 Duke Street, Denny FK6 6NT Tel. 01324 829444
5th July
Todays Speaker was Pat Duncan.
Pat, an ex art teacher, spoke of how Mercy Ships started with three ex cruise ships but now only has one. The original ships became redundant after a change in shipping laws rendered them no longer fit for purpose.
They now have only one larger ship an ex German rail ferry named Africa Mercy. It has had a huge refit changing the car and rail decks into operating rooms and wards, with wards ranging from 35 to 50 beds. The ship sails from Scotland to around 70 countries. Pat was at pains to point out that it is necessary for them to be invited into foreign waters and often they require to send envoys to Countries that they feel would benefit, to outline their services and what they are capable of providing, before getting the required invitation.
Pat spoke about her own volunteering experience from dish washing to laundry work. She has now joined Mercy Ships UK Speakers Network. Volunteering lasts from 1 month to several years with one speaker who has been there for 35 years.
She told us about the children that are sometimes scared of the beds as they have only ever slept on a bed roll and are frightened by the height of the beds which are old army metal framed type single beds. The children's mothers sometimes lie on bed rolls at the side of their children. The bed rolls are rolled up and stored under the child's bed during the day.
Mercy ships not only provide care, they provide after and follow up care along with land based renovations to building and wells and also training of hospital staff in modern medical techniques. The ship only carries enough water for around 1 week in port. Water is a vital resource for them.
31st May

Kris Elliot, intrepid Atlantic rower, returned today to tell us about his epic journey with his brother. The boys took up the Talisker Atlantic Challenge to raise funds for the Firefighters Charity. Kris's beautifully presented account abounded with tales of Flying fish, skin sores, sea sickness, sleep deprivation, 40 ft waves and of course whisky (This was after all a Talisker Challenge).
The boys have organised a Black Tie ball in the Dunblane Hydro on 21st September. You can buy tickets at: -

www.team-noble.org/#home-section
It is hoped that appoximately £25,000 will be raised from the whole venture.

24th May
Yvonne Gray delighted us today with her presentation of Tai Chi and Qigong. These ancient methods of mindfulness and wellbeing have their roots in the same understanding as acupuncture. The movements take account of the meridians, the pathways that transport the life energy through the body. Yvonne was able to attest to the efficacy of the systems having spent years in pain as a result of a back injury and now is completely pain free.

17th May

Rhona Campbell, Information Manager for Action on Hearing Loss Scotland, visited today to tell us about how what used to be known as RNID had changed its name as a result of the fact that they catered not only for deaf people but people with hearing impairment too. She ably and confidently taught us all how to behave in the presence of people that did not hear as well as most and went further to tell those of us who fell into that category how to cope with the difficulties it presented.

10th May,

Bill Laurie who was so proud of the presentations by all of the Schools in the Litter and ECO awareness competition volunteered to let us have a taste of how the competition was recieved.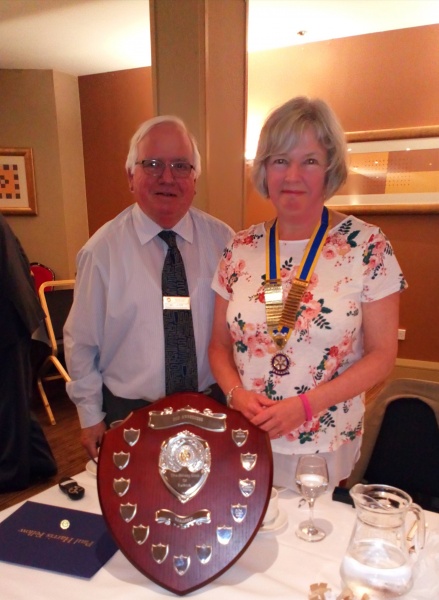 3rd May

Bill Blair from Friends of the Forth Valley Royal eventually managed to speak to us today about just that. He had been programmed to speak to us at the beginning of March but the weather put an end to that. Bill, a veteran of CERN and the Large Hadron Collidor in Switzerland who had in his own words "Hit the buffers" has spread his considerable talents supporting a number of worthwhile causes. He spoke briefly about his career and in more detail about the history of the Friends of The Forth Vally Royal and their fundraisng.

19th April

Having been told that the GSE Team were unable to speak to us today Ian Scott had generously agreed to fill in at very short notice. Imagine my surprise and embarrassment when Scott Anderson and Jill McCardel showed up. Ian was as ever the gentleman and understood the situation for what it was.
Scott and Jill did not disappoint, both displaying the credentials that befit ambassadors for Rotary and Scotland. Both told of how they had learned from the experience, imparted their own experience and knowledge to those they met and of how their own confidence and ambition had benefited from the trip. Les is to be involved in the national organisation of the fire service in Scotland where he hopes to put what he learned in America to good use, while Jill was promoted to the board in her employment on her return.
12th April

Jim Herd, an old friend of President elect Jim Cairns, came today to talk about the internet. JIm ably (I think) detailed how the internet as we know it today evolved from the notion in the cold war of the 60s and 70s that we needed a communications system that was not likely to be at risk as a result of a single incident. The IPs DNSs & etc however were I think sailing well above the heads of most of us in the room. A fascinating talk nonetheless delivered by a fascinating man.

5th April

John Kirkhope from Falkirk Council Waste Management took us on a tour of the streams of waste that he has to deal with from the thousands of homes and businesses around the area. The separation of the recycling is ther greatest problem that they hope to solve with something like 30-40% of materials having been put in the wrong coloured bin.

29th March

Ian Low kindly agreed to return to address the Club today on the topic of Myths and Lies of Scottish Tartan. Ian's easy and humorous presentations are always a treat and today was no exception. This was also our annual joint meeting with Grangemouth

---
22nd March

Today is our annual Schools day. Two pupils from each of Denny High, Falkirk High, and Graeme High Schools attended and as is the norm showed us all how the public perception of today's youth is wildly off the mark. Aaron Robertson and Becca Harrington from Denny High were unaccompanied by a member of Staff but ably and confidently presented the School's ground breaking and award winning initiatives relating to LGBT awareness among Staff and pupils alike. The pupils from Falkirk and Graeme High both centred on the School's Charitable fundraising and the various imaginitive ways the pupils had of doing that. They both are to be roundly applauded for their selfless dedication to the community in their area. President Margaret is pictured here after having presented cheques to each of the schools to recognise their efforts.

---
15th March

Ewan Aitken from the Cyrenians wowed the members today with his inspiring address describing just what the Cyrenians do and how their aims and objectives are so similar to those of Rotary. Ewan ably described the amazing transformation that changed the lives of individuals who had been excluded from society, to active confident individuals who contributed to the benefit of that society and gave them a sense of esteem and usefullness that they had never experienced before.

8th March

`Flying Officer Marc Esson RAFAC Officer in charge of 470 (Falkirk) Squadron ATC delighted us today wioth his presentation on the part that the ATC is playing in our community among young people.

1st March

The weather confined us all at home today including the speaker. He is however booked for a late date.
22nd February

Clare Short from Woodcraft Folk spoke to us today. Clare's enthusiasm for her topic shaone through a very enjoyable account of what the organisation was and what it hoped to achieve.
15th February

Ian Lowe spoke to us today about "Tenuous Links" to Hopetoun House. His encyclopaedic knowledge of not only the Hoiuse and family itself but also Scottish History in general was awesome. Ian educated an d entertained right royally.

8th February

For the third time this year our speaker failed to show but Bill Laurie stepped into the breach in his usual inimitable fashion to grill the Club on one of the Primary School Quizes from 2015. Needless to say we faired little better (if better at all) than the kids,.
1st February

Our Challenge enterprise candidates addressed the Club.
25th January 2018

Unfortunately due to his recent election as Provost, Billy Buchanan had scheduled duties at the local Schools to do with Robert Burns and was unable to address the CLub as arranged.
Consequently we had an impromptu Quiz which was won by Raymond Morton who walked of the proud winner of a miniature of Port.
18th February 2018
Louis Wall and his wife Esther visited today. Louis gave us a splendid presentation of the work that he does along with 16 other volunteers at Railway Stations from Dumfries and Stranraer to Ayr.

Louis had been presented with a lifetime honorary membership in South West Scotland Community Rail Partnership by John Yellowlees who said: -
"Louis's achievements never disappoint. Thanks to him, the South West has the finest station gardens in Scotland. Morale on the Stranraer line which might have collapsed following Stena's relocation is kept high by lovely floral displays. Ayr's flowerbeds are so good that they altered Michael Portillo's schedule. And the station gardens at Dumfries where ScotRail's MD has today announced extra trains present the town's best face and were the secret weapon in its recent successful bid for floral glory."
11th January 2018

Our speaker never showed this week so we had a long chat about the Charter Dinner which is to be held on Friday 16th February.
4th January 2018

Cecil Meiklejohn, leader of Falkirk Council came today to give us the annual "New Year Message". Cecil chose to outline her life for us demonstrating just what sort of person she is and what it was that convinced her to take up a life of Politics. Showing us poignant photographs of her husband, confined to a wheelchair with M.S. and her two beautiful children, she ably portrayed herself as one whose values centred just where they ought to be.

She went on to outline her vision for Falkirk for the future, providing opportunities for young people, jobs and housing through the recognition of the developing valuable tourist economy of which Falkirk could and should ably take advantage.

21st December

Every year at this time we have a member of the local Clergy address the Club on the topic of Christmas. This year Rev. Sarah Shaw delivered the address in a beautifully simple and thoughtful manner. Sarah is Rector at the Christ Church in Falkirk which is part of the Scottish Episcopal Church. She drew numerous parallels between the birth of Christ in basic insanitary conditions to an unmarried young woman in a troubled part of the World who was subsequently forced to flee the terrors of Herod to Egypt as a refugee, and the plight of millions across the world today in the same condition. Sarah's inate humanity shone through an inspiring address and gave us all food for thought.

14th December

Today we presented the Community Achievement Award to Mrs Ann Kerr. Unlike some previous recipients Ann was delighted to be able to address the Club on the subject of Motor Neuron Disease. Ann spoke with knowledge and passion about the work that was being done in conjunction with Multiple Sclerosis charities to find a cure or treatment for the disease.

7th December

It was Christmas Lunch day today and 26 members, spouses, partners, Inner Wheelers and guests were treated to an address by Allan Simpson Lord Lieutenant of Stirling and Falkirk. Allan let us have an insight into his life as a Civil Engineer working in the dim and distant past when lorries had solid rubber tyres and OPEC ruled the world. He extended the address by outlining just what it was like to be Lord Lieutenant and the duties and responsibilities that the post entailed. We normally like a speaker of note for this occasion and Allan was more than up to the task finishing up his afternoon by winning the "boys" raffle of a bottle of Famous Grouse.

30th November

On St. Andrew's day Chloe Sliman-Millitt, our RYLA candidate this year wowed us all with her heartrending life story and how RYLA had changed her for life. This confident and capable young lass spoke cleverly about both the Triumph that was RYLA and the Disasters that had preceded it, her life threatening surgery, that left her disabled and partly sighted and the loss of her mother. Reminiscent of the words of Rudyard Kipling's "If" I am inclined to recall the line "If you can deal with Triumph and Disaster and treat these two imposters just the same...." Well done Chloe, both for your success at RYLA and for your inspiring address today you are a Star.

23rd November

Geoff Bailey from Falkirk Community Trust came to speak to us today.
Geoff says that he has been Keeper of Archaeology & Local History at Falkirk Museum for 30 years and is just beginning to get to know the place. In that time he has discovered the Roman fort at Falkirk, an Iron Age hillfort in Callendar Wood and a 10th century Celtic Cross at Carriden – amongst other things. He has published the odd (very odd he says) article, including books on the 1746 Battle of Falkirk and the Second World War.
Geoff's commanding knowledge of his subject which, this time, was "The 1745 Rebellion" shone through his captivating delivery. Geoff never ceases to entertain and educate.
16th November

Tommy Thomson from Scottish Canals visited today with an amazing delivery of the History of Scottish Canals and their feeeder resevoirs coupled with some pretty awesome sketches and photographs of the development of the Falkirk Wheel and the Helix network. Couple this with the extremely nostalgic photographs of the historic dirty Industry that grew up alongside the canal and what you get is a truly entertaining and educational lunchtime.
9th November.

It's that time of year again! Time for the District Governor's address. District Governor Lindsay Craig took time out of his busy schedule en-route to Geneva to deliver the annual address. Lindsay displayed a superb enthusiasm for what he does and imparted the same among us. His inspiring talk was illustrated minimally but most effectively making the point precisely and no more. He spoke about the RI President's theme "Making a Difference" and its constituent parts while painting a picture of a man with as much humanity and enthusiasm as Lindsay himself. He spoke about planting trees and about Rotary Club Central in both of which initiatives the Falkirk Club are actively involved. He spoke about the many youth programmes where Rotary "Makes a Difference" and recognised Falkirk's heavy involvement in many of them.

Lindsay is pictured here handing over the RI Presidential banner to President Margaret.

26th October
Anne Brown AKA Mrs Broon reeturned to the Club today to update us on the progress that she personally has made and on the progress that has been made by RDA. Anne's enthusiastic delivery spanned from her first marriage through her fight to convince the medical hierarchy that her ailments were not in her head, her love of horses, her diagnosis with Multiple Sclerosis and fostering the ideals of riding in her grandchildren. She realises that while her mobility on her own two feet is deteriorating her ability in her riding is improving. She intends to take part in a number of out of the ordinary activities to raise money for Equipower the more recent manifestation of RDA in this area. New premises are looming big on the horizon but the obstacles loom just as large. Equipower need to raise in the region of £100,000 to ensure unimpeded access to their new site in Stirling. After the delivery of Anne's address and District Chair Person Evelyn's update on the progress of the new RDA Ceentre President Margaret handed over a cheque for £200.
As can be seen from the photograph everyone in the room participated in the "Purple Pinkie" initiative which raised £40 for End Polio Now on the day.
19th October
James McDonald from Falkirk Writers' Circle came today to tell us about his passion for writing and how he came to be writing. He spoke at length in an extremely humourous vein about getting published or not, about poetry and about his own personal situation. He had been writing for some time and collecting his work and having lost his parents a step daughter and a son within a very short space of time to heart disease he unearthed his collected works and published a book called "Poems from the Bottom Drawer". He published the book himself and seeks to sell them in aid of the Forth Valley Royal Hospital's Cardiology Department. Well done James I say!
12th October 2017
Nicola Stephenson, Operations Director, Zoolab Ltd, gave an interesting and at times disturbing presentation of the problems of rhinoceros poaching in South Africa. Nicola, with a team from Zoolab, had recently visited the Mankwe Wildlife Reserve and spoke of the problems facing the family running the reserve. Poaching rhinos for their horns is a huge problem and the rhino population is declining rapidly as a result. The alleged benefits of rhino horn are a complete myth but the perception of its properties, held especially by the Chinese, means that the poaching continues with consequent dangers to the reserve staff trying to protect the animals. Nicola illustrated her excellent presentation with graphic photos of the problem and a hard-hitting video by the owner of the reserve.
5th October 2017

Irene McKie from Strathcarron Hospice came to the Club today to update us on the current status of the Hospice. Irene's address was awe inspiring. She adeptly described in detail exactly what the Hospice does and what it aspires to do.

She surprised a lot of us with the detail of the operation. The statistics about how many referrals are received compared to how many of these actually stayed in the Hospice were surprising. The consideration shown for folk who would rather be at home was highlighted in the sustainable Hospice@Home initiative. The way that the Hospice is funded was also confusing considering that the NHS won't agree to the actual figures required to run the place because if they did it would cost them money.

Irene's commitment and enthusiasm for her job shone through the address which left all of us much wiser.
28th September
John Beever a member of Coatbridge, Airdrie and Monklands Rotary Club was recommended to us by Shotts and District Rotary Club. We were not disappointed. John delighted us with two videos. The first was a documetary that he had directed with his friend, James Cairns. It told the story of a Tram 1017 that had been restored and is at Summerlee Industrial Heritage Museum. The second was a more light hearted Comedrama which centred around two "Old Men" attempting to tour the history and sites of Edinburgh. Both were highly entertaining and were greatly enjoyed by all of the members.
21st September 2017
Tom Purdie ex policeman and prolific author on Football topics entertained us today right Royally with his amazing knowledge of "Scottish Football The Golden Years". Tom's laid back delivery and huge humour coupled with his intimate knowledge and relationships with names that we can all recall as heroes of the Scottish Game, provided an amazing insight into the days when it was all so simple. His anecdotes ranked among the best, and to top it all he offered to return to tell us more about the Heart of Midlothian Players who risked all for their Country by volunteering for the First World War before conscription was introduced. I for one can't wait.

14th September 2017

We were treated today to a force majeur of an address by Donald McNicol while he outlined his "Job Talk". Donald left us in no doubt about his passion for his work and his inimitable ability to carry it out. He waxed lyrical about oral hygiene, diet, awareness of our mouth and how the methods employed today to rectify dental defects have changed considerably from the days of high speed drills to the application of laser cured resins and from the face numbing Novocaine to the very latest in more easily targetted and more effective local anaesthetics. His discourse on the subject of implants left Linda Noble in some distress as she has, within the past week, signed up to just that procedure. Well done Donald. Robert Spears was conspicuously absent so I'm sorry I forgot to take a photograph. However since Margaret was unwell and Jim stepped into the breach, I made this one up!

7th September 2017

Alex Napier from the Rotary Club of Shotts and District visited to tell us about his life long passion for organ music and in particular the work and music of Claus Wunderlich. Claus, "Mr Hammond" initially played the piano but soon graduated to the Hammond Organ upon which he entertained for years until finally having exhausted the repertoire of the instrument. He went on to develop an organ that was capable of reproducing the sound af a complete Orchestra or Big Band and enthralled audiences world wide until his death in the 90s. Alex's obvious enthusiasm and knowledge of his subject shone through this wonderful presentation.

Alex is shown in the picture alongside President Margaret and Des King from Old Costessey Probus Club who was a Guest of Hugh Gillespie
31st August 2017

Doctor Pankaj K. Argarwal had volunteered through District to speak to Clubs in the District about Cataracts and Glaucoma. Doctor Agarwal is a Consultant Ophthalmologist with special interest and expertise in sutureless small incision cataract surgery and Glaucoma. He is a consultant at Princess Alexandra Eye Pavillion in Edinburgh and St John's Hospital in Livingston.

His clinical expertises are in small incisions Cataract Surgery (Phacoemulsification), all types of lasers for Glaucoma and Glaucoma surgery including Trabeculactomy (augmented) and tube surgery. He offers a comprehensive service in minimally invasive Glaucoma surgery (MIGS) including XEN implant, istent etc.
As if that wasn't enough he turns out to be an after dinner speaker extrordinaire. Doctor Agarwal held an enthralled Cub's attention for 25 minutes while he explained, not without some humour, the intracacies of his profession and at the same time urging as all to have regular eye tests.
24th August

Les Mason, Scott Anderson and Jill McCardel, The GSE team who visited Ohio were our speakers today. Les was nominated by us, Scott by the Rotary Club of Kilsyth and Jill by the Rotary Club of Linlithgow Grange.
They showed us the presentation that they gave to the Rotary Clubs in Ohio during their trip. It is their intention later to present to the District Conference a resume of their trip and they promised to come back and deliver the same to the Club once the Conference presentation is complete.

17th August
Our speaker today didn't show up but that didn't dampen our spirits. We enjoyed an extended chat among the well attended meeting, 80% of members were there. The banter between the members relating to style of dress appropriate to a Rotary meeting was hilarious : -

Does anyone remember the Monty Python song "I'm a lumberjack"? I won't repeat the words of the song here. If you want to know the content you can Google it. I'm also sure that it is likely to be on Youtube.

There is one other member of the Club with a penchant for older men!

10th August
PC Douglas Cole visited on the 10th August to address the members on the subject of Fraud and Scams. Douglas confidently outlined the many ways in which vulnerable people might be tricked cajoled or simply forced to part with cash. Many of the things he spoke of were familiar to us but many were not.

---
3rd August
Christine Bell and Fraser Johnston from Cycling without Age visited to update us on the progress of the project. With 25 million hits and 2,600 "likes" their facebook and Crowdfunding Campaign has borne fruit to the tune of £20,000 and all within 2 weeks. This will enable the purchase of three new Trishaws.
The initiative has been rolled out in countries all over western Europe, USA, South America, Africa and the Middle and Far East.

---
On the 27th July 2017 we were entertained by Olivia Hernandez from San Antonio Texas, a Global Scholar studying in Edinburgh for an MSc in International development at Edinburgh University. Olivia spoke about this being her second visit to Edinburgh having been studying there previously and fallen in love with the place. She spoke at length of her home town and its place in Texas then outlined her aspirations as a result of her studies. Her main specialities would be in Law relating to energy. Olivia brought her friend Whitney from Austin Texas.
---
20th July 2017
Gillian Gardner, Business and Development Manager from The Falkirk Trinity Church spoke to us on the 20th July. Her role in the Church entails ensuring that the Church's commitment to the Community at large is met. She skillfully outlined the breadth of local involvement in the Church and its halls over seven days of the week. Gillian's obvious enthusiasm was matched by the outgoing and pleasing Character that is the Hallmark of someone who loves their job. George Honeyman delivered the vote of thanks on behalf of the Club. President elect Jim Cairns was in the chair in the absence of President Margaret.
---
13th JULY

Kathleen and Greg Boswell visited the Club on Thursday 13th July to tell us about the History of their home town of Sedalia Missouri. The cattle drives that took place after the Civil War from Texas to Sedalia were the inspiration for the TV series Rawhide, one of the hands having kept a diary of the events.

In recognition of their home Club's centenary a project had been put in place to honour these Cowboys where none had existed before anywhere in the USA. The project involved procuring a contemporary (with the time) Locomotive, Cattle Truck and cattlemen's caboose to display alongside a windmill, water tower and a life size bronze sculpture including longhorn cattle and a cowboy. Amazingly this was all completed three years ahead of the centenary.

Sedalia also boasts among it's noted Citizens none other than Scott Joplin who died in 1917. The town now stages an annual Festival of Ragtime Music to honour the man. Performers from two thirds of the United States and 6 other Countries as far away as Japan visit to make it probably the biggest Ragtime festival anywhere. This year being the Centenary of the great man's death a concert was staged in the Carnegie Hall in New York where a lone Pianist performed all of Joplin's recorded works.

Well done Kathleen and without the aid of a note too. It all rolled off the tongue like peas aff a knife.
---
On Thursday 6th July we were Regailed by Ross Martin a polymath who outlined his aspirations for the town of Falkirk within the wider frame of the Scottish Cities. Ross ably explained the opportunities that existed that would put Falkirk firmly on the map and occupy the centre ground of tourism, industry and entertainment in Central Scotland.
---
On Thursday 29th June Nancy Rule addressed the Club wearing her hat of District Rotakids Officer. Nancy delivered what was a detailed and well thought out description of the What Why When and Where of Rotakids. Her Passion for the job shone through the thoroughly professional presentation.
---
30 March 2017
A joint meeting between Rotary club of Falkirk and Rotary Club of Grangemouth hosted by RC of Grangemouth. The speaker was Claire Kennedy from CVS Falkirk. Claire explained that the main goal of CVS Falkirk is to provide a range of services predominantly to volunteers and third sector organisations and also to provide support and assistance to statutory partners to engage better with the third sector.
---
2 March 2017
Our latest member June McAlpine used her 'job talk' to give an insight into her long career as a Senior Nurse in Forth Valley and North Lanarkshire. Her enthusiasm and her love of the work she was doing was clear to everyone as she spoke about her increasingly senior role in infection control and care quality management, two examples from her wide experience. June epitomised all that is good about the NHS with her obvious concern for her patients and their welfare as well as her dedication to the training of younger staff.
---
15 Dec 2016
---
8 Dec 2016
---
1 Dec 2016
---
24 Nov 2016
---
17 Nov 2016
---
10 Nov 2016
---
3 Nov 2016
---
27 Oct 2016
---
20 Oct 2016
---
13 Oct 2016
---
6 Oct 2016
Today's special guest and speaker was Olive Geddes, the DG of District 1020. Olive presented a a very inspiring definition about "What is Rotary" adding personal local, national and international perspective. Geddes also present her travelling companion and fundraiser, the teaddy bear, who has accompanied Geddes in all her visits to the various clubs within and outhwith the district.
---
29 Sep 2016
todays speaker was Alex Galloway, A rotarian froom Stirling who introduced us about an epic story that took place in
1925, about a life-or-death race to deliver desperately needed anti-toxin from Anchorage to Nome, Alaska.
On January 21, 1925, several Inuit children in Nome, Alaska were diagnosed with diphtheria, a disease that was still common, widespread, and greatly feared in the 1920's. Without anti-toxin to combat it, the highly contagious disease would quickly spread to all of the children in Nome.
More than 20 mushers and their dog sled teams eventually took part in a Pony Express-type relay to deliver the precious cargo battling against temperatures that rarely rose above -40 degrees Fahrenheit and winds that were sometimes strong enough to knock over both the dogs and the sleds.
On February 2 at 5.30 AM, the last team finally arrived in Nome. The dogs were too tired to even bark, but the serum had successfully been delivered — only seven days after leaving Anchorage, and just 127 1/2 hours after leaving Nenana.
---
22 Sep 2016
The guest Speaker was Kris Elliot. Kris is a fireman based in Stirling. He is married and has 2 children.
He spoke to the Club about "Team Noble". The team is going to take part in a 3000 mile race in December 2017, from the Canary Islands to Antigua in a rowing boat over the Atlantic Ocean. Approximately 30 to 40 teams are expected to participate.
The team is raising funds for "The Firefighters Charity". The team is called "Team Noble",because a few years ago Kris' Watch Manager, Johnny Noble, died in an a road accident, whilst responding to a call which turned out to be a false Alarm.

To-date the team have raised £12000 which covers the entry fee. They are hoping to raise another £10000. The team is hopeful that they can complete the race in 36 days. Kris and his three teammates will row every two hours day & night. There will be a support yacht for the race, but the yacht could be hundreds of miles away at any time. during last year's race 7 out of 10 boats capsized in the first week of the race. The boat, that Kris and his team will use, has previously competed the race with one of the rowers being an English based fireman.
Raymond Morton on behalf of the Club thanked Kris for his presentation.The Club wished him a safe and successful race
---
15 Sep 2016
---
8 Sep 2016
Our own Website
Narek Bido, the secretary of our club introduced the club's website to the members and discussed how we can utilise the website to improve our public image and to make outr internal communication and record keeping more effective
---
1 Sep 2016
---
25 Aug 2016
---
18 Aug 2016
TALK TITLE - ITS NOT QUITE SHAKESPEARE – BUT WHO CARES
Spoke about the Lesser known Scottish poetry and poets
---
11 Aug 2016
Susan McConachie
Susan is an Advanced Nurse Practitioner -perinatal mental health. She has over 30 years clinical experience. Susan was a finalist in the RCNi 2016 mental health practice award recognising her role in the development of perinatal services in NHS Forth Valley.
Susan is one of the founder members of maternal mental health Scotland where she is trustee. She spoke about the impact of mental illness during pregnancy and the postnatal period and the aims and the achievements of the charity to date.
---
4 Aug 2016
Leslie Mason
---
28 July 2016
---
21 July 206
---
14 July 2016
---
7 July 2016
Justine Davidson
---
30 June 2016
Presidential Handover
---
23 June 2016
Club Assembly
---
16 June 2016
---
9 June 2016
---
2 June 2016
David Anderson
---
26 May 2016
---
19 May 2016
---
12 May 2016
---
May 2016
---
5 May 2016
---
28 April 2016
---
21 April 2016
---
14 April 2016
---
7 April 2016
---
31 March 2016
---
24 March 2016
---
17 March 2016
---
10 March 2016
---
3 March 2016
---
25 February 2016
---
18 February 2016
---
11 February 2016
---
4 February 2016
---
28 January
Scotrail
John Yellowlees from Scotrail visited us on the 28th and, while outlining the huge investment in infrastructure that is the electrification of the Glasgow Edinburgh railway line, he managed to find time to compliment us on our Community boards at Falkirk's two Stations
---
21 January 2016
The Sky at Night
Today's speaker was Alan Cayless. Alan is physics and astronomy lecturer with the Open University and a former chairman of Stirling Astronomical Society who has a special interest in lunar photography.
The Stirling Astronomical Society is responsible for the preservation and maintenance of the Old High School observatory in Spittal Street, Stirling - which houses a 127-year old telescope in full working order.
The talk will outlined the history of the Observatory and present day activities of the Society, which include outreach and public viewing events. Alan enthralled us with interstellar tales and a history lesson into the bargain. He spoke knowledgably about the observatory and its telescope and outlined the huge effort that went into its restoration.

---
14 January 2016
Todays speaker was Irene Mckay. She talked about raising Children's awareness of Dimentia
Irene wrote her book "The Forgetful Elephant" 4 years ago following her Mum's diagnosis of Vascular Dementia. She worked for Alzheimer Scotland as a Home Support Worker for 2 years and now spends her time campaigning to raise children's awareness of dementia by visiting primary schools and other children's organisations.
It is unfortunate that Irene is not getting the support of the local Schools in her initiative.
---
7 January 2016
New Year Message
Dennis Canavan was our speaker today who gave us a thought provoking talk maping and analysing the major, local, national and international events in 2016
Dennis Canavan represented part of the Falkirk area for 26 years at Westminster, followed by 8 years at Holyrood.
He is involved in several charities, as Chair of the Falkirk Football Community Foundation, Patron of the Falkirk and District Association for Mental Health, Vice-President of Ramblers Scotland and a member of the Board of Trustees of the National Mining Museum of Scotland.
---
2015
---
17 December
The Christmas Message
This year's Christmas message was given by Captain Peter Clak from the Salvation Army.
Peter and his wife Suzanne was appointed to lead the Salvation Army's Church and Community work in Falkirk in February 2015.
---
10 December 2015
Battle of the Forth
Our speaker today was author Bill Simpson, a Civil Engineer from Edinburgh, with great insight and interest in the R.A.F. and British Auxiliary Forces. Bill's subject was "THE BATTLE OF THE FORTH" which took place on October 16th, 1939 and was considered the first battle of World War 2.
The German's target was Rosyth Dockyard where they believed Britian's greatest battleship H.M.S. Hood was stationed. This was not the case. Led by Captain Helmut Pohle, 9 German Junker JU-88 aircraft bombed the ships and ports around the Forth Rail Bridge but was confronted by the R.A.F. and Auxiliary pilots in Supermarine Spitfires.
The ensuing dogfight saw 2 aircraft downed, 4 killed and 4 captured on the German side and 16 killed and 44 wounded on the British side, mainly through the bombing of H.M.S. Southampton and H.M.S. Mohawk. The 2 German aircraft were the first aircraft ever shot down by a Spitfire.
After the Battle, Captain Helmut Pohle was captured and sent to the Tower of London where he was held as a P.O.W. for a few years before being patronised to Germany after the war.
Bill Simpson gave a clear and informative address to the Club on his chosen subject which was well received by all concerned.
Narrated by Hugh W.Gillespie.
---
3 December 2015
RCF Christmas Lunch
---
26 November 2015
Quiz/Open Mic
---
19 November 2015
My Life on Two Wheels
Today the speaker at Falkirk Rotary Club was Thomas McIntosh (Tosh to his friends), a past President and current member of Whitburn Rotary Club.
What a joy of a talk this was. Tosh regaled us with stories of motorbike purchase, ownership, modification, repair and racing from his early youth to the present day. I can seldom recall a meeting where the speaker was listened to so intently , nodding heads at anecdotes and a very good and appreciative applause at the end.
It was clear that many members could remember the Times when cars were relatively few in number and bikes were a lot safer on the roads.
The stories were hilarious and delivered swiftly with a knowledge and humour rarely bettered, allowing the listener to visualize the stories.
This was certainly one of the highlights of our Rotary year so far. What a treat.
Narrated by Tom Currie
---
12 November 2015
Leaving Care Team
Jenny Kane, from the Social Work Children and Families Services in Falkirk, spoke to us about the Leaving care team work with young people aged 15 to 19 who are or have been looked after away from home by Falkirk Council.The team provide young people with advice, guidance and assistance.
Jenny manages two Children's Homes as well as the Leaving care Team.
---
05 November 2015
Business Meeting
---
29 October 2015
RYLA
We were indeed privileged to hear for Ryan Ingram and Kaye McGillvary who recounted their experiences at the RYLA camp earlier this year. Both candidates stressed the fact that they had no idea just how much they would benefit from the week away. The emphasis was on Teamwork and they managed famously as a team on the day. The photograph shows Ryan with his "John Mair Trophy" presented to the participant who achieved the greatest progress during the week. Significantly this accolade is voted upon by his peers in a blind ballot.
---
22 October 2015
Micro Finance
Doug Marr spoke about how Micro Finance works and about how Rotary Clubs and indeed any organisation or person can join the scheme by financing individual small entrepreneurs all over the world so that they can start or improve their businesses. His own club, The Rotary Club of Currie Balerno, has given loans of between £50 and £200 to many small businesses over the last 4 years and every one has been repaid in full.
---
15 October 2015
A Cruise doon the river
David gave us a very interesting talk on his recent holiday to Las Vegas. David his wife Marianne and two friends spent part of their time white water rafting on the Colorado River. This was a trip the group had spoken about doing for a number of years and it was everything they had hoped it would be. David complimented his talk with photographs emphasising the camping experience and the thrills of white water rafting.
---
8 October 2015
Hopetoun House in 20 Objects
Ian Lowe From Hopetoun House spoke knowledgeably to us about the artefacts and history of this fine family home, its relationship with the surrounding area and its continuing commitment to the local Community
---
DG Andy Ireland
An inspirational talk by DG Andy Ireland who

eloquently

summarised

his vision as a DG for

district

1020 to sustain and improve the membership and the efficiency of all the clubs within the district by becoming more flexible and inclusive clubs while being hubs for fun and fellowship.
---
Tobacco Lords of Glasgow
Ex policeman Bob Dalziel finished off the month with his detailed and well researched history of the Tobacco barons in Glasgow. His delivery extended not only to the tobacco trade but to the involvement of Great Britain and the Glasgow international shipping organisations in the slave trade

---
Women's Aid
Chris Murphy addressed the club on the disturbing realities in the country, relating to domestic abuse. Women's Aid sadly is an organisation that is in great need in a society that has come to recognise a huge incidence of physical, mental and social abuse
---
10 September 2015
Quiz

A quiz week which demonstrated the wealth and depth of knowledge that existed within the Club.
---
3 September 2015

Barber Shop Choir
Ian Silcock visited and spoke to us about the intricacies of "Barber Shop singing" Ian ably demonstrated his topic and delighted the Club with a well informed history of the development of the genre.
---
27 August 2015
My Job

Our newest member, Linda Noble, gave her Job Talk on the 27th. Linda delivered her talk in the same lively and bubbly manner that is her trademark. A gifted nurse and able administrator, Linda has now retired from NHS and is enjoying life to the full gardening, sewing and keeping fit.

(She says she goes to the Gymn.)

Did you know that the word Gymnasium comes from the Greek word Gymnos (naked) because all of the Greek athletes of the time were not attired in the slightest while training.
---
20 August 2015


The Dynamic Loop

Calum Falconer, a pupil from Falkirk High School demonstrated an eloquence and confidence that belied his youth. Calum spoke at length about the Dynamic Loop that he was instrumental in designing for Scotrail. His researches for the project were wide and varied but always in depth. The Loop which will reduce rail journey times between the central belt and Inverness by as much as 30 minutes is likely to be executed by Scotrail. A testament to this young man's ability.
---
13 August 2015

Today we enjoyed two exceptional presentations

Our first speaker, Graham Harvey, introduced us to Forth Valley Disability Sport with an enlightening address highlighting the breadth of disability sport in Forth Valley.
That was followed by a breif presentation by Kevin Walsh who spoke about the "'Provision of defibrillators, associated training activities and community awareness events in District 1190.' a project that was designed and delivered in partnership with Rotary club of Falkirk
Kevin visited us today with his wife Wendy. Both are Rotarians from Brampton and Longtown Rotary Club in Cumbria. Kevin is their current President for a second time. Wendy is a founder and past president of Carlisle Castle RC and also an Assistant Governor of District 1190, Cumbria and Lancashire. Both are Paul Harris Fellows.
When District Governor in 2013-14 Kevin masterminded a successful Global Grant application 'Provision of defibrillators, associated training activities and community awareness events in District 1190.' Subsequently the project has been recognised by a Gold Cardiac Smart award from the North West Ambulance Services Trust and Kevin has given evidence to a Commons Committee on the provision of defibs.
The Rotary Club of Falkirk were invited to be Brampton and Longtown's international partners and our committee of Brian Jack, Andrew Niven and Bill Laurie have been kept closely in touch as the project has developed and have visited Health Fairs in Leyland and Fleetwood.
---
6 August 2015
Food Bank

Marianne Pattison from the Food Bank who described in detail the work carried out by the Volunteers on a daily basis.
---
30 July 2015
University of the third Age

Austin Reid talked about the "University of the third Age" U3A. Austin spoke at length about the learning process and described an institution that brings older people together to teach and learn from each other. The journey was verbally illustrated with historical tales from St Andrews to Rome and from Continental Monasteries to the modern education system. All in all a remarkable and interesting proposition.
---
23 July 2015
3D Printing

Guest speaker John Paterson from Morphotecnics in Falkirk spoke about the technology and the benefits of 3d printing. The content of the talk was absolutely off the wall. Who would have thought that not only can we "print" body parts from stem cells for implantation in the stem cell donor without rejection; we have a prototype concept printer that will "Print" a perfectly viable House in concrete within 20 hours. An amazing delivery of an amazing subject.
---
Ochils Mountain Rescue Team
Today's speaker was Sam Short from Ochils Mountain Rescue. Sam is an Irishman who has espoused Scotland and its beauty and says that he never regrets leaving his homeland to take up residence in Bridge of Allan. Sam described at length the rigorous training regime that must be undertaken if his teams are to do what they do. Funded largely by donations from larger bodies the Team requires a huge funding to maintain the fleet of vehicles and other vital resources that must be continuously kept up to date.
---
9 July 2015
Howgate Centre

Suzanne Arkinson from the Howgate explained to us how the "Mall" has never lost its original title in the Community and how the organisation seeks to become actively involved in Community development. Suzanne was a Credit to her employer displaying a huge appetite for her job while entertaining during her address.
---
2 July 2015


Coalfields regeneration trust

Pauline Douglas told us about the Coalfields regeneration trust. The Trust exists to help communities who have seen the demise of the dominant employer in the area when the coal mines were closed.
---
25 June 2015

No speaker today. RCF Assembly and Presidential handover
---
18 June 2015.
Dollar Park and Arnotdale
Today's speaker was an old friend of the Club, Geoff Bailey. Geoff never fails to inform and entertain. His address on this occasion centred on the history surrounding the Dollar Park and Arnotdale, the house at its centre. It's amazing what even the oldest of us can learn from this man.
---
11 June 2015
The Kelpies
George McBurnie visited on the 11th and told us the story of the Kelpies from the very beginning. Duke and Baron were named by Scottish Canals at the inception of the project. The Kelpies name reflected the mythological transforming beasts possessing the strength and endurance of 100 horses; a quality that is analogous with the transformational change of our landscapes, endurance of our inland waterways and the strength of our communities.
---
4 June 2015
The story of one Rotary Global Grant Scholar
On June 4th we had Alexandria Vincent, a Rotary Global Grant Scholar address the meeting. Also in the audience were our two Rotary Youth Leadership Award candidates. Alexandra absolutely blew us all away with her enthusiasm and positivity. The breadth of her achievements at such a young age was awesome. Her delivery was faultless and utterly inspiring.
---
28 May 2015
Sharon Allison represented "The Family Hub". This is an interface between Prison and the families who visit. It provides an environment whereby family relationships can be nurtured when a parent is serving a custodial sentence. Sharon is a psychiatric nurse who obviously has a passion for her chosen career and the way in which she delivered her address was proof of this.
---
21 May 2015
Sexual violence
Jacqueline Morgan talked to us about sexual violence. Jacqueline spoke at length about the breadth of sexual abuse and violence that still pervades our society.
---
14 May 2015
The Scottish fishing Industry
Iain McSween from the Scottish Fishermen's Organisation. Iain, a local man, is another high flier who travels the globe for the furtherance of the Scottish fishing Industry. He highlighted the fact that most of the Scottish catch is exported, much of it as far as China. And those huge Spanish prawns eaten on Holiday? in fact are Scottish langoustine. Iain knew his subject and delighted in presenting it in a hugely entertaining fashion.
---
7 May 2015
My job
Jim Cairns surprised us all with his Job Talk. None of us believed that this loveable cuddly joker would turn out to be such an accomplished high flier in the field of Civil Engineering. Jim certainly hides his light. Well done Jim.
---