CYCLING FOR THE CHESTNUT APPEAL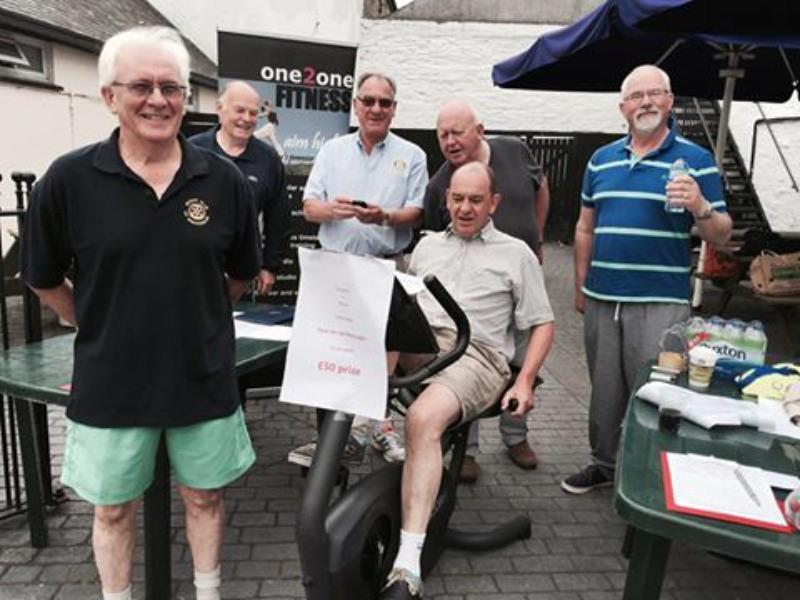 Show related pages
Wadebridge Rotarians decided to take part in a national cycling event to raise funds for the Chestnut Appeal. However, rather than holding a road event, they wisely arranged to borrow a static cycle and, with the kind permission of the Swan Hotel, placed it in the forecourt. Members and friends then cycled in 15 minute slots. Distances covered, in kilometres, were totalled, and a competition was held at £1 a guess to estimate the grand total. There is a £50 prize for the winner.
We have raised £488.89 so far and it is hoped that some of the non-cyclists obtained more guesses and we shall reach at least the target of £500 for the Chestnut Appeal.
The total distance cycled was 116km 790 m. The winner who guessed the nearest distance was Alan Cole from Wadebridge, who was 250m short in his estimate.
Thanks again for all the effort put in and that includes Cameron Hutchison (11 years old) who cycled further than a number of us!!
Special thanks to One 2 One Fitness on the Trenant Estate for loaning the static cycle, without which the fund raising event could not have taken place.
Photo by Jane Pickles and features (L to R) Ken Metcalfe, Keith Snelling, Paul Brocklebank, Martin Broadfoot, Mike Dodd (on cycle) and Nick Pickles.