THE COVE MACMILLAN SUPPORT CENTRE
Wadebridge Rotary Club supports the project with a £3000 donation from Wheels 2015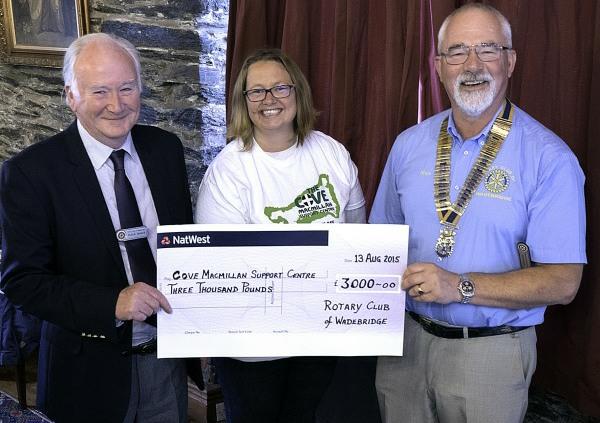 Show related pages
A NEW CANCER SUPPORT CENTRE FOR CORNWALL
Every day, 9 people in Cornwall and The Isles of Scilly hear the devastating news that they have cancer. That's over 3,300 people every year. The ripples a cancer diagnosis can cause can affect families, friends and work colleagues. With a huge increase in the numbers of people affected by cancer anticipated by 2030, thousands more local people may end up feeling lonely and isolated.
That's why we are building The Cove Macmillan Support Centre in Cornwall, the first dedicated centre of its kind in the County. The Cove has been designed with patients and their families in mind, with the simple goal of helping anyone affected by cancer to live their lives as well as possible.
Key areas of support within this new state of the art building will include:
*information about how to cope with cancer and its treatment
*a dedicated financial advice service
*complementary therapies
*a room especially for young people affected by cancer
The centre will cost around £3 million to build and equip, and we are fundraising for the final £1 million of that figure in Cornwall and the Isles of Scilly. Work is due to begin at the site at the Royal Cornwall Hospital imminently, and the centre will open in June 2016. It will help and support around 13,000 people every year-patients, their families and friends.
We would like to sincerely thank you for the donation from the Wadebridge Wheels event with the Rotary Club of Wadebridge, it will go straight to our appeal and will take us another step towards raising that magic £1 million.
To find out more about The Cove, or to get involved with our appeal, please visit www.macmillanbuilds.co.uk or call 0300 1000 200,
Photo by Martin Broadfoot featuring (L-R) Rtn Peter Marsh, Emma Wright and club president Nick Pickles