Supporting the South Devon School of Gymnastics
Vice President John Turner handing over cheque to Nicci Tucker, S.D.S.G. Manager.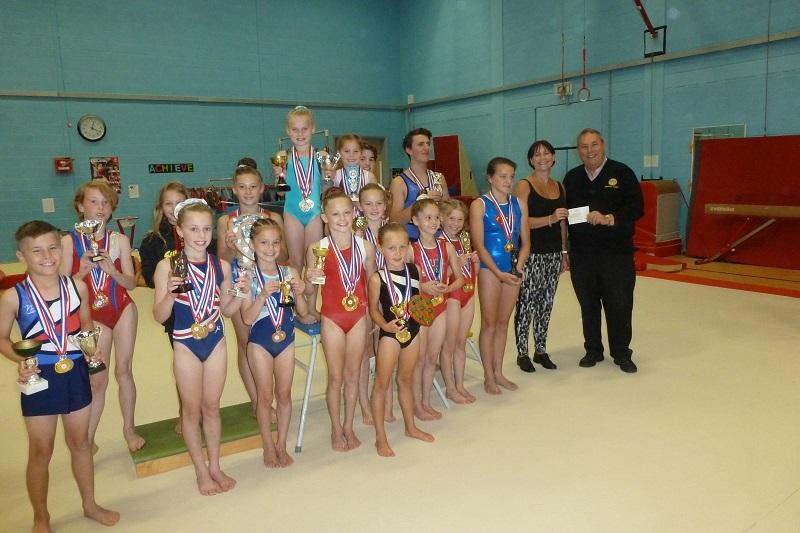 Preston Vice President John Turner attended the S.D.S.G. annual club championships
at their gymnasium in Parkfield, Paignton to hand over a cheque and present medals
and trophies to the successful young gymnasts, John said "I am impressed by the
skill and efforts of the youngsters performing exercises on the parallel bars, beam
and floor, also pleased that my club was able to give support to a group, right on our
doorstep, dedicated to encouraging young people to gain confidence and excel at
their sport".
Accepting the cheque Nicci Tucker, S.D.S.G. manager said "we are incredibly grateful
to the Rotary Club of Preston (Torbay) for donating money to enable us to buy
another specialist mat that will benefit all of our members, it was also a pleasure to
welcome John from the Rotary Club to our annual club championships to share some
of the enthusiasm and passion our coaches, gymnasts and parents demonstrate for
the sport and our club".
S.D.S.G. a Paignton based charity, has been running for nearly 30 years, providing for gymnasts of all ages and ability. There are currently over 400 members ranging from little ones who attend parent and toddler classes up to adult gymnasts. The club has recently celebrated the success of one of their disability gymnasts, Tiri Hughes, who for a second year running is British Champion. The club train with specialist equipment they have built up over the years through fundraising activities. The club is therefore always looking for financial help, such as the kind donation just received from Preston Rotary Club.
Pictured with the winning gymnasts is Nicci Tucker and John Turner.
Terry Moylan,
Rotary Club of Preston (Torbay)