CPR AND DEFIBRILLATORS
Wadebridge Rotary Club presents £1000 to FLEET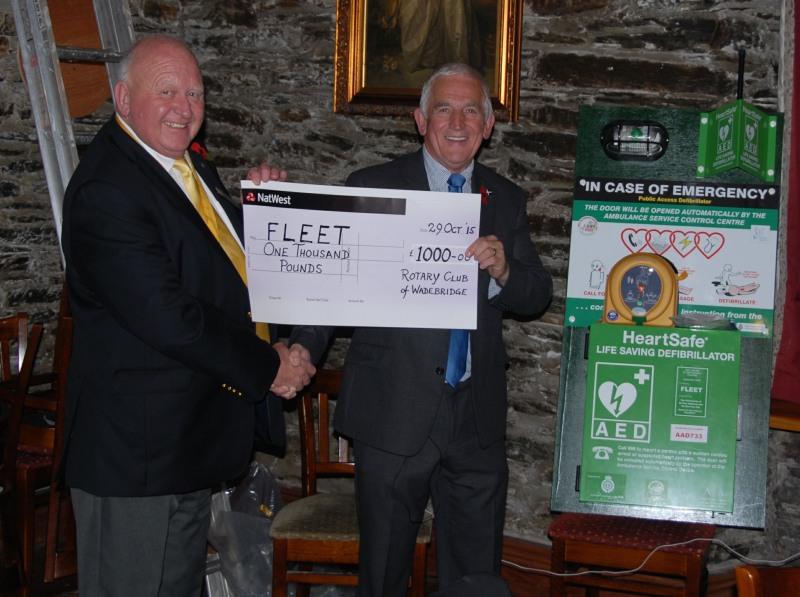 Show related pages
PRESENTATION FROM WHEELS 2015
Norman Trebilcock, MBE, representing FLEET was recently presented with a cheque for £1000 - part of the proceeds from Wadebridge Rotary Club's successful Wheels 2015. Norman spoke to club members and their partners about CPR (Cardio Pulmonary Resuscitation) and the vital life saving role of defibrillators.
Norman demonstrated by slides and a model how to give CPR in an emergency and how imperative it was to commence treatment immediately and to continue until professional help had arrived. The patient should receive 6 breaths a minute by breathing into their mouth, after making sure there was a clear airway. 60 chest compressions must be made (and continued) every minute by exerting pressure on the chest at the base of the breastbone. The pressure on the chest compresses the heart which then expands when you let up on the chest. The hope is that compressing and expanding the heart will make the blod flow through it and round the body.
Norman had a boxed defibrillator with him which is to be allocated to St Kew Highway. The box is connected to the internet and also by a mobile phone, should the internet fail. By this, regular signals are sent to ambulance control to show that the equipment is ready for use. The box is insulated to keep a minimum temperature of 4 degrees to prevent frost damage.
When a 999 call is made for a collapsed person, who is not breathing, ambulance control ascertains where the nearest defibrillator is and enables the box lock to open. There is then a 10 minute period when the equiment can be removed and it will close automatically after that period. It was stressed that CPR must continue whilst the defibrillator is being fetched. When activated, verbal instructions are given on how to operate the system to adminster an electric shock to try and restart the heart. The patient's condition is analysed and the operator advised when to breath into the patient and of the rate and pressure of compression being applied. Continue with this treatment until the emergency services arrive and take over.
FLEET has been supplying publicly accessible defibrillators, costing about £3000 each, through fund raising by volunteers - especially during the annual London Marathon and by local donations. Cornish villages are gradually being supplied. Some £250,000 has been raised but much more is needed.
Photo by Geoff Nute and features Martin Broadfoot, acting club president, presenting the cheque to Norman, with a boxed defibrillator on display.