ROTARY RIDE FOR PROSTATE CANCER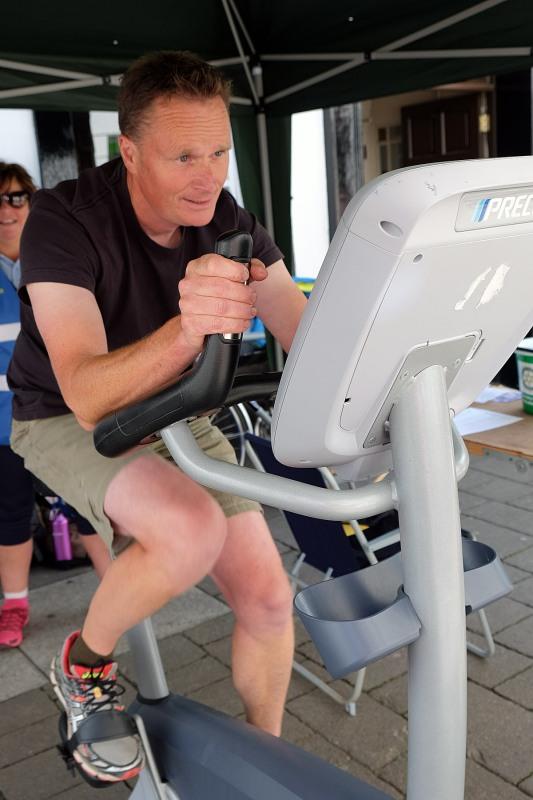 Show related pages
Rotary Ride for Prostate Cancer UK
A baker's dozen Rotarians (and a couple of ringers) powered their way to 85.93 miles (138.13 km) on Saturday 18th June, without ever leaving Molesworth Street.
The event was part of a nationwide "Rotary Ride" over Father's Day weekend, to raise funds for Prostate Cancer UK. Rotary Club of Wadebridge borrowed a static bike from One2One Fitness (to which our thanks for the free loan) and individuals pedalled furiously for fifteen minutes at a time, for six hours from 10am to 4pm.
There were no prizes for furthest distance, but Ian Thurtle (pictured) managed 5.35 miles in his first stint and 5.40 miles in his second; miles ahead of anyone else. Well, not miles exactly: 0.9 miles ahead of Rick Johnson. The biggest distance by a single family was achieved by Stuart Hutchison and his two children Cameron and Rachel (I did mention the ringers, I think).
The overall result of our endeavours was a net £458.72.
Many thanks to all concerned for pedalling on the bike and collecting money from the generous people of Wadebridge as they passed by.

Report by Kevin Smith; photo by Martin Broadfoot