ROTARY CLUB WELCOMES WADEBRIDGE MP
Wadebridge Rotary Club entertains Scott Mann, MP.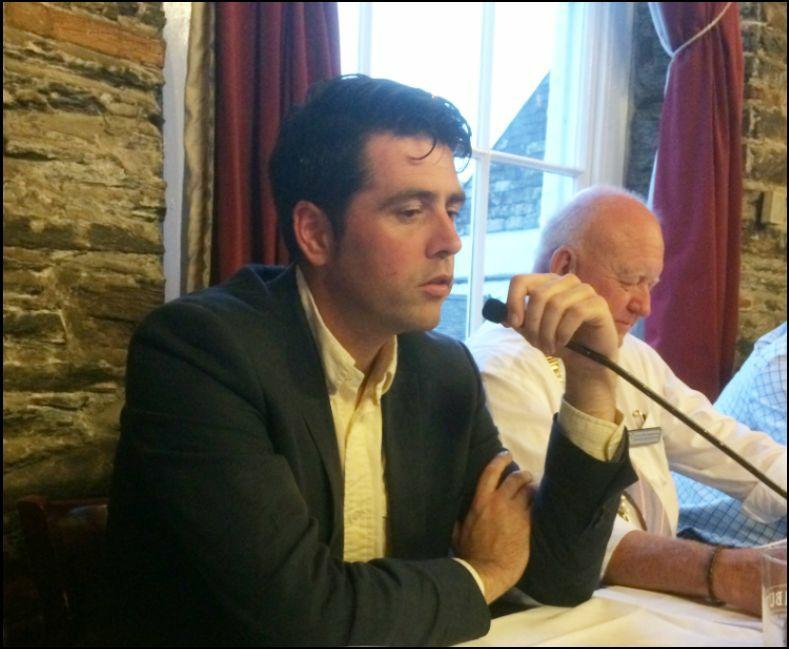 Show related pages
Members of Wadebridge Rotary Club, together with their wives, partners and friends, welcomed Scott Mann MP to their regular meeting at the Swan Hotel on 28 July. Scott had been invited to speak about his recent transformation 'From Postie to MP'.

He spoke about his past job as a postman in Wadebridge and how he had become involved in politics whilst in his employment; as a councillor at Wadebridge Town Council, North Cornwall District Council and Cornwall Council; how he was asked to be a parliamentary candidate for Wadebridge, and how he had 'worked' the constituency in the period before the Election, with countless door-knocking and attending public functions to make himself known.

He was elected as the Conservative candidate for Wadebridge at the last election and spoke of his first visit to the Houses of Parliament as an MP and of his pride at being elected. He told us about the vastness of the Palace with amusing anecdotes. He had been allocated a locker and left his coat in it. He was unable to find the locker for some days – luckily it hadn't rained. He and the other Cornish Tory MPs were allocated an office in the building, near to the Speakers accommodation, which they named The Cornish Embassy. Much time had to be spent learning the seemingly archaic practices when speaking in the Chamber. He gave his maiden speech, when he had had to immediately follow Boris Johnson also giving his own maiden speech.

He told of his passion and commitment to promoting Cornwall and of doing his best to improve the lot of the Cornish, in education and fishing, especially at Padstow and Port Isaac, and in other ways, hoping that 'Brexit' would enable fishing rights to be restored. He was encouraging local businesses, especially those involved in the food and drink industries to promote their products to trade abroad. They had much to offer.

He answered many questions about his time in Parliament, which he did candidly and with humour. Scott knew many members of the Club, some of whom regaled him with his escapades in his youth in the town.
Photo by Paula Martin